Commentary
Snug NBA All-Star jerseys aren't a first
Originally Published:
February 17, 2011
By
Paul Lukas
| Page 2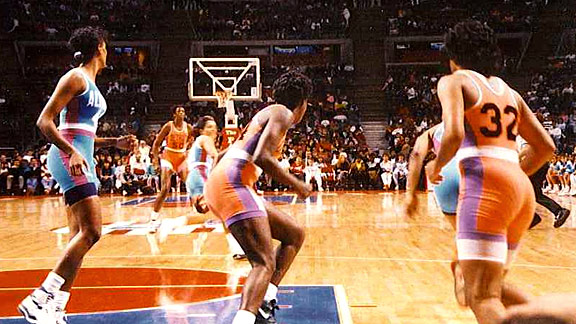 Courtesy of Tom Konecny The Liberty Basketball Association's entire history consisted of this one game in Auburn Hills, Mich.
The NBA All-Star Game is this Sunday, and this year there's a new wrinkle: Players have the option of wearing snug-fitting compression jerseys instead of the usual loose-fitting jerseys. The idea is that most players already wear compression tank tops under their jerseys, so why not eliminate the extra layer? It's too soon to say for sure, but it could be the first step toward the next generation of basketball uniforms.
Or maybe it isn't such a new wrinkle after all. Because 20 years ago -- almost to the day -- a different set of basketball all-stars took the court in compression uniforms. Their game took place in an NBA arena and was nationally televised by ESPN. But this wasn't an NBA game -- it was the world premiere of a new league that had big plans and high hopes. It also turned out to be the only game that league ever played.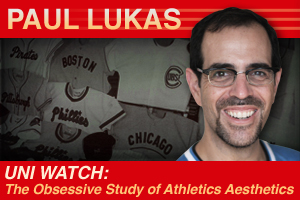 It was the Liberty Basketball Association, a short-lived women's professional league -- like, very short-lived. The LBA's first and last game took place on Feb. 18, 1991, at the Palace of Auburn Hills in Auburn Hills, Mich. The game was basically an exhibition, with the league's fledgling Motor City franchise, the Detroit Dazzlers, facing off against a squad of impromptu "all-stars" (whatever that means for a brand-new league). It was supposed to be an introductory warm-up for the league's regular season, which was slated to start 10 months later with six teams. But that debut game ended up being the league's swan song.
Still, the lone LBA game makes for an interesting time capsule, at least because of the uniforms, which were designed and produced by Danskin, a women's activewear company. The one-piece uniforms looked alright on paper, but something got lost in the translation from the drawing board to the real world.
That last image shows Melanee Ehrhardt -- a former college star at DePaul -- being interviewed before the game by Scott Hastings (who played for the Pistons at the time but was moonlighting as a broadcaster for the LBA game). When Hastings asked Ehrhardt what she thought about the uniforms, she sort of smirked and said, "They need a few adjustments."
Ehrhardt didn't get a chance to explain what she meant by that, so Uni Watch recently tracked her down in Illinois, where she works in software sales. The passing of 20 years hadn't diminished her feelings about the outfit she had to wear that day.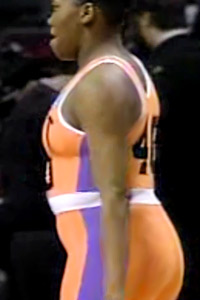 ESPNThe one-piece basketball uniforms weren't popular with players -- or particularly flattering.
"My first impression when I saw the uniform was, 'Seriously? You're gonna make us get into that?,'" Ehrhardt said. "It was embarrassing. I felt very uncomfortable and very vulnerable in that outfit. It was almost to the point where I really didn't want to play."
For starters, said Ehrhardt, the uniforms felt like a transparent attempt to give the LBA some sex appeal. "I was used to playing against the boys and sweating and all that -- you know, bring it on," she said. "But when they put you in that kind of uniform, it kind of steals a little piece of that away from you, to the point where you feel, 'OK, what role am I being asked to play here? A feminine role?' It was actually rather confusing."
But if sex appeal was the goal, the skin-tight unitards missed the mark. They tended to accentuate the players' physiques, making some look extra-curvy and others rail-thin, and they were particularly unforgiving for the handful of players who had somewhat chunkier physiques. "I felt really bad for the bigger girls," Ehrhardt said.
There were also logistical issues. "You had this one-piece outfit, and you would sweat in all the wrong places, if you know what I mean. And running up and down the court, it was riding all the way up. So you had girls literally picking and pulling at their uniforms because they were sticking to them and riding up in places."
The uniforms were just one of the interesting visual aspects of the game. Here are some others:
• Everything was a bit smaller and shorter, including the free throw lines, which were two feet closer to the baskets. A few players weren't comfortable with the shorter distance and chose to shoot their foul shots from a few feet behind the line.
• One of the Detroit players wore really big eyeglasses.
ONE-PIECE WONDERS
A few other basketball teams have worn one-piece unitards like the ones worn in the LBA. The team most closely associated with this style is probably the Australian women's squad, which has had a long run of wearing the one-piece style in the Olympics. In 2004, a one-piece design was also used by the Brazilian women's team, although they went back to a two-piece uni in 2008.
One men's team has also worn unitards -- sort of. In 1989, Nike came up with a one-piece design for N.C. State, but the players were so mortified by how the uniforms looked, especially in their nether regions, that they insisted on wearing regular shorts over the unitards. The experiment was quietly abandoned after two games (hey, that's twice as long as the LBA lasted!) but lives on as one of the more infamous chapters in college hoops uni history.
-- Paul Lukas
• Pistons trainer Bill Nyeholt was drafted to be the LBA's inaugural trainer. He was interviewed wearing a pink polo shirt with an LBA logo patch that looked like it had been taped onto his chest.
• How often do you watch a nationally televised game that provides you with locker room interview guidelines (the robe was a nice touch, no?) and a tryout hotline for aspiring players?
• Hairstyles 20 years ago sure were frizzy.
Unfortunately, the LBA was confronted with a bad case of Murphy's Law. Midway through the first quarter, broadcasters Steve Martin and Irv Brown gushed over the "tremendous crowd" at the Palace. A minute or two later, though, the camera followed Detroit player Diana Vines, who'd fallen out of bounds while chasing a loose ball, at which point it became apparent that the crowd wasn't so tremendous after all.
"Those empty seats didn't start out that way," said Uni Watch reader Tom Konecny, who attended the game. He was a 21-year-old sports management major at Bowling Green at the time. "At the beginning, people were spread out around the arena. But soon after the game had started, they made an announcement, asking everyone to shift over to one side so it would look good on TV. It was a bit of a free-for-all. I saw some seats in the front row under one of the baskets, and I thought, 'Shoot, I'll never get to sit this low at a Pistons game,' so that's where I sat for the rest of the game."
The promoters could try to make the crowd look bigger, but there was nothing they could do when the arena was struck by a blackout. The power outage lasted about 40 minutes, which pretty much killed whatever feel-good buzz the game had generated up to that point. "I remember thinking, 'Wow, it's their first game and look what happens to them,'" Konecny said.
After the power was restored, the Dazzlers handily defeated the all-stars, and that was that for the LBA. As Konecny left the arena, he saw something you don't often get to see after a basketball game. As a final measure of indignity, a work crew literally peeled the center-court logo off the floor while people were still filing out of the building.
"The LBA game had been played on President's Day afternoon, but they had a Pistons game scheduled for that night," explained Konecny. "So they had to get the court ready for that." Ouch -- the body wasn't even cold yet.
Although the LBA never came to fruition, many of the players in the 1991 game stayed connected to basketball in various capacities, including Melanee Ehrhardt, who coached girls' hoops at her hometown high school for eight years and still coaches seventh and eighth graders today. Although she has mixed feelings about her LBA experience, she's proud to have helped the cause of women's basketball and to have provided a stepping stone toward the eventual formation of the WNBA.
"And in that league," she said, "they get to wear a normal jersey and shorts."
Paul Lukas suspects that the NBA's compression all-star jerseys will end up as a minor footnote in basketball uniform history. If you liked this column, you'll probably like his Uni Watch Blog, plus you can follow him on Twitter and Facebook. Want to learn about his Uni Watch Membership Program, be added to his mailing list so you'll always know when a new column has been posted, or just ask him a question? Contact him here.