Commentary
Spring training unis on parade
Originally Published:
February 28, 2011
By
Paul Lukas
| Page 2
Justin Duchscherer, newly acquired by the Orioles, showed up at O's camp on Feb. 15 and began working out with his name misspelled on his jersey. (There should be a "C" after the "S.") Two days later, the typo still hadn't been corrected. Three days later, Duchscherer was finally free of the typo-laden jersey. Instead, he was wearing the same typo on a different jersey. Well, at least they were consistent.
Welcome to the spring training, the only place where a jersey misspelling can go uncorrected for the better part of a week. And that's fine, because spring training is where everyone slowly gets back into the swing of things, from the players to the hecklers and everyone in between. That apparently includes the Orioles' seamstress (or, more likely, someone at the Majestic factory).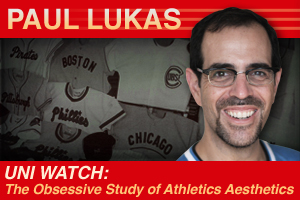 It also includes uni watchers, as our brains slowly shift into baseball mode. With Grapefruit and Cactus League games now getting under way, here's Uni Watch's annual rundown of what to watch for in MLB camps during the next month or so. As usual, this column will stick to things that are specific to spring training; changes to teams' regular-season uniforms will be addressed in a separate column when we get closer to Opening Day.
Ready? Here we go:
1. "BP" doesn't always refer to a super-polluting oil corporation: The big spring training news last year was that all 30 teams had new batting-practice caps; this year they all have new BP jerseys. You can see the full slate of American League designs here, and the National League designs are here. Yes, BP jerseys are silly, and they exist for only one reason, but let's take a closer look, just to revel in their pointlessness:
• The biggest change in this year's template is that the pullover with the one-button collar has been replaced by a button-front design.
• As you've probably noticed by now, a handful of teams are wearing contrast-colored shoulder yokes that look awful-and-a-half. Whoever came up with that idea should be put on waivers pronto.
• The most interesting design is being worn by the Reds, who are sporting the first full-chest script insignia in team history. The script itself has a pedigree, though: It's based on a smaller logo that Cincy wore back in 1936. Seems like an odd element to resurrect (especially since the '36 team went 74-80 and finished fifth), but that just makes it all the more intriguing.
• An early fan favorite, at least judging by the e-mail Uni Watch has been receiving, is the Pirates' new design, but maybe that's just because anything would have been an upgrade over their old design. At the very least, the Buccos deserve the most-improved award. (As an aside, at least two people with the Pirates have a good sense of humor.)
2. Diamond jubilee: It's not often that you see a team wearing a sleeve patch just for spring training, but that's what the Tigers are doing, as they mark the 75th anniversary of their spring camp in Lakeland, Fla.
3. Heckuva fella, that Feller: Speaking of spring training patches, an interesting situation is brewing over at Indians camp: A few months ago, the team announced that it would wear this Bob Feller memorial patch design in 2011. But the patch is based on a historic photo, and so far Tribe execs haven't been able to strike a licensing deal with the photo archive that owns the rights to the image. So for now the Indians are going with a much simpler patch design, but they still hope to get permission to use the original patch design. The simpler patch may end up being a spring training collector's item.
4. Who wears short shorts? When a player works out in shorts, as sometimes happens during spring training, you see things you wouldn't normally get to see. Who knew, for example, that the Rockies had logo-emblazoned ankle socks?
5. Numbers games: Spring training is traditionally the time when players change uniform numbers. It's impossible to keep up with all of this, but here are some early uni-numerical dispatches regarding the Yankees (scroll down to the last item before the comments), Red Sox (ditto), Rockies, Angels, Orioles, Cubs and Mets.
6. Name games: Tigers farmhand Al Alburquerque is a long shot to make Detroit's 25-man roster, but Uni Watch is hoping he makes the cut. Why? Guess.
7. Stupid human tricks: No matter how many times you've seen it before, it's hard not to chortle when you see someone working out with one of those giant rubber bands or hitched up to one of those parachutes (bonus absurdity points for the swoosh!). And thanks to a new drill devised by Nats third-base coach Bo Porter, we now get to see baseball players making like NFL running backs! Further details on that one are available here.
8. The little general: Back when Buck Showalter managed the Rangers, he and his coaches wore red caps while the rest of the team wore blue. Now that he's skippering the Orioles, Showalter is wearing an orange-brimmed game cap while everyone else wears a black brimmed BP cap. Must be a size XXXXXL.
9. Brand-new branding: A new season means new endorsement contracts. Tim Lincecum, for example, has worn Reebok shoes for most of his career, but he must be between footwear contracts at the moment, because this spring he's been spotted in Mizuno and Nike. Then there's the case of the Twins' new Japanese import, Tsuyoshi Nishioka. Gee, can you possibly guess who his endorsement deal is with? Nishioka wore that adidas outfit (which certainly made him stand out from his teammates) up until Minnesota's first full-squad workout on Feb. 23, when he switched to standard-issue Twins gear. But he's still wearing something you don't often see on a big league diamond: an adidas glove -- with his uni number on the webbing!
10. Travelin' man woman: Quick, which pitcher has already worn two MLB uniforms this spring? Answer: Justine Siegal, the woman who's thrown batting practice for the Indians and A's. Kudos to her, not only for breaking down gender barriers but also for going high-cuffed, an example that more players should follow. (She's also been wearing a sleeve patch for Christina-Taylor Green, the 9-year-old girl who was killed in the recent Tucson shootings.)
Honorable mention: As usual, Rays coach Don Zimmer has a new uni number to match the number of years he's worked in pro ball. Last season he was 62, but now he's wearing 63. ... Expect lots of teams to break out the green caps and/or jerseys for St. Paddy's Day on March 17. But let's hope some of them don't stick to the new BP template -- that's a brutal look. ... According to a small item in this story, Justin Morneau, who's recovering from a concussion, "plans to wear a helmet during batting practice ... [and] will wear the newer, more protective batting helmet at the plate." ... When Stan Musial recently received the Presidential Medal of Freedom, Cardinals manager Tony La Russa and special assistant coach Red Schoendienst wore cap pins to honor Musial's achievement. Further details here. ... When Hideki Matsui arrived at A's camp, he was greeted by a 6-foot-tall inflatable Godzilla in a Matsui jersey and cleats. ... Blue Jays reliever David Purcey is getting some attention for his unusually big shoes. ... The Rays wore St. Petersburg Police Department caps on Saturday, as a tribute to three local policemen who were recently killed in the line of duty. ... Ozzie Guillen has been wearing something new in White Sox camp: team-logo stirrups.
That should be enough to keep everyone busy for a week or two. Meanwhile, if you spot anything uni-notable during spring training, send your observations this-a-way.
Paul Lukas roots for the team that now has the player with the shortest name in the bigs. If you liked this column, you'll probably like his Uni Watch Blog, plus you can follow him on Twitter and Facebook. Want to learn about his Uni Watch Membership Program, be added to his mailing list so you'll always know when a new column has been posted, or just ask him a question? Contact him here.