Commentary
Uni Watch's crash course on cricket
Originally Published:
March 14, 2011
By
Paul Lukas
| Page 2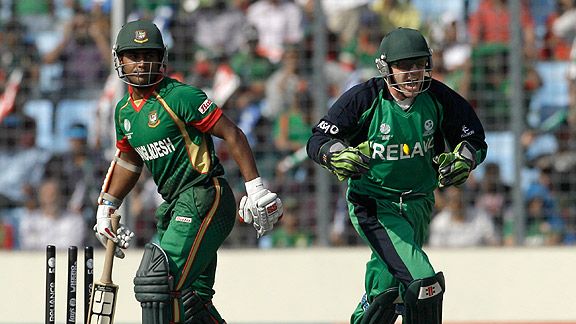 AP Photo/Pavel RahmanFive of the 14 World Cup teams wear green, leading to scenes like this.
My first encounter with cricket came in 1977, on the cover of Elton John's Greatest Hits, Volume II.
My second encounter with cricket came about two weeks ago.
In other words, I was facing a pretty steep learning curve as I sat down to assess the uniforms for the 2011 Cricket World Cup, which is now taking place in Bangladesh, India and Sri Lanka. So you might say I had to cram for the test, which basically meant shouting, "Help!" in the general direction of ESPN.com cricket guru Peter Della Penna, and then meeting him at 4 a.m. to watch a few matches (did I mention that the Cup is being played in Bangladesh, India and Sri Lanka?).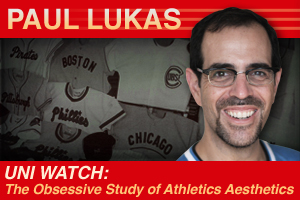 "First of all," said Peter, "nobody says, 'uniforms.' We call them 'kits.'"
Check. Aside from that, though, cricket attire isn't too hard to grasp. The jerseys are essentially polo shirts, the trousers are glorified track pants, and the jersey and pant colors usually match. Still, there are plenty of nuances that might elude a novice's eye (or an eye that hasn't spent the past two weeks cramming for this column), so here's Uni Watch's official crash course in cricket gear, in a dozen easy steps:
1. Here's the biscuit, mate: Right, so the biggest thing to know about cricket kits is that everyone used to wear solid white. Not only that, but the jerseys had no uniform numbers or player names, so it was bloody difficult to tell the players (or the teams) apart. Things began to change in the late 1970s, when an Australian chap named Kerry Packer created something called World Series Cricket, which introduced colored uniforms. Brilliant! Even so, the World Cup blokes didn't get the bleedin' memo until 1992, when they finally switched from whites to colors. About soddin' time, innit.
2. Your ad here: Cricket, like most international pro sports, features sponsors' ads on the jerseys -- except during the World Cup, when country names are on the chest and ads are moved to the sleeves. You might think this is to protect the sanctity of the game, but it's actually to ensure that no jersey ad can compete too prominently with any of the Cup's official sponsors.
3. "C'mon, blue -- er, red!": There's one exception to the chest-sponsorship prohibition: the umpires. As you can see, they're alternating between blue and red jerseys for the Cup, plus they're wearing white hats and black trousers. If you see a little smudge on their sleeves, that's the logo for Think Wise, which is an AIDS-awareness campaign.
4. Brands that go boom: Cricket unif -- er, kits -- are made by plenty of familiar companies, including Nike, adidas and Reebok, along with a few brands that American fans probably won't recognize. The most intriguing entry is Pakistan, whose kits are made by a local company called Boom Boom Sports. "The irony is not lost on us," says Pakistani fan and Uni Watch reader Naveed Rathore. Ironic or not, it makes for a pretty good bat logo.
5. The long and the short of it: Players have the option of wearing either short sleeves or long sleeves. If it's a little chilly, they can add a sleeveless pullover fleece.
[+] Enlarge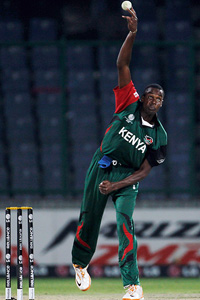 Daniel Berehulak/Getty ImagesThe umpire usually keeps the bowler's hat until he's done bowling, so it doesn't blow off.
6. Capping it off: With one exception, which we'll get to in a minute, all players on the fielding team wear hats. These are usually baseball-style caps, but players have the option of wearing a floppy, broad-brimmed hat. The floppy hat is supposed to match the team's colors, but sometimes it's just white. You can see examples of both in this shot of the West Indies team.
The one hatless player on the fielding team is the bowler. Why? Because bowlers get a long running start before delivering the ball, so their hats would fly off if they tried to wear them. The bowler typically gives his hat to the umpire, who keeps it on his belt or in his hand and then gives it back when the bowler is done bowling.
7. Brain bucket options: Nobody is required to wear a helmet, but three types of players typically do: the batsman who is at bat (especially if he's facing a "pace bowler" -- the cricket equivalent of a fastball pitcher), the wicket-keeper (especially if he's positioned close to the wicket; he also wears leg guards and is the only fielder permitted to wear gloves) and occasionally a fielder (if he's choosing to position himself very close to the batsman). The helmets always have face masks.
8. And you thought Barry Bonds wore a lot of armor: The batsman always wears leg guards and padded gloves. Some players add a shield on their forearms, and a few load up with bulky thigh pads under their pants (which you can get a better sense of in this practice session photo).
9. Band-ing together: For the Australia-New Zealand match on Feb. 25, the players and umpires all wore simple black armbands in memory of the recent earthquake victims in Christchurch, New Zealand. Umpire Billy Bowden, who's from New Zealand, has continued to wear the armband throughout the Cup.
10. White stuff on my nose!: Interestingly, cricket players rarely wear eye black. But thanks to the ozone depletion in the Southern Hemisphere, many players slather their faces with sunscreen, which is often visible -- and sometimes very visible.
11. Collar my world: Speaking of skin care, if you see a player with his polo collar turned up, he's not trying to be hip or stylish. He's just protecting the back of his neck from the sun.
12. Green revolution: One of the nicest surprises about the World Cup is that five of the 14 teams are wearing green (plus two other teams are wearing green trim and accessories). At the very least, this should serve to refute the old "Cricket is just like baseball" cliché, since green is woefully underrepresented on MLB diamonds.
As for the non-green teams: The West Indies squad looks sharp. ... India is saddled with all sorts of extraneous silliness (what's the deal with the interrupted pants striping?). ... Canada makes good use of some surprisingly effective off-white trim. ... England looks kind of plain. ... Sri Lanka gets the "Little Boy Blue" award. ... The Netherlands gets bonus points for wearing contrasting leg guards (why don't more teams do this, instead of just matching the pants color?). ... And New Zealand is doing what it does in virtually every other sport: wearing black.
OK, you got all that? Now all you have to do is learn all the rules and wake up at 4 a.m. to watch a match. Happy cricketing!
(Special thanks to Peter Della Penna from ESPN Cricinfo and to the cricket-savvy readers of the Uni Watch Blog, who provided invaluable research assistance.)
Paul Lukas was more interested in the inner sleeve of that Elton John album, because it showed Elton wearing a stylized L.A. Dodgers uniform. If you liked this column, you'll probably like his Uni Watch Blog, plus you can follow him on Twitter and Facebook. Want to learn about his Uni Watch Membership Program, be added to his mailing list so you'll always know when a new column has been posted, or just ask him a question? Contact him here.