Commentary
The White Sox fan-fueled unis
Originally Published:
March 24, 2011
By
Paul Lukas
| Page 2
If you run a major-level team these days and want to redesign your uniforms, there's a pretty standard course of action for you to follow: You consult with your league's properties office, confer with the company that manufactures your uniforms, check to see which colors are forecasted to be "hot" over the next five years or so, go over some sales figures to see what the kids are and aren't buying, convene a few focus groups and then hire a branding firm to handle the job for you.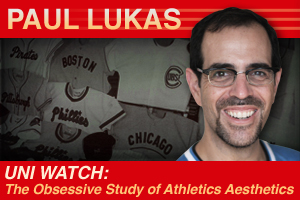 Thirty years ago this month, however, the Chicago White Sox embarked on a much simpler process: They announced a contest for design submissions, with fans getting to vote for the winner.
And that is how a 25-year-old who had no particular interest in the White Sox, and who'd never designed a uniform before, ended up creating one of the most iconic uniforms of the past generation. His name is Richard Launius, and this is his story. It's also the story of a team's playful, almost quaint approach to its visual design program -- an approach that would never fly in today's more corporate-style sports world.
---
First let's set the scene. In the spring of 1981, the White Sox had just been sold by Bill Veeck to a group headed by Jerry Reinsdorf and Eddie Einhorn. The new owners wanted to make a lot of changes, beginning with the open-collared leisure suits the team had been wearing since 1976.
It was a pretty easy call to make. Players were embarrassed by the pajama-like uniforms (especially on the handful of occasions when the jerseys had been paired with shorts), and fans hated the design. As Einhorn told a UPI reporter in the spring of 1981, "People would be telling me in cabs on the street that we need new uniforms." And he decided that a contest would be the best way to go about it.
So rules were drafted (the main stipulation was that the team planned to keep the Veeck-era logo, so that couldn't be changed), entry forms were printed, announcements were made and a preliminary judging panel was selected.
None of which should have mattered to Richard Launius, a 25-year-old graphic designer who'd never attended a White Sox game or even given much thought to the White Sox. A lifelong Braves fan who'd grown up in South Carolina, Launius was living just outside of Dayton, Ohio -- 300 miles and one time zone away from Chicago -- when the Sox announced their contest. There was no Internet, and "SportsCenter" was in its infancy. By all rights, there's no reason Launius should even have heard about the design competition.
But he had married into a Chicago family, and his father-in-law had spotted a small notice about the White Sox contest in the Chicago Tribune. "He knew I was involved with graphic design, and he basically said, 'I think you should do this,'" recalls Launius, now 55 and living in Georgia. "And I thought, 'Sure, what the heck?' It sounded like fun."
Launius had studied fine art in college, but he wasn't exactly pursuing high-end aesthetics when the Sox announced their contest -- he was working for a Dayton company that produced Yellow Pages phone directories. "But I'd always been interested in sports, and I'd done lots of uniform doodles as a kid," he says. "And the uniform they'd been wearing, it didn't look like a baseball uniform, or even a softball uniform. So I figured anything I did -- or that anyone did -- would be better than that."
Launius' design proposal, with its horizontal striping and uni numbers on the pant leg instead of the jersey, was heavily influenced by what the Astros were wearing at the time. "I liked what they were doing," he says. "Even the number on the pants -- I thought it made the jersey feel less cluttered."
And how long did it take him to come up with the design? "Maybe a few hours," he says. "It wasn't very hard; I knew what I wanted."
---
WHITE SOX REVISITED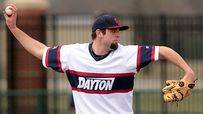 For a uniform that was only used for five years, Richard Launius' beach blanket design has had a fairly robust afterlife. The White Sox have revived it twice as a throwback, in 2003 and 2008. It's also available as a retail replica throwback, which has allowed the design to cross over into the world of pop culture. "One time my daughters went to a Ludacris concert, and he was wearing the jersey," Launius says. "And they were like, 'Dad, Ludacris is wearing your shirt!'"
In addition, the beach blanket design has inspired a series of knockoffs. Take a look at this jersey that recently showed up on eBay, for example. Even weirder, check out what the University of Dayton baseball team is wearing this season.
Launius was living and working in the Dayton area when he designed the Sox uni. So is the Dayton team wearing that design as a shout-out to him?
"Naw, I don't know anything about who designed it," says Dayton baseball coach Tony Vittorio. "But I did grow up as a White Sox fan, and so did one of my assistant coaches. We knew we wanted a pullover jersey this year, so we asked the people at Wilson [Dayton's uniform outfitter] if they could come up with something like that old White Sox design, and they drew it up for us. Nobody's gonna get sued because we used that design, are they?"
Don't worry, Coach, that seems highly unlikely. Meanwhile, you've inadvertently created a bizarre and tremendously satisfying coincidence: A uniform design that was born in Dayton has ended up back in Dayton 30 years later.
When Launius sent his proposal to the White Sox in April of 1981, he was one of about 1,600 entrants ("That means there were 1,600 improvements on what we have now," quipped Sox reliever Ed Farmer at the time). Some were accomplished designers who, like Launius, submitted professional-looking concepts; others, using a simple design template provided by the team, took slightly more primitive approaches.
All 1,600 submissions were reviewed -- reportedly in the space of a single afternoon in mid-May -- by a panel of judges that included the fashion editors of Chicago's two major newspapers, a few local TV personalities, Jerry Reinsdorf's wife, two sportswriters, a uniform manufacturer's rep, Sox first baseman Lamar Johnson and Johnson's wife. Their job was the narrow the field down to six finalists, which would then be voted on by the fans.
Each entrant, including Launius, soon received a certificate of participation (that one belongs to Uni Watch reader Chris Mitchel, who was 18 at the time and says his design was "based on the Astros' rainbow design with blue and orange variants and white shoes -- hey, it was 1981!"). But Launius didn't hear anything after that. By June he'd forgotten about the whole thing.
Then he got a call from the White Sox marketing department. "They said, 'You're aware that you're one of the finalists, right?' And I said, 'No,' because I had no idea. Then they said they wanted me to come out to Chicago and meet with them."
So Launius made his first visit to Comiskey Park, where he found that the team had made prototype editions of the six finalists' uniforms. That's his design, second from the left in the black-and-white shot, although the judging panel had made a few adjustments to his original submission.
"I thought it looked good," Launius says. "Sure, the client's always going to make some changes, but I thought they kept the essence of my design. And once I saw the other finalists, I really only halfway liked one of them, the one with the diagonal slash down the side. So I felt pretty good about my chances."
The final fan voting didn't happen until later in the season, during a two-week White Sox homestand. "At some point in between innings, the models wearing the prototypes would go to the mound," Launius recalls. "They'd make an announcement: 'These are our finalists, we'd like all of you to vote,' and all that. And then the models walked through the stadium, handing out ballots, which were like All-Star ballots." The fans were also provided with a few other visual aids: a fold-out portfolio showing the six choices, and a glass showcase near the turnstiles with all six prototypes on display.
Launius and the other finalists were on hand on the last weekend of the season, when the results of the balloting were slated to be announced. "Before the game, they told me, 'And by the way, just so you won't be surprised, you're the winner, so be ready to come out to the mound.'"
And just like that, Launius had joined the elite fraternity of MLB uniform designers. Amid all the handshakes and photo ops, and the subsequent flurry of media attention, he managed to keep one secret under wraps: Nobody realized that the winner of the White Sox design contest -- a contest created to give a voice to the fans -- wasn't even a White Sox fan himself.
---
As the contest winner, Launius won two prizes: an all-expenses-paid vacation package to the 1981 World Series (he and his family got to ride back and forth between New York and Los Angeles on then-commish Bowie Kuhn's private plane) and season tickets behind home plate at Comiskey for the following season (attending games in Chicago while living in Dayton wasn't practical, so he sold most of the tickets and used the money to buy a piano, which he still has).
But the real prize came in April 1982, when the Sox took the field wearing Launius' design -- well, sort of. Just as the uniform had been tweaked during its transition from concept to prototype, further tweaks had taken place when creating the finished product. For better or worse (to this day, there are strong partisans on both sides of that question), nothing quite like it had ever been worn on an MLB diamond. Thanks to its big, punchy chest logo, it quickly became known as the beach blanket uniform.
Launius didn't mind the changes. "When I saw it on the field, I felt fantastic," he says. "But what really thrilled me was when I took a trip to Cooperstown a few years later and they had a bunch of uniforms in display cases, including mine. That felt really good -- to have something of mine in the Hall of Fame."
Launius' uniform had a brief but eventful run. The Sox wore it to a division championship in 1983, and Tom Seaver won his 300th game while wearing it in 1985.
And then, after five seasons, it was over. The Sox changed to a new design in 1987. Launius was disappointed but realistic. "I figure everything runs its course," he says. "And even with that new design, they kept the uniform number on the leg, so it was like a little piece of my design lived on." Two years later, that little piece disappeared as well.
---
Thirty years later, it's hard to imagine a top-level pro team letting its uniform program be determined by a contest, or by a fan vote. There's too much at stake nowadays -- merchandising, branding, blah-blah-blah. Kind of sad, no?
As for Richard Launius, he enjoyed his brief moment as a uni celebrity. Since he lived near Cincinnati, he dabbled with a Reds redesign, but nothing ever came of it. He went on to make a name for himself designing board games. He's still primarily a Braves fan, although he says his experience with the uniform contest 30 years ago has made him something of a White Sox fan as well. He still has one of the prototype uniforms, which he keeps on display in his home.
Meanwhile, who were the other five finalists, and what happened to them? Launius says he never got to meet them ("At one point they bought lunch for all of us at the stadium restaurant, but they put us at different tables"), and the team no longer has any records regarding them. If you know more about them -- or if you were one of them yourself -- you know what to do.
And speaking of design contests …
Over on the Uni Watch Blog, we're running a logo design contest for the Baseball Project, a baseball-themed indie-rock supergroup featuring R.E.M. guitarist Peter Buck. Full details here.
Paul Lukas won a coloring contest in third grade (the prize was free tickets to the Ringling Bros. circus at Madison Square Garden!) but hasn't entered any design-based contests since then. If you liked this column, you'll probably like his Uni Watch Blog, plus you can follow him on Twitter and Facebook. Want to learn about his Uni Watch Membership Program, be added to his mailing list so you'll always know when a new column has been posted, or just ask him a question? Contact him here.