Commentary
Our 13th annual MLB preview
Originally Published:
March 29, 2011
By
Paul Lukas
| Page 2
In 1905, the Giants won the World Series. The following season, their uniforms left no doubt regarding their status as defending champions.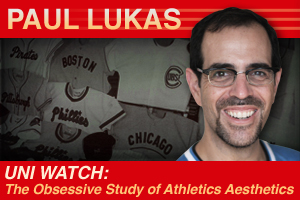 A century later, the Giants are champions once again. And once again, they're celebrating their championship on their uniforms.
Don't panic -- they'll be wearing that gold-lettered jersey only for their second home game, on April 9, which is when the players will be receiving their World Series rings (although the championship sleeve patch will be a season-long fixture). It's similar to the gold-accented jerseys that the Red Sox, Cardinals and Phillies have worn after winning their recent World Series titles. But the Giants are upping the ante by wearing gold-logo caps for the occasion.
The Giants' gold-digging makes a good starting point for this, Uni Watch's 13th annual MLB season-preview column. With Opening Day fast upon us, here's our annual team-by-team rundown of this year's uniform changes, in alphabetical order:
• The Giants aren't the only team dabbling in precious metals, as the Angels are celebrating their 50th anniversary this season. Since that's traditionally the golden anniversary, the Halos are changing their halos from silver to gold on their jerseys (look at the "A") and caps. As you can see, the new cap features an anniversary logo, which is also being worn as a sleeve patch (and will even be stamped onto all of the baseballs at the Big A this year). But here's the weird thing: If you take a close look at the anniversary logo, you'll see that the halo on the "A" is silver, because that's still the team's official logo -- even though all the other halos being worn this year are gold. Very odd choice. Meanwhile, the Angels will also celebrate their heritage by wearing a series of throwback looks for Friday home games throughout the season.
• Big upgrade for the Athletics, who are trading in their black alternate for a much better gold alternate.
• The Blue Jays have scrapped their throwback alternate uni. Also, they're playing at home this year on July 1, which presumably means they'll wear one of their Canada Day specials. No visuals yet on this year's design, though.
• The Braves and Phillies will wear Negro Leagues throwbacks for the annual Civil Rights Game on May 15. Atlanta Black Crackers uniforms for the Braves, Philadelphia Stars for the Phils. No visuals yet.
• The Cubs are adding a beautifully simple memorial patch for Ron Santo.
• The Diamondbacks are hosting this year's All-Star Game, which of course means they're wearing a commemorative sleeve patch.
• Back in 1944, the Dodgers experimented with shiny blue satin uniforms for night games on the road. They're reviving that look as a throwback, except it'll be made of polyester, not satin ... and will be worn at home, not on the road ... and will be worn only for weekday afternoon games, not at night. OK, so they aren't exactly staying true to the concept, but it's still a cool look. Meanwhile, although no official announcement has been made yet, expect the Dodgers to be wearing a memorial patch for Duke Snider.
• As already noted, the Giants will wear gold-lettered jerseys on April 9 and will also have a championship sleeve patch all season long. In addition, they've flip-flopped the left-sleeve patches on their road and alternate jerseys.
• Lots of jersey and cap switcheroos for the Indians -- you can read more about them here. In addition, the team is planning a special series of Bob Feller memorial gestures for Opening Day: All players will wear Feller's No. 19 during a pregame ceremony (they'll switch to their usual uni numbers once the game starts); a "19" will also be printed behind the mound; and players will start wearing this sleeve patch design -- a major improvement over the one they've been wearing in spring training.
Before They Throw Out the First Pitch
Nothing can galvanize a baseball crowd like a good song, whether it's "Take Me Out to the Ballgame" at Wrigley, "Sweet Caroline" at Fenway, or even "Enter Sandman" at Yankee Stadium.
With the season about to start, blogger Jon Springer has unearthed a 1964 song that ranks among the greatest baseball tunes ever recorded, called "We Want a Hit." Technically speaking, it's a Mets song, but the lyrics could easily be adjusted to create an all-purpose ballpark anthem, and the song is catchy and infectious enough to deserve that status. As soon as you listen to it, you'll be thinking, "How have I never heard this before?"
Seriously, people, this tune is a new ballpark sing-along tradition waiting to happen. You can hear it for yourself, and learn the story behind it, here.
• The Mariners are adding a memorial patch for longtime broadcaster Dave Niehaus, who died in November. They're also bringing back a blast from their past with a teal alternate jersey. Officially, they're calling it "forest green," but come on -- it's teal.
• No official changes for the Mets, although Uni Watch hears through the grapevine that they will probably be wearing their black alternate jersey a bit less this season, which of course counts as good news. Also: D.J. Carrasco, who wore an assortment of logo-emblazoned stirrups last year for the Pirates, is going a similar route now that he's a Met.
• Remember that time when the Nationals couldn't even spell their own name? That won't be a problem with their new uni set. The short version: It's a mild improvement. To see the long version, check out Uni Watch's detail-by-detail assessment here.
• Does the Padres' new road uni look familiar? If so, that's because they've kept all the graphics the same but changed the fabric color from pale yellow to standard gray -- a major improvement. They also have a new digital camouflage alternate jersey (fine if you're into that kind of thing, which Uni Watch isn't) and have tweaked their primary logo (which may be a moot point, since the team actually wants people to use its secondary logo, which means it isn't really secondary after all -- are you following all of this?).
• Addition by subtraction in Pittsburgh, where the Pirates have scrapped their pinstriped alternate vest. And in a more subtle move, the MLB logo on the Buccos' caps and jerseys has changed from black-white-red to black-white-gold. Also, there's been talk of a Chuck Tanner memorial patch, but no official word on that has come down yet.
• No changes for the Rays -- unless you count skipper Joe Maddon's new eyeglasses.
• The Reds and Tigers are both wearing memorial patches for Sparky Anderson, who passed away over the winter. By Uni Watch's count, this marks only the fourth time in the past 85 years that someone has received memorial treatments on two different MLB uniforms at the same time. The other three dual honorees: Tug McGraw (by the Mets and Phils in 2004), Catfish Hunter (by the Yanks and A's in 1999), and Tim Crews (whose No. 52 was worn by the Dodgers and Indians in 1993).
• The Twins already had a navy home jersey; now they have a road version to go with it. Meanwhile, their pinstriped vest alternate, which they rarely wore anyway, has now been officially retired. Also: Justin Morneau, returning from a concussion, is wearing the larger S100 "Gazoo" batting helmet (further details here). With Francisco Cervelli of the Yankees on the DL, Uni Watch believes Morneau is the only MLB player currently wearing the S100.
• Disappointing move by the White Sox, who've made a major downgrade to their road jersey's sleeve patch. On the plus side, team execs have said the road grays will be worn more often this season, instead of the black alternate that increasingly become the club's standard road look. Meanwhile, the "Sox" logo has also been added to the team's stirrups, although Juan Pierre and manager Ozzie Guillen may be the only ones wearing them.
• No uni changes for the Yankees (there's a shocker), but it's worth noting that Mariano Rivera has gone high-cuffed throughout spring training and says he'll probably stick with that look during the regular season because it makes him "feel lighter." If a player as respected and influential as Big Mo starts showing some sock on a regular basis, that can only bode well for the state of baseball hosiery.
• The umpires are wearing the same uniforms as last year, but at least one of them -- Gary Cederstrom -- was using a matte-finish mask during spring training. Seems like an improvement over the shiny finish, which can cause glare.
• You won't be able to tell who's who on April 15, not even with a scorecard, as players once again bring Jackie Robinson's number out of mothballs for its annual one-day showcase.
• Teams will again wear those cheesy stars and stripes caps -- which are supposed to be patriotic but end up cheapening the flag and the sport -- on Memorial Day, Independence Day and Sept. 11. Over the past three years, the caps have rotated from blue to red to white. What's left?
Okay, now you're all caught up. Let's play ball!
Paul Lukas has always maintained that a hot dog never tastes better than on Opening Day. If you liked this column, you'll probably like his Uni Watch Blog, plus you can follow him on Twitter and Facebook. Want to learn about his Uni Watch Membership Program, be added to his mailing list so you'll always know when a new column has been posted, or just ask him a question? Contact him here.