Commentary
Sports typos abound in Washington
Originally Published:
April 14, 2011
By
Paul Lukas
| Page 2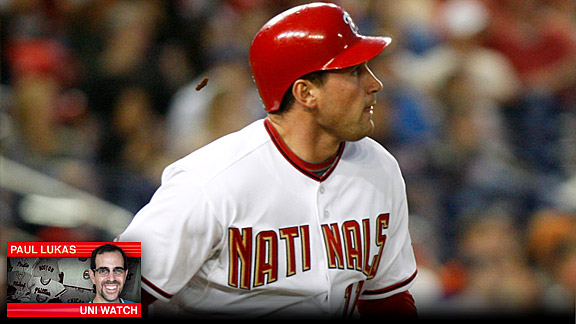 AP PhotoWashington third baseman Ryan Zimmerman sports the famed "Natinals" jersey in a 2009 game.
"Everyone knows there's nothing but incompetence in Washington. They should go ahead and shut the whole place down."
Did that quote come from a hard-core Tea Partier? From a congressional budget negotiator? From a world-weary taxpayer?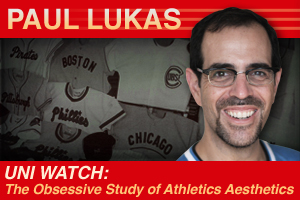 Maybe. Or maybe it's just from a long-suffering fan of the D.C. sports scene, which has been rife with so many errors this year -- many of them uniform-related -- that even the staunchest fan might wonder if the political gridlock and general ineptitude in our nation's capital has somehow infected the city's pro sports teams.
Let's start with the Nationals. On Opening Day alone, they had at least four blunders:
1. Pitcher John Lannan, who's been with the Nats since 2007, had his name repeatedly misspelled on the Nationals Park scoreboard. Lannan found this so amusing -- or maybe so appalling -- that he actually retweeted a Washington Post news item about it.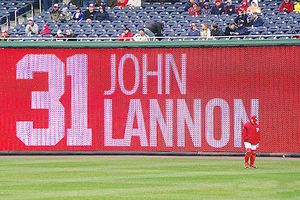 Philliesfan99 John Lannan suffered the indignity of having his own team misspell his name on the scoreboard.
2. The team produced a set of souvenir cups -- the kind you get if you order a giant soda -- featuring the Nats' 2011 schedule. Just one problem: They listed March 30 twice (and thereby omitted the date for their home opener, March 31). That error was spotted by Nats fan Pete Golkin's son, Max. "He looked at it and instantly noticed -- and he's 12," Golkin said. "It's pretty typical for the Nationals, because they tend to screw up the little things. In a way, it's kind of quaint."
3. The Nats proudly showcased a banner saluting the inductees to the newly revived Washington, D.C., Sports Hall of Fame. It included a note at the bottom about honoring the heroes of September 11th -- except they spelled "honoring" incorrectly.
4. At least one restroom wall was adorned with an ad featuring Josh Willingham -- who was traded to the A's back in December.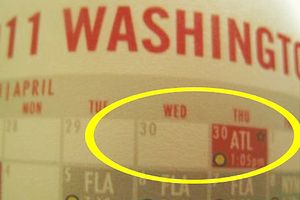 Pete Golkin The Opening Day date was wrong on the Nationals' souvenir cup.
And that was just Opening Day! And no, none of those were Photoshop manipulations -- they really happened. This reign of error recalls the first two months of the Nats' 2009 season, when various players appeared on the field wearing or carrying an upside-down N, an upside-down I, an upside-down 8, numbers that were peeling off of a jersey, a misspelled bat and, most famously, the most egregious jersey typo in MLB history. Oh, and for good measure they misspelled Teddy Roosevelt's name on a bobblehead. Toss in this year's Opening Day mix-ups and it adds up to a quality-control apparatus that's clearly operating a few senators shy of a quorum, if you get Uni Watch's drift.
Now, to be fair, other teams and other sports occasionally have their spelling-challenged moments, although not nearly as often as the Nats seem to. And to be even fairer, not all of the Nats' blunders have been the team's fault (indeed, Majestic took the fall for one of them and was probably responsible for several of the others). Still, even if certain mistakes didn't originate with the team, nobody on the Nats' staff caught any of them.
Covering the Typo Beat
The task of chronicling the D.C. sports scene's gaffes, foibles and faux pas often falls to Washington Post staff writer Dan Steinberg. Many sports writers either avoid writing about typos or will cover them almost apologetically, as if it's somehow beneath them, but Steinberg has become the go-to guy for documenting this type of thing.
"I try to cover the stuff that people talk about," Steinberg said. "I mean, remember the Ladell Betts thing in 2009, where they misspelled his name? It was a preseason game, so nobody cared about the game outcome anyway, but we went online and saw that people were talking about his jersey, and then people started sending me images on Twitter, from their televisions. So I'm not trying to pick on these teams -- I think there's legitimate interest."
And besides, as Steinberg points out, uniform typos can be symptoms of larger problems affecting a franchise. "There have been reports that the Nats' equipment department was underfunded and didn't have enough for basic equipment needs, so a uniform mistake can reflect fans' concerns about that," Steinberg said. "And then there's other stuff, like one year their fireworks kind of screwed up and there was debris falling down on people's heads. And they had a sausage gun that shot hot dogs into the crowd, and it had a malfunction and people were getting covered in hot dog buns. So there's a sense among fans that there's some sloppiness or a lack of professionalism there."
But fan sentiment can cut both ways, as Steinberg has discovered. "Some readers have started posting negative comments on my stories, saying I'm too mean and too harsh," he said. "My concern now is that one of those readers might create a fake mistake, with Photoshop or whatever, and send it to me, and then I'll get burned." As they say in D.C., Dan, trust but verify.
Meanwhile, what about the perception that all these sports snafus somehow reflect a larger culture of incompetence in our nation's capital?
"Oh, come on!" said Steinberg, suddenly all D.C.-proud and sticking up for his city. "I hope that's not the case. If people are really saying that, that's gonna make me reluctant to ever publicize any of this again."
Well, we can't have that. So if you think there's a some sort of connection between these guys and these guys, keep it to yourself.
And besides, being fair isn't nearly as much fun as compiling a list of uniform glitches afflicting a given team -- a team like, say, the Washington Wizards. They had a particularly entertaining run of uniform issues earlier this year, racking up three uni-notable moments in the space of barely a month:
• On Jan. 22, Mustafa Shakur -- a last-minute call-up from the D-League -- wore a jersey that looked like it had been lettered up by a kid at K-Mart. (Further info and photos here.)
• Two days later, Kevin Seraphin wore his shorts backward on the court.
• About a month after that, on Feb. 23, Andray Blatche's name was misspelled on his jersey.
Fortunately, the Wizards didn't make the NBA playoffs, so that closes the book on their 2011 blooper reel -- at least until the next NBA season tips off in the fall.
As for Washington's other pro sports teams, the Redskins had a doozy of a nameplate typo for a 2009 preseason game, but they've been relatively error-free since then (maybe Dan Snyder's control-freak approach has its advantages). And the Capitals, as far as Uni Watch can tell, have had no typos or related problems over the past several years, which just goes to show how everything else falls into place once you learn how to spell "Ovechkin."
Of course, the Caps have one other thing going for them: They had the NHL's second-best record this season, while the Nats and Wizards have been near the bottom of their respective leagues. So even if the Caps all showed up with "Capitlas" on their jerseys, they'd probably get a bit of a mulligan, because winning is a remarkably effective cure-all.
But winning isn't something that D.C. fans have been able to experience very often. "Washington sports fans have a rich history of resigned bemusement, going back to the Senators, and that kind of carries through culturally," said R. Scott Rogers, who founded Ball-Wonk, believed to be the first Nats blog. "So these misspellings and other episodes feed into the larger narrative of team management and team conduct. I mean, our basketball team brought in Michael Jordan and somehow became even more of a laughingstock. How do you accomplish that?" (Rogers also provided a really sharp analysis of the Nats' problems. It's too lengthy to include in this column, but you should check it out here.)
In other words, when you're dealing with teams like the Nats and Wizards, the latest jersey typo, the latest fourth-quarter collapse and the latest blown save all seem like part of the same cycle of failure, the same comically bad identity.
Then again, coming up with an identity is just another one of the D.C. teams' problems. It's been 14 years since the Bullets were renamed the Wizards and people still haven't stopped snickering, so next year they're going back to the Bullets' colors -- but not the Bullets' name. And the Nats can't even decide when the franchise was founded! (Further details on that here.)
Say this much for the Nationals, though: Thanks to their new uniforms, they won't have to worry about typos on the front of the jersey anymore. Well, probably.
Paul Lukas routinely sees his name misspelled as "Lucas" (and not just by people from Washington). If you liked this column, you'll probably like his Uni Watch Blog, plus you can follow him on Twitter and Facebook. Want to learn about his Uni Watch Membership Program, be added to his mailing list so you'll always know when a new column has been posted, or just ask him a question? Contact him here.