Commentary
Championship bling that tops rings
Originally Published:
May 5, 2011
By
Paul Lukas
| Page 2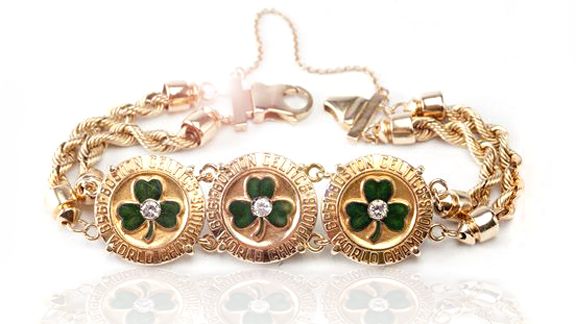 Courtesy of Bruce Menard This Celtics charm bracelet was made for a player's wife from a set of cuff links and a tie tack.
One time I was reading a copy of GQ or Esquire or some magazine like that, and it had one of those lists of style dos and don'ts. And somewhere in the middle of the list was this:
"Pinky rings look so cool -- in a Scorsese film."
I thought of that line a few weeks ago when the Giants got their World Series rings, just as I do whenever a team in any sport gets its championship rings these days. Because as teams keep attempting to outdo each other's championship bling (bigger, heavier, pricier, more diamond-encrusted, etc.), the designs are looking increasingly grotesque. They've basically become Scorcese-esque pinky rings, no matter which finger they're worn on.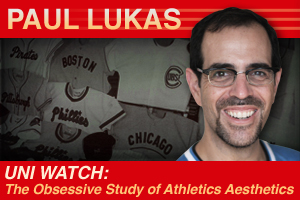 Maybe that's why championship rings feel so played out nowadays. Even with the biggest, Scorcese-est design, there's only so much gold and so many diamonds you can cram onto a ring (well, maybe), only so many ways to depict your logo in jeweled form, only so many ways you can inscribe "Pride" or "Honor" on the shank.
In short: I'm suffering from ring fatigue. The ring has lost its zing. I'm bored of the rings.
Fortunately, there are other kinds of sports bling out there -- or at least there used to be. Consider, for example, this Super Bowl I cuff links set (those belonged to Packers lineman Steve Wright) or this 1969 World Series pendant (Mets stadium namesake Bill Shea gave them to all the players' wives; that one belonged to the wife of reliever Ron Taylor) or this 1946 American League All-Star tie bar.
Those photos are from the collection of Bruce Menard, a 41-year-old from Connecticut who got bitten by the bling bug when he attended baseball card shows as a kid.
"I met a lot of famous ballplayers at baseball card shows in the late '70s and early '80s, and a lot of them were wearing World Series rings," Menard says. "That was pretty exciting."
So Menard started collecting championship rings -- or, rather, photos of championship rings (the genuine articles were a bit outside his budget). Soon he'd compiled images of just about every ring design issued by every championship team in all the major sports. But the thing about a true collector is that he keeps collecting even when the collection is complete. In Menard's case, that meant delving into the sub-world of sports-related cuff links, charm bracelets, cigarette lighters, you name it. Soon he'd amassed more than 1,000 images of such trinkets.
Of course, some of those trinkets are better than others. Asked to choose some favorite examples of non-ring bling, Menard came up with the following list:
1. 1955 New York Yankees AL championship belt buckle. "This is one of the first non-ring jewelry awards I ever saw," Menard says, "and it's a beauty. The Yankees' logo is rendered in gold, and encrusted with diamonds, rubies and sapphires. Wonderful hand-engraving, too. Interesting that they used the super-formal 'Charles D. Stengel,' instead of 'Casey.' Pretty blingy for 1955, especially since they didn't even win the World Series that year." (They didn't win in 1957, either, but that didn't keep Stengel from ending up with these awesome cuff links.)
2. 1954 Cleveland Indians cuff links. "I know Chief Wahoo is problematic for some people, but these are really cool. The Indians also made tie tacks and stickpins with the same motif. All of them cast in gold and set with rubies. Blingy and fun, albeit politically incorrect." (If you want a set of Indians cuff links without Chief Wahoo, check out this set that was presented to Tris Speaker in 1920, after he hit .388 and managed the Tribe to a championship.)
3. 1941 National League All-Star silver box. "Many different gifts and awards -- often made from silver -- were given to baseball All-Stars before rings became the norm in 1971. This type of engraved box was used quite a bit in the 1940s. Not blingy, but very classy."
[+] Enlarge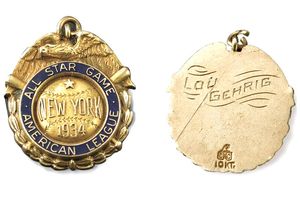 Courtesy of Bruce Menard Lou Gehrig was one of the 1934 American League All-Stars who got these medallions.
4. 1934 AL All-Star medallion. "Another early All-Star award. A classic design that's set in gold and enamel. All the American League players got one, but there's only one Lou Gehrig, so it's the name on the back that really makes this one special."
5. 1940 NL All-Star tie bar. "Bill McKechnie was the first manager to win a World Series championship with two different teams: the 1925 Pirates and the 1940 Cincinnati Reds. He also managed the 1940 National League All-Star team, for which he received this gold tie bar with an accompanying chain and charm." (McKechnie, incidentally, was a member of 1914 Indianapolis Hoosiers, who won the first championship of the short-lived Federal League. Players on that team received this charm.)
6. Charm bracelet with 1955 NL All-Star charm. "This is what happened with a lot of the non-ring awards: They ended up on charm bracelets. In this case, it's Hank Aaron's 1955 All-Star Game pendant, which is made of gold and set with a ruby. Subtle and classic. The bracelet, which was worn by Aaron's wife, also features a 1939 baseball centennial charm, similar to the sleeve patch that teams wore in '39."
The A-B-C's of Ring Bling
Championship teams unveil their ring designs with great fanfare. But what most fans don't know -- I didn't know myself until sports jewelry maven Bruce Menard told me -- is that most teams issue two or even three versions of their rings. These are generally referred to as the A, B and C designs. As you can see in those photos, the A ring gets the full-on bling-o-rific treatment, while the B and C versions are more subdued.
"The A ring is what the players, coaches and high-ranking front-office people get," Menard explains. "The B ring might be for people who work in the ticket office or scouts or maybe longtime ushers." The C design is usually for lower-ranking team employees.
So if you are working for a team and were wondering how you're shaping up in the organizational pecking order, just sit around until the team wins a title and see which ring you get. It'll tell you exactly where you stand.
7. 1948 Cleveland Browns championship tie bar. "Baseball isn't the only sport that had non-ring bling. This one's a really nice piece that marked the Browns' third straight championship in the old All-America Football Conference. The brown enamel is a nice touch. This one belonged to quarterback Otto Graham."
8. 1959 Boston Celtics charm bracelet. "This beauty started life as a set of cuff links and a tie tack. That was then reassembled into a bracelet for a player's wife. This was when the Celtics were in the midst of winning 11 championships in 13 seasons, so they kept their jeweler very busy."
9. 1908 AL championship pocket watch. "A beautiful gold watch with a touch of bling in the diamond-encrusted 'D' logo. This one belonged to Ty Cobb, who played in three consecutive World Series but never won one."
10. 1930 Philadelphia Athletics World Championship pocket watch. "This watch is a bit flashier, with the A's elephant on the face, gold 'World Champs' lettering instead of numbers and the engraved portrait on the back. And each portrait was different -- here's one for Rudolph Von Ohl, the team's business manager. And as if that weren't enough, everyone also got a tie clasp with a whopper of a diamond."
Honorable mention: Players on the 1974 Celtics were given digital watches, which practically qualifies as anti-bling. ... Did Babe Ruth play for the 1934 Tigers? Nope -- that AL championship cigarette lighter was given to one of the players' wives, whose name was Ruth. ... Roy Halladay and Dallas Braden both got championship-style commemorative rings for their perfect games last year. ... Here's something you rarely see: a Negro Leagues championship ring. That one's from the 1946 Newark Eagles. ... Lou Gehrig's wife, Eleanor, had a charm bracelet featuring most of Gehrig's World Series and All-Star awards. She allowed it to be used in the filming of "The Pride of the Yankees" and was still wearing it when she appeared at Yankee Stadium for the 1960 Old-Timers' Day. ... Little-known fact: From the 1970s through the early '80s, all the NBA championship rings were the same design every year. "From what I've heard, the league office was put in charge of it and they got really lazy -- and kinda cheap," Menard says.
That's a pretty swell list. But all the non-ring items are several decades old. Do teams still issue these types of curios?
"It's difficult to say for certain," Menard says. "It's easier to track the vintage pieces, because they eventually show up on eBay and at auction houses. Most of today's players have made enough money that they don't need to sell their keepsakes, so it's not clear whether today's generation of bling -- whatever form it may be taking -- will end up circulating publicly."
That's a shame, but maybe it's for the best. It's one thing to give Casey Stengel a personally engraved commemorative movie camera, but can you imagine the Yankees giving, say, an engraved iPad to Joe Torre? It just wouldn't be the same.
Paul Lukas tried on a few championship rings at the 2009 National Sports Collectors Convention and found them approximately 18 sizes too big. If you liked this column, you'll probably like his Uni Watch Blog, plus you can follow him on Twitter and Facebook. Want to learn about his Uni Watch Membership Program, be added to his mailing list so you'll always know when a new column has been posted or just ask him a question? Contact him here.