Commentary
Uni Watch ranks best retro NFL helmets
Originally Published:
May 17, 2011
By
Paul Lukas
| Page 2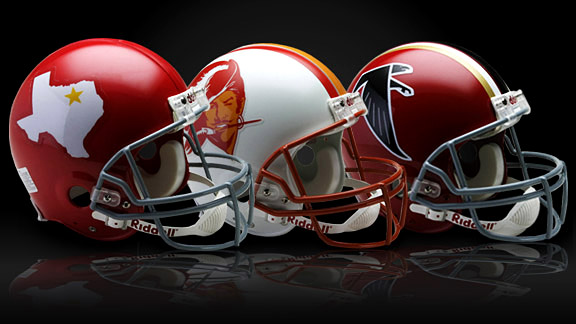 ESPN.com Illustration
ESPN.com's football writers recently voted for their favorite NFL helmets. But they limited their choices to the league's 32 primary helmet designs -- what about all the other helmets that have been worn over the years?
With that question in mind, I sat down to create a list of notable helmet designs from the past. It's trickier than it sounds, because some teams have had pretty much the same helmet design forever (Packers, Dolphins, Rams), and others have had only one or two variations (like the Bengals, who had only one design prior to their current one, and there's no way I'm voting for that).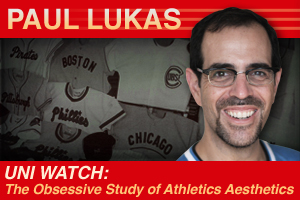 Fortunately, there have been enough interesting old designs to create a top-10 list. The rules, which I made up as I went, were as follows:
• Any design currently in use as a team's primary helmet was not eligible.
• I was free to pick old designs that are currently being used as throwbacks, however.
• And although it was tempting to show off by picking ringers like the Saints' black helmet (used during the 1969 preseason but never worn in a real game) and the Texans' white helmet (showcased at a news conference when the franchise was awarded in 2000 but later changed to navy and never worn on the field), I decided to leave those out of the running.
So here you go -- 10 cool designs that look as good on the field as they do on the nightstand.
• Click here to view much larger images of the helmets in Page 2's photo gallery

10. Buffalo Bills, 1974-83
Some folks prefer the older "standing buffalo" design, but I always liked this one. The Bills changed their helmet shell from white to red in 1984 because three other teams in the AFC East (Pats, Colts, Dolphins) also had white helmets, and the coaching staff thought Bills quarterback Joe Ferguson was throwing so many interceptions because he was having trouble picking out his own receivers. The bad news is that the color switcheroo didn't help his performance; the worse news is that the red helmet never looked as good as the white one. But the good news is that the white version will be returning as the Bills' full-time helmet in 2011 -- assuming there's a 2011 season.
9. Baltimore Colts, mid-1950s
This is one of the weirdest helmet designs ever, because the logos were on the back of the helmet, instead of the sides. But hey, if a horse is galloping away from you, that's what you see -- horseshoes disappearing into the distance. The Colts used this design last season as a throwback.
8. Tampa Bay Buccaneers, 1976-96
As a full-time logo, Bucco Bruce had probably outlived his usefulness by the time he was mothballed in 1997. But it's always nice to see him return as a throwback for a game or two each season.
7. Philadelphia Eagles, late 1989
Eagles quarterbacks coach Doug Scovil died late in the 1989 season. Instead of going with the standard memorial patch or helmet decal, the Eagles honored him by wearing black tape on their wings for the last three games of that season -- a unique and effective tribute.
6. Dallas Texans, 1960-62
In case you didn't know where Dallas is, this helmet tells you. Worn by Lamar Hunt's team before he moved the franchise to Kansas City and renamed them the Chiefs (and recently resurrected as a throwback), the design has one key advantage over the current Chiefs helmet: The yellow star coordinates nicely with the yellow striping on the team's pants and socks.
5. New York Jets, 1963
Instead of those boring Titans of New York throwbacks that they've been wearing, the Jets should have gone with this 1963 design. Such a cool helmet logo! (You'll definitely want to see this one in the large photo gallery.)
4. Dallas Cowboys, 1976
Decades before all the stars-and-stripes designs teams currently like to trot out, America's Team really did rebrand itself as America's team for the 1976 bicentennial.
3. Atlanta Falcons, 1966-69
Not many fans realize that the Falcons' original helmet, recently revived as a throwback, featured red and black as a nod to the University of Georgia and gold and white as shout-out to Georgia Tech, thereby capturing the state's premier college football traditions.
2. New England Patriots, 1961-92
Is there anyone -- anyone at all -- who prefers Flying Elvis over Pat Patriot? Right, didn't think so. Bring back Pat!
1. San Diego Chargers, 1961-65 and 1967-73
Some helmets have logos on the sides, some have numbers on the sides, but no helmet has ever combined those two elements better than this one. They should go with it full-time.
• Click here to view much larger images of the helmets in Page 2's photo gallery

Paul Lukas thinks the owners and players should all have to wear football helmets 24/7 until they settle the lockout. If you liked this piece, you'll probably like his Uni Watch Blog, plus you can follow him on Twitter and Facebook. Want to learn about his Uni Watch Membership Program, be added to his mailing list so you'll always know when a new column has been posted, or just ask him a question? Contact him here.