Commentary
Illustrating Every Hall of Famer
Originally Published:
May 19, 2011
By
Paul Lukas
| Page 2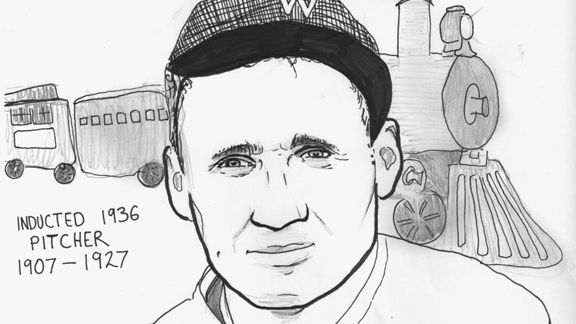 Summer Anne Burton Summer Anne Burton's Walter "The Big Train" Johnson illustration, one of 295 she plans to do.
Every now and then you come across a project that's so good, and so simple, you want to tell everyone you know.
That's the case with the brilliantly self-descriptive Every Hall of Famer, a blog that was launched in January by a 28-year-old from Austin, Texas, named Summer Anne Burton. Her goal is simple: to draw all 295 members of the Baseball Hall of Fame, in the order in which they were inducted, within the 2011 calendar year.
Burton is an interesting case. By night, she's a waitress; by day, she obsesses about the Astros, plays softball, competes in a fantasy baseball league ("I'm the only girl who plays," she says) and works on her Hall of Famer illustrations. She has no formal art training but grew up being home-schooled by her mom, who's an artist. "So I was always doing a lot of art at home," she explains. "I gave up on it at one point, because I thought I wanted to be a novelist instead, but then I came back to art."
Good thing. Burton's baseball drawings are just informal enough to be charming, and they're studded with loads of annotations and graphics, so you don't just look at them -- you read them. It's a really engaging style.
And people are noticing. Her blog's readership is steadily growing, and the folks at ESPN The Magazine just had her do drawings of three players who might never be eligible for Every Hall of Famer.
[+] Enlarge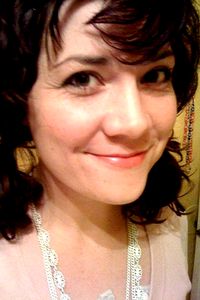 Summer Anne Burton Summer Anne Burton grew up a huge Astros fan in Texas.
I wanted to hear more about Burton and her project, so I recently interviewed her over the phone. Here's how it went:
Page 2: Have you always been a baseball fan, or is that a more recent thing?
SAB: My grandparents live in Houston. I spent a lot of time at their house when I was a kid, and my grandfather was always watching baseball, so I grew up around it.
P2: How did you get the idea for Every Hall of Famer? Like, did you know you wanted to do a baseball-related art project? How did you settle on the Hall of Fame?
SAB: It was sort of a combination of things. I went to the Hall of Fame in Cooperstown a few years ago and just loved it -- it was heaven. I had drawn some baseball players just for fun on another blog of mine, and I really enjoyed that. And then I had some old Astros programs that my grandmother found in her garage and gave to me, so I started drawing all these old Astros players I'd never heard of before, and I got really into it. And then it hit me around last October, like the light bulb going on over my head as a fully formed idea: I'm just gonna draw every Hall of Famer next year.
I actually said it out loud, and my boyfriend said, "There's almost 300 of them!" and I said, "I know, that's perfect, so I can take a few days off during the year and still finish it in one year. It'll be great! I can do it, and it'll be super fun."
So I pretty much figured out immediately that I'd do it chronologically, from the first Hall of Famers to the most recent ones. I was really hoping Jeff Bagwell would get in this year on the first ballot, so I would get to end with him -- maybe that's why I wanted it to go chronologically. And of course he didn't get in, but that's OK.
P2: So did you do the first one on New Year's Day?
SAB: No, it was a few days later.
P2: And was your plan to do one a day, with occasional days off?
SAB: I didn't really set a schedule. I just told myself that I wanted to finish by the end of the year. I've done the math, and I can see I'm going to have a lot of catching up to do later in the year, but that's fine. And as more and more people learn about the project and follow it, that's a much bigger motivator. People actually get mad at me when I don't post new drawings!
P2: How do you decide how to depict each player?
AND SPEAKING OF HALL OF FAMERS ...
Harmon Killebrew -- one of the nicest, most gracious men I ever had the pleasure of interviewing -- died Tuesday. The Twins have chosen to memorialize him in two distinct ways -- one conventional, one unique.
On the conventional side, they've added a "3" sleeve patch, which they'll wear for the balance of this season. Nothing unusual about that.
In a more powerful gesture, the Twins' players have decided -- and management has agreed -- that they will wear their throwback alternate uniform for all the team's remaining home games this season. This is, to my knowledge, the first time a team has ever memorialized someone via its choice of uniform.
Meanwhile, some people are still circulating the story that MLB's silhouetted batter logo was based on a photo of Killebrew. This is a good story; Killebrew himself believed it. Unfortunately, it isn't true. Logo designer Jerry Dior has always said that the logo wasn't based on a specific player. I reported on this back in 2008, and The Associated Press ran a similar story earlier this week.
This is no knock on Killebrew, of course. A gentleman in every sense of the word, he no doubt wouldn't want anything on his tombstone that wasn't true. RIP, Killer.
-- Paul Lukas
SAB: For famous players like Ty Cobb and Babe Ruth, I pretty much knew how I wanted to approach them. But for some of the more obscure players -- guys from the dead ball era -- I just researched them from various sources. I'll usually read about a player to get a sense of his personality before I start looking for photos.
P2: And do you usually base your drawing on one photo, or is it a composite?
SAB: It's usually based on one primary photo, but I might take certain liberties, like changing his uniform depending on which team he was most associated with.
P2: Hey, that brings up the issue of how the Hall of Fame always has that controversial choice of which cap a player will be wearing on his plaque. How do you decide which cap or uniform to show them wearing?
SAB: You know, I hadn't even thought of that at the start. And then a friend mentioned it to me, and I realized it added all this pressure. As it happens, there are times where my illustration doesn't even show a uniform or logo, especially for managers or owners. And that isn't necessarily a thought-out decision on my part -- it's just how it works out.
P2: How big is each original illustration?
SAB: They're 8-by-10.
P2: Once you finish researching and sit down to start drawing, how long does it take you to finish it?
SAB: Just the drawing part? Not long -- half an hour. Five minutes sometimes. I've always been fast. When I was a kid and into art, my mom would always tell me to slow down. I don't know, I guess I just knock stuff out. And you know, they're black-and-white, just pencil and pen, so that makes it pretty easy to work quickly. I'm a big fan of independent comics, and that's pretty much the biggest influence on my style.
I'm not a perfectionist, anyway. And since this project involves so many drawings, I kind of allowed myself from the beginning to have a kind of loose, laissez-faire style, almost messy-looking at times. And some people really seem to like that. I think only once or twice have I started a sketch and then had to start over.
P2: One of the great things about your illustrations is how you add all those little annotations. Was that your plan all along, or did that sort of evolve, or what?
SAB: I like that about it, too -- now. I had some doubts about it at the beginning, though. I have a tendency to overdo things. I'll add one more color, or when I'm cooking I'll add too many ingredients. So I was worried that adding all these notes might have been a big mistake, especially since I have terrible handwriting.
But then I got feedback from people telling me how much they loved all those extra things I wrote. And now it seems like an essential part of the project. And it's really fun to pick out which things to include and which ones to leave out.
P2: You've chosen to stick with black-and-white -- will that change when you draw more modern players?
SAB: I haven't really decided yet. It would be nice to add color at some point, but then that takes longer and just adds another element that can go wrong. So I'm still thinking about it.
P2: Are there visual details that you've learned along the way that have surprised you? For example, I'm looking at your illustration of King Kelly, where you show him wearing a lace-up jersey with a collar. Did you even know baseball players had worn that kind of jersey back in the day?
SAB: No! That was a surprise. There's a lot that I've learned along the way -- things I wouldn't have noticed if I hadn't been looking carefully to draw them.
P2: Have you exhibited any of the drawings in a gallery, or basically anyplace other than the Internet?
SAB: I really want to. I'm not sure how I want to handle it, but I know I want them all to be together, at least for a while, at the end of the project. I'd love to exhibit them. I have kind of grandiose notions about the feeling I had when I saw the Hall of Fame plaques at Cooperstown -- I'd love to be able to recreate that feeling with my drawings in a live setting.
P2: What about these illustrations you're selling on Etsy?
SAB: Those are commissions -- they're not the same illustrations from Every Hall of Famer. If someone wants me to redo one of the drawings from the blog, I can do that, but it's not going to be the original drawing.
P2: What about an Every Hall of Famer book? Seems like a natural.
SAB: Yeah, that's the dream -- I'm a book person. In fact, I worked in a bookstore for years, and I used to draw little self-portraits for my tip jar. So yeah, I'd love that so much. I haven't really done anything about it yet, though.
---
I have a feeling the publishing biz will be knocking on Burton's door soon enough. In the meantime, we can enjoy watching her trip through baseball's honor roll, one Cooperstown immortal at a time.
Paul Lukas might not know much about art, but he knows what he likes. If you liked this column, you'll probably like his Uni Watch Blog, plus you can follow him on Twitter and Facebook. Want to learn about his Uni Watch Membership Program, be added to his mailing list so you'll always know when a new column has been posted, or just ask him a question? Contact him here.