Commentary
Lifeline for hearing-impaired at ballparks
Originally Published:
June 7, 2011
By
Paul Lukas
| Page 2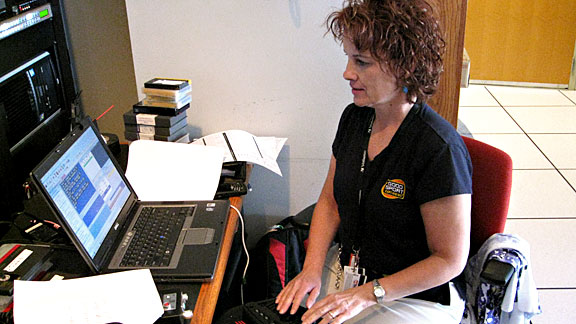 Paul LukasPatti White works on her transcription duties at a Cardinals game during a rare visit to the stadium.
If you've attended a New York Mets game over the past season or two, you may have noticed that the Citi Field scoreboard features closed captioning, so hearing-impaired fans can follow along with P.A. announcements, promotional messages, highlight segments and ads. The same system is used at Yankee Stadium in the Bronx, Citizens Bank Park in Philadelphia and Busch Stadium in St. Louis.
You might be surprised to learn, however, that the people typing the captions for those scoreboards usually aren't located there at the stadiums. In fact, most of them aren't even in the same time zone as the ballgames they're captioning. The work is all done by a small coterie of Midwestern women, led by a suburban St. Louis mom who's carved out what might be the most unusual behind-the-scenes niche on the current pro sports landscape.
That woman is Patti White, a pint-sized redhead in her early 50s who spent more than 20 years working as a court stenographer, including a long stint at the federal courthouse in St. Louis -- which happened to be right across the street from where the new Busch Stadium was being built in 2004 and '05.
"Every day I would watch them working on it," recalls White, a lifelong Cardinals fan who used to sneak out to watch games at the previous Busch Stadium while growing up across the river in southern Illinois. "And I thought, 'You know, they ought to have captioning for hearing-impaired fans over there.'"
This wasn't just a random notion on White's part. St. Louis is home to the Central Institute for the Deaf and the St. Joseph School for the Deaf, so it's long been known as a safe haven for the hearing-impaired. White herself had done captioning for some classes and seminars, her stenography skills making her ideally suited for real-time transcription. Providing that service at a big league ballpark seemed like a natural progression.
White didn't know it, but the Cards had already decided to provide captioning in their new stadium. They hadn't yet hired a captioner, however. So when she contacted the team prior to the start of the 2006 season, it was a case of perfect timing. The team hired her for that season.
The Cards had envisioned their captioner working on-site at Busch Stadium, but White convinced them that she could do the work from her home, using a special modem that allows her to hear whatever's being spoken or played over the P.A. system. It seems counterintuitive -- don't you need to be at a live event to provide a live transcript? -- but she says most closed captioning is done remotely.
"I love going to the games, but I don't need to go to all 81 of them," she said. "So I'll do a game at the stadium every now and then, just to remind the scoreboard staff that there's an actual person doing this."
By this point White had reduced her court stenography work to part-time status. And as that 2006 season progressed, she started thinking bigger. "At first I was only interested in doing it for the Cardinals," she said. "But then I thought about the possibility of a larger business venture that could provide captioning for other teams." Soon she'd founded her own company, called Good Sport Captioning, to do just that.
Good Sport got in on the ground floor of what may one day become a major industry. For now, though, stadium captioning is still in its infancy. Although three fans have successfully sued the Washington Redskins to provide stadium captions under the Americans with Disabilities Act, other pro sports teams are currently under no obligation to do so. As White quickly learned, some teams don't have a dedicated spot on their scoreboards for captions (especially in basketball and hockey arenas, which tend to have much smaller scoreboards), and others prefer to work with someone who can be there on-site (a group that currently includes the Astros, Pirates, Royals and Twins, each of which contracts with a local captioner). But White persevered and has slowly but steadily added to her roster of clients, which now includes the Cardinals, Phillies, Mets, Yankees and Missouri football, making Good Sport the de facto leader in the nascent stadium captioning market.
White can't do all those games herself, so she's used her contacts in the court stenography world to assemble a group of 10 stringers -- all of them, like herself, Midwestern women who do the captioning work from their homes via a modem hookup. So on a given night, one of her Missouri-based captioners might be working the Cardinals game, a woman in Michigan might be working for the Mets and White herself might be doing the Phillies. If a family emergency crops up or a game runs long, White will even swap in a new captioner in the middle of the game, like a manager calling for a trusted reliever. Nobody can tell the difference.
"Most people have no idea what we're doing, but it works," she said. "And that's the point -- I just want all the fans, including the hearing-impaired fans, to be able to have the same experience."
---
It's a brisk spring day in St. Louis, and the Cardinals are preparing to play the Marlins at Busch Stadium. An hour before game time, a youth group from a local high school is down on the field and being presented with an award. Up in the scoreboard control room, a large staff is on call -- there's a director, the P.A. announcer, a graphics guy, an audio guy, a replay guy, and so on. It's like the crew for a TV show.
Tucked away in a far corner of the room, almost unnoticed, Patti White is on the job (it's one of those occasional games that she chooses to work on-site). As she captions the award presentation to the youth group, she types on a stenotype keyboard, just like the one she used to use in courtrooms, while looking at a laptop screen that shows the words that she's typed. A few hundred yards away, these same words appear on a portion of the scoreboard. White glances over at the scoreboard now and again, but most of the time she either stares at her laptop screen or else just closes her eyes as she types, completely in the zone.
HOW DOES THAT THING WORK, ANYWAY?
Stenotype machines like the one Patti White uses have keyboards based on combinations of phonetic sounds, not characters. In order to convert those sound combinations into words that appear on stadium scoreboards, White uses a software package called Stenographic BCS (short for Broadcast Captioning Suite), which has an internal dictionary and can "learn" additional words as prompted by the user, much like a spell-check dictionary.
White says the biggest challenge for the software is people's names. For example, when White first tried to write a caption that included the name of Cardinals utility man Nick Punto, the software interpreted his surname as "punt toe" and then "punitive toe." So White added his name to her the software's dictionary, and now it recognizes a certain combination of keys as Punto's name.
White maintains a separate dictionary for each team she works for, and also for her non-sports projects, which can occasionally lead to mix-ups. "One time I was captioning a class for a hearing-impaired woman at our church," she says. "And I typed 'J*C,' which is my shortcut for Jesus Christ, but I accidentally had my Yankees dictionary loaded instead of my church dictionary, so it came out as Joba Chamberlain!"
Fortunately, she says, the hearing-impaired woman isn't a baseball fan and therefore had no idea who Chamberlain is, which cut down on the blasphemy factor.
White's stenotype machine has 24 keys, all unmarked, which represent phonetic sounds, not characters. When you type on your computer's keyboard, you hit one key at a time, but a stenotypist hits multiple keys in combination, like a pianist or organist, with the resulting words being created like musical chords. (See the sidebar at right for a fuller explanation of how this works -- and how it occasionally doesn't work.)
After the award presentation is over, White looks at her laptop and sees that she made a typo. She slaps her forehead in frustration. "Once it's out there on the scoreboard, there's nothing I can do," she said. "The hearing-impaired community understands -- they know we'll make the occasional mistake. It's everyone else who tends to think we're messing up."
As the pregame activities continue, White provides captions for a variety of content: a web gems highlight reel, a segment with a roving reporter interviewing fans in the stands, the weather report from a local TV meteorologist, the announcement of the starting lineups -- basically, anything with audio. As this goes on, I start to appreciate just how much a hearing-impaired fan could miss if no captioning were available.
Eventually the game starts, at which point White's work takes on an odd rhythm. She's very busy in between innings, captioning all the various announcements, promotions and commercials. Once an inning starts, however, she gets a break, because there's no audio content to worry about (the P.A. announcer's "Now batting …" introductions don't need to be captioned, since the hitter's name, photo and stats are already shown on the scoreboard). So while the rest of the scoreboard crew is hopping into action, White is free to grab a beverage or walk to the control room's front window to watch some of the game. She boogies to each batter's walk-up music and seems to live and die with each play on the field. But as soon as the third out is made, she's all business, back at her keyboard.
No surveys have been done to determine what percentage of a typical ballpark crowd is hearing-impaired, but Cardinals production coordinator Craig Wilson, whose office is right next to the corner where White sits, says there's definitely a portion of the team's fan base that relies on captioning. "Actually, the system had some glitches during the first few days of this season, and people complained," he said. "That shows people care about it, and it's good to know that, because it's not something we can measure too readily. I'm surprised more teams don't do it."
---
The following afternoon, I arrive at Patti White's house outside of St. Louis, where she lives with her husband and their two children. She's going to be captioning that evening's Braves-Phillies game, which is taking place at Citizens Bank Park in Philadelphia, and I've come by because I want to see for myself how she's going to do that from her home.
White welcomes me and brings me down to "the bomb shelter," as she calls it. It's a small room in her basement decorated with assorted baseball memorabilia -- pennants, game photos, bats, balls, ticket stubs, bobbleheads. A man cave for a woman.
The Phillies are a new client for White this season, and so far the relationship has been entirely long-distance. She's never been to Citizens Bank Park; in fact, she's never been to Philadelphia. "Yes, I know that seems a little weird," she said. "But you'll see, once I get started, it's not all that different from how I worked at the ballpark yesterday."
In order to work a game from her home, White needs to log in to the stadium's scoreboard and establish a modem link with the ballpark's P.A. system. To my amazement, her modem uses an old-fashioned dial-up connection (complete with the classic dial-up modem sound effects, which briefly throw me into a nostalgic haze). "It's actually more secure than an Internet connection," she explains.
As soon as the modem connection is established, a pair of speakers let us hear exactly what fans are hearing in Philadelphia -- in this case, a segment about a father and son attending a Phillies fantasy camp, which is apparently playing on the Citizens Bank Park scoreboard as part of the pregame activities. White sits down at her stenotype machine -- it's the same one she was using at Busch Stadium the day before -- and immediately starts captioning it, as you can see in this video (unfortunately, her speakers gave off a hum that my camcorder picked up, but it isn't too bad):
As the pregame sequence continues, I see that it is pretty much the same as when she was working at Busch -- at least until the game starts. That's when things get a little surreal. At Busch, we could hear the roar of the crowd, the shouts of the vendors, and all the other ambient sounds of a ballgame. But none of that comes through on her modem connection to Philadelphia -- we only hear what's played over the stadium's sound system. So every few minutes the P.A. announcer suddenly intones, "Now batting …" like the voice of God, and then we hear the batter's walk-up music (White boogies in her seat), and then the system is silent again until the next batter comes up a few minutes later. Eventually the inning ends, the between-innings promotions begin, and White gets back to work. It's a very odd way to experience a ballgame.
As the evening moves along, White checks in on how the Cardinals are doing. And then the Mets, and the Yankees -- all of Good Sport Captioning's clients. "I root for all of them," she says. "I used to not like the Yankees, but now that I work with them I've come to appreciate their history. In January, I even attended their first-ever women's fantasy camp [there's an article about her experience here], which was fun, but the big thing is that it really helped me learn about their history. And that's helped me a lot in terms of working with them, because their history is featured in a lot of their pregame programming."
It ends up being a good night for Good Sport, as three of White's clients -- the Yanks, Mets and Cardinals -- win. She's all excited as she goes over the game results, like a little kid who still collects baseball cards.
"It's true. I'm just a big baseball fan," she said. "In fact, I took piano lessons when I was growing up and my dream was to play the organ at the stadium. And now, look what I'm doing: I'm playing a keyboard for the fans at the ballpark. So my dream came true."
Paul Lukas played make-believe stenographer while working on this story but had no idea what he was doing at the keyboard. If you liked this article, you'll probably like his Uni Watch Blog, plus you can follow him on Twitter and Facebook. Want to learn about his Uni Watch Membership Program, be added to his mailing list so you'll always know when a new column has been posted, or just ask him a question? Contact him here.