ESPN.com illustration
In 1986, I was in college and dating a girl whose attitude toward baseball was indifferent at best. I used all the usual arguments to explain why baseball was a superior game: "It's the only game where one guy can beat nine guys. And there's no clock, see, so the players determine when the game ends. So even if you're losing, you can always come back and win as long as you don't make that last out."
1986 HIGHLIGHTS
Greatest team ever? Bears win Super Bowl 46-10. … Jack Nicklaus wins Masters at 46 after shooting final-round 65. … Wayne Gretzky tallies NHL-record 215 points. … Michael Jordan scores 63 points in playoff loss to Boston. … Rookie goalie Patrick Roy leads Canadiens over Calgary for Stanley Cup. … Celtics goes 67-15, beat Rockets for NBA championship. … Roger Clemens fans 20 Mariners and finishes 24-4 to win AL Cy Young and MVP. … At the World Cup, Argentina beats England in quarterfinals behind Maradona's "Hand of God" goal and second goal where he dribbles half the length of field through five English defenders. … Argentina beats West Germany 3-2 in the final. … Greg LeMond becomes first American to win Tour de France. … In ALCS, Dave Henderson's dramatic two-out, two-strike home runs keeps Red Sox alive. … In NLCS, Mets beat Astros in thrilling, 16-inning Game 6. … In World Series -- well, you know the story. … Mike Tyson becomes youngest heavyweight champ ever. … Lawrence Taylor leads Giants to 14-2 record and is named NFL MVP
And so on. Somehow she remained unmoved.
And then came the fall of 1986.
When people talk about the '86 postseason, they usually discuss its defining moment. But people forget that the Buckner play was actually the latest -- and not even the last -- in a series of moments that made 1986 the greatest year in postseason baseball history (and, therefore, in the history of the world, since postseason baseball is the reason for humankind's existence). You've probably forgotten some of the details, so here's a quick refresher course:
1986 ALCS: RED SOX VS. ANGELS
What you might remember: The Angels were about to win the series in the ninth inning of Game 5 when Boston's Dave Henderson hit a two-out, two-strike homer off of Donnie Moore, who was never the same.
What you've probably forgotten: Henderson's homer was actually Boston's second two-run dinger of the inning, and it didn't win the game. Heading into the top of the ninth, the Sox trailed by three runs. With one out and one on, Don Baylor hit a two-strike pitch over the wall to cut the lead to one. One baserunner, one out, and two strikes later, Henderson hit his famous shot to give Boston the lead. But the Angels scored in the bottom of the ninth, sending the game into extra innings. The Red Sox finally won it in the 11th, but they still trailed 3-2 in the series and had to sweep the final two games at Fenway to complete their improbable comeback.
1986 NLCS: METS VS. ASTROS
What you might remember: With the seemingly invincible Mike Scott looming as Houston's Game 7 starter (Scott already had two complete-game wins in the series, during which he'd given up a total of one run and eight hits and struck out 19), the Mets won the series by pulling out a 16-inning win in Game 6, with Keith Hernandez famously telling Jesse Orosco he'd punch him out right there on the mound if Orosco threw another fastball.
What you've probably forgotten: It had already been an incredibly tense series by the time Game 6 rolled around: Houston won the first game 1-0; in Game 3 the Mets were trailing by a run going into the bottom of the ninth when Wally Backman bunted for a disputed single (he appeared to have run out of the baseline to avoid Glenn Davis' tag) and then Lenny Dykstra won the game with a walk-off homer; and Game 5 went 12 innings. As for Game 6, it never would have gone to extra frames to begin with if the Mets hadn't tied the game with three runs in the ninth. Plus the teams traded runs in the 14th (Houston's tally was Billy Hatcher's homer off the foul pole), and the Astros gave up three runs in the top of the 16th, scored two of their own in the bottom of the frame, and had the tying and winning runs on base when Orosco finally struck out Kevin Bass to end it. Best six-game series ever.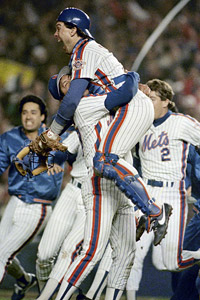 AP Photo/Paul Benoit
The Mets endured a wild postseason before securing their World Series victory.
1986 WORLD SERIES: METS VS. RED SOX
What you might definitely remember:
"It gets through Buckner! Here comes Knight and the Mets win it!"
What you've probably forgotten: Mookie Wilson's grounder was the culmination of what had already been a crazy half-inning. Trailing by two in the bottom of the 10th, the Mets made two quiet outs before starting their rally. They were down to their last out for three consecutive batters (all of whom singled, one of them on an 0-2 count) before Wilson came up, and Wilson himself fouled off a pair of two-strike pitches before Bob Stanley's wild pitch allowed the tying run to score. Wilson then fouled off two more before hitting his famous dribbler. Even if you knew all that, did you remember that Game 7 was pushed back a day by rain, which ratcheted up the tension and also allowed the Sox to start their ace, Bruce Hurst, who'd already beaten the Mets twice in the Series (17 IP, 14 H, 2 R, 14 K, 5 BB)? Or that the Mets were losing in that final game 3-0 going into the bottom of the sixth? Or that the Mets won the Series after losing the first two games at home, which had only been done once before?
Oh, and earlier that year, the Bears capped off one of the most dominating seasons in NFL history by shredding the Patriots in the Super Bowl, Larry Bird and the Celtics had their definitive championship run, and Jack Nicklaus struck one of the greatest poses ever while capturing the Masters. But none of that compared to those astonishing three weeks of October baseball.
When it was over, my girlfriend said, "Wow -- all that stuff you said, it's true! But I still don't really like it." To nobody's surprise, that relationship didn't last through 1987.
Page 2's Most Memorable Sports Years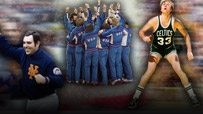 With 2008 already full of amazing moments, Page 2 is looking back at the greatest years in sports history.
THE YEARS
•
Jonah Keri on 1961: The year of the dynasty
•
Jim Caple on 1968: A year of unrest
•
Jim Baker on 1969: New York, New York
•
David Schoenfield on 1972: AL in trouble
•
Eric Neel on 1978: Greatest duel ever
•
Mary Buckheit on 1980: A miracle
•
Mike Philbrick on 1984: Bridging the gap
•
Paul Lukas on 1986: Three great weeks
•
DJ Gallo on 1994: The good old days
•
Scoop Jackson on 1998: Still resonates
•
Kieran Darcy on 2001: Darkness, and light
•
Patrick Hruby on 2004: End of exuberance
VOTE
•
PollCenter: Best year ever -- '80, '86, '98, '01 or '08?
ESPN Top Headlines