Before the kettle even whistles, the first point Sunday morning ends on a topspin backhand winner up the line. The Swiss gets back to deuce. This is the fifth game of the fourth set. Longest game of the match so far. It is 7:15 a.m. ET. After 3½ hours, Roger Federer, The Swiss, trails The Spaniard, Rafael Nadal, two sets to one. They're tied now at two games each. "This is a backbreaker for Federer if he loses," the television says.
The Swiss survives five break points to win the game. By the time the coffee's poured, Federer is up five games to two. Nadal holds serve at 5-3. Before the coffee's cooled enough to sip, The Swiss is serving for the set.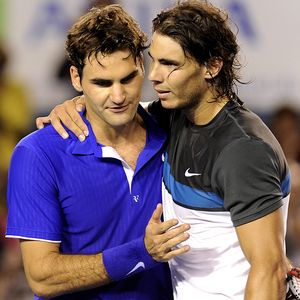 Greg Wood/AFP/Getty Images
Rivalry: Part of our competitive impulse as humans.
On a sharp service winner to The Spaniard's backhand, The Swiss ties the match at two sets each. After nearly four hours carving long arcs and hard angles out of the darkness 16 time zones away, the two best tennis players of this age -- of perhaps any age -- have played themselves back to even. One set will decide the Australian Open. Since their marathon finals match at Wimbledon this past July, the rivalry between these two has been frequently, and maybe even correctly, referred to as "epic."
But odd for a quiet Sunday morning here, odd for television, this thing so emphatic and real. The whole broadcast feels a little unsprung, jittery, the announcers' voices freighted with something that sounds too much like history and the crowd resonating to every point like a tuning fork struck hard.
As Mr. Enberg says, oh my.
It is in our nature to seek rivalry. To create it. To stoke it. Rivalry flares in us all, and in every human circumstance. Brothers and sisters. Classmates. Co-workers. Lovers. All of us craving more attention, more affection, better pay, a bigger slice. These rivalries are tepid things mostly, simmering away in your own brainpan as Ed gets that loading dock promotion you deserved; or Betty hits it off with that guy you just started dating. For better and worse, rivalry -- not to be confused with jealousy -- is part of our competitive impulse.
Often it's just turf loyalty, part of our devotion to home. Or part of our appetite for better storytelling. Rivalry makes every story richer, deeper, hotter. Naturally passionate, athletes and fans have always made and amplified worthwhile rivalries. The simplest of these are evergreen, traditional and categorical, like Army/Navy or Yale/Harvard; or geographical, like Michigan/Ohio State or USC/UCLA. They abide over time and generations.
We in the vampire press do our best to embellish them; or do our worst to manufacture new rivalries out of nothing more than our own desperation to sell papers or grab listeners or generate Web traffic.
So in a time when the very words have been debased by overuse, a truly great sporting rivalry -- an "epic rivalry" -- is a rare and precious thing. One made possible only by athletes or teams who define and then expand not just each others' limits, but the limits of the age in which they compete. Opponents at the very peak of their powers, equals, who transform one another. Always at great cost. Which is why "Ali/Frazier" remains the standard measure of a modern American epic, and speaks to the needs of our culture as fully as "Gilgamesh" or "Beowulf" spoke to the needs of theirs.
Nadal serves to win the first game of the fifth set. Federer serves to win the second. At stake is the 14th Grand Slam title for The Swiss, who'd then tie Pete Sampras for the most all time.
The Spaniard, all young muscle and grunt, powers through the third game to take a 2-1 lead.
Now The Swiss goes flat. He's usually imperturbable, inscrutable, but nine unforced errors so far in the set leave a look like helplessness on his face. Nadal breaks his serve to take the match to 3-1 in the fifth.
"Federer's just giving this fifth set away right now," the television says.
It's hard to tell which of the two the crowd in Melbourne is pulling for. The spectators buzz like a hive for every point. To counter power with power, The Swiss has started running around his backhand. Useless. On another service winner, Nadal goes up four games to one in the fifth set.
But The Swiss still has his serve. He wins the first two points of the sixth game. Emphatically. The first three points. Blanks The Spaniard, wins the game. Now it's 4-2. Is it too little? Or is it too late?
To better understand the mechanics and the strategy and the tactics of this faraway match and what's about to happen in it -- the play of forces, of physics and ambition, of submission and domination, of strength and finesse and desire -- I'm going to send the reader here. It's a 2006 profile of Roger Federer written by the late David Foster Wallace.
Mr. Wallace, an elite tennis player himself, wrote the defining story of the form. In it he details the outrageous gifts of The Swiss, and predicts the nemesis he'll find in The Spaniard. It's also one of the best pieces of sports writing of the past decade.*
Nadal overpowers The Swiss in his next service game. At 8:09 a.m. ET, games are 5-2 in the final set. It's almost over.
Now Federer serves, reaching high like a man trying to hold back the wave about to break over him.
He loses the first point. Then double-faults. He rallies briefly. Then another unforced error.
Now 30-40. Championship point.
Reeling, The Swiss punches back. 40 all.
"It's so hard to watch," says Enberg, sounding like his collar's too tight.
On the third championship point, Federer loops a long groundstroke just past the baseline.
Game. Set. Match. The Spaniard wins.
Roger Federer walks blankly to the net. "I'm a little bit stunned. I'm a little bit sad," says TV's Patrick McEnroe. "It's like he couldn't handle the pressure."
Four and a half hours after the match began, we find Federer in a tight television closeup courtside with his head down, wearing an expression of perfect heartbreak.
By 8:22 a.m. ET, the announcers are calling it a "crushing defeat."
"It's a big shift in tennis."
"Federer capitulated in the fifth set."
"Nadal's in his head."
For a few hours, The Rivalry takes on a life of its own. But by midafternoon, America moves on to the bloated spectacle of the Super Bowl.
The brilliance and the curse of any world class athlete's life lie in the finality of the definite. You win. You lose. Binary. Absolute. The rest of us mostly struggle, unresolved, in the twilight between the two.
Spent, both men are in tears for the trophy ceremony. Only they understand why. Each is less without the other, though the other may destroy him. The legacy of one must now become the legacy of the other. Trapped, they define each other. Paris, London and New York still lie ahead of them. And ahead of us.
If we're very lucky, this rivalry between The Swiss and The Spaniard, this epic thing, may become the sports story of the year.
---
* I footnote here, with a sad smile, that I often imagined DFW as a rival. He was not, of course. He was in a different weight class in a different, far more elite league. He was a genius, one of our few, and his only competition was himself.
We were not friends. Nor acquaintances. We had only passed infrequent comment to one another through editors we both worked with. By all accounts, he was a man I would have liked very much, and who was lost to us much too soon.
But for nearly 20 years he was to me, as he was to thousands of others, a constant source of competitive inspiration. A terrific goad to work twice as hard on the longshot chance of becoming half as good as he. This is the gift a rival hands you. I hope he understood that about himself when he wrote these lines about Roger Federer:
"Genius is not replicable. Inspiration, though, is contagious, and multiform -- and even just to see, close up, power and aggression made vulnerable to beauty is to feel inspired and (in a fleeting, mortal way) reconciled."
My great regret is that there wasn't time enough to thank him. I do so now.
---
Jeff MacGregor is a senior writer for ESPN.com and ESPN The Magazine. You can e-mail him here.