Low comedy, high anxiety and the Big Trouble in Kentucky.
Now that Billy Clyde Gillispie's been run out of Lexington by the same folks who thought he was a great hire, we should probably spend a few minutes this week on the deceptive nature of expectation.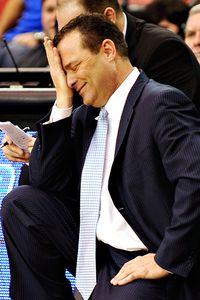 AP Photo/John Curry
Billy Gillispie wasn't given very much time to turn around the Kentucky program.
Hired the year before last to Return College Basketball At Kentucky To Its Rightful Place Atop The American Sporting Consciousness Without Regard To Cost Or Consequence, Gillispie instead became a pariah, a loser and a sacrificial casualty of the Instant Gratification Panic In Nitwit American Management.
Taking a page directly out of Sun Tzu's "The Art of What Have You Done For Us In The Last 15 Minutes?" the strategic deciders at UK on Friday made the unstunning decision to unhire a guy they never should have hired in the first place. This, the Great Uncoupling, might cost the state another $6 million in prenuptial penalties. How high the price of sweet freedom! And poor decidering! That they then chose not to fire or tar and feather themselves for having engineered the whole boondoggle comes as a surprise to no one.
So they now begin another panicked search for the next overpriced bad fit. Because, yes, by all means, let's put the same people who made the last terrible decision in charge of making the next terrible decision.
It's the American Way!
I was reading my colleagues' opinions in the Lexington sports pages all weekend, and they, like a number of other folks on the message boards and blogs, seemed to think that it's enough to admit the mistake and move on. Move on! Let's put this whole sordid mess behind us!
Admit Your Mistake And Move On. This is the kind of inflight-catalog wisdom we find laser-engraved on injection-molded executive desk sets. And while the sentiment and spirit of second chances may be sufficient to rehabilitate the flagging popularity of coke-addled starlets or indiscreet politicians, it seems to me you actually need to figure out (1) what the mistake was, (2) how it was made, (3) why it was made, and (4) by whom. Otherwise you're just going to keep making it. Again and again and again.
Harder to fit on a faux-marble pen and pencil set, I grant you.
Taken seriously, the hiring and firing of Gillispie is a window into the institutional soul of the University of Kentucky. And those who claim to be passionate about that place need to take a very hard look, not only at what they're trying to do to right the basketball program, but in the mirror.
A winning program and a successful program can be two very different things, especially in college athletics. A successful program is usually an expression of long-term commitment to the competitive ideals inherent in the institution, and to the premise that a university is in the business of producing citizens rather than game statistics.
A winning program is often enough just a series of one-night stands. A satisfying tally in the short term, sure, but addictive and existentially empty across time, heartless and soulless, with no greater purpose than self-gratification.
For fans and institutions caught up this way, winning then becomes a kind of prison, in which expectation turns into a sense of entitlement, which eventually deforms and hardens into a sense of mindless, self-deluding exceptionalism. Too big to fail! Which is where we find the University of Kentucky this morning.
And General Motors.
It's been a tough weekend indeed for those who valued winning in the short term over succeeding across the long haul. Just ask GM's ex-chairman Rick Wagoner -- Brought In To Return General Motors To Its Rightful Place Atop The American Motoring Consciousness Without Regard To Cost Or Consequence! -- whose chickens came home to roost late Sunday night.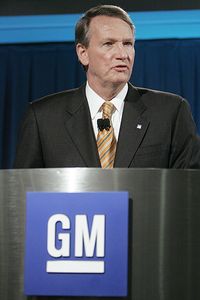 AP Photo/Carlos Osorio
Rick Wagoner of GM is the latest corporate exec to get the boot.
For years now corporate boards like his and shareholders in companies like General Motors have clung to the instant gratification of the quarterly report without regard to the long-term health of the enterprise in question.
In much the same way that the jugheads at Kentucky mistake going another round deeper into the NCAA tournament for success, the hired guns at America's biggest companies have mistaken near-term profit taking or momentary upticks in a stock price for a successful business strategy.
For decades now if you didn't put up the quick-fix numbers at UK or GM or any of 10,000 other American institutions, the consequences were usually swift and stupid, i.e., "If you can't win, we'll get someone in here who will!" If you aren't willing to go all-in on the shadow market for credit derivatives, we'll get someone in here who can! Keep selling those SUVs, brother, that's where the margin is! Just send us the dividend check and a jpeg of the trophy!
Winning? Or success?
That we somehow continue to confuse the two says a lot about us as investors and fans and citizens. And the price for understanding neither is one we've all just begun to pay.
The bottom line has bottomed out! But take heart! Look up! Rick Wagoner and Billy Clyde Gillispie will now float gently back to earth beneath parachutes of purest gold!
What can the rest of us expect?
Jeff MacGregor is a senior writer for ESPN.com and ESPN The Magazine. You can e-mail him at jeff_macgregor@hotmail.com.