Commentary
This Sporting Life: An app for that
Jee/PS©
The global smartphone mapping lookup for any starlet, singer or celebrity Derek Jeter has ever dated. (Requires at least 1 terabyte of available memory.) $2.99.
[+] Enlarge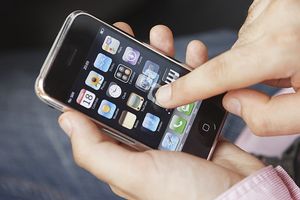 AP Photo/Sergey PonomarevThese apps would be great additions to your iPhone.
The Hauck™
Adds a condescending coda to any spoken sentence, just like small-market football coach Bobby Hauck: "I like it when you treat your elders like that." Can also be reprogrammed to say, "I apologize to everyone everywhere for my witless, sophomoric behavior. I'm a jackass." $2.99.
Griffindor®
Uses the postmodern wizardry of your smartphone's internal logic circuits to predict the sequence of jinxes, injuries, losses, disappointments, heartbreaks and setbacks that will beset Blake Griffin's career with the Los Angeles Clippers. $1.99.
Sooey Generis©
Receive all-Arkansas sports updates 24/7. Free.
Yo Ho Ho™
English to Philly translator. Handy for Yankees fans during World Series. Randomly inserts the nonsense fragment "yo" every 8.7 words so as to make meaning for Philadelphians. Free.
Yoohoo Ho™
English to Bronx translator. Handy for Phillies fans during World Series. Randomly inserts the nonsense fragment "You wanna Yoohoo?" every fourth sentence so as to make meaning for New Yorkers. Free.
ISP IP Freely/Daily/Publicly©
Automatically dials Jeff Reed's bail bondsman. Handy when traveling in western Pennsylvania. Free.
Mawker®
Mawkish automatic reminiscence engine channels old sports memories through golden or sepia filter. Ah, the good old days! Remembrance is priceless! $36.99.
Blame it on Rio®
This app keeps a pre-Olympic running tally of police helicopters shot down in Brazil by 12-year-old drug mules with Kalashnikovs. A must for travel agents. $8.99.
MongerMonger®
Randomly generates nouns, verbs and proper names in scandal form. "________ and ___________ were seen ____________ in the _____________!" Watch your page views soar! A must for bloggers. $26.99.
The Middle of the Road Less Traveled©
Automatically calculates then splits the difference between the political positions of Michael Moore, Glenn Beck, Michele Bachmann and Che Guevara. America was never duller! $4.99.
Aye, Tha's Grae, Lad! Che Bella!©
Serie A futbol television translator. Provides simultaneous translation of Scottish broadcaster calling Italian soccer back into American English. Complicated. $11.99.
The Donald®
Like its famous namesake, this app grants any smartphone user the appearance of wealth without requiring actual wealth itself. By wrapping the user's phone with a few singles and a lone Benjamin, the outward look of a great horse-choking roll of cash is created. Includes high-quality rubber band and one (1) hundred-dollar bill. $189.99.
The Sportswriter™
Asks and then answers its own ridiculous rhetorical questions. "How'd it feel to win today, Coach? Good?" Free.
The Sabathia®
Uses your smartphone to calculate any cubic measure of volume by estimating the number of cc's in comparison to the uniform trousers of the Yankees pitcher. Example: "The standard American living room is 1 Sabathia in volume." $0.99.
Theus ex Machina™
The applet that lets the user update any work of literature online by inserting former NBA star Reggie Theus into the closing moments of the final scene. For example:
Hamlet (Act V, Scene II)
Fortinbras: "Go, bid the soldiers shoot."
(A dead march. Exeunt bearing away the dead, after which a peal of ordnance. A tall man enters.)
Reggie Theus: "So what'd I miss?"
(Curtain.)
Crapshoot!™
Authentic sports predictions generated at random, just the way the television and radio pregame shows do it. Amaze your friends! Accuracy guaranteed never to top 50 percent. $3.99.
Out of the Blue™
Locks smartphone and backs up all sim-card data so device can be safely thrown from grandstands at umpire's head, then later retrieved from stadium security. $2.99.
The Insta-Bank Short-Form Snack App®
Offers instant financing to anyone standing in line at the Yankee Stadium food court. You won't go hungry with our 5.25 percent, 36-month hot dog re-fi! Ask about our nacho mortgages, or our hot pretzel retirement plans, too! Free.
NCAA Neon Signs®
This sophisticated detection device uses any smartphone's accelerometer to warn likely NFL draft picks of dangerous levels of Deion Sanders nearby. Might save your livelihood. $9.99.
Any Given Sundae™
Alerts New York Jets coach Rex Ryan to nearby hot fudge. $1.99.
The Apologizer™
Out too late with no explanation? This app automatically dials home with a proven excuse. Choose from the Spitzer, the Madoff, the Ensign, the Haggard, or scores of others. The sun got in your eyes! The car broke down! You couldn't help yourself! You're an addict! $11.99.
Rose is a Rose-Rose is a Pete Rose©
By taking the name of your first sports hero, your favorite writer, the street where you grew up or the name of your first pet, adding and then repeating them, this little algorithm combines your Cabaret Drag Name with your United Nations Secretary-General Name. $7.99.
Most popular this week:
Ken Balzac Griffey-Griffey Cottontail
Marion Whiskers Park Avenue-Jones
Princess Leia-Leia Favre Mittens
Rover Dostoevsky Tebow
I-95 Klitschko Vidal
England Dan and John Ford Coley
Page Sixerator©
Turns any item, even your own shopping list, into a Page Six audio blind item. "Which D-list drone with a mistress, a sports betting habit and a drinking problem needs to stop at the store on his way home tonight to buy toilet paper, a 12-pack of Mr. Pibb and the Daily Racing Form? Pathetic."
The Boarder®
Carefully crafted to mimic the logic, grammar and syntax of popular online sports commentators, The Boarder's one-button convenience now allows you to post the following to every message board on the Internet instantly and simultaneously:
"You don't know what your [sic] talking abot [sic], you (expletive). __________ is the best ever, and your[sic] a (expletive) looser [sic]. LOL."
Just fill in the blank. Foolproof! $2.99.
Super Productivity Plan, 2010 Platinum-Plus Edition™
Shuts smartphone completely off. $179.99.
Jeff MacGregor is a senior writer for ESPN.com and ESPN The Magazine. Please continue to submit your answers to his question: "What Are Sports For?" You can e-mail him at jeff_macgregor@hotmail.com.
Senior Writer for ESPN.com
Has written for Sports Illustrated and The New York Times
Author of the acclaimed book "Sunday Money"