Commentary
'Shore' sweethearts, in name only
Originally Published:
December 28, 2009
By
Nina Mandell
| Page 2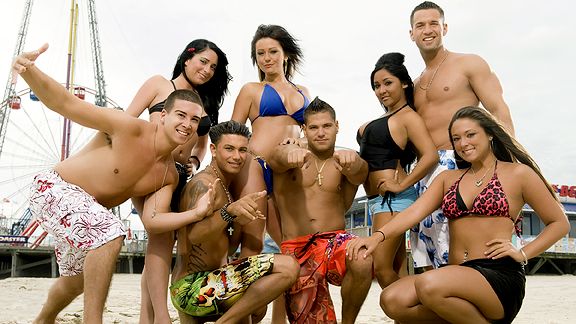 MTV/Scott GriesThe cast of "Jersey Shore." Don't say we didn't warn you.
Reality shows are no strangers to athletes -- Dennis Rodman was a hit on "Celebrity Mole," and then there's everyone who's ever been on "Dancing With The Stars." The early "Real World" featured Mallory Snyder, who gave up her soccer scholarship at Iowa State to live with seven strangers (and you know the rest).
Now on the latest MTV hit show "Jersey Shore," there's Sammie Sweetheart, the self-described "sweetest [expletive] you'll ever meet" to add to the list. Sammie, whose real name is Sam Giancola, was a midfielder on the women's soccer team at William Paterson University.
The Italian-American group UNICO has boycotted "Jersey Shore" because of its portrayal of Italians, and advertisers, including Domino's, have pulled their ads.
MTV admits the show isn't for everyone. Despite the controversy, a combination of brilliant marketing and hilarity from the cast has made the show an instant hit.
[+] Enlarge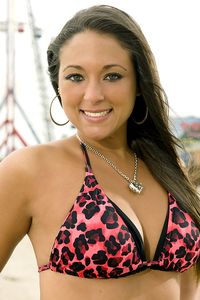 MTV/Scott GriesSammi "Sweetheart" Giancola.
Giancola, a brown-haired beauty from New Jersey and the most palatable person in the house, made a splash with lots of her early camera time dedicated to her blossoming romances. First, she was an object of affection of Mike "The Situation" and kissed him before falling into the arms of Ronnie, a muscular spiky-haired dude from the Bronx on the same night.
Despite the madness and drama the seven 20-somethings created in the house last summer, Giancola said being on the show didn't affect her soccer game at all.
"I did go to the gym every once in awhile and I did run on the boardwalk sometimes," she said.
After missing the first week of her fifth year due to the show, Giancola started 14 of 17 games, scoring twice and garnering one assist.
As for questions about her time in the beach house, she said her team couldn't have cared less.
"When it was soccer time, it was soccer time," she said. "I haven't seen them since the show's been on."
Giancola said while she loved her time playing soccer, she's now focusing on a career in fashion or just seeing where her newfound fame takes her.
And yes, she is still in the arms of muscle-bound Ronnie.
"Oh, yeah, we're still together," she said. "We see each other as much as possible."
And that, as Mike would say, is the situation.