Commentary
My Army experience was life-altering
Originally Published:
November 11, 2009
By
Gino Marchetti (as told to Maria Burns Ortiz)
| Special to Page 2
Editor's note: Every day this week, in honor of Veterans Day, Page 2 will feature a story by or about a prominent athlete who also served in the United States armed forces.
Gino Marchetti played 14 seasons in the NFL, and is regarded as one of the greatest defensive ends in history.
Originally from Antioch, Calif., Marchetti enlisted in the U.S. Army as a high school senior in the spring of 1944. In October of that year, his unit (Company I, 273rd Regiment of the 69th Infantry Division) landed in Europe to fight in World War II.
After returning home, Marchetti attended Modesto Junior College on the GI Bill before transferring to the University of San Francisco. He began his NFL career with the Dallas Texans in 1952, playing one year there before the team folded. He then played the rest of his career with the Baltimore Colts. As a captain for the Colts, Marchetti helped lead the team to two championships, including its legendary 1958 NFL championship game win over the New York Giants.
Marchetti retired in 1966, and was enshrined in the Pro Football Hall of Fame in 1972.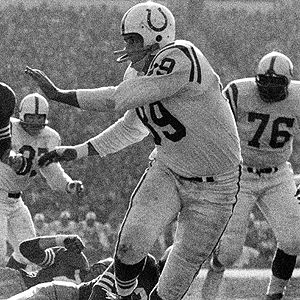 Frank Rippon/NFL/Getty ImagesGino Marchetti, one of the greatest defensive ends of all time.
When you enlist, you don't realize how tough it's going to be.
You don't realize that you're going to see some of your friends go down.
You don't realize any of it. For example, the first time I ever saw snow, I slept in it.
It's hell.
I had absolutely no idea what to expect, but I just knew I wanted to go. That was the bottom line.
If I had not gone to the Army, what probably would have happened to me is, I would have gone to one of the factories, worked until I was 65, retired, and that would have been my life. That's what they did in Antioch.
Because the war was coming to an end, I could have probably stayed home, graduated [from high school] and never had to go. But it was the best thing I ever did. It gave me the discipline that I needed in my life.
Like most young kids, I thought I knew it all. My attitude was that I was coming home. That, all my life, something has always happened to somebody else, not to me.
When we got to Germany, everything was turning. I think we were a little bit east of the Battle of the Bulge, one of the last and largest battles American troops fought in Europe, but I don't know. When you're in the Army marching to the front lines or wherever you are going, you never paid much attention to where you were at, or the name of the town. It's almost like I was sleepwalking for a year over there.
I can't say that I was ever scared. But what I can say is that I was aware of what was happening. When we first went over there, we were at the Siegfried Line, a defensive perimeter the German forces built along their border. I was in a machine gun section, and one morning, we were on guard duty protecting the northern flank.
Gino Marchetti Fast Facts
Athletic career: Dallas Texans (1952), Baltimore Colts (1953-1964, 1966)
Military career: U.S. Army, 69th Infantry Division, 273rd Regiment, Company I (1944-1946), Europe
Awards: Eleven-time Pro Bowl selection, nine-time All Pro, two NFL championships (1958, 1959), jersey (No. 89) retired by Colts, inducted into the Pro Football Hall of Fame (1972)
Notable: Selected for the NFL's 50th and 75th anniversary teams, and named the greatest defensive end in the NFL's first 50 years. Also founded Gino's Hamburgers in 1957 -- the chain would later be bought and renamed Roy Rogers.
All of a sudden, we hear these shells. The shells were going way over us, and my buddy and I were having a pretty good time. We were going, "Oh, there's one of ours. That one's theirs." And trying to figure out if we could tell which shells were going out and which were coming in.
Then somebody came to relieve us, and we said, "No, that's OK. We'll stay a little longer." So we stayed there past our two hours.
Then, all of a sudden, we hear this noise -- the worst noise I've ever heard in my life. It was all around us -- within maybe 20 yards of us. They had fired some 88s, which are German anti-aircraft/anti-tank guns.
The noise probably didn't last more than five or six seconds. But during that period, I thought of everything that I had done wrong to my mother and my father. And at that particular moment, I swore to God, "If I ever get home, I'm going to live a different life."
And let me tell you, as soon as those shells stopped, we told our relief, "Come on up here. We're ready to go back down into the bunker."
I did get home, and I did live a different life. I made my parents proud of me a little more than when I left.
After going through combat and all that, the first thing I did when I got home is I went to church. I really started to live a different life. I wasn't as wild. I was so happy to be home, and felt so good about what I had done. A lot of guys had done it. It made me feel proud, and that stayed with me. It still stays with me.
It's interesting the things that get to you most. I think about when I learned that bullets don't zing by you -- they crack. One day we were taking this town, and I was kind of looking around, until a buddy said, "You better pull your head down." I said, "They're not close, they're cracking." And he said, "That's when they're close. When they zing, they're far away."
We took the town, but my friend didn't come back. The next time I saw him, he was in a barn -- which is where, after any combat, you'd kind of move the soldiers that didn't quite make it.
He was my type of guy, because I'd been talking about changing my lifestyle when I got home, and he'd said the same thing. The only difference is, I was able to get home and change my lifestyle. He's still over there.
When you're coming back on a ship and you come into New York Harbor and you see the Statue of Liberty there, you get on your knees and pray. You're so happy to see New York City again, because when you got on the boat initially, you never really thought you'd get back. When you did, you considered yourself one of the lucky ones.
I was really proud of what I did. I've never talked about it very much at all. When I was playing, I just said, "Yeah, I was in the Army for a couple of years." And that was it.
When you go through training in the Army, sometimes you think, "Geez, I wish I could go home and quit." But you can't quit. You're there, and no way in the world can you leave. I took that mindset and put it toward football.
I can remember, as a player at the University of San Francisco, we trained in Corning, Calif., one time. Those were two of the worst months of my life. It was 113 degrees, and I kept saying, "I don't need this." I was on the verge of quitting, but I didn't -- and as I look back on it, it was because of the training I received in the Army.
In the Army, they wouldn't give you a chance to change your mind. They were on you all the time, which then became a habit. Football can be kind of the same way. When there's a tough coach, I've seen a lot of guys quit because they didn't have the determination to go through with it.
But the Army taught you to be strong. It taught you obedience. My training taught me about leadership.
In football, when you're a leader of a team, when a team is having problems, people look for you to do something about it -- and you do something about it by taking action, by just attacking the problem. The Army prepared me for that.
I probably think of my football career more now than I did when I was playing. When I think of it, I often go back to when I was a rookie playing against the New York Giants when I was in Dallas.
When I heard the announcer say, "Here's the Dallas Texans, coming onto the field," I just felt so proud. I felt like, "God, is this me? Am I here?"
Then, when I threw the quarterback for a loss, I could hear the announcer say, "Tackle by Marchetti." That sticks with me probably as much as anything.
[+] Enlarge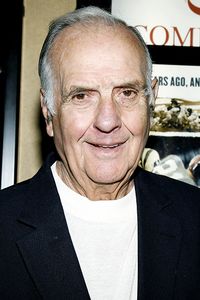 Gabriela Maj/Getty ImagesMarchetti credits his Army days as making a huge impact on his life.
The best game I think that the Baltimore Colts played that season was when we played the San Francisco 49ers in Baltimore. They were leading 27-7, and we came back to beat them and won the division. Then we went on to play in the 1958 championship game, which is often referred to as "The Greatest Game Ever Played."
Of course, everybody asks about that game. I look at it and say to myself, "Man, if you had to break your ankle, you couldn't have picked a better time, a better play, a better spot than New York City in a championship game."
I was always determined when I went into a season that I wanted to play in every game. So when I got hurt in the '58 championship game, I didn't miss any part of the season -- because it was the end of the game, and we won in overtime. I only missed three plays, so that wasn't bad at all.
They were moving me to the locker room, and I said, "Put me down. I want to see this. I want to be here." This was probably from my training in the Army, but I didn't want to leave my buddies at that time. I wanted to stay and root for them, because they were my guys that I'd been with for a long time.
So they did put me down. But then the security guards that were in the stadium came over, and they made them carry me off the field. They were afraid that if the game ended in one quick play and the fans ran onto the field, they wouldn't be able to get me out of there.
That was the worst part -- leaving the field, going into the locker room, and just laying there, waiting. I could hear cheers, but I couldn't tell whether they were Baltimore fans or New York fans. So I just laid there until my teammates came in, yelling that we were the champs. Then I felt good. Then the leg didn't hurt.
But mostly I think about guys like Art Donovan, Art Spinney, Jim Mutscheller -- all the guys I played with. They were all a great, great bunch of guys. We still get together -- not as often anymore, but we used to get together once a year.
I can't say the same about the guys from the Army, and that's a thing I really regret I never did. When we were getting ready to go home, we said, "Let's get together once a year. We'll sit around, have a few beers and talk about our time over here."
You make that commitment, but when you get home, you get involved in your personal life. Then when it comes time, slowly but surely, you don't have that interest anymore to get together, for some reason. I don't know why.
With the Colts, we used to travel to all the cities. Particularly after I got to be known a little bit, I kept saying to myself, you know, maybe some of those guys will see my name in the paper and give me a call. But I went years and never heard anything. I guess time and space probably took care of most of that.
But I am so appreciative of everything the Army did for me. It taught me discipline. It gave me direction. When I got home, the GI Bill gave me the opportunity to go the University of San Francisco and play football, and I ended up playing professional football for 14 years.
Had I not gone into the Army, none of that would have happened.
VETERANS DAY 2009

ESPN commemorates Veterans Day and ESPN's weeklong series "American Heroes: A Salute to Our Veterans."
STORIES
PHOTO GALLERY
VIDEO
SALUTES
SOLDIERS AND THEIR TEAMS
PREVIEWS
ABC CONTENT