Commentary
Page 2's 50 most-anticipated comebacks
Originally Published:
April 2, 2010
By
Cam Martin
| Special to Page 2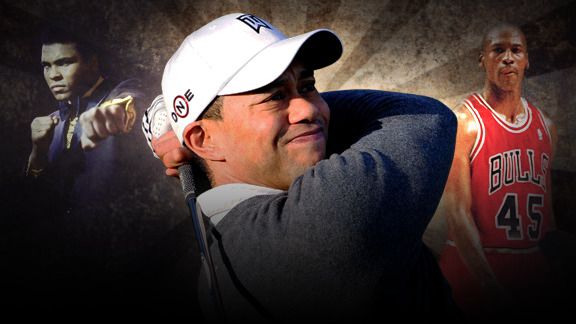 ESPN.com Illustration
Tiger Woods' return to competitive golf at the upcoming Masters is one of the most-anticipated comebacks in sports history. That got us thinking about other historic comebacks in sports and in pop culture.
See where Tiger's return ranks on our list of the top 50 most-anticipated comebacks.
50. Roger Clemens (2007)



Like Brett Favre, Clemens has retired so many times only a historian with a flowchart and overhead projector can accurately portray the insanity of the latter stages of his career. In his biggest grandstanding gesture, Clemens visited George Steinbrenner's owner's box during a game in May 2007 and announced over the Yankee Stadium public-address system that "Well, they came and got me out of Texas. I can tell you it's a privilege to be back. I'll be talking to y'all soon." Then Yankees radio announcer Suzyn Waldman hyperventilated her joy. Clemens went 6-6 with a 4.18 ERA that season, and the Red Sox won the World Series.
49. Marv Albert



When Albert went on trial for sexual assault in 1997, NBC and MSG stood by the popular sportscaster. A felony charge was dropped, but Albert received a 12-month suspended sentence after pleading guilty to misdemeanor assault and battery charges for actions that included biting a woman's back multiple times. With that, he was fired from NBC and resigned from MSG. But Albert later was rehired by both companies, and he now calls games for TNT. "Yes!"
48. Bjorn Borg



When Swedish tennis star Borg first retired in 1983, he owned five Wimbledon titles and six French Open titles. He was only 26. When he returned to the court in 1991, he was eight years older -- and still playing with a wooden racket. Not surprisingly, Borg went winless in 12 matches against the guys using modern rackets before retiring for good in 1993. If the ATP ever reverts back to wood rackets, though, 53-year-old Borg might enjoy a renaissance.
47. Britney Spears



Spears famously kissed Madonna on the lips and danced with a snake at the MTV Video Music Awards. So when the pop star-turned-tabloid disaster was announced as the opening act for the 2007 event, the celebrity-loving masses were atwitter. Spears was promoting the upcoming release of her first studio album in four years. Her performance was comparatively tame, however, as she writhed around the stage and lip-synced "Gimme More," one of the more underrated standards in her impressive oeuvre.
46. Kim Clijsters



Belgium-born Clijsters was once the No. 1-ranked women's tennis player in the world in singles and doubles. She won three Grand Slams before retiring because of injuries in 2007 at age 23. During her hiatus from the game, she got married and gave birth to a daughter. She returned to tennis in 2009. In just her third tournament back, she became the first mother to win a major since Evonne Goolagong in 1980, winning the U.S. Open over Caroline Wozniacki in straight sets.
45. Sugar Ray Leonard



Leonard, a former welterweight champion, had corrective eye surgery before his fight with Kevin Howard in 1984. After winning the bout by knockout, Leonard said he didn't have it anymore and retired. So when he announced two years later that he was coming back to fight middleweight champion Marvin Hagler, some pundits said Leonard was risking his eyesight -- or worse. Hagler was a 3-1 favorite, but Leonard won by split decision in one of boxing history's more controversial results.
44. Joe Montana



After missing the entire 1991 season and most of '92 with injuries, four-time Super Bowl champion Joe Montana was traded to the Chiefs because Steve Young had emerged as the MVP-winning quarterback of the 49ers. Montana joined Raiders castoff Marcus Allen in Kansas City, and although he was injured for part of the 1993 season, he led the Chiefs to two come-from-behind victories in the playoffs before losing to the Bills in the AFC Championship Game.
43. Ryne Sandberg



The best second baseman in Cubs history unexpectedly retired in the middle of the 1994 season at age 34, when his .238 batting average and .390 slugging percentage wallowed far below his Hall of Fame standards. After going through a divorce and sitting out the entire '95 season, Ryno returned to the North Side for the '96 and '97 seasons -- but hit just .244 and .264, respectively -- before retiring for good.
42. The Eagles



Thanks to the timeless popularity of songs such as "Already Gone," the Eagles' first greatest hits collection is one of the top-selling albums of all time. But acrimony among band members -- including Don Henley, Glenn Frey and Joe Walsh -- led them to disband in 1980 -- with members saying they would reunite when "hell freezes over." When they eventually got back together in '94, they named the tour "Hell Freezes Over," deciding against the more obvious "These Concert Proceeds Are Redonkulous."
41. Tony Conigliaro



The Red Sox slugger hit 100 home runs before he turned 23, but a pitch to the cheekbone nearly blinded him in 1967. He returned a year and a half later and won the '69 American League Comeback Player of the Year Award, then followed up in '70 by posting career highs in home runs and RBIs. Still, he was never the same player after the beaning, and his deteriorating eyesight allowed him to play only 95 more games after the '70 season.
40. Willis McGahee



Once considered a top-five NFL draft prospect, the University of Miami running back's stock tumbled after a devastating knee injury in the 2003 Fiesta Bowl against Ohio State. The Bills took a chance by selecting McGahee No. 23 overall even though he was still rehabbing and wouldn't be able to play until '04. The first season he did play, he supplanted Travis Henry as the starter in Buffalo and rushed for 13 touchdowns and more than 1,100 yards.
39. Dara Torres



Fifteen months after giving birth to her first child, 40-year-old Torres won gold in the 100-meter freestyle at the 2007 U.S. nationals. The next year, she became the oldest female swimmer in Olympic history. Torres won three silver medals in Beijing, boosting her career medal count to 12 (four gold, four silver, four bronze) in five Olympic Games.
38. Joe Gibbs



Gibbs won three Super Bowls with three different quarterbacks for the Redskins between 1981 and '92, then walked away from his Hall of Fame coaching career to manage a NASCAR team. The Redskins subsequently went through a series of coaches under owner Daniel Snyder, none of whom was able to replicate Gibbs' success. So Snyder enticed Gibbs to come back in 2004, delighting the team's fans. In four more seasons under Gibbs, the Redskins made the playoffs twice, going 1-2.
37. Michael Schumacher



A seven-time Formula One world champion, Schumacher retired from racing in 2006 -- when, according to Formula1.com, he was "statistically the greatest driver the sport has ever seen." Perhaps bored by driving conventional cars, the 41-year-old legend recently came out of retirement, and fans are eager to see how quickly the Red Baron can return to the podium.
36. "Rocky Balboa"



Many thought the 2006 installment of the Sylvester Stallone franchise would only exacerbate the awful taste left by "Rocky V." Instead, it brought closure to the greatest sports movie franchise, with the title character doing what he does best -- take a beating, sure, but lose standing up.
35. Justine Henin



As the 2008 French Open approached, Henin was the No. 1 women's tennis player in the world and the three-time defending champion at Roland Garros. Then she unexpectedly retired, saying she wanted to focus on other things. (As it turned out, those things included starring in two Belgian reality shows.) Fifteen months after leaving the sport, Henin announced she was returning to the tour. Like Clijsters, it was as if she had never left. She made it to the final of the 2010 Australian Open, losing to Serena Williams.
34. Mario Lemieux (2000)



Super Mario led the league with 122 points in 1996-97, but injuries (particularly to his back) caused him to retire after the season. With that, the NHL lost one of its marquee players. After three seasons off the ice -- during which time he became a partial owner of the Penguins -- Lemieux laced up his skates again in 2000 at age 35. In his first season back, the Pens made it all the way to the conference finals. It was the franchise's best finish since winning consecutive Stanley Cups in 1991 and '92.
33. Indiana Jones



In the first three installments of the cinematic franchise, the swashbuckling anthropologist played by Harrison Ford searched for the Ark of the Covenant, tried to retrieve a sacred rock in India and was sent to find the Holy Grail when his father (played by Sean Connery) was kidnapped by the Nazis. America's appetite for Indiana Jones didn't wane after 1989's "The Last Crusade," and fans flocked to theaters in 2008 to see "Kingdom of the Crystal Skull." They watched as Harrison Ford unveiled new skills -- such as swinging vine to vine like Spider-Man, which was incidentally hilarious -- and the blockbuster went on to gross $787 million worldwide.
32. Martina Hingis



At age 16, Hingis became the youngest woman ever to be ranked No. 1 in the world, and she ultimately won five Grand Slam singles titles. She retired in 2002 because of foot and leg injuries. Four years later, she returned to the court at 26, rising to No. 6 in the world. But in 2007, she retired again after a positive test for cocaine at Wimbledon led to a two-year suspension.
31. Guns N' Roses



With "Appetite for Destruction," "G N' R Lies" and the two "Use Your Illusion" albums, Guns N' Roses became the biggest rock band in the world by the early 1990s. Then they stopped releasing original material and began shuffling their lineup. Lead singer Axl Rose teased the masses by promising that a new album, "Chinese Democracy," was definitely coming. In late 2008, more than 17 years after the "Use Your Illusion" albums were released, it finally arrived. And we loved it. But did anyone else? (Seriously, how did "I.R.S." not get more airplay?)
30. Ricky Williams



The former Heisman Trophy-winning running back and sometime pot enthusiast retired for the first time in 2004, shortly before Dolphins training camp -- a move that didn't exactly endear him to fans and teammates. When he returned to Miami a year later, he apologized for leaving people in the lurch, then rushed for 743 yards. He also missed the '06 season when he was suspended by the NFL for failing another drug test. Then he was injured for most of the 2007 season. But we're only giving him credit for his first comeback. Call it the Brett Favre Corollary.
29. The Police



Between 1978 and '83, The Police released five albums of increasing popularity -- capped by "Synchronicity" and its Grammy-winning song of the year, "Every Breath You Take." But internal strife caused the trio of Sting, Andy Summers and Stewart Copeland to call it quits after a 1984 world tour. Fans begged for a reunion for more than two decades, and the band finally turned on the red light with a worldwide tour in 2007-08.
28. Bo Jackson



The first athlete to play in a Pro Bowl and an MLB All-Star Game, Jackson was a two-sport superstar whose talents seemed to know no limits. After suffering a hip injury while playing with the Raiders, though, Jackson had to have hip-replacement surgery in the spring of 1992. His football career ended, but he returned to baseball. In his first at-bat back with the White Sox in '93, Jackson hit a home run against the Yankees. The thrill was short-lived, however, and Jackson never regained his pre-injury power. He retired during the '94 strike.
27. Pelé



The Brazilian soccer star won three World Cup titles -- the only player ever to do so -- before hanging up his cleats in 1972. Three years later, he was coaxed out of retirement to play full time for the New York Cosmos in the NASL. The league didn't succeed, but not because of Pelé, who scored 37 goals in 64 games and led the Cosmos to a championship in his final season.
26. David Robinson



The Admiral won the 1987 Naismith and Wooden awards as college basketball's best player, and the Spurs selected the 7-footer from Navy with the No. 1 pick in the subsequent NBA draft -- despite having to wait two years while Robinson fulfilled his military commitment. Luckily, Robinson didn't lose any height while he was away from the game, and the Spurs won two NBA titles in his Hall of Fame career.
Cam Martin is a contributor to Page 2. He previously worked for the Greenwich (Conn.) Time and The (Stamford, Conn.) Advocate, and has written online for CBS Sports and Comcast SportsNet New England. You can contact him at cdavidmartin@yahoo.com.