Commentary
What's it really like to be a Nets fan?
Originally Published:
March 25, 2010
By
Cam Martin
| Special to Page 2
During a break in the action in the New Jersey Nets' home game versus the Atlanta Hawks last week, a fan in Section 117 of the Izod Center commented loudly, "This place is like a morgue." Soon thereafter, the Nets dancers temporarily energized the crowd of 11,000-plus by tossing T-shirts into the stands -- an oasis of excitement in an otherwise staid environment.
But hey, if your team was nearing the end of an absolutely brutal season, and on course to set the record for fewest wins in an NBA season, you'd welcome any opportunity to jump out of your seat and cheer, too.
[+] Enlarge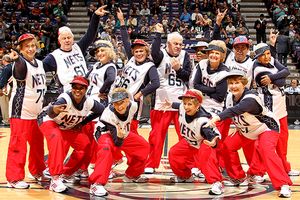 Nathaniel S. Butler/NBAE/Getty ImagesThe Nets stink, but at least their fans have the Netsationals to enjoy.
By falling to Atlanta for the third time this season -- by 77 points combined -- the franchise that was once home to Julius Erving, John Williamson, Sugar Ray Richardson and Jason Kidd continued its late-season limp toward basketball immortality. With just eight victories all season long, the Nets need at least two W's in their final 11 games or they'll replace the 1972-73 Philadelphia 76ers (nine wins) as the worst team in NBA history.
Believe it or not, that would be fine with some Nets fans.
"I don't really care at this point," said lifelong fan Tom McManus, a 19-year-old student. "No playoff hopes, so they might as well set the record [for fewest wins]."
The Nets' season got off to a catastrophic start when the team lost its first 18 games -- a record to begin a season. The Nets fired head coach Lawrence Frank when the team was 0-16, and assistant coach Tom Barrise took over for two games (both losses). Thereafter, general manager Kiki Vandeweghe assumed the head-coaching duties; the team has just continued to lose, thanks to a combination of youth, injuries and a lack of talent -- a toxic mix for any club.
"Anybody who loses [18 games in a row] to start the season, they have no motivation," said fan Sean Collins, 21.
Fans, in turn, often had little motivation to come out and watch the team. Efforts to bolster attendance this season have included a ticket package in which fans received a reversible jersey with a Nets player on one side, and the star of another team on the other side. That way, if the Nets were losing, a fan could swap his allegiance midgame.
[+] Enlarge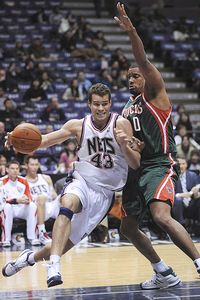 AP Photo/Bill KostrounBack on Feb. 10, the Nets played in front of a practically empty arena.
"In giving out reversible jerseys that include Nets players and stars of opposing teams, we hope to encourage more basketball fans to see the Nets play against the league's best players," said Nets CEO Brett Yormark in a statement. "Part of the excitement of watching the NBA is not only rooting for your favorite team, but also to watch the league's superstars. With so many great players in the NBA, we look forward to an exciting atmosphere at our games."
The atmosphere at the Izod Center probably reached its nadir on Feb. 10, when barely 1,000 fans trekked through a snowstorm to watch the Nets get trounced 97-77 by the Milwaukee Bucks. At that point the team fell to 4-48. And in the five weeks since, the Nets have won just three more games.
Or perhaps things hit rock bottom on Monday, when Yormark got into a verbal altercation with a fan wearing a paper bag over his head.
Or perhaps the lowest point is yet to come.
Accountant Alex Rodriguez, a 28-year-old Nets fan, thinks the team is going to eclipse the Sixers' record for futility.
"I think they're gonna do it, they're gonna break the record unfortunately," he said after the most recent loss to Atlanta. "It's not a record we want to have in the history [of the NBA]. But it is what it is."
The Nets' list of conquests this season is short: the Bulls, Celtics, Clippers and Kings (once each); the Bobcats and Knicks (twice).
The only guarantees for the Nets and their fans are the following: (1) The team will have the most pingpong balls in the NBA draft lottery later this year, and thus the best chance of drafting first overall; (2) The team will play at the Prudential Center in Newark for the next two seasons; and (3) The plan is to move to Brooklyn for the 2012-2013 season to play in the under-construction Barclays Center.
Beyond that, nothing is certain. Yet with the uncertainty, there is still hope.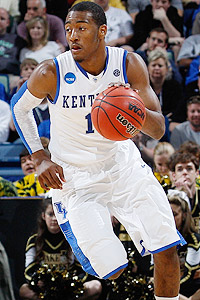 Chris Graythen/Getty ImagesNew Jersey's potential savior -- John Wall.
"I think they're going to make the playoffs next year," said Collins, a lifelong New Jersey resident. "Honestly, they have a bunch of young players. [Devin] Harris, [Brook] Lopez -- they have a great young team. I think they're going to come back and win next year."
As for this year, Collins wants the team to get more wins than the 1972-73 Sixers. "I've lived in Jersey my whole life. If New Jersey has the worst all-time record I'll be very upset."
And yet, others feel differently.
McManus, who was wearing a Kentucky sweatshirt at the Atlanta game, said the record wouldn't bother him. And he hopes the Nets get the No. 1 overall pick and draft Kentucky guard John Wall.
If the team can add Wall to a nucleus including Harris and Lopez, it has the makings for a quick turnaround -- especially if it can attract a marquee free agent this summer. And with the Nets projected to be $21 million to $25 million under the salary cap next season, they'll have the financial resources to woo the likes of LeBron James, Dwyane Wade and Chris Bosh.
"We're struggling this year, but we've got young talent," said fan Sean Palmer, 19. "We're going to get a big superstar next year and we're going to make a comeback."
Cam Martin is a contributor to Page 2. He previously worked for the Greenwich (Conn.) Time and The (Stamford, Conn.) Advocate, and has written online for CBS Sports and Comcast SportsNet New England. You can contact him at cdavidmartin@yahoo.com.