Commentary
Joe Benigno issues NY sports manifesto
Originally Published:
April 28, 2010
By
Cam Martin
| Special to Page 2
Before Joe Benigno won WFAN's Fan Appreciation Day contest in 1994 and earned a spot as a guest host on the New York City all-sports radio station, he was simply known as "Joe from Saddle River," a New Jersey resident who called in regularly to discuss his passion for the Jets, Mets, Knicks and Rangers.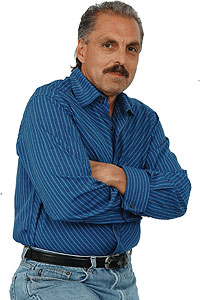 Triumph BooksJoe Benigno went from being a sports-talk caller to co-hosting a midday show in New York.
Mindful of his extraordinary rise -- from average caller to contest winner to guest host to now co-host of a three-hour show (10 a.m.-1 p.m., Monday through Friday) -- Benigno says he rarely gets frustrated with callers even when they offer outlandish opinions or ridiculous trade proposals.
"I don't get really frustrated with callers. I really don't. Because I was one of them. The only time is maybe if someone questions my fandom of the Jets or something, then l'll go off the freaking wall," the 56-year-old Benigno said in a phone interview. "Don't ever question me being a fan of the teams I root for. Don't ever do that. That'll drive me crazy."
As it happens, "Never Question My Fandom" is Rule No. 41 in Benigno's new book, "Rules for New York Sports Fans," a 176-page collection of 48 rules (and riffs) that he and sportswriter Jordan Raanan put together.
"Our goal in writing 'Rules for New York Sports Fans' is just to make sure you, as New York sports fans, do it right," the book says. "And most of the time you do. For many of you, it's an innate sensibility. You probably don't need much help, just a little refinement. That's where we come in."
Rule No. 1: Only one team per sport. Rule No. 2: Select a Team by Age 13. But be careful, because there's "no backsies," the book says. "Picking a team might not be a life-or-death decision, but it is an important one. It's practically on par with selecting a spouse, and your team often lasts longer. For a die-hard fan, it might as well be a second marriage. Or, for the really sick ones out there, the team is the only true love."
[+] Enlarge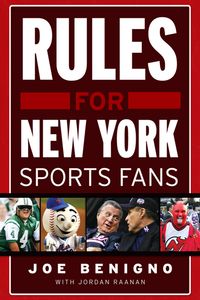 Triumph BooksBenigno outlines the dos and don'ts to following sports in Gothem in his new book.
Benigno loves his teams, but they've had some star-crossed existences. The Jets last won a championship in the 1968 season, the Knicks in 1973, the Mets in 1986 and the Rangers in 1994. Still, he and many New Yorkers remain unwavering in their loyalty.
"I think there's only three cities in this country where the sports passion is really there to a ridiculous degree. And that's New York, Philly, Boston. I think that's it," Benigno said. "I don't think you get that in the Midwest. I know they love the Cardinals in St. Louis, but the difference is the Cardinals could win 50 games and the fans would still be going nuts and not [complaining] about the team. In New York, it's a different story. In New York it's about winning and winning championships. And obviously my teams never do, but that's what it is. It's a different mindset. We're not pom-pom wavers. "
If you're a real New York sports fan, you do engage in trash talk, however. To a degree, anyway.
"Don't go overboard with the trash talk," the book says in Rule No. 8. "Mothers have nothing to do with sports arguments. Neither do spouses. Name-calling needs to be kept to a minimum. Anything the slightest bit racist, sexist, prejudiced, or discriminatory is especially verboten. Don't even dare go there. That said, insulting a friend's intelligence is fair game. Same with their height, weight, athletic ability, bad breath, and proclivity for unattractive or overweight women."
Cam Martin is a contributor to Page 2. He previously worked for the Greenwich (Conn.) Time and The (Stamford, Conn.) Advocate, and has written online for CBS Sports and Comcast SportsNet New England. You can contact him at cdavidmartin@yahoo.com.