Commentary
Gifts for the NFL fan on your list
Originally Published:
December 3, 2010
By
Cam Martin
| Special to Page 2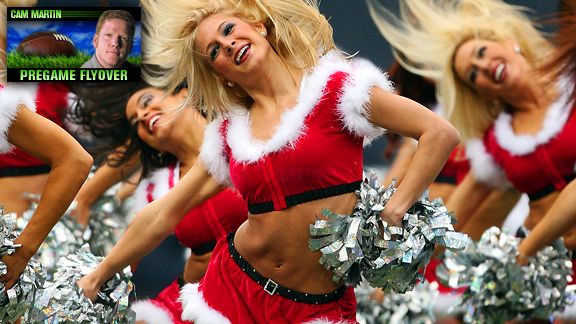 AP Photo
Welcome to the Week 13 NFL Pregame Flyover, your source for aerial reconnaissance of the Jets-Patriots game and other riveting matchups. Before we get to this week's slate -- and tell which games are probably worth watching, which games are of questionable worth, which games are of doubtful worth and which game will feature a team that might be moving to Los Angeles -- we present. . .
The Page 2 NFL Gift Guide
We know how hard it is to come up with holiday gift ideas for that NFL fan in your life. What do you buy the Cowboys lover who seems to have every collectible? Do they really need another item that reminds them of Dallas' last good year, i.e., 1995? Probably not. Sometimes you need to think outside the box and buy something unexpected, so we've put together some thoughtful gift ideas. These are the kind of presents that will let recipients know that you couldn't wait to see their faces when they opened them. Most of the items are under $50, because we don't want you spending too much money on an item that might not be appreciated -- or which might be set on fire.
A gift: For the Bengals fan in your life.
A gift: For the Falcons fan in your life.
A gift: For the Seahawks fan in your life.
A gift: For the Bills fan in your life.
A gift: For the Browns fan in your life.
A gift: For the Patriots fan in your life.
A gift: For the Broncos fan in your life.
A gift: For the Chargers fan in your life.
A gift: For the Jets fan in your life.
A gift: For the Lions fan in your life.
A gift: For the Ravens fan named Brad in your life.
A gift: For the Colts fan in your life.
A gift: For the Vikings fan in your life.
A gift: For the Raiders fan in your life.
A gift: For the Steelers fan in your life.
A gift: For the Redskins fan in your life.
If you have gift suggestions for other teams, send them along to cdavidmartin@yahoo.com and we'll run them next week.
One NFL player is all about going green, at least 'til he's not
Buffalo safety Bryan Scott told Sports Illustrated that he rides his bike 2.5 miles to work every day, even though temperatures in the city have fallen into the low 30s. He said, "I guess I'm spearheading the 'green' initiative for the Bills. I'll be riding 'til the first snowfall. There's been some mornings where it's been 34, 35 degrees, but I enjoy the scenery, and it makes me feel like I'm doing a little good. There's only one planet Earth. We've got to take care of it.'' For now, anyway. Scott reportedly drives a gas-guzzling Cadillac Escalade, so he'll be back to killing the ozone layer in due time.
Prop bet on James Harrison
In this week's game against the Ravens, in which quarter will the Steelers' linebacker commit the action that draws the fine? If you scour around the Internet, you should be able to find a place that will take a prop bet on that. And if you do, please send me the link.
Terrell Suggs comes clean about his improved play
Suggs, the Ravens Pro Bowl linebacker, told the media on Wednesday that his improved play this season can be attributed to one thing in particular: "I quit doing cocaine," he said. We applaud his
honesty
sense of humor.
---
Probable, Questionable, Doubtful and Out
Just as the NFL puts out an injury report on the likelihood that certain players will suit up each week (Probable, Questionable, Doubtful or Out), we put out a viewing report on the likelihood that games will be worth watching. Because let's face it, you can't watch them all.
"Probable" Games of the Week:(75 percent chance these games will be worth watching) Pittsburgh at Baltimore; New York Jets at New England; Atlanta at Tampa Bay.
SPOTLIGHT PROBABLE: New York Jets at New England.
Is this the game of the year? A matchup between two 9-2 teams would seem to have the makings of a premier contest. But while the Patriots' offense leads the league in points per game and the Jets have the second-best rushing attack in the NFL, the Jets' defense is superior to the Patriots: New York allows the third-fewest yards per game, while the Patriots allow the second-most (behind the Redskins). The last time the Patriots relied on outgunning opponents, their fans ended up buying these T-shirts.
Why Tom Brady is perhaps going bald: Reports indicate that Brady may have visited a Rhode Island clinic to explore the possibility of getting hair plugs. Ya know why he's probably losing his hair? Because he's been wearing a helmet for close to 30 years. Does grass grow under your porch? Of course not because it lacks the necessary mix of sunlight, water and oxygen. So how can we expect Brady's hair to remain thick and bouncy when it's been crammed into a Riddell for three decades? He doesn't need hair plugs. He simply needs to stop wearing a helmet. Considering he plays quarterback in a protective bubble, he doesn't really need one anyway.
Is this game better than Pittsburgh-Baltimore? On paper, probably not. But from an entertainment standpoint, it definitely is. Rex Ryan told the media this week that he "came [to the Jets] to kick [Bill] Belichick's [expletive]." When asked the last time an opposing coach said he wanted to kick his butt, Belichick paused before saying, "I don't know." He didn't say it's never happened, only that he couldn't remember the last time. Hmm. Perhaps the last time was in advance of the Sept. 18, 1994, game between the Browns and Cardinals, when Belichick was the Cleveland coach and a certain someone was patrolling the Arizona sideline.
---
"Questionable" Games of the Week: (50 percent chance these games will be worth watching) Washington at New York Giants; Jacksonville at Tennessee; Cleveland at Miami; Oakland at San Diego; Dallas at Indianapolis; San Francisco at Green Bay.
SPOTLIGHT QUESTIONABLE: Oakland at San Diego.
One benefit of seeing Oakland beat San Diego: We might be treated to a sequel to this video.
Two streaks: The Raiders are undefeated in the AFC West (3-0), while Philip Rivers is undefeated in his career in regular-season games played after Dec. 1 (19-0). If the game ends in a tie, both records will be preserved.
Why is there no faith in the Chargers? San Diego is mounting its annual late-season charge, and most prognosticators predict a similar fate to years past, when the team flamed out quickly in the playoffs. But a lot of people had similar doubts about the Colts in 2006, when their suspect defense was once again supposed to keep Peyton Manning from winning a Super Bowl, and a lot of people had similar doubts about the Giants in 2007, when their inconsistent quarterback, Eli Manning, was supposed to keep New York from winning a ring. Both teams won the championship. Would you really be surprised if the Chargers overcame their past failings and won this year's Super Bowl? Does this look like a guy who'd be surprised?
---
"Doubtful" Games of the Week: (25 percent chance these games will be worth watching) Chicago at Detroit; New Orleans at Cincinnati; Denver at Kansas City; St. Louis at Arizona.
SPOTLIGHT DOUBTFUL: Denver at Kansas City.
Jamaal Charles is losing goal-line carries to a defensive end: The mini-Pats have decided to implement a move that Charlie Weis and other former Patriots coaches were keen on in New England, and that's using someone besides a running back (in this case, defensive end Shaun Smith) as a goal-line option. Smith is the latest heir to the throne of William Perry, the former Chicago Bears player who helped popularize this move and became known as the "Refrigerator." Smith, who was twice accused of grabbing an opponent's groin during games earlier this year, might soon be in need of a marketable nickname. You know, besides "The Groin Grabber."
Josh McDaniels will be making progress: If he can get Todd Haley to shake his hand after the game.
Dwayne Bowe for NFL MVP? The Chiefs' star wide receiver has caught 13 touchdown passes in the last seven weeks and has an outside chance to match Randy Moss' single-season record of 23 set in 2007. If Bowe were to do that, would he have a chance of being named NFL MVP? Of course not. When Moss set the touchdown mark, he didn't receive a single MVP vote, losing out to teammate Brady. And whose record did Moss surpass? That of Jerry Rice, who caught 22 touchdowns in only 12 games during the strike-shortened 1987 season -- and lost the NFL MVP to John Elway, who had a stunning 19 touchdown passes and 83.4 passer rating that year. Bowe and the Chiefs might be putting up a lot of points, but their placekicker has a better chance of winning NFL MVP this season. After all, a placekicker (Mark Moseley in 1982) has actually won this award, while a wide receiver never has.
Just a reminder: Former Broncos videographer Steve Scarneccia is now available for weddings and bar mitzvahs. Forewarned: He might just go ahead and tape the event without your "knowledge," then give you the option of watching it afterward. Apparently that's standard operating procedure.
A star is born in Denver: Rookie punter Britton Colquitt's 50.3-yard gross average against St. Louis was his fourth 50-plus-average game of the season.
---
"Out" Games of the Week: (100 percent chance this game will be watched by someone, but hopefully not by you) Buffalo at Minnesota; Carolina at Seattle.
SPOTLIGHT OUT: Buffalo at Minnesota.
We're not here to pick on the Bills and Vikings: Seriously, this is the only game on the NFL schedule that doesn't involve at least one team with reasonable playoff aspirations. Thanks to the less-than-awesome NFC West, Seattle is tied for first in that division at 5-6, so their game against Carolina has playoff implications. If the Vikings move to Los Angeles, their 4-7 record would be right at home in the NFC West.
Come on, the glass is half full, Steve Johnson: Overlooked in the brouhaha about Johnson's game-winning touchdown drop against the Steelers was the fact that Johnson, a relative unknown before this year, kept the 2-9 Bills within reach of the No. 1 pick.
Closing in on 600: With 10 touchdown passes this season, Brett Favre now has 507 on his career. At this pace, we should see him reach 600 sometime in the 2014 season.
You guessed it, Toby Gerhart and Mike Alstott have this in common: They were drafted in the second round.
Leslie Frazer is generous with the balls: After Minnesota beat the Redskins in his head-coaching debut, Frazer gave game balls to every player on the team. Thanks to Brad Childress, the game-ball bucket was apparently pretty full.
Cam Martin is a contributor to Page 2. He previously worked for the Greenwich (Conn.) Time and The (Stamford, Conn.) Advocate, and has written online for CBS Sports and Comcast SportsNet New England. You can contact him at cdavidmartin@yahoo.com or follow him on Twitter: @CameronDMartin.