Commentary
Steve Wright dishes about 'Survivor'
Originally Published:
March 1, 2011
By
Cam Martin
| Special to Page 2
Former NFL offensive lineman Steve Wright, who played for the Cowboys, Colts and Raiders during a 10-season career spanning 1981 to 1992, is competing on "Survivor" this season.
At 51, he's this season's second-oldest contestant, but he remains in tip-top shape and still cuts a mean figure at 6-foot-6. Page 2 sent him a dozen questions about his experience of being on the show that awards $1 million to the competitor who outwits, outplays and outlasts his or her opponents. Wright, who lives in Huntington Beach, Calif., shared his thoughts on the competition, infamous fellow tribesman Russell Hantz and whether he agreed with Jimmy Johnson's assessment that competing on "Survivor" was tougher than anything he encountered in football.
Page 2: Your NFL experience hasn't come up on the show so far. What was your strategy coming in? Did you want to keep a lid on your background?
[+] Enlarge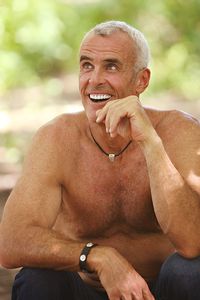 Monty Brinton/CBS "Survivor" competitor Steve Wright spent 10 seasons as an NFL lineman.
Steve Wright: I figured between my size, athletic ability and the general way I handle myself, I thought my background would surface sooner or later, so I started off saying that I played in 1981 and '82 for $30K and $40K, which was true and said I then got cut and was through.
Jimmy Johnson said being on "Survivor" was the most difficult thing he's ever done. How was it for you, mentally and physically? How does it rate against two-a-days or anything else in your football career?
Nothing is tougher than enduring sleeping on bamboo in pouring rain on a quarter cup of rice a day. Besides, your fate lies in their hands and how you deal or put up with them. In [football] training camp you had a king-size bed, endless amounts of food (which is all you think about in "Survivor"), showers, toothbrushes, etc.
You're on the same tribe with the infamous Russell Hantz. Is he more likable in person or pretty much what you see? And who among your tribemates was the funniest or most entertaining to be around?
Russell is pure maggot. The fool doesn't have a soul -- small-man complex. Now Ralph on the other hand has the biggest heart for everyone and is a huge delight to be around. Loving, hard-working, "honest good ole boy," very entertaining. Mike Chiesl was a solid cat as well.
What amenity from home did you miss the most during your time on the show?
My refrigerator.
Beyond knowing the importance of teamwork, what else in your sports background came through while competing?
Live for the moment. Don't plan too far ahead. Savor the now. No complaining, because no one wants to hear it. We're all in the same boat. Keep a positive attitude even when it's hard to find and pull up. Do more than is asked of you.
What did you think about the new "Redemption Island" twist, which allows people who were voted off to remain in the game for a second chance at winning the $1 million?
Can't say much about this, except it made it tougher in many ways.
Did you have a lot of experience with camping or spending long periods of time outdoors? Did you take specific measures to learn any outdoor survival skills before going on the show?
I grew up in Minnesota and camped in northern Minnesota's Boundary Water canoe area back in high school for two weeks. That was ridiculously hard, but a blast at the same time with my buddies. [Before going on the show], I had a guy show me how to start fires with sticks, give me some pointers on shelter building, etc. I needed him to show me how to starve properly.
Were you worried that your age would be a factor, in terms of keeping up with younger contestants or getting along with them socially?
No, I wasn't concerned about being older since I was in pretty good shape and have been tested to the limits before. Socially, come on, I'm still a little hip ... kind of.
You said during a video interview on the "Survivor" website, "I can be a real jerk at times." Is the Type A personality you discuss in the preview very much on display during this season of "Survivor"? And did you steal a page from Hantz and burn any of your tribemates' socks?
I can't share a lot about what I did. You'll have to watch, but I certainly wouldn't do the weasel Hantz route of burning socks.
What do you do for a living now?
I actually started a sideline mist cooling business three years before I retired. [It was] incorporated the week I retired in 1994 and was cooling the 1996 Summer Olympics in Atlanta and had equipment in over 1,000 Home Depots, Lowes, True Values and Ace Hardware stores until I sold out to my partner in 2001. Currently, I've partnered with Kurt Grossman in starting a renewable energy company called Genergy Inc., a patented process of capturing the power of gravity and buoyancy to create the cleanest, most inexpensive, powerful, reliable energy source in the world. This is going to be huge.
Do you follow the NFL closely nowadays? What do you think about the potential lockout and what needs to be done to avoid it?
I don't watch a lot football -- been there, done that kind of thing. I do watch once in a while to see how a guard and tackle will handle stunts and blitzes from defensive ends and linebackers, but that's it. The lockout thing is ridiculous and sad at the same time. Too many egos and too much pride on all parts. Communicate with each other -- both sides -- and stop whining to the media.
Would you go on "Survivor" again? What advice would you have for other former NFL players who want to compete?
I wouldn't do it again because I'm getting too deeply invested in our company, Genergy, but my advice to other "tough guy" NFL brothers: Think twice. You may get what you ask for and be in the experience of a lifetime.
Cam Martin is a contributor to Page 2. He previously worked for the Greenwich (Conn.) Time and The (Stamford, Conn.) Advocate, and has written online for CBS Sports and Comcast SportsNet New England. You can contact him at cdavidmartin@yahoo.com or follow him on Twitter: @CameronDMartin.