Commentary
Marinovich, Mason thrive as artists
Updated:
April 9, 2011, 7:36 PM ET
By
Wendell Maxey
| Special to Page 2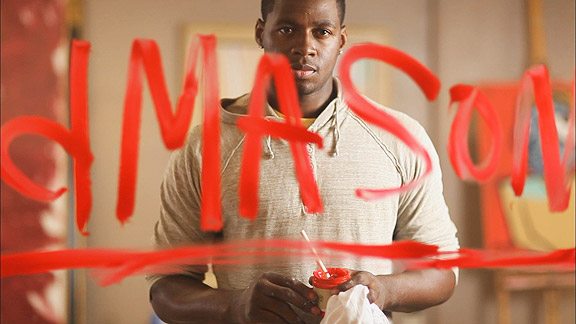 Courtesy of Desmond Mason Former NBA star Desmond Mason is opening his own art gallery in Oklahoma City.
It's pretty safe to assume Vincent van Gogh never threw a touchdown pass or that Pablo Picasso could dunk. But for some athletes, crossing over has become a work of art.
Take Todd Marinovich.
Marinovich led USC to the Rose Bowl (1990), was a first-round NFL draft pick with the Los Angeles Raiders and battled a drug addiction on and off the field.
Today, he draws up a different life in Newport Beach, Calif., using refined strokes as an aspiring artist with his own online art gallery.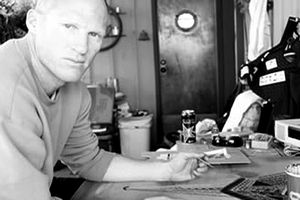 Courtesy of Todd MarinovichFormer Raiders quarterback Todd Marinovich said he's always been an artist.
"I believe everyone has a creative ability," said Marinovich, who creates and sells abstract paintings and oversized wood sculptures through his website. "That's something I am very grateful for."
Or how about Desmond Mason -- the former nine-year small forward with Seattle, Milwaukee, Oklahoma City and Sacramento and a former 2001 NBA Slam Dunk Contest champion?
A year removed from hosting his seventh-annual Desmond Mason Art Show, Mason spends his days working on originals and feverishly planning the year-end opening of his own art gallery in Oklahoma City's rejuvenated MidTown.
"Having been familiar with Mason the athlete since his college career ... I was intrigued to learn more recently that he's also an artist -- and a gifted one, at that," said Joel Gavin, of the Oklahoma Arts Council. "I guess you could say Desmond's art is truly an extension of who he is -- approachable and engaging."
You couldn't paint this stuff.
"My life has really done a 180 degree turn even from a year ago -- marriage, a son, painting as a career," said Marinovich. "I really enjoy it and am trying to make a living at it. That's not easy. I just have to plug away and keep doing what I am doing and hopefully I will catch a break."
[+] Enlarge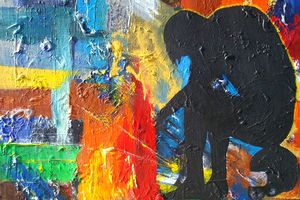 Courtesy of Todd Marinovich"Defeat III," acrylic on canvas by Todd Marinovich, has been his best-selling piece.
Last fall, Marinovich had his first gallery show, in the quaint town of Fallbrook in northern San Diego County. Marinovich lived and studied with gallery owner Jerome Gastaldi, who Marinovich refers to as "my mentor."
"I always thought [Marinovich] did some very powerful pieces," Gastaldi said. "When he first started, some of his work was pretty dark, but he has the ability to paint and is very free in how he paints. It's not like he struggles with it. It's a natural talent."
Marinovich's passion for art dates back grammar school, and though his father-coach, Marv, drove him to become a standout quarterback in high school it was a tough choice for the younger Marinovich. Art made school a new experience.
"Once I studied art, that's when I started to enjoy school," Marinovich said. "I loved it."
For a while, football paid the bills -- and made Marinovich a household name. While playing with the Raiders, he stuck to black-and-white portraits, using charcoal or pencil, but eventually benched his love for art. The thrill was gone. Soon, his NFL career was, too. Todd was released from the Raiders after three seasons and bounced around the Canadian and Arena leagues.
His well-documented addictions and legal troubles followed.
"I found through my experiences that I'm much healthier when I am creating artwork, regardless what it is," he said. "I feel much more connected with what is going on."
Mason also studied art in college, and his goal was to become an art teacher. He tried to sell paintings while at Oklahoma State, but learned it was a violation of NCAA rules. It wasn't until he was in the NBA with Seattle that he was able to sell his work.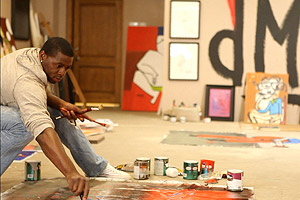 Courtesy of Desmond Mason Desmond Mason has sold out his last five art shows.
"I started selling pieces to friends for Christmas presents or gifts," he said. "I really had my first big show -- there were about 25 people there. My confidence was built and the art took off from there."
Since leaving the league, Mason, who says he paints "emotionally," has found success. He sold out his last five shows and sold 61 pieces alone in December in two hours.
Marinovich has sold 25 pieces since he started selling a year ago. His painting "Defeat" shows a silhouette of a football player sitting on his helmet and remains Marinovich's most-purchased piece.
Mason's next show on April 23 for the Oklahoma City Community College art foundation is expected to draw 1,000 people.
"I was fortunate to receive publicity when I put my art out there," Mason said. "About four years ago, I was able to separate my name as a basketball player from my name as an artist.
"Now my art stands alone."
Wendell Maxey is a freelance writer for Sports Media Exchange, a national freelance writing network.