Commentary
Kerry Collins becomes a songwriter
Originally Published:
July 11, 2010
By
Bob McClellan
| Special to Page 2
NASHVILLE, Tenn. -- Tennessee Titans quarterback Kerry Collins looks every bit of his 37 years of age after 15 seasons in the NFL. His hair is equal parts graying and thinning. His face is weathered. His blue eyes show the toll of a life lived hard.
He has been waived, cut or released by four teams. He has battled alcoholism and been accused of racism.
His life sounds like a country music song, which is a coincidence -- because Collins is just about ready to stop taking hits and start writing them.
[+] Enlarge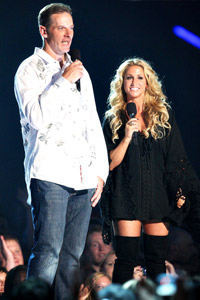 Jason Merritt/Getty ImagesKerry Collins hangs with singer Heidi Newfield at the 2009 CMT Music Awards.
"So many thrills in my life have come from football," Collins said. "To accomplish something that's so completely different and so outside of football would be just unbelievable for me."
Collins is hardly an established songwriter, but his work is taken seriously along Nashville's famed Music Row. One of the songs he has written was put on a "hold" by George Strait before the country music legend ultimately passed on it.
"It was a real thrill to get one on hold with him," Collins said. "It was disappointing, sure, when he passed. He's one of my favorite artists ever. But at the same time, I was encouraged because I felt like I was on the right track."
Collins, who has played for the Titans since 2006 and is entering the final year of his contract with the team, recently bought a building on Music Row and started his own company.
"Right now I'm the only writer signed there," he joked. "Down the line, I'd like to sign some more writers and maybe look into some artist development."
Collins is awaiting word from young country artist Billy Currington, who has put a hold on another of Collins' tunes. Collins expects to hear soon whether Currington will record the song.
Collins co-wrote the tune with Lee Thomas Miller and Chris Stapleton. Miller has three No. 1 songs to his credit and has had three songs nominated for Country Song of the Year at the Grammys, including Jamey Johnson's "In Color" and Trace Adkins' "You're Gonna Miss This."
"It's a funny thing because everybody here is a football fan," said Miller, who has refereed local high school games. "He's bigger than life, and we've all followed him. But he's got the guts to come in and say, 'I write songs, and I wanna write with you.' Well, everybody is gonna say yes. It's a cool thing. But as you watch him, he knows music. He's got ideas."
When he doesn't, he can always mesmerize his fellow songwriters with tales from the gridiron.
"I was with him once and there was a successful songwriting brother team with us, and we start talking football," Miller said. "Kerry is getting into it, growing more intense and using all the lingo, the 'MIKE' and the 'SAM.' He gets a piece of paper and a Sharpie and with all of the passion of a great songwriter starts drawing X's and O's so fast. I had no idea what he was doing, but it was one of the coolest things I've ever done as a songwriter."
Drawing up plays on sheet music will get you only so far, though.
"Nashville is a pretty intimidating town, but I've been very impressed with his preparation," Miller said. "A lot of artists come in unprepared. He approaches it as he's the new guy and really has to prove himself. I think he can do it."
Collins said he has about 30-40 "pitchable" songs. He hopes to finish a few more before training camp, because it's tough to find time to write once the season starts.
Collins said he won't cash in on his football fame to help get an artist to take one of his songs. He has hired an independent song promoter.
"Either it's a good song or it's not, regardless of who wrote it," Collins said. "Either the song will be right for an artist or it won't be."
Bob McClellan is a freelance writer for Sports Media Exchange, a national freelance writing network.