Commentary
Forget the movie ... try Quidditch
Originally Published:
July 22, 2009
By
Jack McCluskey
| Special to Page 2
"Contrary to what many people may think, we're all perfectly normal people."
-- Kori Lopreore, LSU Quidditch team
There it was, in the January edition of the Boston University alumni magazine. Headline, "Stranger than fiction." Subhead, "BU Quidditch team faces toughest opponent -- gravity."
Wait, BU Quidditch team? As in, the game Harry Potter plays?
Sometimes truth really is stranger than fiction. Turns out the BU team was one of 12 entrants in an event called the Intercollegiate Quidditch World Cup, held in October at Middlebury College in Vermont. Teams came to the tournament from as far away as Louisiana State and the University of Washington.
Flying cross-country … to play Quidditch.
In the beginning, there were wizards
[+] Enlarge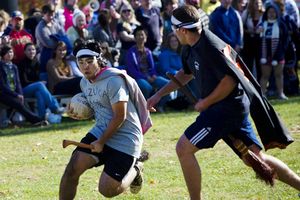 Christopher Capozziello/Getty ImagesRunning with a broomstick between your legs requires some special moves.
The "sport" of Quidditch, Potter's favorite pastime, originated in author J.K. Rowling's imagination, and involves lots of magic, broomsticks and bludgers (Rowling-ese for flying clubs) and a tiny golden ball with wings called a "snitch." Catch the snitch and the game is automatically over. That's when the wizards reveal what they have in common with gangsters -- neither group likes snitches, and when you catch one, it's time to celebrate.
"Harry Potter and the Half-Blood Prince," the sixth movie adaptation from Rowling's seven-book series, recently opened in theaters, but go back to 2005. Middlebury students Alex Benepe and Xander Manshel are bored with their traditional Sunday routine of dressing in European clothes and playing bocce. Both are fans of Rowling's series, so when Manshel suggests they adapt the magical game of Quidditch for actual competition, Benepe is all for it.
What resulted is called Muggle Quidditch, since, of course, all its players will be Muggles (Rowling-ese for non-magical people). There won't be any flying -- damn gravity! -- but there will be broomsticks, held between the legs while running, bludgers (I'll teach you to try to score! Whack!) and even a snitch (the flying golden ball replaced by a fast guy or gal clad in gold with a tennis ball in a sock stuck in the waistband).
Oh, and the two developed a 39-page "Intercollegiate Quidditch Rules and Guide-Book" with a "Forward" written by Benepe thusly: "If you have opened this book, chances are you are least partly interested in playing Quidditch. And anyone who is at least partly interested can all too easily become as passionate about it as I am."
"Quidditch is something that makes people undeniably happy," the intro continues. "The childlike freedom that comes with playing and watching it is something unprecedented."
OK, just who is this Benepe guy, anyway, and what's he selling here?
This Benepe guy
Benepe, 22, is from the Upper West Side of Manhattan. He was a varsity distance runner in high school, and during his freshman year at Middlebury he was on the crew team. "I didn't like the way that a major sport eats up your life at college without allowing much time for creativity," he says, explaining why he stopped participating in crew, "so I got on board with developing Quidditch in order to combine creativity and sports."
He graduated from Middlebury this year with a degree in the history of art and architecture. He's currently an intern at the Museum of Modern Art, where he works in exhibition fundraising.
That he works trying to raise money to put on exhibitions isn't really surprising when you consider what he did at Middlebury.
"During the peak of the fall season, I was probably spending 30 hours per week making preparations for the World Cup," he explains.
"We had to secure the use of a field, and spray down the markings using field paint," Benepe says. "We had to rent bleachers from the college and arrange for band boxes, and get sound equipment. I arranged for catering, to give some free food to people. The Vermont Institute of Natural Science brought owls. I arranged for student bands to play between games."
Then there were the tents that needed setting up, the event security that needed to be employed, the porta-potties that needed porting -- Benepe estimates that close to 1,000 people came to watch the event -- and the cameras that had to be arranged for the webcast.
There were 12 teams to coordinate with, matches to schedule and media interviews to give. By this time, Muggle Quidditch had gotten Benepe in the Middlebury school paper and on the local news before the national media outlets took notice.
Benepe spent so much time organizing the tournament, he says, that it began to affect the rest of his life.
"A number of things fell by the wayside, for sure," he says. "I skipped a number of classes and handed in lower-quality work because of time constraints. I think I skipped out the most on sleep."
All the lost sleep wasn't because of Quidditch, though. The night before the tournament, Benepe says, he organized a keg party for the 150-plus Quidditch players in the competition.
All this from a couple of bored college kids?
"I was a little surprised the first season that it really took off," Benepe admits, "[and] by what a feeding frenzy it was.
[+] Enlarge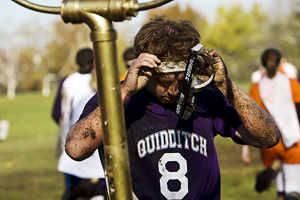 Christopher Capozziello/Getty ImagesHey, even in Quidditch you want to leave the match the victor.
"Now that I've seen how viral it is, I'm not so surprised anymore."
What started as a lark turned into a full-blown college fad in a pretty predictable way: College kids do something, start a Facebook group (and build a Web site), eventually get noticed by the media, then watch as the "something" turns into something.
Searching Facebook for "quidditch" returns more than 500 results. There are simple groups just for fans of Rowling's invented game, there are groups for Muggle Quidditch teams at colleges and high schools, there are even groups solely for people opposed to Quidditch. The "Stop Quidditch!" group, which had as many as 100 members recently, describes itself in part: "You're in college now … pick up a real sport and stop embarrassing your fellow students and school!"
In the handy "Intercollegiate Rules and Guide-Book," Benepe made sure to include a section on how to make this pyramid scheme work. The "Starting Your Quidditch League" section includes, under the heading "Method to the Madness," five helpful hints for recruiting potential quidditchers (Rowling's not the only one who can invent words!):
1) Set up a very impressive table at a club fair. Be loud, confident, and persistent. Most people will give you a strange look and saunter past -- you will have to drag them over and convince them, sell them on Quidditch. Include photographs and newspaper clippings. Bring balls, make a giant poster board, and bring brooms, maybe even a mounted hoop if you already have one.

2) Create an e-mail list. Internet is a power tool that can reach hundreds of people within seconds.

3) Create a facebook group. Include links to Youtube videos and invite EVERYONE!

4) Hang up posters around campus (enlist an artist for help to make it look good).

5) Finally, simple word of mouth goes a long way. Tell every single person you meet about it. If you can convince them, they will probably tell others as well.
"Madness" sounds about right. But remember, truth is often stranger than fiction. Benepe's method? It worked.
Those who would be Muggles
Alicia Radford is 20 years old, lives in Yakima, Wash., and is studying creative writing at the University of Washington. She's been a fan of the Potter series since she read the first book when she was 11.
"I always loved the Quidditch aspect [of Harry Potter] and really wanted someone to turn it into an awesome video game," she writes in an e-mail, "but when I heard about Muggle Quidditch at Middlebury, I was enchanted.
"Here were people taking a fictional sport that I loved and bringing it to life."
Radford checked the UW club page and, not finding one devoted to her new favorite sport, created one herself. She set about recruiting people to play, and eventually developed a regular Saturday game. She joined the Intercollegiate Quidditch Association e-mail list, and when she got word of last year's IQWC, she says, "I immediately knew I wanted to go; it was just a matter of finding enough people."
Radford managed to recruit eight others to go -- the IQA rules require at least nine players per team, and two must be female -- and then came the hard part, financing a trip for nine people from Seattle to Vermont.
"It was tough. We thought we had a sponsorship deal, but that fell through," Radford says. "We hosted a benefit concert/party and sold Quidditch club T-shirts, which helped, but mostly we paid for it out of our own pockets. I ended up fronting a lot of the costs to get our seats on the planes reserved, and for the next month everyone paid me back."
While Radford's crew was the only one to venture to the Vermont tournament from west of the Mississippi, they weren't the only team to come a long way. Kori Lopreore led a group from LSU, though he didn't exactly have the university's full support.
"The school actually refused to give us any aid as far as funding the trip went," Lopreore writes in an e-mail, "possibly because the reputation of the club was so questionable at the time."
Like Radford's group, Lopreore & Co. funded the trip mostly out of pocket.
"Even though the trip ended up being personally costly, every single player admitted it was well worth the investment," Lopreore says, "and now that we're the fourth-ranked team in the world, we're hoping to squeeze a little money out of the school for next year's Cup."
Radford agreed that all the work was worth it in the end.
"Definitely. It was something of a logistical and financial nightmare, but the tournament itself was amazing," she says.
Will there be a sequel?
Though he can no longer easily explain away his odd hobby -- Oh, I was just in college. You know how it is. Dungeons & Dragons was all the rage! -- Benepe's OK with that, because he's not done with it yet.
He's looking into establishing the IQA as a not-for-profit organization -- any for-profit organization using likenesses or representations of copyrighted material, which Harry Potter and Quidditch are, would be quickly quashed by the rights holder, in this case Time Warner -- and he's established a line of succession at Middlebury.
As for what others might think of his brainchild, well, no one in this Quidditch world seems too worried about what everyone else thinks.
"I think it's very college-y, kind of on the ridiculous side, free-spirited," Benepe says of the fad his friend created and he ran with. Lopreore agrees, and contends that "contrary to what many people may think, we're all perfectly normal people. When we're not playing Quidditch, we're hanging out, having a good time, experiencing college.
"A lot of people are inclined to dismiss the people who play Quidditch as just a sort of different sect of people," Lopreore continues, "but our players come from every walk of life, really -- from serious athletes to high intellectuals. We're a really diverse group of people who just all share this great love of the new sport Quidditch."
And just because the sport comes from books about wizards and witches doesn't mean there's anything wrong with the game itself, the Quidditch players say.
"I think Harry Potter gives it the initial hook, but the quality of game really gets people hooked because it's really fun to play," Benepe says. And though it took a lot of work to put the World Cup together, Benepe says, the benefit far outweighed the cost.
"Oh yeah, it was totally worth it," he says. "I definitely enjoyed it. I love Middlebury and my classes there, but doing something on your own that you dream up, all the way from brainstorming to seeing it actually happen, is a very rewarding feeling."
Even if what you dream up is first cribbed from someone else's dream.
Jack McCluskey is an editor for ESPN.com.