Commentary
Worrell discusses bad call in '85 Series
Originally Published:
March 15, 2011
By
Anna McDonald
| Special to Page 2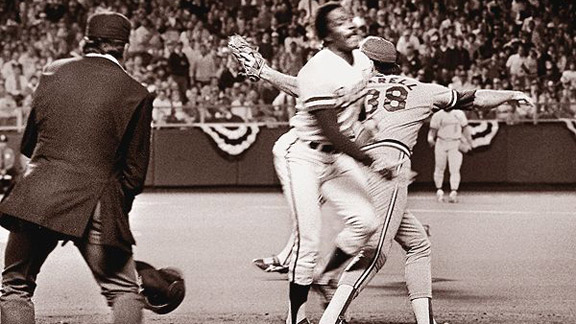 AP Photo/The Kansas City Star/Patrick SullivanDon Denkinger watches as Todd Worrell fields the ball at first base.
Any talk about the worst calls in sports ultimately includes one at the top of any list: Umpire Don Denkinger's first-base call in the 1985 World Series.
The story begins with a picture called "The Call."
It reveals Cardinals pitcher Todd Worrell beating Jorge Orta of the Kansas City Royals to the first-base bag for the first out of the bottom of the ninth inning in the 1985 World Series. But that's when first-base umpire Denkinger called Orta safe. The Royals, who started the ninth inning trailing 1-0 in Game 6, trailing three games to two in the Series, went on to win the game and take the title.
Now that it has been more than 25 years since the call at first base, has the memory faded for Worrell?
"Plays like that, no matter how many years go by, they are always fresh in your mind," Worrell said. "You can recall and visualize in slow motion what took place real quick."
Worrell knew Orta was out. He remembers Orta stepping on his heel after he had caught the ball. But Denkinger was behind him, standing close to the first-base coaching box. "It took me a while to spin around, but obviously when I spun around, my first visual of him was his arms straight out for a safe call."
It took Worrell some time to process what he was seeing. "It seemed like everything just kind of stopped for a split-second when that play happened," he recalls.
In that moment, frozen now in a picture, Worrell heard Denkinger say to him that his foot wasn't on the bag. He pointed down to the bag and said, "No, my foot was on the bag." That was the only exchange he had with the umpire.
"Within seconds [first baseman] Jack Clark was in his face, [second baseman] Tommy Herr was in his face," he remembers. "By the time [manager] Whitey [Herzog] got over there and pushed everyone out of the way and got in Denkinger's face -- then it really started going nuts."
The call became a catalyst that took the Cardinals from story to nightmare. Worrell believes it was a mental distraction for him and the team. He said the plays that followed were makeable plays.
"Me being as young as I was -- I was two months in the big leagues -- and dealing with that and knowing I still had to get out of the inning, I kind of stepped back away from it because I still had a job to do," Worrell said. "I still had to get three outs and get out of the mess."
[+] Enlarge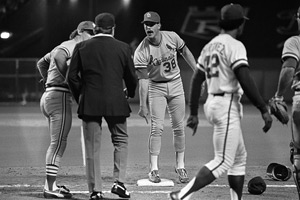 Kerwin Plevka/CorbisCardinals pitcher Todd Worrell disagrees with umpire Don Denkinger's call on Jorge Orta at first base.
The next batter was Steve Balboni, who hit a routine pop-up in foul territory. It should have been an out, but Clark didn't make the catch. Balboni then singled. Worrell made the first out of the inning by fielding Jim Sundberg's bunt, getting Orta out at third. He also recalls getting crossed up with catcher Darrell Porter on a pitch call, resulting in a passed ball and the runners advancing. The rest is history: a walk to Hal McRae; Dane Iorg's single to right field that scored pinch runner Onix Concepcion to tie the game; and finally, Sundberg sliding home to win the game.
Back in the locker room after the Cardinals had lost the game, Worrell went over the game again in his head. "You don't want to feel like you had anything to blame for how the inning was played out because of the call Don made," Worrell said. "When in reality we still had some control of the game and of the situation, and we didn't execute."
People ask him all the time how long it took him to get over the Denkinger call. "I'm sure they wanted me to just tear Don apart, and cry in my soup, and have a pity party that we lost the World Series."
People wanted it to be all Denkinger's fault, he said. But even after reality had set in, even after he had time to process everything, he never could say the exact amount of time it took him to get over the call. His answer always was, "You know what? I make mistakes too."
Worrell knows Denkinger didn't intend to make the mistake, "If anyone could take it back, he would take it back. He would love to change history and have it go away."
Worrell's career
In 1985 he was called up as a rookie late in the season and he had landed in a World Series. Part of being young is believing you'll always have another chance. Worrell was no different. In 1985, he didn't think a World Series would only happen once more in 11 years in the majors.
But as time went on, his baseball career had slipped away. He was retired and looking back on the missed call, saying, "Wow, maybe it was a bigger deal than I made it out to be."
Worrell played 11 seasons. He won the National League Rookie of the Year award in 1986; went to the All-Star Game in 1988, '95 and '96; and played in two World Series (the other appearance was in 1987).
Naturally, when he asks himself what's missing from his career in sports, it's a World Series championship.
So now, 25 years later, he wishes he could have that moment back. "I think it hurts a little more the further you get away from it," he said.
"We had two opportunities on the teams I was involved with the Cardinals and we lost both of them. The Kansas City World Series was the most devastating."
No matter how much it's dealt with, or how much everyone moves on, there's still that moment captured in memories and in pictures: It will never go away. Every time he signs a copy of "The Call" he thinks, "It's a double-edged sword." There's a part that brings up a bad memory, but there's also a part of it that makes him feel so privileged to have had the opportunity to play, a part that knows there are guys who never make it to a World Series and a part in which it's just "nice to be remembered."
Instant replay
Even though Worrell was caught in the middle of one of the worst calls in history, he still doesn't think instant replay needs to be expanded in major league baseball. The human factor of the game, the performance of the players, the umpires and the plays made -- it's all a necessary part of the game to him. "The bottom line is that's what baseball is," he said. "It is someone making a split-second judgment, and sometimes it goes for you and sometimes it goes against you."
The composition of a career in the major leagues for Worrell is "expecting a lot of yourself" and having the ability to bounce back from bad calls, decisions, and plays.
"It happens in sports; things unravel, and that doesn't mean it's easy to stop negative momentum," he said. "It's just part of being an athlete.
He favors keeping the game as pure as it can be without the use of instant replay and the umpires working together on close calls to get them right. "I think most of the time the umpires do a pretty good job," Worrell said. "They get them right most of the time."
In 1985, if Denkinger had told Herzog to wait a minute and if Denkinger had then called his crew over, Worrell believes they would have gotten the call right.
"They are not going to slow the game down any more," he said with a smile. He doesn't understand why they don't just ask each other if they didn't get a good look at a play. "Sometimes the farther away from the call the better perspective you have on it, because it happens slower."
Try prodding Worrell more about instant replay, try to convince him and he simply remains firm: They don't need instant replay on the infield. He suggests accountability and more training. Umpires need a standard to keep their job, but along with that, MLB should allow only the best to work in the World Series.
"I don't get to the World Series if I'm not the best at my job," he said. "We are all there to be the best we can be at what we are doing."
The irony is that Denkinger himself has called for the expansion of replay, particularly after Jim Joyce's blown call that cost Detroit Tigers pitcher Armando Galarraga a perfect game last season.
Worrell, however, thinks it comes down to training. Denkinger was standing exactly where he was supposed to be on Oct. 26, 1985. "Well, you are training them wrong," is always Worrell's reply. "I contend that he was not in the right spot to make that call. He could stand where he was 50 times and never get the call right. He should have been with the ball; if he follows the ball he's out of the way. If he would have followed Jack Clark in he would have been right there to see the call and he would have got it right."
The aftermath
Just like "The Call," many baseball memories can be captured in a picture. Todd Worrell doesn't have a lot of baseball pictures around his house, but his wife had some baseball pictures matted and framed for him.
Of course he has one of "The Call" in his office. He has another with several pictures from the 1985 World Series.
The picture he paints of his baseball legacy contains no anger toward Denkinger, as some might expect. There's no hope that more people will buy pictures of "The Call" so he can autograph them some more. There's no passion to instill more instant replay in the game, and there's no blame that he doesn't have a World Series championship picture on his wall because of one mistake.
"There is nothing that overrides our relationships with other human beings," he said. This is exemplified in some great laughs and good conversations with Denkinger. In January 2010 the St. Louis chapter of the Baseball Writers Association of America held a dinner and awards banquet in which Worrell and Denkinger enjoyed reminiscing about the 1985 World Series. There were no hard feelings.
"Time heals a lot of things that can be very big in the magnitude of the moment," Worrell said. Even as 25 years have made reality set in, he's still at peace about the blown call. Maybe it's time for one more picture on Worrell's wall.
He would like a picture of Denkinger and himself. If a picture can be worth 1,000 words, then maybe 21 words can be worth 1,000 pictures.
"I'd like to have a picture just with my arm around him, not even in our baseball uniforms," Worrell said. "Just as friends."
Anna McDonald is a staff writer for The Hardball Times. You can follow her on Twitter, @Anna__McDonald.