So went Satan forth from the presence of the Lord, and smote
Job with sore boils from the sole of his foot unto his crown.
-- Job 2:7
LAS VEGAS -- I arrived here June 3 to play in my ninth consecutive World Series of Poker. Since my nearsighted-pig-finds-a-truffle experience of finishing fifth in the first poker tournament I ever played -- which happened to be the $10,000 no-limit hold 'em WSOP Main Event in 2000 -- I'd had bad years and good years out here, including two more final tables, about a dozen other cashes and close to 100 whiffs. Altogether, I had won about $750,000 playing poker tournaments. But the key statistic, in my mind, was this: zero bracelets. My plan for 2008 was to play at the Rio for two or three weeks, depending on what kind of results I was having, to see if I could finally win one.
AP Photo/Laura Rauch
Until you've won one of these bracelets, have you really arrived as a poker player?
I'm hardly the only player who craves one, of course. In the current age of endorsement deals, and especially since the Boom of 2003, a player's bracelet count has emerged as the prime if imperfect measure of poker greatness. It's tough to win a bracelet in the 21st century, mainly because more than 2,500 players routinely enter the no-limit hold 'em events, compared with the tiny fields of the '70s and '80s. But the long odds are offset by the 55 events that could be entered this year at the Rio -- two a day every day until the Main Event began July 3 -- compared to the five or six in the earliest days at the Horseshoe.
After spending seven weeks in Vegas in the summer of 2006, three weeks was the longest I was willing to spend away from my family. There was also my publisher's deadline for a history of poker looming in the fall. By coming out near the beginning of the WSOP, instead of near the end, I was able to enter almost two dozen bracelet events in the same 11 days the Main Event alone would have forced me to commit to. Even though that single event in the spring of 2000 had changed both my poker and writing life -- both very much for the better -- and I had played in every one of them since, I figured that skipping the Main Event this year multiplied my chances of winning a bracelet by a couple of orders of magnitude.
My plane hit the gate at 4:25 p.m., almost an hour late, but I picked up my suitcase, got a cab to the Rio, and checked into my room in time to change my shirt, trot down to the Amazon Room, buy in only 45 minutes late for the $1,500 Omaha 8-or-better event that began at 5 and get busted before 8. To lose all your chips that fast in a split-pot event takes some doing, especially if you're playing only premium hands.
As most people know (he wrote defensively), your Omaha-8 results will seldom be much better than the cards you've been dealt. Or as Mike "The Mouth" Matusow recently put it, "You aren't going to win an Omaha tournament outplaying anyone." In my case, I wasn't even going to make the second pee break. When the last pot I played got split between two other people, I headed back to the registration cage and bought in for the next day's $2,000 no-limit hold 'em event at high noon.
Waiting to fall asleep around midnight Las Vegas time, I reminded myself that at the 2006 World Series I had cashed four times, made the final table of a pot-limit hold 'em event and just missed making it in both the $2,000 seven-card stud event and the $10,000 pot-limit Omaha championship. But in 19 events the next summer, I never even sniffed the short money, let alone a final table or a bracelet. My insomniac logic dictated that, because my best years had been 2000, 2004 and 2006, surely 2008 would be another good one for me. What had happened in the 8-or-better tournament was no omen. Come tomorrow afternoon, my even-year pattern would surely reassert itself.
Youth shall be served

AP Photo/Jae C. Hong
Another reason I "had" to get lucky again was that this was "my" tournament, sort of. The Poker Boom had unofficially detonated in spring 2003, as my book "Positively Fifth Street" was arriving in stores. But despite what some of my generous friends had alleged, even a bestseller -- No. 2 on Amazon, just below the new Harry Potter -- about playing in the 2000 World Series and covering the trial of two people accused of murdering Ted Binion, its longtime host, was only a minuscule factor. Television, of course, was by far the most potent catalyst. My book and the royalty checks had surfed the TV wave, not the other way around.
The chain reaction began with the Travel Channel's first World Poker Tour broadcast, on March 30, of the Five Diamond Classic at the Bellagio. The show's lavish production values blended tabletop hole-card cameras, informative sidebars, and beginner-level explanations from Mike Sexton and Vince Van Patten, all of it hosted by Playboy cover girl Shana Hiatt, who often wore just a bikini. The WPT went on to average 1.1 million viewers during its first season, with some of its reruns attracting 4 million viewers per show.
Later that fall, ESPN combined similar hole-card technology with a Wild West ambience for its nearly round-the-clock broadcasts of the WSOP Main Event (which had been taped at the Horseshoe back in May), drawing even larger audiences. While nearly all forms of poker are played at the World Series, ESPN sticks primarily with no-limit hold 'em events, as does the WPT.
No-limit hold 'em has been a ratings favorite mostly because five of the seven cards in each hand are face-up in a neat row at the center of the table (right alongside the sponsor's logo, of course), so it's much easier for a mass audience to follow than, say, stud action, in which as many as seven four-card boards compete for attention on an overcrowded screen. But the most telegenic aspect of no-limit hold 'em, perhaps, is that it allows both skilled and unskilled players to go all-in -- one of our century's favorite compound verbs -- at any point in the hand.
Another reason poker looks good on TV is that grizzled experience has given way to young studs who understand the math as well any veteran but who seem to love to gamble even more. The fact is that winning players at the WSOP and other televised tournaments have gotten younger and younger over the years, and the trend has accelerated during the Boom. The earliest World Series were dominated by Johnny Moss, a man well into his 60s. When Doyle Brunson won back-to-back titles in 1977-78, he was in his mid-40s. Then along came Stuey Ungar, who was 26 when he first won in 1980, and Phil Hellmuth, 24 when he dethroned Johnny Chan in '89.
These days, players under 23 routinely win bracelets to go with the long money, TV exposure and the sponsorship perks that come with them. Last summer, Steve Billirakis won a bracelet and $536,287 at 21 years and 10 days. That was nothing. In November, when the WSOP hosted three events in London (where the minimum age for entering a casino is 18), Annette Obrestad won a bracelet and $2,013,102 the day before turning 19. Eric Froehlich had won his second bracelet before turning 22 years and 4 months in 2006, the same year 21-year-old Jeff Madsen won two bracelets in five days, along with $1.4 million, which led to his being named Player of the Year.
How did they do that? Like anyone who wins a poker tournament, they played extremely well and got supremely lucky. When Madsen took pocket queens all-in against pocket aces, to take one example, a queen flopped. In the final hand of one of the events, he flopped a straight and had his opponent bet into him. Heads-up against Erick Lindgren in the other one, he called Lindgren's all-in raise with pocket eights. Lindgren held the A-K of clubs, and the flop came 9 of spades, ace of diamonds, 8 of clubs. The turn card was the 2 of clubs, giving Lindgren a flush draw, but Madsen's luck held when no club appeared on the river. That's how you win a bracelet, my friends. That's how you win two in a week. None of which brings any comfort or encouragement to a 57-year-old part-timer still trying to win his first, let me tell you. If you can't win a key race or even have your overpair hold up when your all-in opponent is down to two outs, you have no chance to even sniff the short money. A bracelet? Forget about it.
How poker got here from there

But enough with the whining about my terrible luck, at least for a couple of paragraphs, while I trace how we got from the Horseshoe to here. Just before the Boom, Jack Binion lost control of the Horseshoe to his sister Becky and her husband, Nick Behnen. In 2004, under a mountain of debt, Becky and Nick sold the rights to the World Series to Harrah's Entertainment LLC, the world's largest gaming company.
In 2005, Harrah's moved the event to the Amazon Room of the Rio, its mid-market property on Flamingo Road about a mile west of the Strip. Anthony Holden, author of "Big Deal" and "Bigger Deal," compared this to moving the Masters from Augusta National. Yet it was also true that the Horseshoe facility was simply too small and decrepit to accommodate the enormous WSOP fields of the boom years.
The aptly named Amazon Room now seats 1,793 players, easily more than three times the Horseshoe's capacity. Each of the 161 tables are lit by a white Noguchi-esque lantern and far above that by spotlights hung from black scaffolding that also holds surveillance cameras, ad banners and air ducts. Against all four walls are larger-than-life banners of each of the Main Event winners, as well as of each Player of the Year since 2003. (The POY is widely accepted as a better gauge of skill than getting lucky in the Main Event.) Kitty-corner across the hall, the Brazilia room seats another 715 players. Both rooms had more space between tables this year, with separate rooms for satellites and other non-bracelet events. With the field divided among four Day 1 starts, more than 10,000 players could be accommodated for the Main Event. In early July, 6,844 players signed up to play it this year. In the meantime, there were seven other $10,000 events and eight that cost $5,000, along with the $50,000 H.O.R.S.E. championship. Forced to play limit hold 'em, Omaha eight-or-better, razz, stud, and stud eight-or-better, many top players believe that H.O.R.S.E. is the new gold standard of poker skill.
Nuking "unsportsmanlike" conduct

AP Photo/Joe Cavaretta
As I continued to whiff in one event after another, I made an appointment to interview Jeffrey Pollack, the commissioner of the WSOP. Among the dozens of ways he has improved things this year is Rule No. 36: "Excessive celebration through extended theatrics, inappropriate behavior, or physical actions, gestures, or conduct may be subject to penalty. Any player that engages a member of the tournament staff during the celebration or utilizes any property of Harrah's will be penalized in accordance with Rules No. 31 and/or 51. Harrah's property includes but is not limited to chairs, tournament tables, and stanchions." It's a penalty for unsportsmanlike conduct that augments No. 38, which reads in part: "... repeated etiquette violations such as touching another player's cards or chips, delay of game and excessive chatter will result in penalties." The penalties range from sitting out a rotation of hands, to disqualification from the tournament, all the way up to a ban from all future WSOP tournaments.
Pollack's lieutenants proved they meant business when, at the final table of a WSOP circuit event back in March, the chip leader, Lesley S. Thornburg, was disqualified. He had already received two warnings for "unsportsmanlike behavior" during the event's first day. Media director Nolan Dalla described his final-table behavior as "a ceaseless display of loud comments and baiting tactics lasting several hours." With seven players left, Thornburg went all-in with A-7 against Andy Santiago, who had Thornburg dominated with A-Q. But a 7 on the flop gave Thornburg the chip lead. Two hands later, Thornburg again spiked a miracle when he called an all-in raise by Edward "Yank" Sullivan, who held pocket sevens. Thornburg held pocket fours, but a four flopped and knocked Sullivan out of the tournament. At this point "all hell broke loose," according to Dalla. "Thornburg lost self-control and began jamming chips into the pot with reckless abandon. Warned by tournament officials repeatedly to stack his chips properly and obey the rules, Thornburg crossed the final demarcation of everyone's patience when he shoved half of his stack into the pot and then later announced, 'All in.' Fed up with the annoying and confusing antics, officials announced Thornburg's immediate disqualification." On track to take home the $76,000 first prize, Thornburg received fifth-place money of $19,026.
Pollack's new code of conduct is part of his effort to make poker's flagship tournament more welcoming to the average player and more appealing to sponsors and broadcasters. Only in "professional wrestling," after all, are the players allowed to behave like drunken teenagers. Try to imagine Chase Utley obnoxiously celebrating a home run the way Hevad Khan did when he won big pots in last year's WSOP. Then compare MLB (or NBA or NFL) revenue and salaries to those in our other national pastime, and you'll begin to understand Pollack's point.
His new rules are all part of what might be called WSOP 3.0, which commenced when he ran his first tournament in 2006. The first thing he changed was the atmosphere surrounding the poker action. Walking among the tables of the Amazon Room in June 2005, he brushed past groups of nearly naked women handing out vouchers for either light beer or free limo rides to a strip club -- maybe not the least attractive sights on the planet, especially to the average poker player, but still something that struck Pollack as "not quite the right vibe" for what was supposed to be a world-class sporting event that welcomed both women and men.
When I asked him about Rule 36, he looked thrilled to report that there had been no need to implement it so far, and called the 2008 tournament "the summer of love." Not only had there been no disqualifications, but he and Matusow, whose loud and obnoxious behavior had caused friction with Pollack in previous years -- and who was probably on Pollack's mind while he wrote Rule 36 -- had a tearful reconciliation after Matusow won the $5,000 deuce-to-seven event on June 11.
Pollack had already expanded the WSOP franchise to London in November 2007, and now he is promising to do the same in South America and Asia "in the next few years." His focus meanwhile was on bolstering the ratings on ESPN by delaying the final-table of the Main Event until the November sweeps period. After playing down to nine on July 14, the survivors will return to the Rio on Nov. 9, with the final two facing off on the evening of Nov. 10 through the early morning of Nov. 11. ESPN will then edit all the final-table action and broadcast it Tuesday evening, Nov. 11.
In previous years, the final table always followed the previous day's action, with ESPN's edited coverage running months after the poker world found out who the winner was. This year Pollack's goal is to change the question on everyone's lips during that interval from "Who won?" to "Who will win?"
Lost in the Slough of Despond

But back to my own bracelet chase. After entering 14 events, I was still trying to make my first dinner break. Whether I started with 3,000 or 10,000 in chips, they were gone before I reached the fifth level. (In the smaller events, each level of blinds lasts an hour.) By that point, assuming I had lasted even that long, the rising blinds had forced me to put my remaining chips in with little or no edge at all. But I couldn't win an all-in race if my poker life depended on it -- which it always did, of course, by definition. Even when I managed to get my chips in comfortably ahead -- with an overpair, for example, making me a 9-2 favorite -- one of my opponent's two outs always managed to spike on the turn or the river.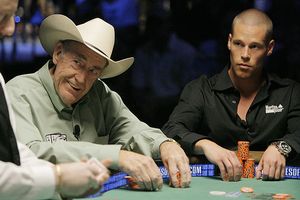 AP Photo/Jae C. Hong
The legendary Doyle Brunson, left, has been playing the WSOP since the 1970s.
Like credit card debt, running bad compounds itself by making it harder to play your A-game. In your mounting frustration, you fail to take into account that you're in a pot against a very large or a very small stack, the owners of which are less bluffable than the owners of average stacks. You call raises by conservative players in early position with hands like 10-10 or A-Q, or call a hefty reraise with a suited A-K; and having made these loose calls, you don't get bailed out by the flop. Sooner or later you're drawing to long shots, trying desperately to get even.
In a $2,000 no-limit hold 'em event, my 4,000 stack eroded at a steady if leisurely pace. I finally made a stand with 10-10, reraising all-in for about 2,800. Even though I had played about six hands in the previous two hours and should have been given credit for a fairly large pair, the raiser -- a bespectacled kid sitting just to my right, who had open-raised to 925 and was sitting behind about 8,000 -- called me with a pair of 8s. Which was good, right? Bad call on his part. If the 10s held up, I would have had about 6,000, almost exactly the chip average. The flop came king-king-7, the turn was a jack ... and an 8, of course, fell on the river.
The owned-by-the-poker-gods feeling was exacerbated by the fact that, in previous World Series, running bad meant getting bounced from that day's tournament, moving a few tables over to play in a cash game or heading to the pool (after an early afternoon bust-out) or a restaurant (after lasting six or seven hours), then going to bed, waking up, and buying into the next event, only to be busted again. And that sucked. In the past two years, however, with bracelet events scheduled at noon and 5 p.m. every day, it was not all that cruel or unusual to be bounced from two big events in a single afternoon, which could quickly add up to more than a dozen in a week. Imagine how a baseball player would feel after striking out 10 times a day in seven straight doubleheaders. Then imagine how he would feel if he were paying, instead of being handsomely paid, to play in each game.
What's the etiquette in such situations? Once the latest death card sends you packing, you say, "Nice hand," or try to, while tugging the iPod buds from your ears. Wind up its cord, stuff it down into your backpack. One or two of your tablemates will say, "Better luck," and you nod.
"Go get 'em tomorrow, Jim."
"Right."
Exiting the Amazon Room, especially when it's your umpteenth Loser's Walk in a row, your testosterone level plummets to 3.6 nanomoles per liter, about the same as if you had been castrated -- or, at the very least, cashtrated. Across one aisle, down another, ducking under the nylon rail, excusing your way through the railbirds. Above you hang the familiar banners of champions past, the screens listing chip leaders in half a dozen events, point totals of current Player of the Year contenders. Winners, winners, winners -- and you.
Nauseous and dizzy, it takes all your balance and strength to approach once again the re-re-re-registration cage, slip the rubber band from your dwindling wad, and peel off another $1,500 or $3,000 or $5,000 for that evening's or the following day's tournament. What the hell is it this time, anyway -- H.O.R.S.E.? Pot-limit hold 'em? Half-stud, half-Omaha 8-or-better? And but how could he call me with 8s!?
When you're getting smacked down in two events a day and not sleeping well in between, the bad beats and slow grindings-down and failures to hit a key card become a headachy nightmare. Fifteen events, 15 whiffs. Counting last year, I was in the midst of an 0-for-34 slump, feeling less and less confident each time I entered a pot.
With my stack getting short in the $2,500 H.O.R.S.E. event, I waited for a split-pot game to play a hand, which doubled my odds of not going broke with it. In a stud 8-or-better round, I managed to get all my chips in on fourth street with four babies, including three spades, against an open pair of kings. The jack of spades on fifth street didn't help my low draw but gave me a flush draw and a realistic chance to scoop the whole pot. Then along came the jack of diamonds, followed close behind, down and dirty, by the lovely queen of hearts.
Adios.
In the razz event (seven-card stud in which the lowest hand wins) on Friday the 13th, the number of bricks I was dealt after beginning the hand with four babies became so absurd, so relentless, that, quickly down to 275 of the 3,000 in chips we started with, I went off to the men's room at the 7 o'clock break and never went back to the table. My confidence that I wouldn't catch a baby that failed to duplicate one in my hand was so unshakeable, it was easier to stay away and let the dealer ante me down to the felt. I was surprised by how copacetic I felt about doing that -- like a drowning man who gives in to the ocean, zones out and dies a relatively painless and struggle-free death. All the stories about poker players coming back from "a chip and a chair" to win the whole tournament, I decided, were buck-me-up, Hallmark-card blather. It was Friday the 13th, after all, and it felt like my own private holiday.
But the more I thought about it up in my room, the less I liked what I had done. I've played hundreds of live tournaments, and thousands online, but had never quit when I still had chips to play; I had also nursed some of my short stacks into decent cash payouts. But not only had I left chips on the table, even with ample funds left in my World Series bankroll, I was close to changing my flight to the first one out in the morning.
I fell asleep before I could do that but woke up around 5 a.m. in a quandary as cheaply "existential" as anything I had felt in my college philosophy courses. What force, I wondered, what law of randomness, if there even is such a thing, what random pattern, was causing this?
Dunno, said the atheist I had become 40 years ago. And then, even worse, I wondered, "Why me?" though at least I didn't say it out loud. (Or did I?) But even when you say it to yourself, you remember right away that this is a question reserved for the victims of disease or some other calamity, so I gave myself a good psychic slap.
I busted out early from both tournaments I entered that day.
Surrendering to the inevitable

Gareth Cattermole/Getty Images
In the $3,000 no-limit hold 'em event at noon the next day, it was more of the same, only different. Much different. Different enough to trigger a sea change in how my poker brain worked.
Amazon Room Section Blue, Table 21, Seat 3. A friendlier than average table, with droll Barney Boatman sitting in the 9 seat and another witty Brit to his right. About 90 minutes into the action, I was dealt pocket 9s, the same hole cards that allowed Phil Hellmuth to keep Johnny Chan from winning his third consecutive WSOP championship in 1989, launching Hellmuth on his own record-breaking career. Sitting on the button, with the blinds at 50-100, I still had nearly all of the 6,000 in chips we had started with, which by itself made me feel as though it might be my day -- another measure of how desperate I had become. But with a raise to 300 and a reraise to 825 in front of me, I decided to gamble by seeing if I could flop a set against what was obviously a big pair or two. I called, and so did the original raiser, producing a pot of 2,625. If I didn't flop a set I was done with the hand and would still have 5,100 to play on with.
The flop of my dreams hit the felt: 7-2-9 rainbow. A flop I had been waiting two weeks for. When both players disappointed me by checking, I bet 2,050 to see if either of them would take the bait with their overpairs. After the initial raiser folded, the reraiser -- dark hair, baseball cap, maybe 30 -- lifted my heart by check-raising all-in. Freakin' finally!
But then something strange happened. I literally gulped as I peeked at my 9s again, double-checking to make sure I indeed had top set. There was also no flush draw out there; not even a likely straight draw, since this guy wasn't the type to have reraised preflop with 8-6 or 10-8. I was obviously up against queens, kings or aces, so the guy had two outs. Yet in spite of all this, I actually hesitated before saying, "Call," and pushing the rest of my chips toward the pot. After two weeks of horrific results, I was afraid to call the raise with top set. You heard me. Instead of being thrilled by his move, I was scared to call a raise with the nuts.
I was right to be terrified, too. My opponent turned over aces, and the dealer, without a moment's hesitation, put another ace on the board. Just like that.
While my opponent was righteously bellowing about "justice," I would like to say that I muttered, but I probably whined, "Oh my God," though the most insistent part of my brain wasn't even slightly surprised. In my rage and pain and confusion, I sarcastically told him, "Nice call." He was happy to remind me that he had raised, which was true and entirely relevant, though it hardly showed him to be the skillful winner of all of those chips, as he seemed to believe that it did. The way this guy saw the world and his place in it, he hadn't just gotten outlandishly lucky after shoving all his money in the pot as an 11-1 underdog. No freakin' way. He had raised.
Do I need to even mention that the case 9 failed to spike on the river?
I still had 425 in chips, but I was tempted to walk away, to walk away for good, when that ace fell. I didn't, and I got busted a few hands later when I pushed all-in with A-2 and was called by A-A. But I honestly think I might have played one hand too many.
Could walking away after my top set was cracked have been deemed unsportsmanlike conduct? For sure. And in terms of my tournament equity, it would have been terribly stupid. And yet, when you think about it, how could I stay at the table when I was afraid to call bets? It wasn't because I was short-stacked, either; it's simply not possible to play poker when you're thinking and feeling that way. It's not even a question of whether you can or can't bluff; it's about the need to contest pots with confidence. You just have no business playing a hand when you're absolutely convinced that your opponent's bingo card, your personal death card, is going to slide off the deck on the flop or the turn or the river.
Premature capitulation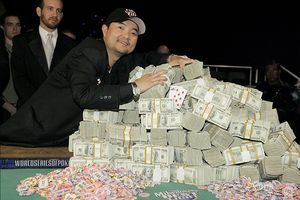 AP Photo/Jae C. Hong
A bracelet is nice, but ask Jerry Yang if winning the 2007 WSOP Main Event is even better.
I had never left Vegas with a sizable portion of my WSOP bankroll still in reserve, but that's what I did now. Instead of heading for the registration cage to buy into the 5 p.m. tournament, I changed my return ticket, packed my suitcase, removed the last $22,600 from the room safe -- enough for at least another half-dozen tournaments -- and headed through the heat for the airport.
I needed to take time off from poker. How long it might take for this vicious 24-month outlier in the broad band of randomness to swing (if randomness has a bandwidth and outliers swing) in my favor, I did not have clue No. 1. The way I felt, it might not have been a question of when, but of whether.
For context, I've actually heard people complaining after losing three weeks in a row in their home game. Someone posted on the 2+2 Forum about a 10-hour losing streak. Doyle Brunson has been playing poker for more than 50 years, and he claims his longest losing streak lasted six weeks. Gus Hansen ran bad for most of '05 and '06, but he also recently won $1.45 million in four days playing pot-limit Omaha online.
However long I could or would have to stay away from the game, I still needed to figure out a way to understand what had happened -- what was happening -- to me. Had anti-me static or lint been introduced into the shuffling space-time continuum? Had Satan or some other numinous pasteboard deity decided to smote me? Or was it simply my turn to have a two-year run of what Charles Barkley would call "turrble" cards at WSOP events? This is probably close to the answer -- but what did "my turn" mean? And when might it be mine to start winning?
As the narrator of Rick Bennet's novel "King of a Small World" astutely observes, "In the long run there's no luck in poker, but the short run is longer than most people know." The narrator of Jesse May's "Shut Up and Deal" takes things a thoughtful step further: "People think mastering the skill is the hard part," he says, "but they're wrong. The trick to poker is mastering the luck. That's philosophy. Understanding luck is philosophy, and there are some people who aren't ever gonna fade it." And as Bozo the Clown always said, "Hey, kids! That's me!"
Correct me if I'm wrong, but isn't there a passage in the Bible that goes something like this: Now when Job's three friends heard of all this evil that had come upon him, they came every one from his own place, Eliphaz the Temanite, and Bildad the Shuhite, and Zophar the Naamathite, for they had made an appointment to mourn with him and comfort him. But I cannot remember what they actually said. Job's wife's advice, I believe, was to "Curse God, and die." I've tried that already, most recently when that ace hit the table, and lived.
Maybe a better alternative would have been to head back out to the Rio and play in the Main Event. It had changed my life forever in 2000, and maybe it could have helped me break my cold streak once and for all. On the other hand, how the hell was I supposed to play any decent-sized pots if I was afraid the next card the dealer turned over would relieve me of all of my chips?
Hey, you're not me!

In early July came the news stories: Among the Day 1 chip leaders of the WSOP Main Event was the "author of the classic book 'Positively Fifth Street: Murderers, Cheetahs, and Binion's World Series of Poker,' James McManus, out there with 140,000." Phone calls and e-mails poured in, congratulating me on my run for the world championship. "I thought you came home, but obviously you went back with vengeance." "Way to go!" "Great to see you're in the running, Jim. Dinner at Buzio's?" My brother Terry called from Glendale, Ariz., offering to drive up to Vegas to cheer for me in person. When I went to Card Player Magazine's online updates, there was James McManus among the Top 10. When I clicked on the name, my profile, my picture and my poker history appeared on the screen. Apparently, after a bit of a dry spell, Jimbo Sweetness was back!
The only problem was, I hadn't entered the tournament. The James McManus with 875,000 chips on Day 4 was a young, red-haired Irishman. He was in Las Vegas under my name, wearing a bright orange Batman T-shirt, winning long money and challenging for a bracelet. The bracelet. I was home in Chicago, writing for ESPN.com about losing money and whiffing on all my bracelet events. On top of which, I now got to explain to all the folks calling and texting and e-mailing to salute me that it was really just a "funny" coincidence. LOL, as they say. But all this cheap irony was rubbing jalapeno sauce in my poker wounds.
"Positively NOT Fifth Street," one of the Web sites reporting on the action finally announced. "Not the most common name, James McManus has caused more than the odd glance so far today. Young James, from Dublin, Ireland, has the same name as the renowned poker author and WSOP final tablist James McManus. We can indeed confirm that the two are not the same person."
Well, bully for James McManus for not being me! I, the real me, was too scared of death cards to even play a pot, let alone contend for the world championship. Chased from the poker arena, I was not even me anymore.
In Dostoyevsky's "The Double," St. Petersburg clerk Yakov Petrovich Golyadkin becomes obsessed with the idea that a fellow clerk, called Golyadkin Jr., has taken over his identity -- his good name, his self-esteem, his position in the bureaucracy. His doppelganger is younger, better looking, more socially graceful, an altogether more worthy human being. In the end, Golyadkin Sr. goes mad and loses everything. I wasn't letting that happen to me, though. No, sir. My personal integrity required me to lose everything before going mad ...
As Day 5 began, James McManus was in eighth place (out of 189 survivors) with 1,761,000 in chips. Within the first hour or so, he was in second place with 2.7 million. Sample text message: "Great going! I've been following your run online. Keep up the great play!" But at least when you clicked on James McManus now, his own results appeared on the screen. Lifetime winnings: $428. But that was about to go up by a couple orders of magnitude.
By 3:06 p.m. Vegas time, he was in first place with 3.4 million, prompting more calls and texts, along with this e-mail from one of my writing students: "I knew you were a powerful dude, but teleporting in the Main Event? Really?"
Was I rooting for James McManus by now? I was and I wasn't. I had absolutely nothing against this young man, who resembled my father around the time he got married, but I didn't really want to be famous for having the same name as the guy who had lived out my dream. So I wanted him to finish as high as possible without actually winning the tournament.
In the meantime, I kept getting heartily congratulated for something I had my heart set on doing but hadn't actually done. In fact, I had more or less done the opposite.
The next report I saw was at 1:36 p.m. on Day 6. Somebody named Andrew Rosskamm raised to 85,000 from one behind the button, and James reraised to 222,000 from the small blind. Rosskamm called. After the flop came 10-9-3 rainbow, there was a bet and a series of raises that ended when James pushed all-in and was called. He turned over the queen of spades and jack of clubs for an up-and-down straight draw; Rosskamm turned over A-A. The turn came a 2, the river an ace, and James was eliminated in 71st place. He received $96,500 for his efforts. I knew he was utterly miserable now, having missed his draw and lost his shot at the very long money, but I hoped he would be happy in the next week or so. I knew he was wishing that Rosskamm had reraised all-in before the flop, instead of choosing to live dangerously and almost, but not quite, getting burned.
I empathized with James, and I sympathized with him too. But I was also, well, kind of relieved.
Attitude adjustment, doggy style

In the bathroom next to my office at home hangs a framed horizontal poster of three C. M. Coolidge paintings of dogs playing poker: "A Bold Bluff," "A Friend in Need" and "Poker Sympathy." In the one on the right, a brown English bulldog with four aces has just lost all his chips to a tan-and-white bulldog who triumphantly shows down a 6-high straight flush. The loser has spilled his glass of beer and fallen back in his chair, front paws raised in surrender, the unbelieving look on his muzzle as he mumbles the F-word. To a dog, the other six players -- collies and Saint Bernards, mostly -- couldn't be less sympathetic. There's nothing biblical or sadistic about the way they are smiling, with their tongues hanging out. They simply appreciate the nature of no-limit poker: The dawg with the second-best monster is going to lose all he's got. If the one with quad aces (or three nines, or even the busted straight draw) can't accept that, he shouldn't be playing the game.
Having been on both sides of this table, and because Coolidge's picture stares me directly in the face four or five times a day, I'm intimately familiar with its cool psychological truth. Eliphaz the Temanite, Bildad the Shuhite, and Zophar the Naamathite will comfort you when you're on a Job-like cold streak, but your fellow poker players absolutely couldn't care less. They're trying to take your money, and your bad luck is helping them. Period.
But I also seem to recall that, in the end, the Lord gave Job twice as much wealth as he had before he was cursed. Every man in his tribe gave him money, along with a single gold earring ... though not a gold bracelet. Suddenly wealthy and healthy again, he fathered seven sons and three daughters, and lived to be 140.
In light of all this, my goal for 2009, instead of my first gold bracelet to go with my beautiful agnostic wife and three daughters, is living to be 58.
James McManus is the author of the best-selling "Positively Fifth Street." "Cowboys Full," his definitive history of poker, will be published next fall.