Commentary
Welcome back, Dodgers: Brooklyn bums
Originally Published:
May 6, 2011
By
Howard Megdal
| Special to Page 2
ESPN.com Illustration
From the moment the Major League Baseball commissioner's office took over the Los Angeles Dodgers late last month, an opportunity to right a 54-year historical wrong has been dangling right in front of Bud Selig.
Move the Dodgers back to Brooklyn.
It's an idea that has been dismissed as illogical and immoral. However, with an open mind, you might just be swayed to believe not only that it can happen but that it should.
Page 2's grand scheme would better distribute MLB franchises to the American population centers and turn a destitute franchise profitable (and Dodgers would make money, too). The Yankees would come out winners, and incredibly, so would the Mets. Our plan addresses the need for temporary and permanent homes for the Dodgers in Brooklyn with venues that are well-suited for baseball and centrally located.
[+] Enlarge
AP Photo/Reed SaxonJuan Uribe and the Dodgers wore Brooklyn uniforms in a recent game. Coincidence? Or a trial balloon?
MLB should listen -- not just because there's a ton of money and long-term interests of the game at stake. Returning the Dodgers to Brooklyn would provide justice for an unthinkable 54-year-old crime once and for all.
For those unfamiliar with the facts: In 1957, New York City (represented by influential urban planner Robert Moses) and Brooklyn Dodgers owner Walter O'Malley couldn't agree on a spot for a new stadium to replace rapidly aging Ebbets Field. As a result, the Dodgers were ripped from Brooklyn faster than Jonathan Ames' new novel sells out at BookCourt.
Unlike the Boston Braves, St. Louis Browns or the crosstown New York Giants, the Dodgers drew extremely well, posting the second-highest attendance in the National League as late as 1956, behind only the still-novel Braves, who moved to Milwaukee in '53. So my father, Ira Megdal, who was 11 at the time, was left without a team for five years. He eventually settled on the Mets -- a common tale in the borough of Kings.
But let's set aside the crying children for now. How can MLB correct this historic wrong?
Let's start with the value of the Dodgers franchise. Yes, the team has done well financially in Los Angeles. But it would be moving to New York, an even larger market, with a reasonable expectation of cultivation a fan base of equal or greater size. The Los Angeles metropolitan area is estimated by the federal Office of Management and Budget at 13 million people. Split with the Angels, that's 6.5 million per team. New York checks in at more than 19 million people. Divided three ways, with the Yankees and Mets, that comes to about 6.5 million per team as well.
[+] Enlarge
AP PhotoEbbets Field used to be the sporting hub of Brooklyn.
Speaking of the Yankees and Mets, many of the conversations about moving the Dodgers back stop with these two teams, which have territorial rights in the area. It's true MLB has respected territorial rights in the past -- a major reason the Athletics can't move to Silicon Valley is because the Giants own territorial rights to San Jose. That doesn't mean that MLB can't provide financial incentives to both teams in exchange for waiving said rights.
In the case of the Mets, it should be pretty easy. Ownership needs money and could obtain it without having to sell any portion of the team. Better still, Fred Wilpon grew up a Brooklyn Dodgers fan, so in one fell swoop he could change his legacy from the man who bankrupted the Mets to the man who helped bring the Dodgers back to Brooklyn. Now that's amazin'.
For the Yankees, it's likely to be a much tougher sell. But MLB has many more inducements available. In the best interests of the game, Selig can offer to waive the Yankees' luxury tax payments for a certain number of years. He can provide them with extra draft picks. He could even give them a bye into the playoffs for a predetermined period of time.
In other words, there's a financial tipping point that could get the Yankees to waive their territorial rights, especially for a team in the other league. At a certain point, the Yankees almost certainly would take the money and run, thankful for additional guaranteed sellouts during interleague play.
Why would MLB be willing to dilute New York's fan base? Because it would have a positive effect on competitive balance in the long run. Adding a team in a healthy market would open a spot in Los Angeles for a team with tepid fan support in its current home -- for instance, the Tampa Bay Rays.
[+] Enlarge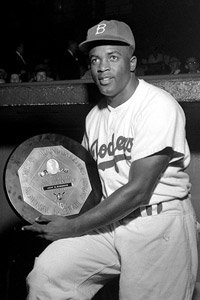 AP Photo/Marty LederhandlerJackie Robinson retired in 1956 rather than play for a franchise other than the Brooklyn Dodgers.
(No, we're not hypocrites for stealing another team in pursuit of restoring the Brooklyn Dodgers. The Rays have never approached the level of support once enjoyed by the Dodgers in Brooklyn. Certainly, Los Angeles fans have an attachment to the Dodgers, but they would be getting perhaps the most innovative ownership group in MLB. In time, they will learn to love leaving Rays games after the seventh inning, too.)
Finally, Bud Selig could greatly enhance his legacy by returning the Dodgers to Brooklyn and making the playing field a bit less Yankee-centric. Maybe the move wouldn't define his tenure as commissioner, but it wouldn't be far from the lead sentence.
Obviously, things in Brooklyn have changed since 1957. The spot where Ebbets Field once stood is now occupied by apartments -- the Dodgers can't play there. Many Brooklyn Dodgers fans of yesteryear, such as the famed Hilda Chester, have passed on. But between fans old enough to recall the team's original incarnation and newer generations brought up on the club's history, the franchise would likely receive immediate support from Coney Island to Greenpoint and beyond.
"We would welcome them with open arms," Brooklyn borough president Marty Markowitz told Page 2. "It would be the biggest welcoming party America has ever seen."
But where would they play?
A short-term option could be to expand MCU Park, built in 2001 for the minor league Brooklyn Cyclones. Don't forget that the expansion Los Angeles Angels played in a retrofitted Wrigley Field in 1961, with a capacity of 20,457. Also consider that the Rays are averaging just 16,891 per game so far this season.
MCU Park currently seats 7,000 fans with additional room for 2,500 standing-room patrons. According to Jack Gordon, the principal architect of MCU Park and a participant in the creation of Citi Field, MCU Park could hold 16,500 people by extending seating around the outfield and adding a second deck. Imagine the demand for seats. Tickets could be worth as much revenue to the Dodgers as 40,000 tickets would be to Tampa Bay.
The Brooklyn-bred Gordon would love to do it, of course.
[+] Enlarge
Rob Loud/Getty ImagesMarty Markowitz, president of the borough of Brooklyn, displays a Brooklyn Dodgers cap in 2007.
"As a Brooklynite, we were very proud to design the Cyclones' stadium," Gordon said. "To be able to contribute to Brooklyn meant a lot to me. Anything we could do to help out in that borough would be terrific."
But it would only be a temporary fix, so where would a new stadium go?
Page 2 consulted several Brooklyn land use experts, who pointed to a number of possible sites for the new Ebbets Field, or more likely, Naming Rights Park. Floyd Bennett Field, New York's first municipal airport, has the requisite space. It would also resonate with Brooklyn's literary community, as the spot served as a key point in Joseph O'Neill's recent masterpiece, "Netherland." Downsides to this location are the lack of transportation and that the area is owned by the National Park Service, which could complicate any sale.
Our experts pointed to two other exciting prospects. Both are rail yards owned by New York's Metropolitan Transit Authority, which, coincidentally, needs money badly. Purchasing the land for a new stadium, financed by MLB, in lieu of a tax should go a long way toward getting local politicians on board.
The MTA rail yard in Coney Island abuts the F Train, with the Belt Parkway running across its southern end. The D and N lines both run past the yard, and according to our experts, an employee stop already exists, providing the infrastructure for three subway lines to converge at the ballpark.
Our experts also intimated that space exists to expand the Belt Parkway one additional lane in each direction around the spot, helping traffic flow. Most importantly, space wouldn't be an issue.
"Look at the footprint for Citi Field," one expert said. "The two are very compatible."
[+] Enlarge
Diamond Images/Getty ImagesThe 1955 World Series title is the unquestioned high point of the Dodgers' tenure in Brooklyn.
The other spot would be a rail yard near the Broadway Junction subway stop, described as "kind of width-constrained, though not as much as Ebbets Field was." The J, L, A and C trains and Long Island Rail Road run through this location. Parking, due to the space limitation, would have to be on one side and vertical, but as one expert pointed out, "That's exactly how they do it at Yankee Stadium."
In other words, not only would these spots be perfect for ballparks but they'd provide easier access than either Ebbets Field or Walter O'Malley's proposed Brooklyn site.
Our experts estimated the entire process would take four years -- two years to get everyone on board and two more to build the new palace. Gordon agreed with a two-year building timetable, adding that if given the chance "I would kiss Bud Selig on both cheeks."
Last but certainly not least, imagine if the Dodgers brought New York-native Vin Scully back home. The nostalgia would be palpable for those old enough to remember seeing the 1955 World Series.
"I'd root for the team of my youth," Megdal said. "How could I not root for the team wearing the uniform of Pee Wee Reese, Jackie Robinson and Duke Snider?"
Indeed, there was universal skepticism among the people interviewed for this story about the plan ever coming to fruition.
But remember, conventional wisdom once said that the Dodgers would never leave Brooklyn.
Howard Megdal edits PerpetualPost.com, writes for Capital New York, MLBTradeRumors.com and many other publications. His new book, "Taking The Field," will be published on May 10.