Commentary
A call to arms for nicknames
Updated:
June 25, 2009, 1:41 PM ET
By
Toby Mergler
| Special to Page 2
Crazy Legs. The Human Highlight Reel. Sweetness. The Splendid Splinter. Chocolate Thunder. The Golden Bear. Manos de Piedra. The Galloping Ghost. The Say Hey Kid.
A-Rod. KG. D-Wade. T-Mac. Gonzo. Big Tex. J-Kidd. Miggy. TO.
There's really no comparison between these groups of nicknames.
Each name in the first list is a brief poem which immediately evokes emotion. These names are descriptive, entertaining and perfect, and they are quickly becoming an endangered species.
We, the sports nation, have lost our way, and if we aren't careful, great nicknames will join pantaloons, muskets and Madonna as relics from a former era. The nicknames we give athletes today all seem to follow the same tired, played-out formula: shorten with hyphens, initials or an additional "y." Perfect to text, uninspiring to read.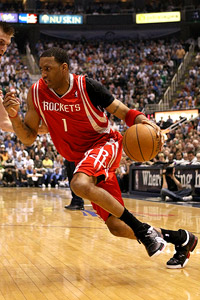 Jonathan Ferrey/Getty ImagesNo offense to Tracy McGrady, but "T-Mac" is an abbreviation -- not a nickname.
The "blank"-Rod formula has become the annoying standard-bearer for the movement, and it automatically becomes the moniker of anyone named Rodriguez. A-Rod, I-Rod, K-Rod, Way-Rod. It's a travesty this is what passes for a nickname now. Besides, none of them could hold a candle to The Rod. Did Alex ever save Homer Simpson and two other astronauts from burning up on re-entry, or take part in a ticker-tape parade? I think not.
What has caused this trend? Apathy? Lack of imagination? Minds poisoned when books were replaced by reality TV as the primary form of entertainment? (Realize that kids today will know everything about Speidi before they ever even hear of Charles Dickens.) Most things I've read on the subject suggest it boils down to pure laziness. Coincidentally, this is a lazy excuse.
An acute level of lethargy is often portrayed as an epidemic in our society and blamed for many of the things that plague us, both big and small. But that doesn't have to be the case, as ingenuity is alive and well in the American spirit. iPhones, ED pills and the Bacon Explosion were all recently produced through the power of imagination. They aren't flying skateboards, but it's progress. You're telling me we can do all this but we can't provide decent nicknames for our athletes?
I believe we can -- and must -- do better. The Twitterification of the English language has gone far enough. Sometimes, taking five words instead of two syllables to describe something is better. It just is. I'm now demanding we at least take back sports nicknames. We owe it to past generations, which created a tapestry of colorful nicknames for our enjoyment. We owe it to future generations, which will learn about current players through the descriptions being broadcast and written now. And dammit, we owe it to ourselves.
Let's get the ball rolling. Below is a suggested list of nicknames. If you feel they have been assigned to the wrong player, fine; correct my mistake. If you think you can do better, great; do so in the comments section below. But let's get the conversation going before it's too late and the arms race against complete thoughts reaches its next terrifying stage.
We followed three rules when compiling this list. Consider them rough guidelines for your contributions.
1. No plays on names (initials, abbreviations, etc.). I don't want my nickname to become "The Hypocrite."
2. Players who already have nicknames can be given additional ones. Many of the all-time greats had multiple nicknames. Jordan had Air and MJ. Ruth had Bambino and the Sultan of Swat. Bird had Larry Legend and the Hick from French Lick. Gehrig had the Iron Horse and Pride of the Yankees (fun fact: his original nickname was Biscuit Pants). The list goes on and on.
3. You can call the last rule the "Goodfellas" test. Remember the scene at the Bamboo Lounge in which all the bit characters are introduced? You probably remember the ones with great nicknames -- such as Pete the Killer and Jimmy Two Times -- but can't recall the others. Part of our goal is to make players memorable, so under no circumstances should the newly nicknamed player be forgettable if he were placed in that scene.
So there you go. Let's put an end to name-shortening and take back nicknames for good, starting now.
• Roger "The Aristocrat" Federer -- Like the joke, his game is so filthy it should be banned.
• Terrell Owens, "The Blazer" -- Seems necessary at first, but later on you can't wait to get rid of him.
[+] Enlarge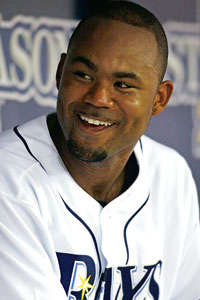 J. Meric/Getty ImagesCarl Crawford, 28, is in his eighth season with Tampa Bay.
• Carl "Crackberry" Crawford -- Once he gets on base, pitchers can't stop compulsively checking him.
• Albert Pujols, "The Daily Show" -- No one is as entertaining to watch make a mockery out of a staff.
• Ray "Depends" Lewis -- Because you'll wish you were wearing a diaper when you see him coming after you.
• Jose Canseco, "Flea Market" -- Every once in a while, you'll find something useful in what he says, but most of the time he's full of crap.
• Lamar "Insulin" Odom -- Only takes a few shots a day, but his contribution is critical. Plus he's addicted to candy.
• Alex Rodriguez, "Luscious" -- Wear a stripper's lip gloss, get a stripper's name. Though this might be a futile exercise. I could never do better than A-Rod's nickname in the Yankees locker room. Sorry, you'll just have to Google it. This is a family Web site.
• Tim "The Meek" Tebow -- Because he seems destined to inherit the earth.
• David Beckham, "The Party Starter" -- Like Conan's ill-fated commercial, Beckham is popular overseas, but not quite respected in the United States. Vroom vroom!
• Tracy McGrady, "The Public Restroom" -- Because he's hard to find when you need him the most.
• Ray Allen, "The Shot Dispenser" -- A machine capable of producing a perfect shot every time.
• Larry Fitzgerald, "Spread Gun" -- Just like the sweet spraying cannon in "Contra," Fitzgerald is the best weapon in the game.
• Sage Rosenfels, "The Tourist" -- No matter what city he's in, he always looks lost.
• Brett "Victory Lap" Favre -- Because even after the race is over, he wants all the attention.
• DeMarcus Ware, "We've Met" -- No need to introduce him to any quarterbacks around the league; they've already met before.
• Dwight "Y-Axis" Howard -- Because his post game is one-dimensional.
Your turn. Let's see your clever nicknames for players in the comments section below. Together we can make the A-Rods and TOs of the sports world so obsolete they'll join the flying wedge, basketball cages and Members Only jackets as things that are difficult to imagine having ever existed.
Toby Mergler is a freelance writer based in Washington, D.C. He can be reached at tobymergler@gmail.com.