Commentary
Getting in John Daly's pants
Updated:
August 13, 2009, 4:06 PM ET
By
Toby Mergler
| Page 2
They say if you really want to understand someone, you should walk a mile in his shoes. Recently, Page 2 decided to take it a step further … by walking a mile in John Daly's pants.
It all started when I was in Atlanta for a friend's engagement party, which got me to thinking there are many similarities between a professional athlete's career and a regular guy's pattern of attending various wedding-related events. Both peak from the ages of 27 to 32. Both fly from city to city in what feels like an endless season, desperately looking forward to the next homestand. Both spend a lot of time worrying embarrassing photos will end up on the Internet. Of course, attending weddings empties your pockets, while an athlete's career fills his. But smoking cigars on a country club patio is more enjoyable and arguably better for your long-term health than getting pummeled by a 300-pound behemoth or plunking Prince Fielder.
[+] Enlarge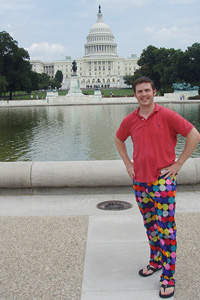 Photo courtesy Toby MerglerOur humble correspondent rocks John Daly's pants in the shadow of the Capitol.
The engagement party happened to be the same weekend as the British Open, and there were two popular questions stemming from the tournament among partygoers: (A) Can Tom Watson keep it up? (B) Did you see John Daly's pants?
I hadn't been following John Daly on the European Tour, so when the highlights came on TV that night, I caught my first glance at his new attire, which is garish, gaudy and … glorious.
Transfixed by the look and needing to know more, I discovered Daly's pants are made by a small, California-based company, appropriately called Loudmouth Golf.
The company was founded in 2001 by Scott "Woody" Woodworth, who worked as a graphic designer at the time. Inspired by the outlandish pants worn by early 1970s golf greats such as Johnny Miller, Jack Nicklaus and Watson -- and sick of everyone wearing the same old khakis to the course -- Woody took matters into his own hands.
Undeterred by what must have been a sea of stares, Woody marched into the children's section of a local craft shop and bought enough cotton fabric depicting Looney Tunes characters driving around on golf carts to make his own pants, which he wore to a tournament in 2001. All day long, people asked him if he lost a bet, but even more asked where he got them.
Loudmouth Golf was born.
PANTS-A-PALOOZA
Whenever John Daly heads to the tee box, you don't know what will be louder: His fans or his pants. See for yourself.
Woodworth designs all the pants himself, drawing inspiration from everywhere. He's more likely to study the pattern on a woman's blouse than her figure (or so he claims). He also constantly looks for new colors in magazines and on TV. A new design called "Peacock" was inspired by something he saw watching "Nacho Libre." (Also inspired by "Nacho Libre": universal disgust at wasting $10.)
Loudmouth Golf's sales have steadily grown in recent years, but the company got its big break through former Bears quarterback Jim McMahon. It's not surprising that the headband rockin', sunglasses sportin', Super Bowl shufflin' celebrity golfer liked Loudmouth's pants. But what's more serendipitous, McMahon is friends with Daly. The two were once paired together at a celebrity tournament, and McMahon teed off in a pair of pants sporting brightly colored disco balls, a pattern inspired by a shower curtain. Daly liked the look, and McMahon set up a meeting with Woodworth. Now, here we are, marveling at the results.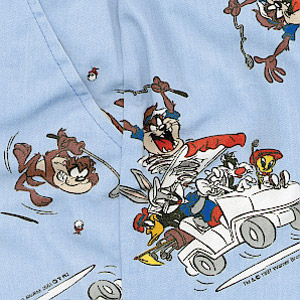 Photo courtesy Loudmouth GolfHere's the pattern that ultimately led to the Loudmouth Golf phenomenon.
While intrigued by the backstory, I wanted to know more. But you only learn so much by asking questions. I needed firsthand experience to fully understand what has made these threads the biggest thing to hit golf this year not involving David Feherty or a fart simulator. I needed to walk around and feel the stares and hear the under-the-breath utterances for myself. I needed to get into John Daly's pants.
So, inspired by Matthew Lesko and Bill the Butcher, I contacted Loudmouth Golf to get the goods.
Then it was time to hit the streets of Washington, D.C. Cities don't get much more buttoned down than D.C., and between all the government and lawyer types, it's full of muted colors and three-button jackets. Washington is all about who you know, and you can never be sure who you might run into so the trend extends to all hours of the day. I'm convinced some Washingtonians even own suit pajamas.
Against this backdrop, I was expecting serious blowback toward my new trousers. My first test run took place on a Friday night and featured the Disco Balls pattern that originally captivated Daly. Right off the bat, I passed a couple on the street who couldn't have stared any harder if I was naked riding a goat. As I approached, the gentleman, who was probably about 50, leaned over to his wife and said (not whispered) "Wow … frightening." As I continued to make my way down a block I'd walked a thousand times before, I had a whole new experience. Pointing, snickering and full-fledged laughter met my every step.
Suddenly, naked goat riding didn't seem so bad.
Seeking shelter, I ducked into my favorite neighborhood bar. I soon met an angry Philippines native who was no fan of this country. Fully engaged in an anti-American rant, he concluded his alcohol-fueled rhetoric by stating, "[bleep] America, [bleep] your president, but damn, your pants are amazing." It was just the epiphany I needed: my pants have the power to create peace. Maybe President Obama should get a pair for the next Middle East summit.
[+] Enlarge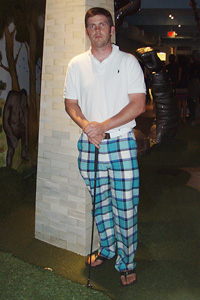 courtesy Toby MerglerIndoor golf and Daly's pants: a perfect match.
So it went for a week. I wore the Loudmouth's pants everywhere I went. Dinners, bars, Nationals games, parks, a comedy show, downtown, the National Mall … I did everything but put them on a double-decker bus in giving them a tour of the city. Here are some highlights:
A guy hit on my girlfriend at dinner within earshot of me by telling her, "You look too good to be with that guy." I couldn't get too mad because he was right, and besides, few things would look more ridiculous than a guy fighting in these pants. People fear clowns because they are creepy, not tough.
Wearing the Bushwoods pattern to H Street Country Club, a new bar in D.C. which features a nine-hole miniature golf course upstairs. I took a full backswing on most holes, and surprisingly I wasn't the only dork doing it. Hey, I was wearing Daly's pants. Ridiculous behavior should be expected. What was their excuse?
I had the following exchange with a waiter:
Him: "Your pants are the talk of the town."
Me: "In a good way?"
Him: "Well … I like them."
At one bar, I was approached by a soon-to-be bride at her bachelorette party who wanted to know if I was "serious," which is an incredibly complex and philosophical question. Actually, it just seemed like a ploy to distract me while her girlfriends snapped a bunch of pictures. I wonder if this is how Bigfoot feels.
At the Nats' game last Thursday afternoon, the team mascot, Screech, came up to me and started making the universal sign for crazy (finger pointed at head, rotating) and grabbed everyone walking by in a 15-foot radius to take a look. When people stop to gawk at you instead of a 7-foot cartoon bald eagle, you must be doing something right.
After a week of this, there was really only one thing left to do: play golf. I'm an atrocious golfer who managed to play his way up to being merely terrible during law school, but now I'm back to atrocious. Maybe all I needed was a little confidence, and Daly's pants would be just the thing to provide them.
[+] Enlarge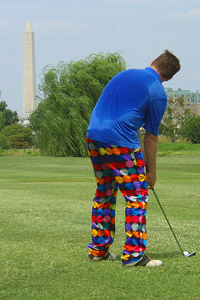 Photo courtesy Toby Mergler It's 96 degrees and humid. Whew. At least our man is looking stylish.
It was 96 degrees when my brother, Jay, and I teed off at the East Potomac Course. Before long, the worst water hazard was the small lagoon of sweat which formed on my shirt. The course begins with a par 3, so I wasn't able to channel my inner Daly and let the big dog eat just yet. Approaching the second tee, I cleared my mind and just thought WWJDD. Grip it and rip it, obviously. Three lost balls, two expletives, one thrown club and countless taunts from Jay later and it became clear that garish trousers alone don't make the man, at least not on the golf course.
What did I learn from my little social experiment? Four things:
Woodworth warned me you could tell a lot about people based on how they react to the pants. The ones who snicker or stare aren't people you'd want to hang out with anyway, and those who walk right up to you to ask where you got them are the type who will buy you a beer. He was absolutely right.
Attention, college men: Buy these pants and wear them with confidence. They serve as a ready-made icebreaker. Own the look, and don't apologize for it. Trust me on this.
I'm not the only one wearing these things off the course. A friend greeted me by saying, "Nice pants, I saw a guy in them two weeks ago." It seems Daly might be on the verge of becoming a legitimate trendsetter. Expect to see them at college football tailgates this fall.
John Daly seems to be enjoying himself more since coming back from suspension. There are many factors in play here besides his wardrobe -- lap-band surgery, weight loss, sobriety and a steady girlfriend have apparently been great influences. I don't want to make the common mistake of confusing correlation with causation, but I wonder if the new threads are actually having a measurable positive effect on his life. He seems looser and happier than ever, and having walked a mile in his pants, I can confirm they're a lot of fun to wear. They have also seem to have distracted reporters from asking as many prying questions about his personal demons, instead directing some of the focus toward goofy, harmless eccentricity.
Either way, I look forward to seeing him out there at the PGA Championship this weekend (sources say he will be rocking a paisley prototype) and for many years to come. Even if the pants haven't actually improved Daly's health, his outlandish attire has certainly brought a smile to the faces of many golf fans worldwide and a shot of life to at least one closet that had started to include too many muted colors and three-button suits for its own good.
Toby Mergler is a freelance writer based in Washington, D.C., who has previously written for MLB.com, Fanball and The Virginia Law Weekly. He can be reached at tobymergler@gmail.com.