By Jeff Merron
Page 2
If Sammy Sosa knew the story of Kirby Kyle, he would have been ashamed to go on the DL with a sneezing injury. But what can you do? Today's players ... they're just not built like Kyle and the other old-timers.
Kyle has been an inspiration to many, but before we get to his story, let's look at some of the realtough guys. These were athletes who didn't have the bulk of today's cartoon-muscle pill-poppers. But we know that the measure of a real sports hero can truly only be found in one muscle: the heart. Chuck Bednarik, Cal Ripken, A.C. Green, Satchel Paige, Gordie Howe -- you wouldn't catch those old-timers saying "I'm out" seconds after "ah-choo."
They were firm, fit, and flinty. When they got knocked down, they spit out some gristle and got right back up. They were resilient, rugged, and robust; both fans and foes knew them as seasoned, sinewy, sturdy, and stalwart competitors. They've been properly lionized in print and in "SportsCentury" bios, but some of their tales -- well, you haven't heard them. But at Page 2 we have ways of making people talk.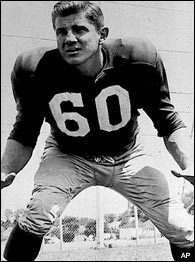 Chuck credits his high threshold of pain to his chronic spine injuries.
The duct-tape man
Instinct and heart defined the career of Chuck Bednarik, football's last 60-minute man. In his 14-year Hall of Fame career in Philadelphia, the center-linebacker missed only three games due to injury. But there were plenty of times he played hurt.
"We had some lousy teams in the late 1950s, but that didn't faze Chuck," says former Eagles equipment manager James "Red" O'Reilly. "Next to last game of the 1956 season, we're playing in Washington and the temperature is seven above zero with winds blowing about 25 miles an hour. At halftime, all the other players care about is getting warm. Chuck's shivering and I can see he's got frostbite on his nose, but that's not what he's thinking about. He calls me over and says -- I'll never forget it -- 'You got some duct tape, Red? I think I broke my ankle.'"
O'Reilly said he then helped Bednarik craft a splint from part of a discarded shoulder pad to support the ankle. "He went out to play the second half. Didn't tell the coaches or trainer. Only I knew. We lose the game, we're 3-7 or something like that, season's over, but I'll be darned if he didn't play the final game of the season with that same splint. Maybe sat down for three minutes total." In the offseason, O'Reilly said, Bednarik finally went to a doctor and found out it was a compound fracture that had spawned a potentially life-threatening infection. Bednarik spent two months in a cast and on crutches, but the ankle healed and he didn't miss a minute, much less a game.
Ripken "sews up" his streak
We've heard plenty of stories about how Cal Ripken played hurt during his amazing consecutive games streak -- all but one. Former Orioles journeyman Luke Peterman, a late-season callup in 1992, says there's one that hasn't been told -- until now.
"Cal told me not to tell anyone, but time's passed," Peterman says. Seems that after a day game in Baltimore, Ripken invited a bunch of the September callups over to his house for some barbeque and basketball. The guys were having a slam-dunk contest when "he came down and got caught on one of those little hooks that hold up the net. He wasn't wearing a shirt, and that ripped him wide open from about the middle of his stomach up to his neck. There was blood everywhere.
"Cal was calm, but he told everyone to go home. I guess he went to the hospital or something, because the next day he called me over and showed me the needlework. He was grinning. 'That's 42 stitches there,' he said. 'And Oates (O's skipper Johnny Oates) is never gonna know.'"
Peterman said he couldn't believe nobody found out, because in the seventh inning blood started to seep through the stitches after Ripken slid headfirst into third. "Cal never let on. That sumbitch just doesn't feel pain."
Singultus doesn't stop Green
Most sports fans know that A.C. Green, who played for the Lakers, Suns and Mavericks, holds the NBA record for most consecutive games played. Between 1986 and 2000 he played in 1,110 straight -- despite suffering from singultus, or chronic hiccups, which is a very real, very rare, and usually very debilitating disease.
"He'd be in agony," says Gerry Feldlawn, who was an assistant locker room attendant for the Suns from 1995 until 1997. "Part of my job was to get the tapes set up, and he'd come in there and he couldn't talk, couldn't breathe. When he was running or playing or working out they (the hiccups) would stop, but other times he didn't get a minute's rest. I guess he played because when he didn't play, life got a whole lot worse."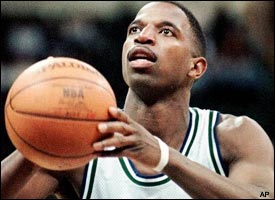 Who knows? Maybe A.C.'s ailment contributed to his well-known bedroom streak as well?
Green's been seen plenty in public since retiring after the 2000-01 season, and none of ESPN's basketball experts interviewed for this story have seen Green exhibit any symptoms.
That's not unusual, says Philip Bluedrop, MD, whose been researching singultus for 25 years at Mt. Presyterian Hospital in Bozeman, Montana. "We just don't know much about it," the doctor explains. "The disease comes on suddenly, often without provocation, and in the best cases, goes away just as suddenly and mysteriously. I've heard about Mr. Green's case, and I'm not surprised to find out he's recovered. It happens all the time -- after one year, five years, even 30 or 40 years."
Feldlawn adds that there was an unspoken agreement among NBA insiders to keep Green's condition private, because of the embarrassment it might cause. "I can't believe I'm the first person telling it," he said. "But in my mind, there's never been a tougher player. He told me he never slept for more than two hours a night, and boy, some days you could just see the absolute weariness in the man's eyes."
Satch says "Let's play six!"
There are all kinds of wonderful stories about the old Negro Leaguers: we've all heard about Josh Gibson's mammoth blasts, the great all-around hitting and fielding play of Turkey Stearns, the legendary speed of Cool Papa Bell -- and the remarkable endurance of Satchel Paige.
In a career that spanned about 30 years, Paige, according to negroleaguebaseball.com, won about 1,500 games and threw at least 300 shutouts. While there's no shortage of anecdotes about Paige's ability to pitch though tired and in pain, few know of the remarkable feat he accomplished on March 22, 1933.
His Pittsburgh Crawfords were on a spring training barnstorming tour, working their way from their spring base just outside Jefferson City, Missouri, through Indiana and Ohio before finally reaching western Pennsylvania.
"Most days we'd play two games, three at the most," former Crawfords third baseman Billy "Corn Pipe" Skittles said in an oral history interview recently unearthed at the Library of Congress. "But there was one day I'll never forget. We were pushing through Indiana, and, you know, back then, we were just happy to have a job. So many hungry people, so many.
"On this morning, Gus Greenlee, who paid us you know, showed up out of nowhere. We were in this small town, Vincennes I think, eating breakfast, and getting ready to head to Indianapolis to play the Clowns in an afternoon doubleheader. And he says, 'Fellas, I made some special plans for you today.'"
Greenlee had added a morning doubleheader in Terre Haute to their schedule, and also a night doubleheader in Muncie. He ate a half dozen scrambled eggs and told his team he'd meet them back in Pittsburgh.
"Satch was scheduled to pitch that day, and back then, when it was your day to pitch, it was your day. Satch just shrugged.
"Well, I'll tell you, it was hot that day, in the 90s at least, and just as we're getting ready to play the first two games he says, 'We're gonna play fast and then drive fast because I'm not missing a chance to eat at Desmond's.' That was a restaurant in Indianapolis."
Paige threw two shutouts in the first twinbill, which took no more than a couple of hours. Then, said Skittles, he insisted on driving the bus to Indianapolis. "We got a flat tire along the way, and man, Satch jumped right off the bus, jacked it up, and changed that tire in about five minutes. He hops back into the driver's seat, and we just have time to take out plenty of food and eat on the bus in the 10 minutes before we have to take on the Clowns. And Satch could eat. He had at least three huge plates of smothered steak, candied yams, beans, cornbread -- if they had it, he ate it."
There's no documentation of the afternoon twinbill, but Skittles says Paige gave up just a single run in 23 innings that afternoon (the second game went 14 innings). Then it was back on the bus. And another flat. But this time Paige wasn't changing it.
Unfortunately, he was milling about in front of the vehicle with some other players when, just after another spare was put on, the parking brake released. "Satch's arm got stuck under it somehow, and you could hear a crackle," Skittles recalled. Paige howled in pain -- it was his right arm, his pitching arm -- but he just had it wrapped tight for the rest of the two-hour ride to Muncie. And then, with what turned out to be a compound fracture, he pitched 16 more innings (the Crawfords were the "home" team in the matchup of barnstorming squads), fanning 22 in the first game. "He didn't pull out 'long tom' (his fastball) once during that game," said Kittles, "but he was masterful with the two-hump blooper (Paige's change) and his hesitation pitch, and I do recall he struck out the side on nine pitches four or five times that game."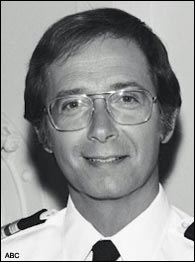 When he isn't curing what ails you on the Pacific Princess, Dr. Bricker was stitching up Gordie.
Gordie plays 80 at 51 despite rash of ailments
In Gordie Howe's 32nd season, played with the Hartford Whalers in 1979-80, he seemed determined to prove that he could still stick with anyone. Prove it he did, playing all 80 games, one of only four Whalers to do so that season. His sons and teammates, Mark and Marty, also played 80 games for Hartford -- combined. They were about half their father's age at the time.
During his long career Howe seemed to suffer just about everything, including broken toes, ribs, a broken wrist, scalp wounds and so on. But only Whalers team doctor Adam Bricker knew his real suffering as the season moved into March and April. "He shouldn't have been out of bed, much less out on the ice," said Bricker. "He was getting a lot of typical degenerative diseases that older people get, but he was about 20 years ahead of schedule. He wouldn't let on, though."
According to Bricker, Howe had severe carpal tunnel syndrome ("He practiced wrist shots until 2 or 3 a.m. after almost every game, and that's what caused it."), primary fibromyalgia, localized pruritus (severe itchiness, which Howe had in his right pinky finger), gout, and, most critically for his hockey game, osteoporosis.
"One night, against the Red Wings in Detroit, he got into a brawl with Willie Huber," said Bricker in a "SportsCentury" outtake that is only now being made public. "Huber was only 21 or 22, so he had some moxie mixing it up with the old guy. And he hammered Gordie."
The fight occurred in the first period, and Howe played all his shifts in the second period, scoring a goal and adding an assist. Then he returned to the locker room. "By then I had his X-rays back. Mind you, I'd advised him not to play after the fight. He had one eye swollen entirely shut. Blood dripping down his chin and soaking his sweater. One ear, which I managed to do some quick-and-dirty needlework on, was almost literally dangling from the side of his head. And he could barely walk. But he acted like he didn't hear. Of course, by that time, he really couldn't hear very well."
What did the X-rays show? That Howe had been playing with a broken hip, a broken nose, two cracked vertebrae, and a torn labrum in his right shoulder. "I wouldn't let him play after that. But he said, I'll never forget this, 'They screwed me on my salary for years, and I'm gonna get 'em one last time.'" Howe scored two goals in the final period, completing the last hat trick of his career. "He collapsed in the shower after the last reporter left," said Bricker, "And we carried him out on a stretcher. He spent the next two days in Detroit Memorial, but I'll be darned if he didn't go out and play all his shifts the last three games of the season."
Kirby Kyle: Keeping it Real
As hard-boiled and stubborn as the men I've just written about were, it's Kyle who was the role model for all of the athletes discussed above. Kyle's story was resurrected in the late 1980s by Woody Allen in "Radio Days." Talk about tough -- Kyle, a 1940s pitching phenom, accidentally shot himself while hunting rabbits and had to have his leg amputated, but he came back the next season to throw again. Kyle's hard-luck story got even worse: he lost his arm and then his eyesight in two other offseason hunting accidents -- but he still pitched. Despite being blind, "He had instinct as to where to throw the baseball," the announcer says in the movie. "Instinct and heart."
And that's the truth.
Then again, maybe not.
Jeff Merron is a staff writer for ESPN.com.