By Jeff Merron
Page 2
Jackpot Jay's terrific Page 2 stories about life in the fast lane of poker, combined with the anticipation about ESPN's upcoming coverage of the 2004 World Series of Poker, got our poker jones going. Though we haven't played much since the nickel-dime-quarter, winner-buys-the-beer days of college, the juices still start flowing every time we see "Rounders."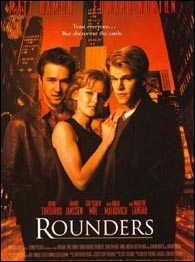 For all of you poker players out there, "Rounders" is a must-see.
A realistic depiction of life as a full-time poker hustler player? You decide.
In Reel Life: Mike (Matt Damon) and his girlfriend, Joe (Gretchen Mol), go to "City Law School" in New York.
In Real Life: "City Law School" is actually Rutgers, which you can figure out from a typical movie "tell." Check out the door in the last scene: There's a "No Smoking" sign that says, in small type at the bottom, "Rutgers, the State University of New Jersey."
In Reel Life: Worm (Edward Norton) is a risk-taker, in contrast to Mike, whose instinct is to grind it out in the true "rounder" fashion.
In Real Life: Some have likened Worm to Ratso Rizzo, the great character Dustin Hoffman played in "Midnight Cowboy." While Norton admires Hoffman and knows the Rizzo character well, that wasn't what he had in mind.
"[Worm is] like Bugs dressed as Keith Richards," Norton told Mal Vincent of the Fort Lauderdale Sun-Sentinel. "You always need to find a line in on a character, and Bugs Bunny is always scheming, always two steps ahead of a beating and always laughing. Worm is completely comfortable with who he is in a deep, conscious, philosophic sense. He accepts and declares that the game for him is not poker but the hustle, and he loves it."
The Sports Guy on "Rounders"
The Sports Guy's been a fan of "Rounders" since way back, when only an elite group paid attention to poker. Read his thoughts on the movie, and the game.
In Reel Life:
Before entering one of the underground clubs, Mike and Worm either have to be recognized through a surveillance camera or be given a very solid introduction.
In Real Life:
Screenwriters David Levien and Brian Koppelman wrote about their research in the Sept. 1998 issue of Details magazine. They describe going to a club in Manhattan:
"We press a button, the door buzzes open, and a face dominated by shiny dentures appears at the top of the stairs. It's Billy Mops, and he runs the joint. Though we've been here a dozen times, his face remains blank. The drill is: No one knows anyone. Until you're inside.
"'Yeah?'
"It's David and Brian ... We've been by a few times. We know people -- Joel Bagels, Freddie the Watch ... your brother.
"Recognition stirs in Billy Mops. His denture smile grows impossibly wide. 'Oh, sure. Course, course. Come up.'"
In Reel Life: Playing underground poker seems ... well, like a pretty glamorous life.
In Real Life: Damon and Norton spent a couple of months touring the New York underground poker scene; and Damon, at least, said he wasn't tempted by the lifestyle. "It's not quite as sexy as it sounds," he said on CNN Showbiz Today. "You know, I mean, it's, you know, 12-hour days of kind of sitting."
Norton agreed, saying the folks who frequent the clubs were not ... well, they were a bit ... unusual. "There was this one guy who used to come into this one club all the time," he told CNN Showbiz Today, "and he had these glasses. And one of them like had a bullet hole through them, like it was shattered, and it was like he never got it fixed in the months that I went into this place."
In Reel Life: During one game, Worm tells two players to stop talking to each other in Russian.
In Real Life: The possibilities for cheating are obvious, and this scene is similar to what Levien and Koppelman observed in their underground travels -- players were speaking in Russian, and an argument ensued over the practice.
In the World Series of Poker at Binion's, and at many casinos, an "English-only" rule prevails. Jay Lovinger, in an e-mail, tells me that during his recent visit to Vegas, he heard several players being warned because they were speaking to spectators in Russian.
Mike (Matt Damon) is an expert at reading "tells," and that serves him well.
Brian Mulholland wrote about the English-only rule last year in Card Player magazine. "When a foreign tongue is spoken at the table, it doesn't matter whether or not there's any collusion or 'insider trading' of information actually occurring ... A person speaking non-English during a hand might be sharing nothing more than a dinner recipe; the problem is the doubt and suspicion it produces in those who have no means to verify that fact."
In Reel Life: Both Damon and Norton seem fairly comfortable with the cards.
In Real Life: In the process of researching their roles, the two actors got seats in the World Series of Poker, and also toured the New York underground poker scene. "You pay for lessons," Norton, speaking of the New York clubs, told the Sun-Sentinel. "I was down $750 in a matter of no time. Luckily, I was bankrolled by the studio research department."
In Reel Life: Mike is an expert at reading "tells," and manages to keep a pretty good poker face himself.
In Real Life: Damon took this part of his character seriously. "I practiced with blank cards," he told the L.A. Times, "so I wouldn't let my expression, or mannerisms, 'tell' another player what I was holding."
In Reel Life: You rarely see any cards other than the community cards.
In Real Life: Although the lipstick cameras that reveal players' cards in televised poker seem to be a real draw, director John Dahl didn't think that would work in the movie. "I looked at a couple of scenes from movies where they had photographed cards, and I realized how incredibly uninteresting that was," he told the Knight-Ridder News service. "I thought I just don't want to see that."
In Reel Life: Teddy KGB (John Malkovich) manages a club for the "Russian Mafia," and is also, apparently, an excellent poker player.
In Real Life: You might think that the club manager, who makes a steady income off the "rake," wouldn't bother with playing -- too much of a gamble. But apparently, it isn't true of the underground poker clubs. Andy Bellin wrote about New York's underground poker scene in the Jan. 2000 issue of Esquire. In the story, he describes playing in the "M Club," which is managed by Mickey "Chips," who Bellin says is "one of the best card players on the East Coast."
In Reel Life: The card games are populated by players with colorful -- almost cartoonish -- nicknames.
In Real Life: That's the way it is. Bellin says he played with guys named "Tony Plugs" (formerly known as "Tony Toupee," before his transplant), and "Johnny California."
In Reel Life: Most of the clubs are dark, poorly lit.
In Real Life: "That was one place where we made a big departure," director John Dahl told American Cinematographer magazine. "Card players don't care what the room looks like, and most are lit with overhead fluorescents. But when you read a script about men playing cards, it seems as if it wants to be a darker, pools-of-light-over-the-tables sort of place, with all that traditional movie stuff. It becomes more like a pool hall. We simply decided to make a more dramatic statement and go with a darker, more atmospheric look. A real card player looking at this movie will probably say, 'Oh, that's a little bit Hollywood.'"
In Reel Life: Oddly, Teddy KGB's otherwise dingy club features chandeliers and some other beautiful lights.
In Real Life: "The best chandeliers in the world come from Russia," production designer Rob Pearson told American Cinematographer magazine. "Our backstory on Teddy was that he was a fence and [had access to a lot of] stolen goods -- so in this old dingy club, there were these beautiful chandeliers. It was a nice lighting device that created sparkles everywhere."
Teddy KGB (John Malkovich) is a club owner, and a card shark as well.
In Reel Life: Mike says, "Like Papa Wallenda said, 'Life is on the wire. The rest is just waiting.'"
In Real Life: "Papa" was Karl Wallenda, who founded the famous (and still performing) high wire act called "The Flying Wallendas." According to the Wallendas' Web site, he actually said, "Life is being on the wire, everything else is just waiting." Death was also on the wire: Three Wallendas have died and one was paralyzed while performing their high wire stunts; Karl himself died in March, 1978 in a 120-foot fall from a high wire strung between two hotels in Puerto Rico.
"If anyone could choose the way they had to go, I would say that would have been Karl's way," Ringling Bros, Barnum and Bailey Circus producer Kenneth Feld said at the time.
In Reel Life: Mike watches a video of Johnny Chan winning the World Series of Poker; Chan is the symbol in the film of the ultimate player, and he also makes an appearance in the movie.
In Real Life: There's a good reason Chan is the icon of the ultimate professional: He is the last player to win back-to-back WSOP championships, in 1987 and 1988; and his consecutive wins were also the most impressive. Johnny Moss (1970, 1971), Doyle Brunson (1976, 1977), and Stu Ungar (1980, 1981) are the only others to have achieved the feat.
In Reel Life: Mike returns to Teddy KGB's club after his big defeat and long hiatus. "I feel like Buckner walking back in to Shea," he says.
In Real Life: While everyone knows about Bill Buckner's infamous error at Shea Stadium to give the Mets a win in Game 6 of the 1986 World Series, few remember that Buckner not only walked into Shea two nights later, but also played a very good game. In his first at-bat, in the first inning, he singled to right. Then, with Boston trailing 6-3, he led off the top of the eighth with another single to start a two-run rally, scoring on a Dwight Evans double. He finished 2-for-4 with one run, while registering nine putouts and one assist at first base -- with no errors.
In Reel Life: In their final showdown, Mike tells Teddy KGB to stop "splashing the pot."
In Real Life: "Splashing" means throwing your chips, rather than placing them in stacks. It is not a cool thing to do. Besides being annoying (especially as practiced by Teddy KGB), it can be a method of cheating, as the chips are difficult, if not impossible, to count when sprayed in such a manner.
In Reel Life: At the end of the film, Mike beats Teddy KGB by figuring out his "tell." Obviously, it has something to do with Oreo cookies. But ... did you figure it out?
In Real Life: Roger Ebert, writing in the Chicago Sun-Times, answered this question for a reader. "The Oreos have been much discussed in the Internet discussion group rec.gambling.poker, where John Harkness of Toronto writes: 'If he breaks it in front of his face, it means nothing. If he breaks it to the side of his head, as if listening to it, he's got the (cards).'"