By Jeff Merron
Page 2
Almost all U.S. Presidents have been avid sportsmen. It makes sense: Politics might be the only vocation more competitive than sports. Of all the 20th- and 21st-century presidents, only LBJ seemed disinterested in sports; some, like Ike and Gerald Ford, excelled at a very high level.
So George W. Bush and John Kerry aren't the first politicos to try to win hearts and minds by courting the votes of sports fans and participants. Bush runs on a treadmill; Kerry seems game for just about any sport, and certainly enjoys tossing a football on airport tarmacs. (He's apparently trying to evoke memories of JFK, but we don't recall ever seeing photos of Jack tossing the pigskin during the 1960 primaries.)
Without further ado, we present our Presidential Sports Superlatives (from the class of the last 104 years or so):
Best Athlete: Gerald Ford
For most people, memories of Ford's presidency don't go much beyond the image of Chevy Chase's imitation, as the "Saturday Night Live" comedian stumbled around the Oval Office. But the clumsiness rap was a bum one, borne of a couple of stumbles as Ford came down the slippery steps of Air Force One.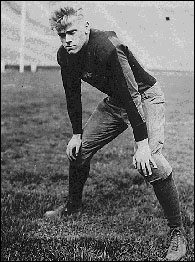 The "Accidental President" helped Michigan win two national championships.
At Grand Rapids (Mich.) South High School, Ford was all-city and all-state on the gridiron. (He also played basketball and ran track.) The legend is that Ford was an All-American at the University of Michigan, where he played center and linebacker. He was not. But that's just a technicality: He was a very good player. Ford started on the Wolverines' national championship teams of 1932 and 1933 and was the MVP of the 1933 squad. He also played in the 1934 East-West College All-Star Game and was good enough to get offers from the Packers and Lions, which he turned down in favor of law school.
Later in life, Ford played golf and tennis and skied. He also rooted for Al Kaline and the Detroit Tigers.
Most Heroic Sports Achievement: Ronald Reagan
Too bad "Baywatch" wasn't around when Dutch was a teen -- he would have been a natural. In 1926, while still in high school, he became a lifeguard and, according to his presidential library Web site, saved 77 lives in seven summers.
When he wasn't saving lives, he played three sports (football, basketball and track) at Dixon High School in Illinois. He didn't excel in any of them, but he was good enough to play football at tiny Eureka College.
ALL ABOUT JOHN KERRY
EDITOR'S NOTE: As the Democratic National Convention opens Monday in Boston, Page 2 joins in the fun with a look at the sports life of the presumptive candidate, John Kerry. In addition to the 10 Burning Questions fired at Kerry by our own Jeff Merron, today's package includes a detailed examination of Kerry's athletic career at St. Paul's School and Yale University (as well as his active participation in recreational sports as an adult), a glance back at the best (and worst) sports-minded presidents of the 20th and 21st centuries, and ESPN The Magazine's current interview
with Kerry.

Not a Democrat? Worried about equal time? Never fear. We'll attempt to give George W. Bush the same Page 2 treatment when the Republican National Convention rolls around next month.
Sports played a huge role in his acting and political careers. He got his foot in the entertainment door by recreating nationally-broadcast Cubs games for NBC affiliate station WHO in Des Moines, Iowa. And he secured his legend with a single line he'd use to great advantage during many of his speeches when he played George Gipp in "Knute Rockne -- All American."
As President, Reagain displayed his sportsman's vigor by chopping wood (it is too a sport) and riding horses.
Best Sporting Image: John F. Kennedy
Father Joe Kennedy encouraged competition at his Hyannisport family compound, especially in touch football. As a prep, Jack played basketball, football, tennis and golf; and he played football at Harvard until he ruptured a disk in his spine. He was, at best, a decent athlete.
But he was terrific at projecting an image of a vigorous sportsman. Photos of JFK sailing as President (including one with a young John Kerry) are iconic; they projected to the nation, and the world, a fresh-air, can-do makeup. Truth was, because of his back problems, Kennedy often was in great pain and had a great deal of trouble participating in athletic endeavors.
Greatest Fisherman: Herbert Hoover
Hoover began fishing as a boy. As a man, he didn't miss an opportunity to hit the wildest, most remote places (like the Blue Ridge Mountains or Sierra Nevadas) to bait his hook.
He plugged the sport as relentlessly as he pursued it. "The American is a fisherman," he said. "That comprehensive list of human rights, the Declaration of Independence, is firm that all men (and boys) are endowed with certain inalienable rights, including life, liberty, and the pursuit of happiness, which obviously includes the pursuit of fish."
In old age, his presidency long since past, Hoover even wrote a book about fishing and spiritual hygiene, entitled, "Fishing for Fun and To Wash Your Soul."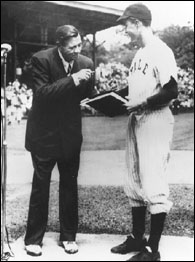 One American icon and one future President.
Best Baseball Player: George H.W. Bush
At Yale, Poppy, a lefty, played first base and was captain of the 1948 team. He was a very good fielder but a relatively weak hitter, compiling a .251 batting average with 2 HRs and 23 RBI in 51 games during his two seasons. Even so, this was a good Yale team, which won eastern regional titles and played in the first College World Series.
Two little-known sports facts about Bush the Elder: 1) He met Babe Ruth, shortly before the Bambino died, during a Yale-Princeton pregame ceremony; and 2) he was a good soccer player, making varsity on a Eli squad that captured the New England college championship.
Worst Coach: Richard Nixon
There's no doubt that Nixon, given the chance, would have been a creative -- if not very good -- coach. He'd trade tapes with other coaches ... but the ones he sent to the competition would be missing 18 1/2 minutes. He'd try to steal the opposition's playbook -- sending a bunch of third-stringers to do the deed -- and they'd get caught.
OK. End of Watergate references.
No President was more of a true fan than Nixon, who loved baseball and football in particular.
The legend that Nixon "called" a play for the Redskins remains shrouded in myth. But there's no doubt that during one of the many Redskins' practices he attended while in office, head coach George Allen did allow him call a play. Nixon called a reverse. It succeeded.
But when Allen used that play during a first-round 1971 NFC playoff game against the 49ers at Candlestick? Unclear. With the ball on the Niners' 8-yard line, Allen probably used Nixon's reverse, and almost certainly regretted it. The play lost 13 yards, and the Redskins were forced to attempt a field goal, which was blocked. Washington went on to lose, 24-20.
Nixon also called Dolphins head coach Don Shula in the middle of the night a few weeks before Super Bowl VI. He told Shula he thought the Dolphins should run a quick slant pass against the Cowboys. The Dolphins ran the play early in the game. The pass was incomplete.
Worst Football Player: Richard Nixon
Nixon played at tiny Whittier College in California. "I got into a few games after they were hopelessly won or hopelessly lost, you know, when they put the substitutes in, and finally the water boy, and then me," Nixon said. "That is the way it worked."
Nixon explained further at a Hall of Fame dinner late in 1969:
"Now just to tell you a little about Whittier because I want the record to be straight: It is a school with very high academic standing. We had a very remarkable coach ... My coach was an American Indian, Chief Newman. He was a perfectly remarkable man and a great leader. I learned more from him about life really than I did about football, but a little about football.
"One of the reasons, I guess, he didn't put me in was because I didn't know the plays. Now there was a good reason for that. It wasn't because I wasn't smart enough. I knew the enemy's plays. I played them all week long. Believe me, nobody in the Southern California Conference knew Occidental's or Pomona's or Redlands' or Cal Tech's or Loyola's plays better than I did, because I was on that side."
Best Surfer: Richard Nixon
Nixon's daughters gave him a very small pink surfboard for Father's Day in 1969, presenting it to him publicly in the Rose Garden and telling him it was just a model for the custom-made blue one awaiting him at the "Western White House" in San Clemente (a great surfing spot).
Nixon, then 56, said, "I'll never ride it," and added, "I rode a surfboard 30 years ago. It doesn't impress me one bit." Whether he actually surfed in the 1930s is up for debate, but Nixon was a smart man: His private patch of beach at San Clemente fronted some of the roughest waters in the area.
Most Organized: Jimmy Carter
Jimmy Carter, an avid tennis player, put himself in charge of scheduling the staff's time on the White House courts.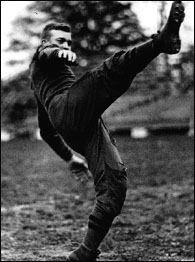 Ike's best move before D-Day was once tackling Jim Thorpe in a football game.
Greatest Tackle by a Future President: Dwight Eisenhower
Ike, a 5-foot-11, 180-pound linebacker at West Point, once brought down Jim Thorpe during an Army-Carlisle College matchup. He had help from his teammate Charles Benedict, but still ...
Later in the game, Benedict and Eisenhower pursued Thorpe again, but only succeeded in crushing each other so badly that both had to leave the game.
Fastest Runner: George W. Bush
Carter jogged while in office -- back then, running was a "craze." Unfortunately, he became the poster Prez for the dangers of overdoing it, collapsing midway through a 10K race in 1979. George H.W. Bush ran to keep in shape.
Bill Clinton huffed and puffed to keep his junk-food gut in check.
George W.? He's been a runner since 1972 and was featured on the cover of Runner's World magazine. He credits running for helping him to quit drinking and smoking. And there are a couple of impressive feats that indicate GW is no dabbler: 1) In 1993, at age 46, he ran and finished the Houston Marathon in 3:44:52. No other President has completed a marathon. 2) In the "Fitness Challenge" race in Washington, D.C. in June 1992, Bush ran three miles in 20:29, an excellent time for a 56-year-old.
Bush has had to cut back on his running because of knee problems, but he's a true running addict -- Air Force One is equipped with a treadmill; and on long flights, he's gone for 90-minute runs.
Most Overused Sports Nickname Plastered on a Future President: 'The Kansas Cyclone'
At least one sportswriter used that old chestnut to describe Eisenhower in 1912.
Best Presidential Sports Trivia Question
Q. Who were the only two presidents ever to score a hole-in-one either before, during, or after his presidency?
A. Ike and Bill Clinton. Ike scored an ace on Feb. 6, 1968, on a par-3, 104-yard hole at a course in Palm Springs, California. He was 77 years old. Clinton aced the par-3, 125-yard sixth hole at Harborside International Golf Course in Chicago in 2001.
(Thanks to reader Brian Walsh for pointing us to Clinton's hole-in-one.)
Dumbest Presidential Sport: Hoover-Ball
A six-pound medicine ball. An eight-foot net. A tennis-like court. Between four and 18 players. South lawn of the White House, 7 a.m.. Be there. Every day. In all weather, except monsoon downpours. And the President wins.
On May 13, 1930, the New York Times reported on the "medicine ball cabinet," Hoover's playmates: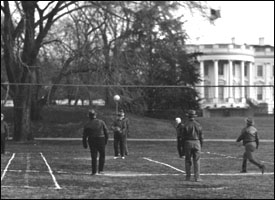 Once the poker craze dies down, look for "Hoover-Ball" to make a comeback.
"Tall and short, stout and thin Mr. Hoover's sweatered friends tossed the ball vigorously to and fro over a high volley ball net. He seemed the most practiced, seldom missing and more often than not causing opponents to miss with the strength of that lone arm swing. Watched from the distance, the group looked like schoolboys at play."
The players ranged in age from 40 to 60; and included the Attorney General, Associate Supreme Court Justice Harlan F. Stone, and the assistant secretaries of the Navy and Treasury.
Best Walker: Harry Truman
Truman walked a vigorous two miles every morning, often leaving his companions -- most often, reporters -- breathless with his brisk pace. This was no mindless stroll. "I walk two miles most every morning at 128 steps a minute," Truman said.
Most Bizarre Presidential Sports Incident
Early in the evening of April 20, 1979, President Carter went trout fishing in a canoe near his home in Plains, Georgia. He was attacked by a "killer rabbit," which he fought off with an oar.
The incident wasn't reported until late August of that year. Here's the Associate Press account:
"A 'killer rabbit' attacked President Carter on a recent trip to Plains, Ga., penetrating Secret Service security and forcing the chief executive to beat back the beast with a canoe paddle.
"The rabbit, which the president later guessed was fleeing in panic from some predator, actually swam toward a canoe from which Carter was fishing in a pond. It was hissing menacingly, its teeth flashing and nostrils flared, and making straight for the president.
"Carter was not injured, and reports are unclear about what became of the banzai bunny. But fortunately for Carter's credibility, a White House staff photographer made a picture of the attack and the president's successful self-defense."