By Jeff Merron
Page 2
EDITOR'S NOTE: As the Republican National Convention opens Monday in New York, Page 2 joins in the fun with a look at the sports life of the candidate, incumbent President George W. Bush. Last month, we published a similar story about the Democratic candidate, Senator John Kerry, as well as our 10 Burning Questions interview with Mr. Kerry. We requested an equal-time interview with Mr. Bush, but the White House did not respond to our request.
Every politician seems to have some choice memories they like to trot out. Sometimes, they say it once, and it sticks. Sometimes, they say it often, adhering to the "Reagan Doctrine," as articulated by White House spokesperson Larry Speakes in 1983: "If you tell the same story five times, it's true."
Which may be why Reagan, in 1983, told Israeli Prime Minister Yitzhak Shamir that he'd filmed the Nazi death camps, then repeated the story a few months later. Yikes! Not even close to true.
Bill Clinton, running for reelection in 1996, said, "Since I was a little boy, I've heard about the Iowa caucuses." Couldn't be so. The caucuses didn't begin until 1972, when Clinton was already old enough to not inhale.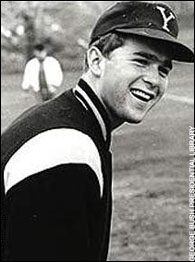 Bush pitched in three games for the Yale freshman team in 1965.
Al Gore invented the Internet. Well, not quite.
And George W. Bush invented organized stickball at Andover. Umm, no.
Bush was, indeed, "high commissioner of stickball" during his senior year. But, as Gore didn't start the Internet, W didn't start the stickball league.
According to Newsweek, in a 2000 interview, "Bush recalled the moment he realized he had true political gifts: When he stood up at morning assembly at Andover to announce, with a series of japes and jokes and props, the formation of a stickball league. Bush even named the teams (like the Nads, so that fans could cheer, 'Go Nads!')."
But that isn't the way Dr. Richard W. Clapp, who graduated from Andover a year ahead of Bush, remembers the league.
"Stickball was a weekend thing," said Clapp in a phone interview. "[We'd play] Saturday morning or afternoon. When I was a senior, he was interested in stickball; but he was not the commissioner when I was a senior. He was not the founder of the stickball league, and he was not the inventor of the team name 'Nads'."
Uh oh. Can a "Stickball Veterans for Truth" ad campaign be far behind?
Fantasy Owner
In some ways, Bush-the-athlete is much like his Democratic opponent: He's a gamer, he loves sports, and he tries hard but is about as good (or mediocre) as any Joe Jock who played a varsity sport or two as a teen.

The biggest difference between Bush and Joe Jock is that Dubya got to live out at least part of his fantasy as managing general partner of the Texas Rangers. That period in the late 1980s and early 1990s cemented Bush's future. He proved he could get things done as the frontman who got The Ballpark at Arlington built. So what if Arlington residents got a hefty tax bill? Bush got a hefty return on his small investment in the club, thanks to the boost in value it got from the new park.

"A close look suggests that Mr. Bush got the opportunity to be a baseball owner mostly because of his connections," wrote Nicholas D. Kristof in the Sept. 24, 2000, edition of The New York Times. "Moreover, his investment was immensely profitable in part because he and his co-owners were shrewd bargainers who charmed and bullied the city of Arlington into giving them a great deal, with the local taxpayers paying more than $135 million to help build the Rangers a stadium."

Mark S. Rosentraub, a sports economist, called Bush "The largest welfare recipient in the state of Texas."

When the Rangers were sold eight years after Bush bought his two percent stake for $606,000, he walked away with a cool $15 million profit.
-- JM
From Midland to mid-bench
But the young W didn't think of such things when he played Little League on the Central Midland (Texas) Cubs. He was coached, at least some of the time, by none other than "41," his father, who had been good enough to play first base for a very good Yale team in the late 1940s.
"I was a helluva Little League player," W told Joe Drape of the Atlanta Journal and Constitution in 1992. But, as Bush quipped while stumping in 1999 and many times thereafter, "I peaked in Little League."
His former elementary school principal, John Bizilo, remembers the tyke.
"He was a pretty good little player," Bizilo told the National Journal in March 2001. "Well-coordinated for his age, and aggressive. I'd hit fungoes to the boys before school and during recess, and he always caught more than his share. He'd run those flies down."
Unfortunately, Bush didn't hit too many flies for the other teams to run down. While his mother, Barbara, remembers him as an all-star, former baseball commissioner Fay Vincent, who saw him play in Midland, saw something else.
"He had trouble," Vincent told Inside Houston contributor Tony Castro in 2001. "I remember him striking out a lot."
His Little League coach, Frank Ittner, gave Inside Houston pretty much the same assessment: "Well, he was a good catcher. but he was like his daddy. He couldn't hit."
He worked at it, though. According to Castro, the first President Bush noticed how much W hustled on the ballfield, writing to his father-in-law, "He tries so very hard." But by the time Bush got to Andover, trying hard didn't matter quite as much. Bush, by all accounts, was a stellar cheerleader and always ready to get a game going. But the talent wasn't quite there; he didn't make the varsity baseball and basketball teams until his senior year. He played two years of JV football, but didn't make the varsity.
"He was an average athlete," recalled Clapp. "He was definitely not that good. He and I were both on the basketball JV team. He played guard, and he could only dribble with his right hand. It was easy to defend him because he could only go to his right. It's my contention that he's still the same, politically."
Presidential Superlatives
Which President was the best athlete? The best baseball player? The worst coach? Jeff Merron answers those questions -- as well as "What is Hoover-ball?" -- in his Presidential Superlatives.
Bush didn't start on the JV team, said Clapp, although he did get some playing time on a squad that played about .500 ball.
At Yale: The myth of mediocrity
Bush has consistently mentioned two major leaguers as his heroes: Willie Mays, during his boyhood; and Nolan Ryan, who pitched for the Rangers during Bush's ownership of the club.
In 1965, a year before Ryan's major-league debut, Bush made his diamond debut for Yale, as a relief pitcher.
Bush is good-humored about his short stint on the Yale freshman team.
"My talent never matched my enthusiasm," he wrote in "A Charge to Keep," his autobiography. "I was a mediocre pitcher on the Yale freshman team."
He even joked about his lack of ability with Rangers GM Tom Grieve, reported Nicholas D. Kristof in a Sept. 24, 2000 New York Times profile of Bush.
"George came in here and said, 'Tommy boy, let me tell you about my days with the Yale freshman team.' You know it's going to be funny, because that's like a high school junior varsity team down here. And he was the relief pitcher! And he says how one day the pitcher really screwed up, and the coach decides to pull him, and George is really excited and thinks he's got his big chance.
"And then the coach calls in a second baseman even though he'd never thrown a pitch. And Bush says, 'That's when I figured my aspirations of becoming a major league player might not be achieved.'"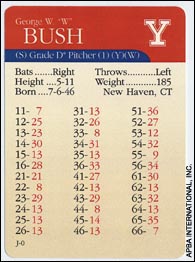 Good luck getting your hands on a Bush APBA card.
After Bush was elected president, APBA created a special 2001 edition of its card simulation game in his honor. Bush got his own card (only about 50 exist). He gets pretty lousy ratings -- which probably reflect his true pitching ability -- but are nevertheless fictitious.
"[The cards]were not based on real stats," wrote Marc Rinaldi of APBA in an e-mail. "As a bit of a practical joke, Hap (Ellis, Bush's cousin, who came up with the idea) had us dummy down the card. As a result, his card only has three hit numbers on it with lots of strikeouts, he is listed as a D pitcher (which in APBA isn't good), and he has a control rating of W -- which means he gives up a lot of walks."
Again -- a good story. But perhaps not quite true. Turns out Bush was a pretty good pitcher, when he did take the mound. He threw in relief three times. Here's his line:

Year  G   IP   W  L  H  SO  BB  R  ER  ERA
1965  3  12.3  1  0  6  10   4  3   2  1.80
Yale rugby: 'He was there'
Recently, an action photo of Bush playing rugby at Yale appeared in the Los Angeles Times. The photo, which appeared in the 1969 Yale yearbook and carried the caption "George Bush delivers illegal, but gratifying right hook to opposing ball carrier," accompanied a recent op-ed piece in the L.A. Times by Jim Sleeper, who was an undergrad at Yale with Bush.
It's unclear what, exactly, the photo captures -- it could be a right hook, and it could just as well be an awkward attempt to tackle. Sleeper uses the photo caption as a takeoff point for a discussion of Bush's character, which is a fine rhetorical device but is unlikely to sway the undecided voter.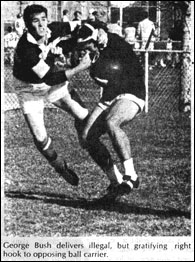 The Yale yearbook published this photo of a rugby-playing Bush.
Rugby was one of the many intramural and club sports Bush played at Yale. During his junior year alone, he played tackle football, touch football, rugby, baseball and basketball. But he made more of a mark off the field than on it.
"He had good foot speed, which was a big requirement of his wing position," Dr. Monty Downs told Jan TenBruggencate of the Honolulu Advertiser. "I don't recall him making any game-breaking plays, but he was there where he needed to be.
"After the rugby game," Downs added, "there was always a party, a keg or two of beer and colorful rugby songs. ... I remember him well. He was just so damn friendly."
The Marathoner in Chief
This presidential race features perhaps the two fittest candidates ever. While Bush clearly didn't excel at sports that involve fine motor skills or coordination, he has been a serious runner since 1972; and he attributes his sobriety, in part, to running. Other presidents have also jogged or run for fitness, including Carter and Clinton; but, in terms of ability and achievement, Bush outdistances his Oval Office predecessors.
Though injuries have reduced his running during his presidency, Bush has a treadmill on Air Force One and goes for hour-long jaunts on it in the air during overseas trips. In January, 1993, he finished the Houston Marathon in 3:44:52 (that's about an 8:30 pace); he's the only president ever to complete that distance. (Kerry claims to have run in, and finished, the Boston Marathon "in '80, something like that" -- but there's no official record of his feat, and his campaign did not provide further details despite repeated inquiries.)
Early in his presidency, Bush appeared on the cover of the October, 2002, issue of Runner's World; and, in an interview with the publication, said his normal routine is to run five or six times a week.
"When I run," he said, "I run hard. On Sundays if I'm at Camp David, I'll go for a hard, morning run -- these days about 20:30 to 20:45 for three miles on a tough course."
In June, 2002, he ran a three-mile road race in an official time of 20:29. Most 55-year-old runners can only dream of race times like that; for Bush to be able to maintain that kind of a pace during a workout is telling. AP reporter Scott Lindlaw, who recently mountain-biked with W on the Crawford, Texas, ranch, said Bush pushed it during their four-hour ride.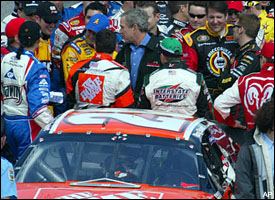 Bush is always looking for ways to reach out to sports fans.
"He's out there to burn off the burger and to get his heart rate up," Lindlaw said. "He watches his heart rate very, very closely. He was reporting to me regularly what his heart rate was. ... He likes to exercise in the zone."
Perhaps the most admirable quality about Bush-the-athlete is that he's dedicated: For W, it's apparently a very personal part of his life that he truly believes is necessary to maintain physical and emotional balance. In his Runner's World interview, he seems to pine sincerely for the days when he could take off for long-distance runs without a second thought. And unlike many casual runners, he embraces harsh weather -- in his case, the 100-plus-degree summer heat of Crawford -- instead of retreating from it.
And on the links ...
Bush, like most Oval Office occupants, plays golf. Like his father, he sees the links as both a skill and a speed challenge, finishing his rounds in about two-and-a-half hours. Bush told T&L Golf Magazine, "I remember my grandfather once pulled me aside when I was a young man and said, 'It doesn't look like you're going to be that good a golfer, so make sure you play fast.'"
But Bush was praised by Harry Hurt of Golf magazine, who told CNN that the President rarely takes mulligans (a presidential perk of which Clinton was apparently quite fond).
"And he's also good about keeping his score accurately," said Hurt. "He's also good about paying his bets when he loses, as I learned from one of his recent golf partners."
Bush's handicap is about 15. Another handicap, dating back to the days when he was an oilman, was his wardrobe. He was a member of the Midland Country Club when it named its "worst-dressed golfer" award after him in 1981.
Do what you love, and the money will follow
What does all this add up to? Overwhelming evidence suggests that you'd have a hell of a time playing touch football or taking in a ballgame with W. He's the guy who cares a lot about winning the slow-pitch softball game -- until the final out, at which time he enjoys, even more, shooting the bull, talking stats, and telling an off-color joke or two.
More important, of course, is that sports business has been very, very good to Bush. The foundation of his political career sits pretty much in the same spot as the foundation of The Ballpark at Arlington. And he continues to enjoy the goodwill of sports team owners and organizations like NASCAR. As recently reported by Tim Povtak of the Orlando Sentinel, the sports industry overall has forked over more than $255,000 to the Bush campaign coffers, while Kerry's campaign has collected a paltry $22,000.
Jeff Merron is a staff writer for ESPN.com.