Single page view
By Jeff Merron
Page 2
Whatever Jose Canseco's reputation is, he may or may not be telling the truth in "Juiced." Vague accusations and unverifiable assertions abound. But once in a while, Canseco writes things that can be factually checked.
So is the book, as Canseco's attorney, Robert Saunooke, told Mike and Mike on ESPN radio, "100 percent" accurate. Is Jose a "very reliable" and "very credible" writer?
Let's have a look ...
On his rookie season (1986):
We went to Detroit ... Walt Terrell gave me a good pitch to hit. I took a big swing and hit a home run to center field that ended up in the Tiger Stadium upper deck. They told me afterward that I had already hit a home run in every AL ballpark as a rookie.
-- p. 65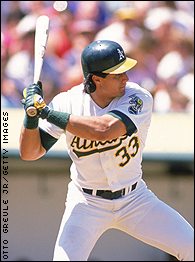 Jose Canseco back in his heyday with the A's.
Canseco didn't hit a home run in Detroit in 1986. Or in Kansas City, for that matter. So what "they" told him about hitting a homer in every ballpark as a rookie was wrong, even if you take into account his 1985 September callup.
According to Retrosheet, Jose went 4-for-8 (three singles and a triple) in three games against Terrell in 1986. That monster shot? Canseco is probably remembering Mark McGwire's first major league homer, a colossal 450-foot blast off Terrell in Detroit on August 25.
* * * * *

On Bret Boone:
I remember one day during 2001 spring training, when I was with the Anaheim Angels in a game against the Seattle Mariners, Bret Boone's new team. I hit a double, and when I got out there to second base I got a good look at Boone. I couldn't believe my eyes. He was enormous. "Oh my God," I said to him. "What have you been doing?"

"Shhh," he said. "Don't tell anybody." Whispers like that were a sign that you were part of the club ...
-- p. 264
This conversation almost certainly didn't take place.
The Mariners and Angels played five spring training games in 2001.
On Friday, March 2, the Angels beat the Mariners, 5-2. Jose went 0-for-2 as a DH, and did not reach base.
On Friday, March 9, the Mariners beat the Angels, 8-3. Canseco struck out twice in two at-bats. Boone did not play.
On Sunday, March 11, the Angels beat the Mariners, 5-4. Neither Canseco or Boone played.
On Monday, March 12, a Mariners split-squad beat an Angels split squad, 4-2. Canseco did not play.
On Tuesday, March 27, the Mariners beat the Angels, 15-2. Canseco did not play.
In spring training 2001, Canseco hit only one double in 39 at bats. He did not steal a base.
* * * * *

On the 2000 Subway Series against the Mets:
In Game 6, though, I was sitting there on the Yankee bench on a cold night at Shea Stadium ... But all of a sudden, Torre called down to me. "Canseco, you're hitting." ...

I went up to the plate to pinch-hit for David Cone, and it was bad. Three strikes and you're out.
-- pp. 232-233
As Rob Neyer pointed out, there was no Game 6 of the 2000 World Series.