Ooohhh, There Is A Lady Ump, Her Name Is Pam
Ooohhh, She's Always On Your Back, Larry Bowa
Ooohhh, When Are Ya Gonna Learn, Gonna Learn,
Ooohhh, That You'll Never Win, Larry Bowa!
Ah, Ooohhh, Why Don't You Settle Down, You're Flaring Up
Ooohhh, Why Don't You Have Some Fun, Larry Bowa!
Ah, Ooohhh, The Players Are Uptight, They Can't Relax
It's Hard To Play For A Larry Bowa
Ah, Ooohhh, Why Don't You Lighten Up And Cut Some Slack
And Then We Might Get Off Your Back, Larry Bowa!
Third base: Harmon Killebrew
Raw power. Killebrew is the nice guy on this team, the one who channeled all his natural strength into hitting mammoth, screaming blasts (even though he was just 5-foot-11). "He hit line drives that put the opposition in jeopardy," said Ossie Bluege. "And I don't mean infielders, I mean outfielders."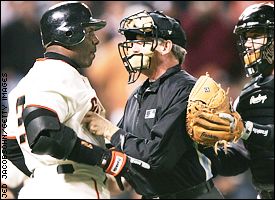 Did a little cream induce Bonds to argue with the umpires?
Left field: Barry Bonds
The Clear. The Cream. The Flaxseed. The three-stalled locker-room throne. The full-sized cojones (as he recently told reporters). And the full-sized blasts into McCovey Cove. Man, man, man.
Center field: Ty Cobb
Remember the scene in "Fight Club" when Ed Norton's punching himself in the face? That was Ty Cobb, spending a peaceful night alone. He fought with teammates, bloodied opponents with his sharpened spikes, even went into the stands once and attacked a fan.
Right field: Babe Ruth
The numbers are legendary: 714 (homers); 270 (his reported weight when he suffered the "Bellyache Heard 'Round the World," which was probably gonorrhea and syphilis); $5,000 (the fine he incurred for showing up late for a game after a night spent going through an entire brothel); 5 (the number of times he was suspended in 1922); 6 (different women in one night); 7 (one woman, one night).
Designated hitter: Lenny Dykstra
"Nails" must have been eating them during the 1987 offseason, when he gained 21 pounds and the "Hulkstra" moniker from Ron Darling. Dykstra was always out of control, even for the reckless, crazy bunch of mid-'80s Mets teammates he partied with. He drank, he dipped, he drove too fast, and no poker hand was too big. Dykstra's testosterone is almost endless.
Starting pitcher: Roger Clemens
Thrower of balls. And sometimes bats. Both of which may be aimed at an opponent at any time.
Starting pitcher: Bob Gibson
A wolf goes after the weak, hence that particular nickname for Gibson. Jim Ray Hart, in his second major-league at bat, faced Gibson, who promptly broke Hart's collarbone with a fireball high and tight. Welcome to the big leagues, kid.
Starting pitcher: Don Drysdale
Baseball's dentist: he drilled 154 batters during his career, and led the National League in hit batsmen a record five seasons.
Starting pitcher: Stan Williams
A teammate of Drysdale's with the Dodgers, Williams once hit Hammerin' Hank on the helmet, and said, by way of apology, "I meant to hit you in the neck."
Starting pitcher: David Wells
Not the classic testosterone build, but Wells has all the other makings, including a proclivity to confrontation and the classic "My way or no way" attitude. After his great 1998 season, he said, "I didn't take creatine. I drank beer, and I had a career year."