Single page view
By Jeff Merron
Page 2
For 142 consecutive PGA tournaments, Tiger Woods played well enough to make the cut. His streak ended this past weekend when he missed the cut at the Byron Nelson Championship by one stroke, his first missed cut since the AT&T Pebble Beach Pro-Am in 1998 (he withdrew, actually). The last tournament at which he missed the cut by playing poorly was the 1997 Canadian Open.
Where does Tiger's streak rank among the greatest individual streaks? Here's our top 10: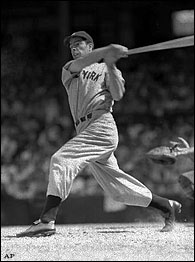 Joe D's hit streak remains one of baseball's most cherished records.
1. Joe DiMaggio's 56-game hitting streak
DiMaggio's streak was appreciated in its day, and it might be the most unbreakable record in baseball. In the 62 years since the Yankee Clipper set the mark, Pete Rose has come closest to equaling it – and he was able to hit in "only" 44 straight, an NL record.
Joe D. was bummed that the Indians shut him down on July 17, 1941. "Did you know if I got a hit tonight I would have made $10,000?" he said. "The Heinz 57 people wanted to make some kind of deal." The next game, DiMaggio started another streak, getting at least one hit in another 16 straight.
2. Edwin Moses' 107 straight hurdles finals wins
For nine years, nine months and nine days, Moses proved, literally, unbeatable. The two-time Olympic champ won 107 straight finals in the 400-meter intermediate hurdles (also going 15-0 in qualifying races during that time), setting the world record of 47.02 seconds and gathering the 11 fastest times in the event.
On June 4, 1987, Moses, 31, finally lost, defeated by 21-year-old Danny Harris in an early-season race.
"In 10 years, Moses faced hundreds of different competitors, but nobody beat him; some even quit the event out of frustration," wrote Juan Williams in The Washington Post. "Fashions changed, politics went conservative, the U.S. boycotted the Olympics in 1980 and participated in 1984. But none of it affected Edwin Moses, who just kept running away from the competition."
3. Lance Armstrong's six straight Tour de France wins
Last summer, Armstrong surpassed Miguel Indurain's five straight from 1991 to 1995, and he goes for No. 7 this year.
4. Orel Hershiser's 59 consecutive scoreless innings
On Aug. 30, 1988, the Dodgers faced the Expos at Stade Olympique. Hershiser was on the mound. In the bottom of the fifth, with the Dodgers up 4-0, the Expos scored two runs. It was the last time a team would score on Hershiser that season. He blanked the Expos for the final four innings of that game, upping his record to 18-8 and lowering his ERA to 2.84.
Here's what the rest of his year looked like:
Sept. 5: At Atlanta, 9 IP, 0 runs, 4 hits
Sept. 10: In LA vs. the Reds, 9 IP, 0 runs, 7 hits
Sept. 14: In LA, vs. the Braves, 9 IP, 0 runs, 6 hits
Sept. 19: At Houston, 9 IP, 0 runs, 4 hits
Sept. 23: At San Francisco, 9 IP, 0 runs, 5 hits
Sept. 28: At San Diego, 10 IP, 0 runs, 4 hits
Hershiser had pitched 59 scoreless innings, breaking Don Drysdale's mark by 1/3 of an inning. At the end of the streak, his ERA was 2.26, more than half a run lower than it had been a month earlier.