Single page view
By Jeff Merron
Page 2
EDITOR'S NOTE: The Super Bowl. The World Series. The NBA Finals. Page 2 has covered those championships over and over and over again, and we'll continue to do so. But we're branching out, too, into the championships of … oh, say, cow-chip throwing and wife carrying. Yes, those lesser-known and goofy sports are coming to Page 2 in a series of stories we're calling SportsOFFCenter. Today, Jeff Merron tells us all about a certain competition where vocal cords rule.
SPIVEY'S CORNER, N.C. – When I checked in at the press and contestants booth for the 37th Annual National Hollerin' Contest and identified myself as a writer for ESPN.com, I was handed a sheet of paper with "Rules and Regulations." The first rule read:
"I will not participate while under the influence of alcohol or drugs."
Well, OK, I thought. I'm not Hunter S. Thompson, so that won't be a problem. But something seemed off. "These are rules for the press?" I asked.
There had been a mistake. There were no rules for the media -- except to provide as much coverage as possible. The local news crews were there. CBS Radio was there. The Dunn Daily Record was there. Even a station from Belgium had sent over a TV crew.
*****
It was a cloudless afternoon, a relatively comfortable 85 degrees or so, when the hollerin' got under way. The contest took place on a large, griddle-flat field behind the volunteer fire department. If you wanted some shade, you needed an umbrella.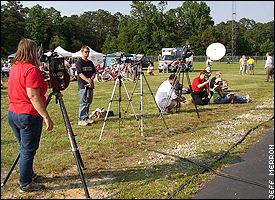 As you can see, it wasn't exactly a mob scene.
It wasn't a big crowd -- Wayne Edwards, the event coordinator, estimated it at 1,200 to 1,500 people -- way down from the 5,000 to 10,000 people that used to show up, sometimes a day early, for the festivities. There was plenty of room to park, set up your picnic blanket, portable chairs and umbrella, and be guaranteed a good view.
The contest is really a set of four events -- one for juniors, one for teens, one for women, and the big enchilada, the men's contest.
The kids got things started at 4 p.m. sharp, and for sheer entertainment value, the kids were the best -- a few barely got off a little hoot or scream before exiting the stage quickly, while others used up a few minutes telling stories about how their dads and moms hollered at them, or how they would holler at their dogs.
The men's contest, though, was a disappointment -- there was a thin talent pool, according to the judges and others who'd witnessed previous contests. The previous year's winner, Kevin Jasper, was ineligible to compete because of a new rule prohibiting repeat champions. And some other former victors on hand chose not to take the stage.
Hollerin's ailin', and it shows.
*****
Larry Jackson, an old-school hollerin' vet, won his fifth national championship, and his disciple, journalist Joshua Foer, came in second (click the ESPN Motion link at the right to watch their performances). That a beginner -- even a well-coached one -- came in second says something.
Foer didn't have a clue about the hollerin' arts when he and a friend first entered the contest, on a whim, in 2002.