By Jeff Merron
Page 2
Lord Byron is one of our favorite romantic poets here at Page 2 HQ. Watercooler arguments have centered on Byron's defense of the sexual content of his poem "Don Juan." In a letter, he said that whether you like it or not, sex is pretty much the point. "Is it not life, is it not the thing?" he asked, rhetorically.
We think if he was alive now, he'd give sports at least a small piece of his attention.
Because even a slow year is pretty interesting when it comes to our two favorite physical activities.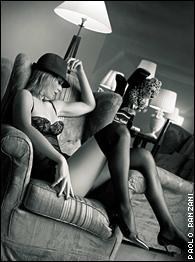 You gotta admit, that's a nice hat Sophie is wearing.
JANUARY
Because it's never too late for notoriety
Sophie Sandolo, a former All-America golfer at UCLA who ranked 44th on the Ladies European Tour in 2004, throws a launch party in Milan to celebrate the release, just slightly after the start of the new year, of her 2005 nude calendar. "Golf needs more visibility, glamour and a new image," Sandolo explains. But that isn't the golfer's only motive. She also says, in a press release, that she wants to "open new doors which could bring more notoriety to the sport."
We have to believe the Italian just had a slight hiccup with the English language there. We also have to believe we don't care about her command of English.
Anna Benson: Some "disgusting" Mets don't qualify …
Mets pitcher Kris Benson's wife, Anna, disavows the threat she made last summer on Howard Stern's show. "I told [Kris], cheat on me all you want," she said. "If you get caught, I'm going to screw everybody on your entire team -- coaches, trainers, players. … Everybody would get a turn."
Speaking to ESPN.com, Benson said, "We couldn't believe it turned into such a big deal. … There's no way I would touch some of those guys with a 10-foot pole. I don't care what Kris did. Some of them are disgusting."
That still leaves us with two nagging questions.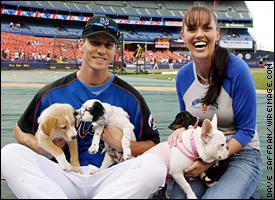 Mets fans haven't seen a couple this controversial since Darryl and Doc.
Isn't making a "big deal" precisely the purpose of saying such a thing on Stern's show?
And why does she speak in the past tense -- "I don't care what Kris did …"?
Umm, maybe someone was handing out beads?
University of Calgary professor Mary Valentich is planning a study of breast-baring during last season's Calgary Flames playoff games. The prof tells the CBC she'll be interviewing female flashers to determine their motivations. The mammary moments occurred on Calgary's 17th Avenue, where as many as 50,000 hockey fans gathered wearing Flames jerseys, creating a "Sea of Red." She hopes to interview at least five of the flashers and reveal her findings at the World Congress of Sexology in July.
A major-league masseuse in a minor-league town
Leah Siwinski, 23, is suing the Class A Kane County Cougars for defamation. The Oakland A's affiliate fired her as team masseuse because, it says, she sexually harassed team employees and players and gave them erotic massages. Siwinski's lawyer, Lino Menconi, says the Cougars were trying to get rid of Siwinski because "she's a very attractive girl" who "was probably a distraction to the team."
The Cougars' subsequent attempt to get the lawsuit dismissed is denied.
In 2004, when Siwinski was with the Geneva, Ill., club, the Cougars had the best record in the Midwest League, finishing 83-56. In 2005, sans Siwinski, the team will fall to 67-72.
FEBRUARY
Rodman sheds wedding dress for animals
Dennis Rodman continues to amaze with his ability to stay in the news. He's just become the first man to appear in PETA's "Rather Go Naked Than Wear Fur" campaign. Rodman appears nude, displaying all his tattoos, along with the slogan "Think Ink, Not Mink: Be Comfortable in Your Own Skin and Let Animals Keep Theirs."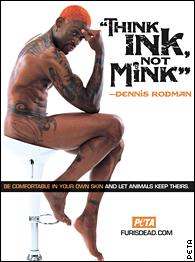 What?!? Dennis Rodman has tattoos?!?!
You may be wondering whether Rodman's had a change of heart; after all, we've seen him donning many a fur coat over the years. But Rodman says that despite all the free furs that he's been offered, he's always just said no -- and gone with fake fur.
Because it's what's inside the swimsuit that counts
Swimmer Amanda Beard, a 2004 Olympic gold medalist, trounces the competition to gain the honor of Page 2's Hottest Female Athlete of 2005. She easily wins the first two rounds before crushing Lokelani McMichael in the final round. Beard receives 61.4 percent of the 157,387 votes cast in the final. In a "10 Burning Questions" interview with Page 2, Beard admits she voted for herself in the first round. We're not sure whether that's self-confidence ("I deserve it!") or insecurity ("I need the vote …"), but we find it endearing.
David Beckham takes the honors as the hottest male athlete, beating Andy Roddick by a slim margin.
Finch links sore arm to bikini shoot
Former Page 2 star Jennie Finch, featured in the Sports Illustrated swimsuit issue in a revealing bikini, says she has some regrets about the photos. The toughest part, she tells the Boston Globe, is when admirers thrust the magazine toward her, requesting an autograph. "It's just uncomfortable signing your stomach," she says.
The Globe also reports that Finch changed her swimsuit 20 times over the course of the two-day photo session.
Canseco swings a big bat
File under stuff we wish we didn't know. Jose Canseco writes in "Juiced" that, while steroids reduced his testes to the size of caviar eggs, growth hormone turned his penis into an Al Simmons model Louisville Slugger. We're normally a stickler for facts, but couldn't figure out any way to verify this … until August. That's when Jessica Canseco, Jose's ex-wife, tells Playboy that "your penis is a muscle, so it makes it heavy, solid. He was very well-endowed down there."
Past Editions
Previous reviews of the year in sex and sports:
"Your penis is a muscle?" Say it ain't so, Playboy. Really. Just because she said it doesn't mean Playboy editors should be asleep on the job
MARCH
The Rock's 11 seconds of glory
Former pro wrestler "The Rock" tells Playboy that he lost his virginity when he was 14 years old, and that he was doing his partner a huge favor. "It was the best 11 seconds of her life," he says.
APRIL
"Don't be lewd near our crude"
That's our silly idea to replace the "Don't Mess with Texas" slogan following the introduction of a bill in the Texas House that seeks to ban "sexually suggestive" cheers. Houston Democrat Al Edwards says he's had it with the raucous teen displays he's seen in his home district. "There's no normal intelligent legislator who could say that trying to stop exploiting our young girls out there in public like that is wrong," he says. Right. But a "normal intelligent legislator" may have his mind on other things.
MAY
New Zealand's "Heidi" moment
Some Auckland, New Zealand football fans get their own version of the "Heidi" game while watching the English FA Cup final match between Arsenal and Manchester United. A few hundred furious and desperate fans watching the game at the Albion Hotel are forced to take to the streets when, at the end of regulation time, Sky Sport 1 on UHF switches to a "Sports Illustrated 2005 Swimwear at Play" special. The game is tied 0-0, and will go into 30 minutes of overtime and then a shootout, the first ever in FA Cup final history.
Viewers at the Albion wander Auckland looking for a satellite link, where the game can still be seen on ESPN via Sky Digital. The Albion Hotel GM tells the New Zealand Herald that the hotel was "gutted" when the swimsuit special went on, and adds, "I think Sky's lost a few brownie points."
He admits that the Albion does get Sky Digital, but the manager on duty didn't know how to change channels.
Arsenal wins the shootout, 5-4.
The Anna Kournikova of Table Tennis
Just when we thought that "The Anna Kournikova of …" phrase had jumped the shark, table tennis goods seller Killerspin signs Biba and touts her with the phrase. Biba is the stage name for Biljana Golic, a 27-year-old who has two Yugoslavian national titles to her credit.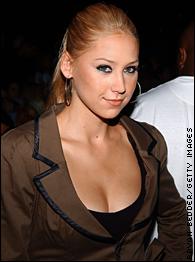 No, this isn't Biba -- but it does give us the excuse to run a photo of Anna K.
At promotional events, the Hartford Courant reports, Biba wears Killerspin's tight red dresses while knocking off amateur male challengers, and that she attracted "a few hundred" groupies at a recent Chicago event. Killerspin founder Robert Blackwell Jr. says he rescued Biba in 2004 from Texas Wesleyan, where she was trapped in fashion hell. "The clothes were so ugly it made me sick," he says before touting her character, personality, and playing ability. But he emphasizes that "it doesn't hurt that she's not ugly."
By December, Biba-mania will have, umm, petered out. A Yahoo! search on "Biba" serves up the British Insurance Broker's Association, the British Isles Backgammon Association, and the Bulgarian International Business Association ahead of Golic.
JUNE
Because only animals should do it at the zoo
Germany, host of the 2006 World Cup, is getting a head start on an anticipated surge in the sex trade during the tournament. About 40,000 prostitutes are expected to visit the country come Cup time, and officials, concerned that current red light district housing won't contain the bulging population, are erecting wooden huts for the ladies and their customers.
"If hundreds of foreign women join the 380 prostitutes already on Dortmund's strips near the stadium we'll be bursting at the seams," said a Dortmund spokesman. "We have to prepare now, or it will turn into Sodom and Gomorrah."
Dirk Lamprecht, a Christian Democrat, came up with the idea, inspired by drive-in brothels in Cologne. "The boxes," he says, "would certainly be a better alternative to prostitutes offering their services on the streets, in parks or in local zoos."
All I wanna do ...
Lance Armstrong tells Playboy, in the magazine's featured June interview, that he doesn't sleep in an altitude tent, because it's not big enough. "I've got an altitude cubicle," he says. "We can get Sheryl's whole bed in there." Armstrong also tells Playboy that "there's very little sex going on during the Tour de France, if any."
And this is how other teams practice, ladies
On a sweltering afternoon in St. Louis, Red Sox first baseman Kevin Millar strips down to his skivvies -- actually just his compression shorts -- for batting practice. Bad timing, as a group of 25 women touring Busch Stadium look on in either awe or disgust, depending on the source. "They won't forget that tour," says Millar. Certainly not, says Bosox skipper Terry Francona. "I think I saw a few ladies on the tour throwing up. Nobody should have to endure that."
It's really a shame the Eagles won't be in the playoffs this season.
JULY
No clothes? No holidays? No problem
The Eagles' cheerleaders release their 2005-2006 lingerie calendar, and it's surprisingly racy, even to cover girl Adrienne Hartman. "I was like, 'Whoa, nakedness,'" she said of her photo. Michael D. Schaffer of the Philadelphia Inquirer reports that the Eagles have managed to squeeze 38 cheerleaders into 16 months using certain compression techniques -- there's no space for notes and even the days of the week are abbreviated.
You don't have to fork out $13.99 to get a glimpse of the girls, however. You can go to the Eagles' Web site -- but be warned. After clicking on the "Cheerleaders" link, you're told on the next page to "Please note, this area contains age-appropriate content."
Doesn't say what age, though.
Yourskina? No, Myskina!
Anastasia Myskina, who won the French Open in 2004, can't stop a photographer from publishing topless photos he took of her during a 2002 shoot for Gentleman's Quarterly. A U.S. District Judge says that when the photos appeared in print shortly after she won the French Open, her rights were not violated. She argued that she wasn't fluent in English when she signed the photo release form, but the court rules that misunderstanding a contract is not a valid reason for voiding it.
How's that academic study going?
Mary Valentich, the Prof. of Breastology we heard from in February, is on the World Congress of Sexology program to present her findings on the Calgary flashers. Unfortunately, Page 2's crack team of researchers is unable to find the results. However, we do find an abstract at the conference's Web site. An excerpt: "The objective is to offset the speculation about these women's behavior by providing a missing perspectives [sic] - namely, the voices of the women themselves. The method will entail conducting in-depth, unstructured interviews with at least five women who revealed their breasts regarding their own understanding of this behavior. The interviews … will be analyzed in terms of explanatory models offered by the participants."
Translation: We're going to ask the women why they flashed.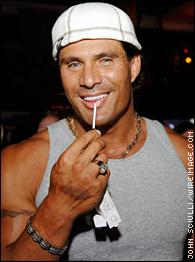 Book signings, reality television shows, Congressional hearings -- it was Jose's best year since '88.
AUGUST
Canseco declares independence from Canseco
"The time was right for me to finally step out of the shadows of my ex-husband, Jose Canseco," says Jessica Canseco, the ex-wife of the former major-league All-Star. But it's not only the shadows she's stepped out of -- it's her clothes, too. The ex-Hooters girl is on the cover of the September issue of Playboy. She's plugging her own tell-all tome, and in an effort to distance herself from her ex-husband, Jose Canseco, titles it "Juicy." Among the amazing details: Jose cavorted with groupies. Jessica, in an act of inspired logic, tried to keep Jose from sleeping with other women by inviting another woman to share their marital bed. It didn't work, and the couple divorced in 2000.
No score for lowest score? Deal!
Sports Illustrated asks 50 PGA Tour players if they'd abstain from sex for a year in return for a win in a major. Thirty-eight percent say they would. One player thinks the question is too vague. "With my wife?" he retorts.
SEPTEMBER
Artemis, unguarded
Berlin hails the brand-spanking-new Artemis brothel, a four-story edifice a stone's throw from Berlin Olympic Stadium. The sex shelter is named after the Greek virgin goddess who, according to the Columbia Encyclopedia, "valued her chastity so highly that she took terrible measures against anyone who even slightly threatened her."
The building features saunas, a swimming pool, a lap-dancing bar, a gym, and free meals for its self-employed workers. A lawyer representing the owner of the privately funded building has high hopes. "Football and sex go together extremely well," he tells the Associated Press, which adds that he uttered these words "while sitting on a velvet couch among frescoes of reclining women."
Visitors to the brothel must pay an entry fee of about $80 just to step foot in the building, which will house up to 100 prostitutes and 650 patrons.
OCTOBER
Because they just don't make waterbeds big enough
The Minneapolis Star-Tribune reports that 17 Vikings players were on the manifests of the "Love Boat," shorthand for the two vessels that, according to a half-dozen crew members, served as floating sex barges on Lake Minnetonka.
The boats were chartered for a team party that, crew members tell police, included sex, sexual harassment and drinks galore. But running back Mewelde Moore says "nothing happened," and is astounded when a question about sex arises. "Sex? What are you talking about. That's crazy."
Just before the cruise, the Vikings held a two-day retreat that focused on "a code of conduct," according to the Star-Tribune.
An investigation into the party results, and in mid-December, in misdeamor charges being brought against four Vikings, including Daunte Culpepper. According to the AP, they're charged with indecent conduct, disorderly conduct, and lewd or lascivious conduct.
The Anna Kournikova of poker
It's the first inanimate "Anna Kournikova of …" we've ever uncovered. According to the U.K.'s Daily Star, in poker "the hand Ace-King is described as an Anna Kournikova -- because it looks good, but can often be beaten."
NOVEMBER
Are you happy to see me or is that your curling broom?
Curling's a restrained sport, one of careful preparation, precision, and execution. Even the ice upon which it's played must be swept often with brooms by a rotating team of carefully selected specialists. But curlers have to let loose sometimes, and they also want some fannies in the seats during the 2006 Turin Olympics.
What to do? Spanish photographer and curler Anna Arce knows: Publish a nude calendar. Claudia Toth, the captain of the Austrian team, graces its cover, while representatives of the Danish, Italian, British, Polish and German teams are featured inside.
"I think it's going to change the image of the sport, which is not so nice," Arce tells the Canadian Press news service. "I've been playing for eight years and there are so many beautiful girls playing and nobody knows it."
Six-time Canadian champ Colleen Jones couldn't agree more. "One thing we noticed being over in Europe, the curlers are stunning," she tells the Canwest News Service. "You're looking at them, and you're going: 'Oh, my God.' "
Indeed, we are.
By mid-December, Sweep! magazine reports that only a few tickets are available for Olympic curling events.
Those terrible, terrible TopCats
Melissa Holden's anger grew in direct proportion to her bladder at Banana Joe's in Tampa Bay as she waited in line to use the restroom, while two women monopolized one of the stalls. When the two exited, she voiced her anger. And for that, she told police, she got knocked in the kisser.
Renee Thomas and Angela Keathley, Carolina Panthers cheerleaders, had been having sex together in a stall, witnesses told police, and that caused the long wait. After the altercation, says Holden, one of the cheerleaders "was screaming 'I am a Panther cheerleader, I'm not going to get arrested for this.' And I was like, 'That's good for you but you are going to jail.' "
Keathley is arrested and charged with resisting arrest and disorderly conduct. Thomas is charged with battery for punching Holden, and is also charged with a felony for using a false driver's license and name. The Panthers fire both TopCats the next day for behavior "embarrassing to the team," and remove all evidence of their existence from the team's Web site. But the story lives on in late night. "I voted today and I had to wait 20 minutes while two NFL cheerleaders were having sex in the booth," quips David Letterman.
The Charlotte Observer reports that "the story ranked among the top three most-viewed in charlotte.com's history."
Soon, the ex-cheerleaders get an offer to pose in Penthouse. And by early December, Holden is suing Thomas for $15,000 in damages, saying the ex-cheerleader, "intentionally, willfully and maliciously assaulted and battered" her.
The bio of Thomas that was up on the Panthers' Web site (and re-posted by The Smoking Gun says her goal is to get a doctorate in dental surgery, and that her favorite quote is "pain is weakness leaving the body."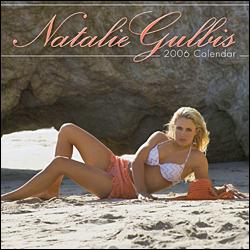 She's more than a calendar girl: Gulbis finished 6th on the LPGA money board in 2005.
The Anna Kournikova of Golf
Every sport needs an Anna to call its own, and pro golfer Natalie Gulbis isn't about to cede the crown to Sophie Sandolo. The 97th sexiest woman in the world (according to FHM) is releasing the obligatory swimsuit calendar, will soon launch her own swimsuit line, and debuts the imaginatively titled "The Natalie Gulbis Show," on The Golf Channel this month.
The Golf Channel's guide of the show prompts us to fire up our TiVo for the second episode. The official synopsis: "Gulbis has her hands full … dealing with a wild crew on the set of her 2006 swimsuit calendar photo shoot. She also avoids a potential hair tragedy when a hair-care product malfunction threatens her trademark blond locks."
More wild and crazy NFL cheerleaders
Former Colts cheerleader Lisa Perry, who's got a photo and a mini-interview in the December issue of Playboy, tells the magazine that she got released from the cheerleading squad for "fraternizing" with players. She also tells Playboy a confusing story about being in a hotel room with other cheerleaders and coming out of the shower with only a towel on, then finding some players in the room and one "high-profile player" hiding in the shower … we couldn't figure it out.
Perry is riding her 15-minute wave, however, signing up with Gambling911.com to make weekly NFL picks. The Web site says it's doing what's right: "Ms. Perry was dismissed by the Colts organization for reasons that were without merit in the eyes of Gambling911," the site proclaims. She tells the site, in an exclusive interview, that her dream dinner would feature Helen Keller, Maya Angelou and Lucretia Mott.
Lucretia Mott? Outstanding.
Tailgate-gate?
It seemed like a swashbuckling good idea -- put a strip club on wheels and entertain football fans within an easy walk to the stadium. But no go: During the Bears vs. Bucs game at Raymond James Stadium, police arrest the operators of the squeals-on-wheels operation. The Déjà vu club, operating, according to the Tampa Tribune, out of a 40-foot-long RV, was charging $20 for semi-nude lap dances and $40 for total skin. Drinks were being served as well, according to police.
Déjà vu's operators don't seem to be the sharpest pencils in the drawer, outing themselves by handing promotional flyers to undercover cops.
DECEMBER
Soft pawn
The "World Chess Beauty Contest," an online-only competition, is seeking the next female chess hottie, and you can pitch in -- register on the site and you can not only vote for your pick, you can nominate one, too (even yourself, if you're over 16 and have played in an official tourney).
As of mid-December, Australian Vaness Reid, ranked 47,694th in the world, leads by a tiny margin over France's Jessica Basland. Russian Maria Manakova, a grandmaster who was once dubbed -- you guessed it -- "The Anna Kournikova of chess" is mired in seventh place.
The New York Times reports that Manakova, 31, who has posed for Russian Playboy, also faces competition for the Anna K trophy from 21-year-old Russian grandmaster Alexandra Kosteniuk. She's appeared in fashion magazines and can be seen, on her Web site, making out with a chess board and even fondling individual pieces. But she's not competing in the WCBC.
The contest ends in early January, but female chess players' using their looks to advantage will continue. The Times says that sexily clad female competitors can "distract their male opponents," citing a player's complaint at a tournament last April in Daytona Beach, Fla.
"She was distracting," says the tourney's director, Steve Immitt. "But there was nothing I could do. It was the beginning of April, right after spring break, and she was dressed appropriately for the time of year. It wasn't anything against the law. I told the guy, 'You are going to have to call upon yourself to overcome the distraction.' He ended up losing the game anyway, but I am not sure that was from being distracted."
She's no Eric Dickerson
Sports fans used to know her for putting the Fox in "The Best Damn Sports Show Period" and then a year as a sideliner reporter for "Monday Night Football." Now TV personality Lisa Guerrero has changed her mind about posing nude and stripped down for Playboy. She's in the January issue, which came out this month.
Bob Wolfley of the Milwaukee Journal Sentinel notes that Guerrero, 41, disavowed any connection to a Playboy.com poll five years ago to crown the "sexiest sportscaster," saying, "it would hurt my credibility. It has nothing to do with money. I'm on eight shows and can make a lot of money fully clothed."
Perhaps now that she's on fewer shows, credibility matters less. She's on a publicity blitz to promote the Playboy spread, talking it up on radio shows, glossing up "The Official Lisa G Web site," and penning a book -- "The Diary of a Naked Lady" -- about the experience.
Guerrero tells Playboy that sometimes, in the locker room, a player would want "to show me, you know, what he was made of." Guerrero's defense tactic: "I would turn to my cameraman, who would switch on his lights and point the camera straight at him. It worked every time."
Page 2 has been unable to obtain those video outtakes before going to press.
Fat ankles are bad: Just look at Erick Dampier
In the same issue of Playboy (yep, we do read it for the articles), Mark Cuban tells us that he doesn't wear underwear and that if all goes well, his 2-year-old daughter will emerge as a full-grown woman with a slight anatomical flaw. "Fat ankles will at least cut down the population chasing her in half," he says.
On the other hand, fat ankles might make it harder for her to run from her suitors.
Circling back to Sophie
This time, Sophie Sandolo gets it right, and releases her calendar before the new year begins. She says on her Web site that she's been thrilled with the exposure brought by the 2005 version, and that this one is an "elegant, funny and ironic product on line with my joyful and slightly unconventional character."
We took a sneak peek at a preview (research, you know). One of the photos is of a topless Sophie being pelted by golf balls in a shower stall. Unconventional? You bet. Joyful? For sure. Ironic? That's a tricky one. We'll have to think, and think, and think about it.