By Jeff Merron
Page 2
You've seen the photos, or the video, and maybe read the stories: Sen. John Kerry, the presumptive Democratic Party presidential nominee, can mix it up on the rink. The most recent example, a fundraiser back in January, showed that even an out-of-shape Kerry can skate with Ray Bourque, Rick Middleton, Lyndon Byers and Ken Hodge. He even scored a couple of goals, at the age of 60.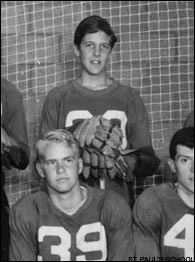 John Kerry, pictured with his lacrosse team in 1959.
"The image the game conveyed was one of vigor, youth, maybe even a little grace," wrote Knight-Ridder reporter James Kuhnhenn in late January.
Since then, stories have circulated about Kerry's prowess as a prep and college athlete. But few have delved deeply into his true sports accomplishments. We'll try to set the record straight.
Third best on a bad team
"I think John was probably the third-best player in his class," says Stanley Resor, a neurology professor at Columbia who was one of Kerry's teammates at St. Paul's School in New Hampshire, in a telephone interview. But, Resor is quick to add, "His class was probably the weakest hockey class St. Paul's had seen in decades."
That's saying something. Hockey has been a mainstay at St. Paul's since the 1890s. Every one of the 450 or so boys at the school in the 1950s and early 1960s played, at the least, club hockey on the school's enormous Turkey Pond. It was required. After a month or so of intramural competition in January, the best of the club players were selected for the varsity team.
Kerry finally made varsity -- as a senior. On a 0-10-1 team.
ALL ABOUT JOHN KERRY
EDITOR'S NOTE: As the Democratic National Convention opens Monday in Boston, Page 2 joins in the fun with a look at the sports life of the presumptive candidate, John Kerry. In addition to the 10 Burning Questions fired at Kerry by our own Jeff Merron, today's package includes a detailed examination of Kerry's athletic career at St. Paul's School and Yale University (as well as his active participation in recreational sports as an adult), a glance back at the best (and worst) sports-minded presidents of the 20th and 21st centuries, and ESPN The Magazine's current interview with Kerry.

Not a Democrat? Worried about equal time? Never fear. We'll attempt to give George W. Bush the same Page 2 treatment when the Republican National Convention rolls around next month.
He wasn't quite good enough to make the varsity squad his junior year. No shame in that, though. Only a couple of juniors made that team -- including current FBI chief Robert Mueller. That squad was good enough to compile a 2-2-2 record, with a schedule that included the JV teams from Yale, Harvard and Dartmouth.
St. Paul's schedule also included an annual game at Madison Square Garden just before Christmas break. When Kerry, who was normally a forward, finally got his chance to play in the Big Apple, he played defense.
"It was the game where you wanted to impress your girlfriend and get out there on the ice," says Resor, a defensman whose memory of that contest is particularly clear -- and painful. "I sat on the bench the whole game," he recalls.
How bad was Kerry's senior team?
"We were shut out by the Swiss junior team, 10-0," Resor says. "I don't think we [got the] puck across the blue line [more than a few] times. I mean, it was unbelievable. We might have gotten a goal against Yale. I think we were beaten by the Harvard JV maybe 10-1 or 5-1 or something. We got an occasional goal. We didn't have any scorers, needless to say."
Resor's memory is pretty good: Harvard beat St. Paul's 10-1, but there was no goal against Yale (that was an 8-0 shutout). Andover and Exeter also blanked St. Paul's.
In context, "a big deal"
Robert Mueller, the current FBI director, was St. Paul's star. Haven Pell, Class of 1964, remembers.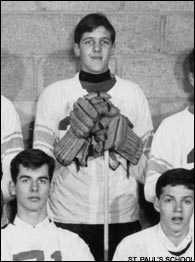 John Kerry, pictured with his hockey team in 1960.
"I can tell you so many things that Bob Mueller could do," Pell says. "He was such an awesome figure. He was a soccer player, as I was. He was a hockey player. He was a lacrosse player. And I have vivid memories of what Bob Mueller looked like, what he did, his exploits. He was a very skilled fellow, but he also worked his ass off. I mean, he was the person who was digging the pucks out of the corner, and, you know, those kinds of things all the time.
"I don't have as many images of John. He was big, he was rangy, he was sort of swoopy like an eagle. But I don't have pictures of him in my mind, scoring vital goals. I think he was certainly one of the better players on the team, which in the world of hockey at St. Paul's in the early '60s was a big deal.
"You can imagine if you had 450 boys divided into a school (varsity) team, a JV team, and then three clubs that went down nine levels. John clearly had progressed to the varsity. That was a big deal. And, you know, I think he was a good player on that team. I don't have any particular memory of him, but I think he was good. So in the context of a prep-school environment, he was a good player."
Passing ... and not passing
Resor disagrees.
"He wasn't a very good athlete," he says. "I mean, he wasn't a star athlete. But if you were cool [and] you were at least well-coordinated, you could pass yourself as semi-decent at whatever you played.
"He was the kind of guy ... you know what a 'rink turn' is? When the puck starts going the other way, you're supposed to jam on the brakes and sprint back. If you're lazy, you don't stop and start; you do a rink turn. And John was the kind of guy that would do rink turns. But he'd sort of look cool doing it. And he was a good stick handler, and a good passer -- when he wanted to pass."
Mueller, who went on to play hockey for four years at Princeton, apparently didn't think much of Kerry as a hockey player. At a Q&A session at St. Paul's in February, the only thing the FBI director would say about his former teammate was that he "was a very good lacrosse player."
A three-sport man at Yale
It's hard to find a profile of Kerry that doesn't mention that he played hockey, lacrosse and soccer at Yale. But the only sport in which he played varsity was soccer. He also played freshman and JV hockey and, in his senior year, JV lacrosse. At Yale, soccer was clearly his best sport. Kerry himself cites getting a hat trick against Harvard as one of his biggest sports thrills as a participant.
The hat trick came in a 6-3 victory on Nov. 19 in New Haven, capping a 5-2 Ivy League record for the Elis. (Harvard dropped to a disappointing 4-3. The Harvard Crimson's account of the game read: "There was neither rain nor mud here today, but the varsity soccer team repeated last week's sorry performance against Brown anyway ... ")
The politician-athlete
At Yale, Kerry became a stunt flyer, a pursuit he continued until recently. He learned aeronautics in the Navy, and is licensed to fly commercial aircraft, gliders and seaplanes. The last might have come in handy when he tried to fly under the Golden Gate Bridge.
He turned away from that challenge, he told the Washington Post in 1985.
"I could have continued under, I guess, but I opted out," he said.
There've been other thrilling pursuits -- the Democratic candidate is a snowboarder, a windsurfer, and a kite-sailor. There are endurance sports: He ran the Boston Marathon in the 1970s; and last August, he finished the 110-mile Pan-Massachusetts Challenge, a bicycle race, in 6 1/2 hours. That put him in 32nd place in the field of 3,700 riders.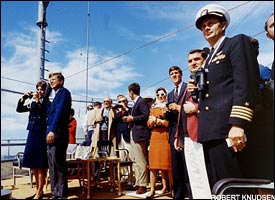 If you look closely, you can see Kerry in the background, watching an America's Cup race along with JFK.
Crossing the sea ...
John Chao, a former Olympian and the publisher and editor of American Windsurfer magazine, became aware of the Senator's interest in windsurfing when Teresa Heinz, Kerry's wife, gave him a gift subscription in the mid-1990s. Eventually, Chao asked for an interview with Kerry. That interview, scheduled to last 30 minutes, became a one-year odyssey that included about a dozen outings on the water and culminated in an epic 40-mile, 6 1/2-hour crossing from Falmouth to Nantucket on July 3, 1998.
Those two repeated the feat the three following summers.
"There were a lot of variables going on in these crossings," says Chao. "The wind, the waves -- you know, all these things came into play. But the remarkable thing is, every year we succeeded."
Chao adds, "It was never done before. It was John's idea."
It's clear that Chao is proud to be Kerry's friend.
"Every year [the crossing] was kind of a struggle," he says. "It was never a perfect position. You always had to deal with adversities; and in the end, everyone just loves it. You know, this guy just thrives on adversity -- which is really, really quite telling about the man."
Also telling, says Chao, is what Kerry accomplished as a beginning windsurfer.
"He's not a natural; he has to work at it," he says.
He learned from the best. Besides Chao, Kerry's other frequent windsurfing companions included former professional Nevin Sayre and former Olympic champ Mike Gebhardt.
"Once he got involved with us, he took it to the next level," says Chao. "He was still somewhat of a novice at that time, so he's spending a lot more energy than we are because we can get back in the harness and just relax. The first few times, he was really overwhelmed and challenged by the experience."
Finally, what seems to impress Chao the most was Kerry's willingness to learn.
"This sport has a really good way of flushing out the phonies from the guys who are serious," he says. "It's a very humbling sport. A lot of people with big egos come into the sport, and they don't succeed."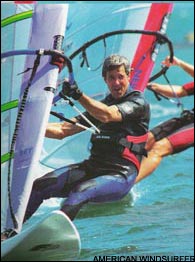 American Windsurfer magazine captured Kerry out on the water.
The political payoff
There's little doubt that Kerry would be a lifelong athlete regardless of whether or not he chose politics as a career. There's also little doubt that his sports pursuits have directly contributed to his rise.
Six months ago, few expected Kerry to be the Democratic nominee. But Kerry won Iowa. Then in New Hampshire, a wide distribution of 15,000 previously-warehoused issues of American Windsurfer (with Kerry on the cover, and including lots of photos showing JFK's former sailing companion demonstrating his "vigah") helped to dispel any doubts that Kerry might have been posturing when he took to the ice with the NHL hall-of-famers, or that the sports elements of his campaign biography had been exaggerated.
Chao says he made the trip to New Hampshire and passed out the freebies without Kerry's prior knowledge.
"People were just grabbing those things," he says. "He was like a rock star. He started autographing them."
And the press noticed. Stories abounded about his true hockey roots and his hat trick at Yale. And then came the snowboarding incident on the slopes of Mount Baldy in Ketchum, Idaho, in March. Kerry, on a snowboard, collided with a Secret Service agent (who was on skis), and tumbled to the snow -- an incident caught by the print and broadcast media, who didn't hesitate to pounce with questions at 9,000 feet.
And Kerry didn't waste any time responding. "He said sharply, 'I don't fall down,' then used an expletive to describe the agent who 'knocked me over,'" reported David M. Halbfinger in the New York Times.
Most of the stories were written with a raised eyebrow, the product of knee-jerk cynicism from a weary campaign press corps responding to what seemed, at the time, like just the story of the day, a story hung on propaganda coming from Kerry's folks.
But the stories still produced some priceless good press for Kerry, and some quotes that just might make it into future campaign ads.
"He's an all-around guy," one Kerry supporter who attended the benefit hockey game told Knight-Ridder. "He's a sportsman, he's an athlete. He's a windsurfer. The guy does it all. He flies his own plane. He's a Renaissance man, you know."
In the realm of sports, at least, that seems to be true.
Jeff Merron is a staff writer for ESPN.com.