By Jeff Merron
ESPN.com
The dumbest question in Media Day history came prior to Super Bowl XXII. You've probably heard the story. A mediot actually asked Redskins quarterback Doug Williams the following: "How long have you been a black quarterback?"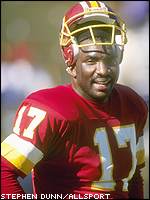 Doug Williams endured some stupid questions at Media Day -- but not as stupid as the story goes.
Can it get any worse than that? Probably not. Here's the thing, though -- the question was never asked. After Williams suffered through countless queries about being the first black QB to start a Super Bowl, Butch John, a reporter for the Jackson (Miss.) Clarion-Ledger, seemed to have had enough. So he said, "Doug, it's obvious you've always been a black quarterback all your life. When did it start to matter?"
John's statement and question were jokes. Most reporters there got it, and they laughed. And then it was printed. But it has been twisted around and repeated, in the form it takes in this story's first paragraph, ever since. Still, media day has always been a rich repository of stupid questions, many of which are asked on purpose -- which some reporters either don't understand, or don't mention in their stories. For example, Comedy Central usually shows up on media day. And, if you've ever watched that network's "The Daily Show," you know that they specialize in imitating real reporters and asking intentionally stupid questions. Such as, in 2000, when one of that network's "reporters" asked the Titans' Jevon Kearse about the religious symbol dangling from his neck: "What's the significance of the cross?"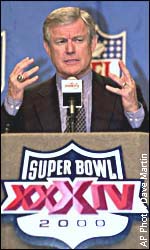 Dick Vermeil attempted to put on his game face in 2000.
Lots of sportswriters related that one to large audiences without knowing, or finding it necessary to reveal, that it was asked by Comedy Central.
Nickelodeon, the children's cable network, also sends folks to cover the Super Bowl festivities. And they ask the kinds of questions that, well, might appeal to kids. In 2000, one Nick producer asked Dick Vermeil to "show the kids your game face." Dumb? Kind of. But also intentionally fun. They even had a camera there to record the response. When MTV's groundbreaking Downtown Julie Brown showed up at Media Day, she made it clear she was there to goof around. So nobody blinked when she asked Emmitt Smith, before the 1993 contest, "What are you going to wear in the game Sunday? " But Comedy Central wasn't around in 1981, when someone asked of Raiders QB Jim Plunkett, "Lemme get this straight, Jim. Is it blind mother, deaf father or the other way around?" And they probably weren't there in 1990, when a reporter asked Denver RB Bobby Humphrey, "Why do you take your earring off for the game?" Because, he replied, he preferred not to have a diamond "to be pushed through my ear to the middle of my brain." Thurman Thomas, playing his fourth straight Super Bowl in 1994, was probably being serious when, to a reporter's query about how he got psyched up for big games, he responded that he "reads the newspaper and looks at the stupid questions you all ask."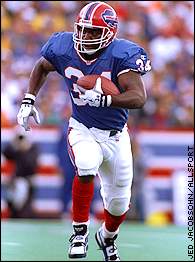 Forget the four losses! Thurman Thomas had to endure the agony of four consecutive Super Bowl Media Days.
Some dumb questions are, in their own way, kind of clever. For example, before the 2000 Super Bowl, a reporter asked St. Louis DE Jay Williams, "Is Ram a noun or a verb?"
Others get the kind of bland response they deserve. The Bills and Cowboys suffered through Media Day at Dodger Stadium in 1993. Troy Aikman, of course, was a center of attention. Reporter: "Troy, does it seem a little strange answering football questions in a baseball stadium?" Aikman: "Not really." Often, players manage to keep a straight face, or are so intent on getting the media ordeal over with that they just, well, give a straight answer. Before the 1996 Super Bowl, a scribe asked Dallas guard Nate Newton if he noticed that the Steelers wore helmets that are "missing" a logo on one side.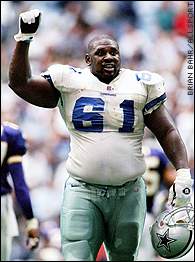 Brian Bahr/Allsport
Nate Newton was in no mood to clown around with the press in 1996.
"I really don't care about the Steelers -- what they are missing or what they have," Newton replied. "I'm more interested in when they run a 3-4 defense or send a corner on a blitz. Other than that, I don't care what their uniform is, how they smell or what they look like. I don't care."
It's easy to sympathize with the players. Before the 1994 Super Bowl, Buffalo's Cornelius Bennett was asked, "Do you believe you can win?" His response was about as undiplomatic, and well-deserved, as you can get. "What kind of question is that? What kind of question is that? What kind of question is that? That's a (expletive) stupid question. I'm (expletive) you asked me that question. I didn't come anywhere to lose." Getting the details right is a reporter's job, but some overdo it. Rams receiver Isaac Bruce had been in a car accident in early December 1999. Before the 2000 Super Bowl, he told reporters the story, saying, in part, "When I flipped in my car, I called on the name of Jesus. That's the name that I know saves me. And when I did that, I knew everything would be fine." This exchange followed: Reporter: ''Did you say 'Jesus, Jesus, Jesus?' Or just 'Jesus?' '' Bruce: ''It was one Jesus,'' he said. ''That's all it takes.'' Media day is often overwhelming for the press as well as the players. It's hard to find your way around. So a player might get asked simple things, as this exchange, before the 1994 Super Bowl between the Cowboys and Bills, was recorded. Question: "Are you Vinson Smith?" "No," responded Dallas tight end Alfredo Roberts.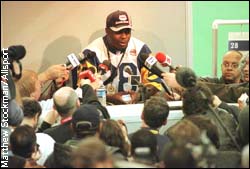 "Marshall, if you were a tree, what kind of tree would you be?"
So what's dumb about that? Well, Vinson Smith had played the entire season with the Chicago Bears.
In the end, though, our "snappy answers to stupid questions" award goes to Kurt Warner, who elegantly killed two queries with the most brief of answers prior to the 2000 Super Bowl. Reporter: "Kurt, two questions: Do you believe in voodoo, and can I have a lock of your hair?" Warner: "No." Then there's the question that we want ESPN The Magazine's Answer Guy to get to the bottom of, asked by Comedy Central of ESPN folks before the 1995 Super Bowl: "What are the words to the SportsCenter theme song?"