The year the Mets lost the pennant
Forty-four reasons the New York Mets suffered perhaps the greatest collapse in baseball history, blowing a seven-game lead in their final 17 games: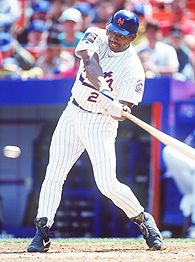 Paging Bobby Bonilla ... were you hanging around Shea Stadium this past week?
1.
The Curse of Bobby Bonilla.
2. The Curse of Kevin Mitchell's Ex-Girlfriend's Cat.
3. Marketing slogan "Your Season Has Come" was pretty much a gift-wrapped jinx waiting to happen.
4. Shouldn't have brought back Vince Coleman to light the fuse for the special division-winning fireworks show.
5. Jose Reyes in April: .356/.442/.596, "Best player in baseball"; Jose Reyes in September: .214/.290/.348, "Hey, that's how Rey Ordonez used to hit."
6. Stuck with a meager $101 million payroll instead of $199 million payroll like the Yankees.
7. They lacked the enthusiasm necessary to win, unlike this guy.
8. When the most solid part of your team is the bench (Endy Chavez, Ramon Castro, Ruben Gotay, Marlon Anderson), it might be a sign that some other parts -- like, oh, the starting rotation, the bullpen, the defense, the clutch hitting -- need some work.
9. Everyone knows Tom Glavine hits the wall at 200 innings ... why did Willie Randolph try to squeeze even one-third of an inning more out of him?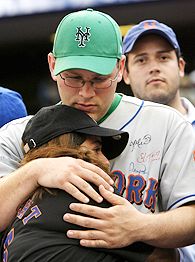 AP Photo/Kathy Willens
"Honey, your tears are going to make the ink run on my autographed jersey … as if it matters anymore."
10.
Why, oh why, bring back Timo Perez as a pinch runner?
11. Staff ERA by month: April, 2.96; May, 3.73; June, 4.20; July, 4.50; August, 4.93; September, 5.14.
12. Shouldn't have benched Hope Solo.
13. Players turned against each other after team-wide fantasy football draft in early September.
14. Lastings Milledge is no Willie Mays.
15. Maybe management should have realized Carlos Delgado can't hit lefties anymore (.267/.318/.386).
16. Let's see: Ramon Castro hits 11 homers in 144 at-bats while Paul Lo Duca hits nine homers in 445 at-bats. Oh, and did we mention Lo Duca grounded into 18 double plays? See, here's the thing: Lo Duca may be perceived as a leader in the clubhouse, but Castro is the better player.
17. Mr. Met got distracted by his midseason election to the Hall of Fame.
18. Well, that 6-12 record against the Phillies sure didn't help.
19. David Wright's lady wore a T-shirt to Shea Stadium that only said "fudge."
20. Too wrapped up in Brett Favre's historic chase to concentrate on the task at hand.
21. Scoffed at the idea of signing Roger Clemens because he'd be toast by September.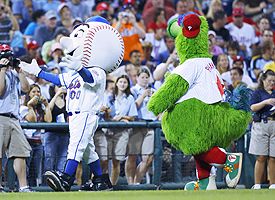 The Mets were looking good back on Aug. 27 ... when Mr. Met seemed to be very pleased with himself.
22.
Rickey Henderson says Rickey should have played instead of coached.
23. Glavine suffered a concussion after being sacked by Osi Umenyiora.
24. Team distracted that Mr. Met was being investigated by Mitchell committee for the suspicious size of his head.
25. Designated Julio Franco for assignment on July 13, raising team's average age.
26. Team chemistry broke down after Moises Alou introduced a secret handshake.
27. Don't have that awesome 1-2 set-up crew of Jose Mesa and Antonio Alfonseca like the Phillies do.
28. Bill Belichick was stealing the Mets' signals.
29. Not enough Facebook friends.
30. Probably shouldn't have honored the '93 Mets back in that touching on-field ceremony.
31. Well, there was that 7-3 lead they blew to the Nationals on Sept. 18.
32. And that 7-4 lead they blew to the Marlins in the bottom of the ninth on Sept. 20.
33. And that three-game set against the Nationals during Sept. 24-26 in which the Mets allowed 32 runs against the NL's lowest-scoring team.
34. Pat Burrell hit 19 homers with 60 RBIs in the second half.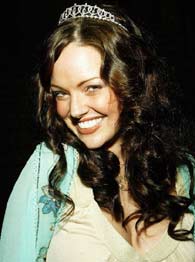 Getty Images
Who do Mets fans have more disdain for right now, Anna Benson or Tom Glavine?
35.
Jimmy Rollins played baseball while Jose Reyes sulked.
36. The Phillies overcame an injury to MVP candidate Chase Utley ... while the Mets resorted to using Guillermo Mota over and over and ...
37. In some convoluted way, the departure of Anna Benson must be to blame.
38. Maybe that start given to Chan Ho Park on April 30 wasn't such a good idea.
39. Anderson Hernandez just isn't a "True Met."
40. Mets just wanted to ensure they'd get the cover of the New York Post.
41. No inspiring speech from Pedro about plunking Richie Ashburn in the rear end.
42. Players wanted to clear their schedules to watch exciting postseason baseball.
43. Umm, the bullpen?
44. Because they're not the Yankees.
Contributors included David Schoenfield, Paul Lukas, Jonah Keri, Thomas Neumann, Kurt Snibbe and Kieran Darcy.