Five MLB teams on the brink?
The Tigers, Rockies, Padres, Mariners and Yankees are all off to slow starts this season, raising questions about their viability as contenders. Are these five teams' hopes for this season dead or alive? With apologies to Rob's good friend and frequent collaborator, the talented Rany Jazayerli of Baseball Prospectus, here's what transpired: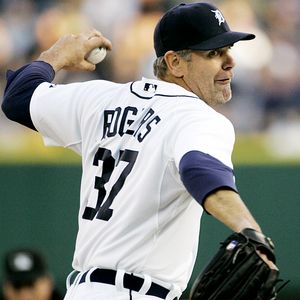 AP Photo/Duane Burleson
Kenny Rogers -- 3-4, 6.65 ERA -- has not looked good so far.
Jonah:
Let's start with the Tigers. Are their hopes dead or alive?
Rob: Alive. They're still essentially the same team that was, just seven weeks ago, supposed to win 95 games this season. Sure, on paper they were actually just a 90-win team, but 90 wins is pretty good. What's changed since then? Their starting pitchers have been awful. Just awful. But will Nate Robertson, Kenny Rogers and (ack) Justin Verlander continue to post ERAs higher than 6 for an entire season? Probably not.
It's funny, before the season everyone worried about the Tigers' bullpen, but it's actually been the rotation that's killed them. Robertson has been hit-unlucky, and should improve. Verlander is Verlander, and will do better if he's not hurt. Rogers, who has really been terrible -- tons of hits, more walks than strikeouts -- is the only one of the three who I think might actually be done.
Jonah: I agree the Tigers are alive. But I'm not nearly as optimistic about the pitching as you are. To me it's all about the offense -- the immense promise it had at the start of the season (remember the predictions for 1,000 runs?) and how badly the hitters have underachieved so far. Dig these lines: Edgar Renteria (.263/.297/.353), Curtis Granderson (233/.316/.465), Miguel Cabrera (.270/.359/.463). Given the track records of these three players, and the fact that they're all at an age when you'd still expect peak or near-peak performance, I'd be shocked if they didn't start ramping up soon.
As is, the lineup missed Granderson at the start of the year with injuries, and they got Rey Ordonez-level offense from left field until they sent Jacque Jones packing. The incumbent hitters will right themselves, Dave Dombrowski will go out and make an aggressive move or two, and the team will compete.
Rob: Agreed. And the Tigers actually have more prospects than you might think, even after making the deal with the Marlins last winter. So if they need to make a move in July, they probably can. I still say the Indians are the favorites in the Central, but in an American League that doesn't exactly seem stocked, the Tigers figure to be in the conversation a month or two from now.
Rob:
Next up: Rockies. Dead or alive?
Jonah: I say muerto. You can't deny this was a talented team that blazed through the league last September. Even more encouraging was the fact that this team was young, with core players like Matt Holliday, Garrett Atkins and Brad Hawpe in their prime, and Troy Tulowitzki, Franklin Morales, Ubaldo Jimenez and Jeff Francis looking like they'd only get better with age. But I look at it another way: Absolutely everything that could go right for the Rockies during last year's late surge did. Everyone was hitting, you had rookie pitchers doing reasonable impressions of a peak-era Lefty Grove, everyone was healthy … it was all just off the charts.
This year Tulo started the year at a much lower level, and now he's out for a long time due to injury. As talented as Morales is, he's shown he's not quite ready to be effective over a full major league season. Holliday has predictably regressed from superhuman to just very good, second base has been a wasteland and Manny Corpas' deal with the devil ran out real quick. I still like this team's chances long-term, but I think they're done for this season.
Rob: Definitely. I mean, we can probably dispense with this dead/alive choice quickly for the Rockies and the Padres, if only because they're both so far behind good teams.
But yeah, the Rockies just weren't likely to duplicate last season. Too many young pitchers with control issues in the minors suddenly began throwing quality strikes in the majors. For that reason and others, the Rockies figured as roughly a .500 team this year. And that was with Tulowitzki's good bat and great glove at shortstop. Without him, they're finis.
Jonah: Well let's move straight to the Padres then and get your take first, since you seem so convinced that they're cooked!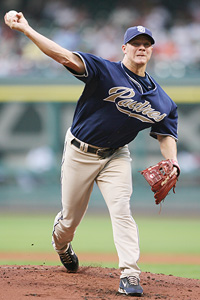 AP Photo/Bob Levey
Without Jake Peavy, the Padres are in big trouble.
Rob:
No outfield, Jake Peavy might be hurt, not much help on the way … but again, the biggest problem is that they're 12.5 games out of first place. If they've got a shred of optimism left, it's due to the fact that only two National League teams have played particularly well this season, so I suppose you can still entertain fantasies about the Wild Card. Another problem, though? The Padres have been outscored by 61 runs. Which is not meaningless.
Jonah: I agree they're not making the playoffs, but if Peavy's health wasn't a concern, I might have made the leap of faith. When healthy, that's a great starting rotation, with Peavy and Chris Young at the top, Maddux likely to be effective until he's 80 and even Randy Wolf pitching well (his peripheral numbers point to a pitcher whose ERA should be about a run lower than it is right now). Also, Chase Headley is one of my very favorite prospects, and I believe the moment the Pads bring him up, he'll start mashing and give that lineup a big boost. But again, that big deficit, combined with the defending Cy Young winner now being a health risk, is too much to overcome. I do expect a lot of teams to keep their wild card fantasies alive deep into the season in the NL this year. Just not the Padres.
Rob: OK, so how about the Mariners? Seems like a long time ago, doesn't it, that they were everybody's favorite dark horse?
Jonah: Not mine! I didn't like them at all at the start of the season. I wasn't quite as optimistic about the A's as you were in late March (kudos on that one), but I had no problem with anyone predicting a third-place finish for Seattle, even last place if the Rangers ever got their pitching together. To me, the biggest issue with the M's was their woeful lack of secondary players. You had four stars on this team: Erik Bedard, King Felix, J.J. Putz and Ichiro, with Adrian Beltre a fifth player you could classify as very good. After that, ugly. The Bedard trade subtracted a very important bullpen arm in George Sherrill and what would have been a valuable defensive outfielder in Adam Jones.
In fact, for all the wailing about the M's offensive problems, it's been their inability to catch the ball that's been their most consistent problem over the past couple of years. They turn fewer balls in play into outs than just about any team in baseball. Raul Ibanez resembles a mummified Boog Powell in left field, and plenty of others on the roster have defensive reputations that far exceed their actual contributions. Throw in injuries and ineffectiveness turning Putz into half the dominant force he was last year, and Ichiro, at least to date, looking like he may actually be human, and I just don't see enough here. The Mariners don't make the playoffs, they don't contend for the playoffs and we see wholesale changes between now and Opening Day 2009.
Rob: I think that's right. The M's went to a great deal of trouble to improve their rotation, and the guys they got have been fine. But they're still stuck with Miguel Batista and Jarrod Washburn, both of whom make good money but can't actually pitch. And the M's are last in the league in OBP and only figure to improve a few slots once Ichiro gets going. Fork, meet M's.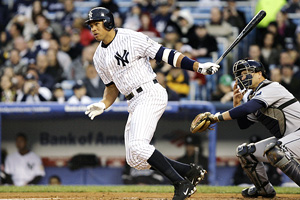 AP Photo/Kathy Willens
The Yankees have sorely missed A-Rod in their lineup.
Jonah:
OK, one last one in anger: the Yankees.
Rob: The Yankees are 20-24, six games out of first place. Last year on this date the Yankees were 18-22, 10 games out of first place. Remember all the terrible things people were saying about them last spring? Remember what the standings looked like at the end of the season? So no, I'm not ready yet to call them dead. Which makes me glad because a summer without contending Yankees would leave me with an empty feeling inside. I hope the Yankees don't get into the playoffs this year. But I hope it's close. And painful.
Jonah: You mentioned last year, when they were even further out of the race but rallied and got back into it. In fact, a year ago almost to the day, I wrote that the Yankees weren't out of it and would make a comeback. I was tempted to go the other way this time and say they were done.
When A-Rod first got hurt, there was some buzz that he could be out a really long time. If he and Posada were out longer, I'd say they could contend but that they had no shot at the playoffs. With the offense weakened, that puts pressure on the pitching staff to win games, and I don't see enough there for that to happen. Phil Hughes looks like he's not ready, Ian Kennedy never had that much upside to begin with and you can't feel 100 percent safe about Andy Pettitte's elbow or Mike Mussina's performance holding up. Moving Joba Chamberlain to the rotation would solve a lot, but the Yankees are being way too conservative on that front, and that's going to cost them games between now and the time it finally happens.
As is, a lot has to fall into place for the Yankees to make the playoffs. If it takes well more than 90 wins to get the wild card this year, I don't know if they can do it. As is, they'll need to make at least one significant trade and catch a big break elsewhere -- the rest of the bullpen stepping up big if/when Joba becomes a starter, Hughes, Kennedy or Darrell Rasner panning out this season, or some other helpful event -- for the team to succeed.
Rob and Jonah will debate these five teams' fortunes on ESPNews' The HotList Tuesday at 4:10 p.m. ET.