Focus On Sport/Getty Images
Technically, my cousin McGraw and I grew up in Manhasset, Long Island, in the 1970s. But we also existed in a parallel universe of our own making, a cocoon that contained only those things we deemed essential -- Drake's Cakes, Lupino's Pizza, the Daily News, WPIX reruns of "The Odd Couple" and the Mets. Above all, the Mets. We loved the Mets with a purblind ferocity, a loyalty undiminished by their bad record, bad management and bad ballpark. Such things only made us love them more.
We loved the Mets because we felt like born losers. Though we were in just the first inning of our lives, we were already down four runs, with a weak bullpen and no bench. Sons of single mothers, living on food stamps, attending so-so schools, wearing ill-fitting clothes, we faced a future that seemed sure to include a heavy dose of failure, ignorance and want. The Mets, therefore, were more than our home team. The Mets were proof that losers could be lovable. Better yet, they were proof that losers could shock the world and win.
And Shea Stadium, 12 miles from where McGraw and I played Wiffle ball every day, was sacred ground. It was our home away from home, especially when we had no homes of our own. Our mothers struggled to make rent, and when they couldn't make it, which was often, we'd move in with our grandparents, in a house so overcrowded with cousins and aunts and uncles that McGraw and I sometimes slept in the same bed. From such chaos, inner and outer, Shea provided needed, frequent escape.
It says something about our childhoods that Shea -- surrounded by vacant lots, chop shops and strip bars -- was one of the few places where we felt safe. Four feet tall, dangerously naive, we'd take the train to the stadium, alone, at night. The memory makes me shudder. We carried little more than 10 bucks and standing orders from an old-timer in our hometown, a guy who supplied all the paper products to Shea: Go into the bathrooms, pull out the towels and toilet paper, and throw it all on the floor -- so the stadium will have to order more from me next week.
These were our people.
Sometimes we had tickets, sometimes we snuck in. Always, late in the game, we slithered down to box seats closer to the field. We'd put our feet up and behave like Vanderbilts. Later, back at Grandpa's, we'd lie in bed for hours, second-guessing the managers, listening to the postgame wrap on the radio. Lindsey Nelson, Bob Murphy, Ralph Kiner … they were our lullaby. When they paused for station identification, McGraw would take over. He would talk about the Mets until the moon set. He would filibuster about Craig Swan and Felix Millan and Dave Kingman. It was hard, after a night game at Shea, for McGraw to shut off his motor, and his voice, mixed with the lingering roar of the crowd at Shea, was often the last thing I heard before dropping into a heavy sleep.
Given our history, given other reasons I couldn't quite articulate, I thought McGraw and I should see Shea one last time before the wrecking crews descended, before the place was flattened and supplanted by Citi Field. Alain de Botton, in his wonderful book, "The Architecture of Happiness," says the great critic John Ruskin believed buildings "speak to us," and Shea surely spoke to me as a kid. It said: "For the next few hours, you won't have to think about being grubby, lonely, poor." Now, on the eve of its demise, I wanted to speak back, if only to say thanks and goodbye. I phoned McGraw and proposed a pilgrimage.
He was silent. I could hear him weighing the money, the effort, the time. Not to mention the distance. We don't live in New York anymore. I live in Las Vegas; McGraw lives in St. Louis, where he, of course, is a very popular radio talk show host. I could hear him thinking: We're in our 40s -- do we really need to do this?
Then he surprised me. OK, he said. Let's go.
Days later he wrangled us two seats, center cut, right behind home plate, for a Monday night game against the Cubs. Vintage McGraw. Also, he finagled us a discounted room at a four-star hotel.
Nice work, I said. But just one room?
Two beds, he said.
Besides being less nostalgic, McGraw always was the economical one.
Worship the concrete doughnut

We met in Manhattan, nine days ago, a Saturday night, and instantly agreed that it was a steak night. On our way to the restaurant, McGraw's phone rang. I laughed, because his custom ringtone was Vin Scully calling the final play of Game 6. "Little roller up along first! Behind the bag! It gets through Buckner! Here comes Knight and the Mets WIN it!" McGraw must have gotten 15 phone calls that night, meaning we relived Scully and that play 15 times. It never got old. On the contrary, every phone call gave us goose bumps.
Over dinner we named our favorite Mets, then defended our choices. McGraw said it would be too easy to pick Tug McGraw. Also, he always had a strange soft spot for Hubie Brooks. I had no such qualms about being obvious. Tom Seaver would forever stand atop my personal Mets pyramid. Next, we ranked our most memorable moments at Shea. McGraw was there for Darryl Strawberry's first game. I was there for the duel between Bruce Hurst and Ron Darling, a 1-0 classic in Game 1 of the '86 World Series. We each saw the Willies, Mays and Stargell, clear the fences. We each witnessed Doc Gooden, and we still sighed for what might have been.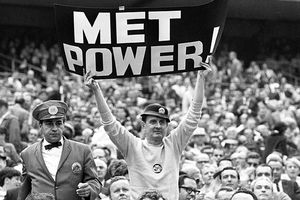 AP Photo
Karl Ehrhardt, known as the Sign Man, was a fixture at Mets games from 1964 to 1981.
I mentioned the late Sign Man, Karl Ehrhardt, a German-born artist known for his dapper black derby and huge handmade placards, which he waved at key moments in Mets games. From 1964 until 1981, Ehrhardt was the best-known fixture at Shea, and his block-lettered signs were like thought bubbles above our heads. When the '69 Mets beat Baltimore to become the unlikeliest champs ever, Ehrhardt held aloft a sign he'd been keeping in reserve, a sign that expressed the joy of an entire city: "There Are No Words."
Back at the hotel, watching the late news, I realized McGraw and I might have picked the wrong weekend for our two-man nostalgia-fest. New York was mourning the end of a stadium, but not our stadium. It was The Stadium, Yankee Stadium, which also was due to be demolished and replaced. The Yankees' final home game was slated for the following day, and the news was going live with breathless reports every few minutes. I changed the channel. No use -- every channel was breathless. Yet again, I grumbled, the Yankees trump our Mets. McGraw laughed bitterly.
Sunday, with an afternoon to kill, McGraw and I decided to head off to the Meadowlands and take in the Giants game. We were Jets fans, but anything was better than sitting around the hotel and watching wall-to-wall coverage of the Yankee Stadium farewell. Or so we thought. We rented a car and drove to New Jersey, where we learned the Meadowlands was soon to be demolished and replaced. (What sort of wholesale arena-cide was being committed in the Tri-State Area, we wondered, and why?) The Meadowlands parking lots, therefore, were gone, buried under cranes, trailers and heavy construction equipment. After circling for an hour, failing to find a single parking space along the highway, we stashed the car at a motel many miles from the stadium. We then took a yellow school bus to a dirt field, boarded a shuttle bus to the edge of a swamp, and finally marched across an industrial wasteland behind a troop of angry fans, in a scene straight out of "Full Metal Jacket." By the time we reached our seats in the nosebleeds, I was ready to leave.
Our self-imposed blackout on Yankees news backfired, of course, because after the game we found ourselves in bumper-to-bumper traffic, crawling toward the Lincoln Tunnel, and there was nothing to do but listen to the radio. Yankees, Yankees and more Yankees. The word "cathedral" got quite a workout that day, and all that night. We couldn't have heard the word more times if they'd been knocking down St. Patrick's.
Shea is often compared to a concrete doughnut, a giant toilet, but seldom to a house of worship. Shea is routinely dismissed as a sin against aesthetics, and telling people you love it is like saying you love a nuclear reactor. Or a landfill. Built during a benighted period in American architecture, named after a lawyer, set virtually alongside the taxiways at LaGuardia, Shea has long been criticized, but recently it has become a laughingstock. Personally, I always found Shea beautiful, in its homely way, but I no longer admit this in public. I can't bear people cocking one eyebrow and saying, "Shea? Really?"
All love is indefensible, especially stadium love, which has nothing to do with aesthetics. The first stadium you see is the one you love, end of story. Maybe not see, but enter, since every baseball stadium is a complex delivery mechanism for that first view of its inner pastoral utopia. You leave the hot gritty streets, you walk through the long dark tunnel, you burst forth into that vista of sunlight and cool grass -- that's the moment you become a fan. It's as irrevocable, as seminal, as when you come through that other long dark tunnel, into the arms of a doctor who grabs your ankles and slaps your ass. And you have just as much choice in the matter.
For me and McGraw, the birth of our fandom occurred at Shea. Had it occurred in the Bronx, our whole lives might be different. We might have grown up thinking ourselves born winners. We might have flown to New York this month to kneel, to light votives, to cheer as Yogi donned the pinstripes once again, to pretend with all the other Kool-Aid drinkers that the Dynasty isn't being tainted by A-Rod's frosted tips. Instead, there we were, Monday night, asking a cabdriver to take us to Shea, seeing him stare blankly in the rearview.
His name was Sugiarto, and he had no idea where Shea was. He had no idea what Shea was. He didn't want to know.
Fine, we said, just take us to Penn Station. We would take the same train to Shea that we took as kids.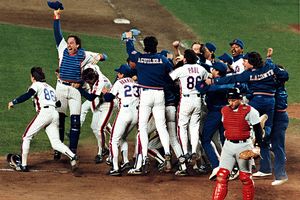 Robert Riger/Getty Images
Fans voted Game 6 of the 1986 World Series the greatest memory in Shea Stadium history.
Just then, McGraw's phone rang. Little roller up along first … here comes Knight and the Mets WIN it! Again, goose bumps. I considered holding the phone up to the bulletproof glass between us and Sugiarto. You don't know what you're missing, Sugiarto. Meet the Mets. Greet the Mets.
I thought: If only I knew how to say "Amazins" in Indonesian.
No free rides

We didn't buy tickets for the Long Island Railroad, and just as we thought, just as we remembered, no one came through our packed railcar to collect the fare. McGraw was overjoyed. We stuck it to The Man … again. "Just like old times," he said. But as we stepped off at Shea, a posse of conductors demanded $11 apiece. McGraw was not happy.
Soldiering on, McGraw was eager to find a specific hole in the fence between the station and the stadium, a hole we always ducked through, our special shortcut. The hole would be a gateway to memory, he thought, a portal to the past. But the hole wasn't there. The hole had been fixed. McGraw looked crestfallen. He missed the hole in the same illogical way I missed the blue and orange sprinkles that used to adorn the outside of Shea. Why they took down those sprinkles, I'll never know.
We met a young couple from Syracuse, Erica and Adam Coates. He was a pastor, she was a social worker. They were Cubs fans, but wanted to see Shea before it was gone. "Everybody told me it was -- a dump," Coates said, gazing up at the facade. I waited for him to say everyone was wrong, that it wasn't a dump, that it had charms he hadn't anticipated. I waited, and waited. I'd still be waiting if not for McGraw, who shifted his feet and gave me his "Let's go" look.
Once in our seats, McGraw and I stretched out, looked around, squinted. I'd expected to feel transported, instead I was slightly disoriented. The stadium looked exactly as I remembered, only different. The fences, the bases, the foul poles, everything was just where we'd left it, but it was all slightly dirtier, grimier, drabber. Was the hole in the fence the only thing they'd fixed in the past few years? "This place," McGraw said, "is a dump." I laughed. "Seriously," he said. I nodded sadly.
McGraw and the pastor were right. I was forced to concede Shea had seen better days. Maybe team officials had decided to stop touching up the paint and sweeping the floors? Maybe someone in charge said, "Fuggit, the building's going bye-bye -- what's the point?" During the national anthem, I tried to put such thoughts out of my mind. I tried to banish all questions of aesthetics, and all questions of exactly what was sticking to the bottoms of my shoes. The game was imminent, the pennant race was on. In fact, the official start of fall was just hours away. I leaned back and savored the electricity that always precedes the first pitch.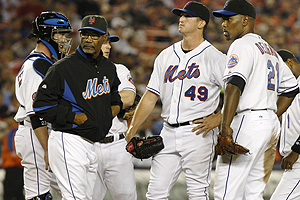 AP Photo/Kathy Willens
From Tom Seaver to ... Jonathon Niese (No. 49), the rookie pitcher who started the final game our writer attended at Shea.
Someone named Jonathon Niese was throwing for the Mets. His third start ever in the bigs. "I don't know who any of these guys are," McGraw said, peering at Niese. I'd never heard of Niese either, but I was heartened to read that he was born Oct. 27, 1986, the day the Mets won their last world championship. A good omen, I thought. Then I did some quick math and felt older than Casey Stengel's grandfather.
Shea opened on April 17, 1964. My life opened Dec. 7 that same year. When Shea was new, I was new. When I saw Shea at 7 years old, it too was 7. Now it was old -- the fifth-oldest stadium in the majors -- and I had to wonder what that said about me. I suddenly identified in a visceral way with Shea's pending implosion. When it vanished in a mushroom cloud of dust, so would my youth. I turned to McGraw, two years younger than I, and started to share this realization. But a jumbo jet went roaring overheard, the first of several dozen jets that would roar overhead during the night, some so close they seemed to be in a holding pattern at second base. By the time the jet passed, the moment had passed with it.
On that first Opening Day in 1964 (Pittsburgh, led by Roberto Clemente and Bill Mazeroski, beat the Mets 4-3) the stadium boasted 54 restrooms, 21 escalators and seats for 57,343. It was big, airy, sparkling, with plenty of bells and whistles, particularly a massive 86-by-175 scoreboard. Also, rather than the standard light towers, Shea had lamps along its upper reaches, like a convoy of semis with their brights on, which gave the field that unique high-wattage glow. Praised for its convenience, even its "elegance," Shea was actually deemed a showplace. Hence, the Beatles' decision to perform there the following year.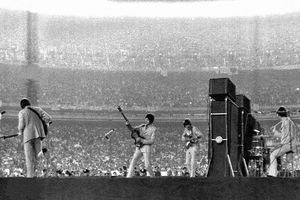 AP Photo
The Beatles' 1965 concert at Shea was the first to be held in a major outdoor stadium. This picture is from a 1966 concert at Shea.
Little-known fact: The Beatles played only 12 songs that famous night in August 1965, and the audience heard none of them. The sound guys didn't know how to fill so vast an arena, and the young female fans, weeping and ripping out hanks of their hair, never shut up. A brief, frantic, mostly silent concert, punctuated by hormonal shrieks. Still, it was one of the most memorable gigs the Beatles ever played, and it ushered in the era of stadium rock concerts.
In another innovation, Shea also featured mobile stands that could rotate and glide along railroad tracks, quickly converting the field into a rectangle suitable for football. McGraw recalled seeing Joe Montana. I recalled seeing Joe Namath. A boyfriend of my mother took me. We sat on folding chairs, right on the field. When Namath overthrew a receiver, the ball landed near my feet. I ran and grabbed it, and held it on my lap. I stretched my fingers across the laces, where Namath's golden fingers had just been. Eventually, I looked up and saw my mother's boyfriend staring down in horror. I didn't know football wasn't baseball, that you couldn't keep the rock. When the boyfriend and the referee made me give it back, I wanted to call a cop.
McGraw nudged me out of my reverie and pointed. "Don't you think they should take down those signs?" I looked. Plastered across the left-field fence was the corporate logo of toxic, overleveraged AIG, one of the chief causes of the recent financial crash. A distressed company in a condemned stadium -- comic and depressing at the same time. "Hope they prepaid," McGraw mumbled.
The Mets took an early 2-1 lead, and before their toxic, overleveraged pitching staff ruined things, McGraw and I were determined to have ourselves a time. We put up our feet, scarfed down hot dogs and Italian sausages, split a giant bag of peanuts. In the fourth, as expected, the Cubs started to nick up Niese, loading the bases. And yet I stayed calm: The Cubs' pitcher, Jason Marquis, was up. McGraw, however, turned to me and warned, "Jason Marquis is a good hitting pitcher." One second after the words left McGraw's mouth, Marquis whipsawed an off-speed pitch over the right-field fence. Cubs 6, Mets 2. The rout was on. The pennant , the division, the wild card, were slipping away.
I heard someone shouting in McGraw's back pocket. Scully. "Here comes Knight and the Mets WIN it!" McGraw has always contended that Buckner was blameless, that it wouldn't have mattered if he'd gloved the ball, Mookie still would have beaten him to the bag. Also, McGraw insists, Bob Stanley was slow getting over to first. I'm not so sure. We launched into this debate at some point during our Shea pilgrimage, as we always do when together, without any preamble or segue. None was needed. True Mets fans instinctively dip in and out of an eternal dialogue about Game 6, using an adrenal shorthand, a manic code of grunts and giggles that even Navajo windtalkers couldn't crack. We talk about Game 6 constantly, because we're still not sure it actually happened, and because it helps ward off depression about seasons like the previous two. We talk about Game 6 jubilantly, as if it happened just yesterday, because for every Mets fan, it did. McGraw's memories of Game 6, my memories, couldn't be more vivid if we'd played in it, though neither of us were anywhere near Shea. Unable to get tickets, I watched most of the telecast with my grandfather, and my joy was tempered by real concern that the excitement and suspense were going to kill him. McGraw, meanwhile, watched from the campus of the University of Nebraska, where he was a relief pitcher on the baseball team.
Gradually I diverted my attention from the Cubs' drubbing of the Mets to the Diamond Vision screen, which was flashing facts and faces from Shea's history. Pope John Paul II, Gil Hodges, Bruce Springsteen, Gary Carter, Billy Joel, Mike Piazza. When the Diamond Vision was blank, I flashed facts and faces on my mental Diamond Vision. The glory years under Davey Johnson. The weird years under Bobby Valentine. The heroic comebacks, including June 30, 2000, when the Mets erupted for 10 runs, including a three-run blast by Piazza, to stun the hated Braves 11-8. As Piazza's ball left the yard that night, a sound came from me, a euphoric yowl I didn't know I was capable of producing.
Above all, I saw again those fragile days after Sept. 11. The stadium became a staging area for rescuers, its parking lots filled with food, water, medical supplies, even makeshift shelters where relief workers could sleep. Ten days later Shea reopened for the first post-attack sporting event in New York. With steely resolve, the Mets beat the Braves, behind another dramatic Piazza homer.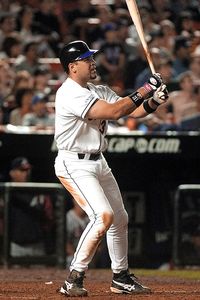 Matt Campbell/Getty Images
In the first New York sporting event after September 11, Mike Piazza's dramatic two-run homer in the eighth inning gave the Mets a 3-2 win.
"What hat you think Piazza wears into the Hall?" McGraw said.
"Mets," I said hopefully.
Later, I wished I'd thought to say Piazza should wear an NYFD or NYPD hat, like the ones he and the other Mets wore in the days after Sept. 11, a stirring, defining, gesture.
The Mets began to roll out their relievers. McGraw and I couldn't bear to watch. We hit the souvenir stands and bought bubble gum cards and refrigerator magnets and key chains and yearbooks. Returning to our seats, we were shocked that the Cubs had added only two more runs. The game was over, you could feel it. The Mets were lifeless, the fans were fleeing. Up the aisle came a man who looked sullen -- and familiar. I couldn't place him until a drunk in a Beltran jersey began bellowing at him.
"Hey, Ferris! HEY, FERRIS!"
I elbowed McGraw: Matthew Broderick. He wore a soft orange Mets cap pulled low over his eyes, hoping to escape notice. But a gang of large men, their cheeks red with beer, followed him up the aisle and grabbed him. They demanded he pose for a photo. Then another … and another. They held him against his will, forced him to take part in an impromptu "Project Runway," and yet he remained cheerful, obliging, because of course his captors were firefighters. Their ringleader was Tom Mirante, a boisterous lieutenant from Engine 26. Besides having his photo taken with Broderick, Mirante wanted to shake his hand and thank him again for visiting the firehouse after Sept. 11, feeding all the firefighters.
The Mets managed a small rally in the ninth. They scored once, got two runners aboard, and I thought we might be in for some old-school Mets magic. Then the Cubs' closer, Kerry Wood, made Luis Castillo look sick. Strikeout, game over. "My record at Shea is, like, 1 and 617," McGraw said glumly as we filed out.
We could tell -- everyone at Shea that night could tell -- these Mets weren't going to make the postseason, which meant they weren't going to make our unspoken hope come true. They weren't going to hold off the wrecking ball for a month, or even a few days. There would be no October reprieve. The end was truly at hand for Shea.
We turned for one last over-the-shoulder glimpse. The stadium looked bad, the Mets looked bad, the Italian sausage wasn't sitting right -- and still I loved the place. Was it love, I thought, or just stubbornness? Is there really a difference? Doesn't love, real love, require a degree of mulish persistence? In his gentle essay, "Home-Coming," E.B. White wrote: "Familiarity is the thing -- the sense of belonging. It grants exemption from all evil, all shabbiness." For all its flaws, Shea's familiarity had granted me brief exemption yet again from the evil shabbiness of the world. I felt grateful, and bereft at this last goodbye.
We pivoted then to say hello to Shea's successor, Citi Field. I tried to cast my mind forward, to imagine what memories would be made there, what pennants would be won, or blown. I tried to calculate how long before Citi Field grew old, how long before Mets fans started calling it S---ty Field.
On the train into the city, McGraw and I talked more about Matthew Broderick than about the Mets. We were baseballed out, beat. Time travel causes its own jet lag, not to mention a few hundred actual jets lagging over your head. In our hotel room, at last, we yawned through the late news, the first half of Letterman, then hit the sack. "What time's your flight home?"
"Ten. You?"
"Three."
I turned off the lights and lay on my side, wondering if McGraw felt our pilgrimage had been worth all this effort. Did he regret my talking him into it? I didn't dare ask. We said a few words in the dark, about nothing, and I felt myself slowly drifting off. But McGraw was still talking. I kept my answers to one or two words, and still he kept talking. He hadn't been this chatty all weekend. He was having his familiar trouble, after our trip to Shea, shutting off his motor.
I smiled. More than any time that night, more than any time that weekend, I felt as if Gerald Ford was president and gas was 55 cents a gallon. With McGraw's voice in my head, along with the lingering roar of the crowd at Shea, I fell into the deepest, heaviest sleep I've enjoyed in a very long time.