Commentary
MLB's version of Mr. Irrelevant
Originally Published:
May 20, 2010
By
Brian Moynahan
| Special to Page 2
Before he became a staff accountant with a small firm in Virginia, John Scaglione played a little baseball. Coming out of Palm Beach Gardens High School in 2003, he was good enough to be drafted by the Atlanta Braves with the 1,480th and final selection in the first-year player draft. A middle infielder, he was taken as a draft-and-follow; because he was attending junior college, the Braves owned his rights until one week before the next year's draft. When the time came for a decision on Scaglione the following spring, however, the organization couldn't make a deal happen.
"The scout that picked me up didn't get to watch me play much. He called me a year later and was like, 'I only saw you play once or twice, and you had a decent year, but if I was even to offer you to come and play minor league baseball, we'd have to cut another guy to bring you on,'" Scaglione says. "And I said, 'You know what, I want to stay in college baseball anyway.' So it was a mutual thing, and it worked out well."
There are 45 players out there, including Scaglione, who were chosen with the final pick since the draft began in 1965. In 1999, MLB.com formed a subset of that group when writer Jonathan Mayo and pitcher Scott Leitz created the Mr. Don't Count Him Out Award (Leitz, the 1,474th and final pick in 1999, was the inaugural winner). The grand prize is essentially an article about the player on Major League Baseball's official website.
The careers of the Mr. Don't Count Him Out selections are often as theoretical as the award itself. From 1999 to 2006, nearly every selection could be classified as a draft-and-follow (the lone exception is 2001 winner P.J. McGinnis, who spurned the San Francisco Giants to return to Central Missouri State for his senior season and was not redrafted). None of the eight players from that period signed a professional contract in the year he was chosen, although two, John Powell (St. Louis, 2002) and Eric Gonzalez (Atlanta, 2004) went to college and were later re-selected.
The Cardinals took Powell again in 2003 despite the fact that a serious knee injury had severely limited his baseball playing time leading up to the draft. He signed and spent two seasons with the organization's rookie affiliate in Johnson City (where Colby Rasmus was his teammate in 2005) before being released. A good all-around athlete, Powell eventually played basketball at three different colleges, tearing both ACLs before graduating from Oklahoma Christian University in December 2009 with a degree in sports, wellness and recreation management.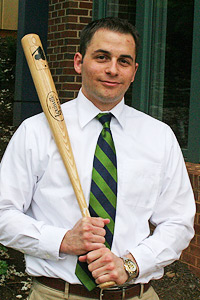 Brian Moynahan for ESPN.comJohn Scaglione is part of an elite fraternity in Major League Baseball.
In terms of on-field results, Gonzalez is the most successful Mr. Don't Count Him Out winner. Originally drafted by the Braves in 2004 out of Cochise Community College, he stayed in school and was selected by the Padres in 2008. Last season, he was promoted to Lake Elsinore in the California League, the first Mr. Don't Count Him Out winner to advance past the Low-A level. He is currently in Arizona at extended spring training.
A native of the Canary Islands, Gonzalez is also a successful international player who pitches for the Spanish national team. In 2007, he appeared in three games for Spain in the European Championship, winning twice, including a complete game against France in which he allowed two runs on five hits with nine strikeouts. Almost two years later, to the day, he took the mound for his country in the Baseball World Cup.
"That was a pretty good one, because I beat Venezuela," he says, "which was probably the biggest game in Spain's history."
Prior to the 2007 draft, the deadline for signing all picks was fixed at Aug. 15, eliminating the draft-and-follow just as MLB.com stopped handing out the Mr. Don't Count Him Out Award. True to form, neither of the past two winners has played professionally -- yet. Blake Heym, drafted in 2005, recently completed Air Force basic training, but Charles Matthews, taken by the Cardinals in 2006, will finish his career at Georgia Southern this spring and could be redrafted.
The three picks after Matthews all signed, although only one, Boston's Kyle Stroup, is still active. He made his debut in the Gulf Coast League in 2009 but injured his knee this spring and will miss the 2010 season, according to SoxProspects.com.
The two players bookending Stroup, Larry Day and Alibay Barkley, both had brief minor league experiences. Day played parts of two seasons in the Yankees system before retiring in May 2008. He is now a volunteer assistant coach at Vanderbilt, where his duties include maintaining the school's baseball fields. Barkley played six games for the Angels' rookie team in the Arizona League last season, but was released early this spring.
Mr. Don't Count Him Out may be officially dead, but the spirit of the award lives on. On June 9, some kid from some school is gonna get a call from some scout, telling him some version of what the Braves told Drew Jackson back in 2000: "Good news is, we gotcha, bad news is, you fell to the last pick." And around the country, a group of men who know what that's like will smile, nod, and say, "Welcome to the club, kid."
Brian Moynahan is a freelance writer. He lives in Milford, N.H., and is an editor for the minor league baseball website Bus Leagues Baseball. He can be reached at busleagues@gmail.com.