By Brian Murphy
Special to Page 2
I consider it almost a moral obligation to prop up the auld Water Cooler again on this holiest of Mondays -- the post-Dream Trip Monday.
You know the drill: Aging thirtysomethings grappling with the mortal coil pull a Statue-of-Liberty play on domestic responsibilities and head to the Arizona desert for baseball, bacchanalia and the two burns -- heart and sun. Annual Cooler recaps of this journey have inspired mail that can be filed under both "Fan" and "Hate" so why deny readers the chance to either relish or revile? After all, the Cooler traffics in equal opportunity, above all else.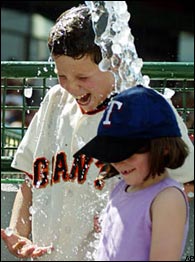 Spring training is more refreshing when doused by the Cooler.
Besides, there was no question The Cooler was coming back today after last Friday's Mariners-Giants game at Scottsdale Stadium. There, on the grassy outfield berm, we witnessed what Dream Trip emodies: Springtime hope, vernal optimism and the sense that all is possible. Translation: We met Charlie the Cub Fan, who riveted hundreds on the grassy berm with his open proclamation of his attempt to conquer "The Nine Nine Nine."
Nine beers. Nine hot dogs. Nine innings.
Was it Tom Browning, or Robert Browning, who once penned: "A man's reach should exceed his grasp, or what's a Dream Trip for?"
After witnessing the heroic run by Charlie the Cub Fan, there was no question that a batch of Pepcid AC should be within both Charlie's reach AND his grasp -- or what's an acid reflux attack for?
The word spread across the grassy outfield berm like word of the bad acid at Woodstock. It couldn't be true, could it?
Four innings in, he was on target. It was the opposite of a no-hitter. Everyone knew it, and everyone spoke of it, the hope being that the stout lad would feel the love.
After five innings though, it became apparent that the only thing Charlie felt was a heinous wave of nausea, and utter despair at the task he had taken on.
Two unexpected factors had created Everest-sized obstacles for Charlie. One, the Arizona day was a veritable microwave, with mercury at 91 degrees. Two, the beer sold at Scottsdale Stadium came in 16-ounce bottles -- not 12.
Taken individually, each factor was a nuisance. Taken collectively, they had a cumulative effect of devastation akin to the emotion a Red Sox fan felt the day A-Rod was traded to the Yanks.
Clearly, it was no accident that the "The 999", viewed upside down, read "The 666."
A fan tried to encourage Charlie by pointing out that the guy who wins the Coney Island contest every year couldn't weigh more than 118 pounds. Charlie, a wide-body, had space in his gut to choke down, it was pointed out. Charlie's response was curt. "That guy gets to puke 'em up when he's done!" he barked. In his right hand was a half-eaten dog, representing 5.5 dogs consumed. He swayed, glassy-eyed. He removed his shirt, and let his gut pour over his belt.
It was a powerful scene of human drama.
His mood would swing from states of catatonia, then to instant rage. It was as if, in the five stages of acceptance, his engine had stalled on "Anger." Who could blame him? The task demanded total concentration, and if his genius would be tempered with fits of pique -- well, certainly Picasso had torn up a canvas or two in his day, no?
As the innings got later, the Kryptonite in the equation became apparent: The bun.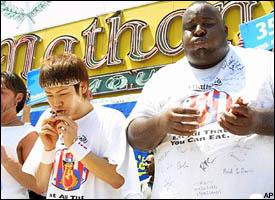 When the tiny hot dog plays the role of Goliath.
When Charlie would snap out of glass-eyed indigestion into moments of lucidity, he shouted what became his signature line: "The bun matters, man! The bun matters!"
Surely, an Atkins-approved "999" would be no problem.
But Charlie was a purist.
There would be no Atkins-approved "999."
This was a man's task.
No trendy diets welcome.
This was Spring Training, dammit.
"You do not understand how much the bun matters!" Charlie roared.
Sensing he needed help, the crowd surged forward with an emotional life-jacket. Chants and claps poured forth. The rally was stirring. No one or nothing had received such an outpouring of adoration and support since the 1980 Olympic hockey team.
Alas, it was not to be.
The game ended with Charlie stuck in the middle of his eighth dog.
Nine innings. Nine beers. Seven-point-five dogs.
No matter. The message had been delivered. As Charlie draped his arms around his pals and was carried off like the Willis Reed of the Cactus League, we had all been made larger by his quest. Yes, his stumble to the finish line was not unlike that Swiss chick who noodled her way to the end of the marathon at the '84 Olympic Games, but excuse me if I wiped away a solitary tear of pride at the end of the "999."
Baseball season begins in a fortnight, and already the tone has been set, in Spring Training, where it always is, where greatness is born, and where the seeds of dreams are planted.
Now, quick. Somebody give Charlie a supply of Tums that will last him till October.
On to the Weekend List of Five:
1. How to Handle the Barry Question
Dream Trip provided a moral query worthy of a Nietzsche essay.
To wit: You spend your life rooting for your squad. Your squad produces a mythic hero around whom you rally your passion. Then, your mythic hero is accused of being a false prophet.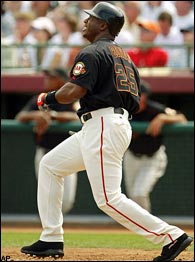 Will the Giants draw fans after Barry Bonds retires?
In other words: Do you still cheer for Barry Bonds, if he dishonored the game by knowingly taking an illegal substance to enhance his performance?
Compounding the problem, Bonds homered in the first three at-bats we saw at Scottsdale Stadium on Friday and Saturday.
Not only did the three bombs in three swings produce a massive grassy outfield berm debate -- "Who is the most dominant athlete in the history of his or her sport?" -- it also caused my boy Roberts, a lifelong pal, to offer a passionate defense of Bonds' right to choose between "The Clear" and "The Cream."
Me? I'm struggling with the moral ambiguity of it all, and envy Roberts' ability to come to a clear-cut opinion. Then again, Roberts was shirtless, in the midst of a fourth-degree sun stroke, and on his 11th Bud Light when he proffered the mid-day argument. So, you know, there you have it.
Perhaps the clearest vision was offered by our buddy Malcolm, who said if any asterisks were to be handed out, start with the 118-pound guy who eats hot dogs faster than any man alive -- only to be given the wide and forgiving berth of voluntary vomit afterwards.
"If we're going to start with the asterisks," Malcolm nearly shouted, passionate in his defense of Charlie the Cub Fan's failed "999", "you gotta slap one on the bantamweight on Coney Island!"
A fine point. A fine point, indeed.
2. The Shirt
A Dream Trip rookie, our buddy Walt, showed up to Arizona open about his lifelong allegiance: He is, and has been since 1981, an Angels fan.
So you had a small army of Giants fans -- and Walt, an Angels fan.
Remember, we are merely 18 months removed from the 2002 World Series.
You can see the potential for bloodshed.
Walt jacked up the stakes when he showed up for Saturday's breakfast wearing a cherry-red "ANGELS: 2002 WORLD CHAMPIONS" tee, with the words superimposed over the World Series trophy.
It was 9 a.m., and he was playing hardball.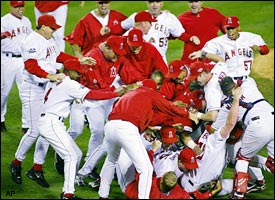 You can't win every year. Wait ... why not?
There was talk of pantsing Walt, of treeing Walt, and, of course, of wrestling him down, removing the shirt, and holding the requisite bonfire.
But Walt is a passionate man, and it was pointed out by our buddy Scotty that it would likely take the same amount of force to get the shirt off Walt as it took to restrain Sean Penn at his daughter's crime scene in "Mystic River." We could only imagine Walt, shirtless, fighting off 40 Scottsdale cops and screaming in Brando-esque howls: "IS THAT MY SHIRT IN THERE? IS THAT MY SHIRRRRRRRRTTTT INNNNNN THERRRRRRREEE?"
At the breakfast table, he silenced us all with the sharp sword of truth.
"Don't get on me, fellas," he said. "This shirt could have been yours. You had your shot."
This shirt could have been yours. You had your shot.
Memories of Felix and Spiezio, ThunderStix and John Lackey, Livan and Troy Glaus washed over the table in slow, painful waves.
We turned back to the breakfast meats in stone silence.
Bummer.
3. The Mister
To Arizonans, "The Mister" is old hat, the stuff that wows tourists.
To wide-bodied shirtless types bathed in the profuse sweat of a 91-degree grassy outfield berm, "The Mister" saved at least two to three lives, its inventor worthy of a Nobel Prize.
Who could know that a small water bottle that dispersed a fine, light mist out of its nozzle could bring so much joy? A $5 rental of "The Mister" provided blasts of cool mist throughout the afternoon, "The Mister" being passed around our crew to the sort of clamor and giddiness that a particularly fine Humboldt County bud used to bring to a Dead show at Winterland.
Not since the Berlin Airlift have so many been lifted out of misery and into happiness.
Ah, sweet "Mister."
4. A Tradition Unlike Any Other
Dream Trip celebrated its 10th year in '04, and when Stanford won its opening-round NCAA tourney game on Thursday, I proffered the slightly sarcastic jibe to our buddy Jay, a Stanford product: "Hey, Stanford plays on Saturday. We can head to the Blue Moose, a Scottsdale tavern, to watch their second-round loss. It's sort of a Dream Trip tradition, isn't it?"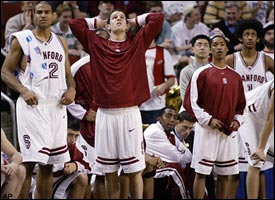 Different year. Same upset feeling.
Jay, a man of great equanimity, only smiled tightly and, pressed for a response, pointed out that we witnessed Stanford's second-round win over Wake Forest in '97 at the Moose.
As my alma mater didn't even sniff the NIT, I backed off, respectful of the Pac-10's larger mission at hand. By sunset on Saturday, the tradition had been restored.
Alabama over Stanford -- and how many of you had that in your brackets?
Catch is, I arrived home to read the mothership's sports section. There, the San Francisco Chronicle had listed in a graphic the seven second-round losses Stanford has endured in the last 10 years.
1995 -- UMass. 1996 -- UMass. 1999 -- Gonzaga. 2000 -- North Carolina. 2002 -- Kansas. 2003 -- UConn. 2004 -- Alabama.
I'd write "Stanford's second-round losses -- a tradition unlike any other," but that's bad for the Dream Trip vibe, isn't it?
Plus, Hootie Johnson might sue me.
5. Au Revoir, Le Vet
Perhaps the most fitting way to end Dream Trip was to witness on Sunday morning the destruction of Philadelphia's Veterans Stadium -- the implosion of a worn-out, tired old facility symbolically mirroring what our crew did to ourselves -- the implosion of a worn-out, tired old group during a weekend of Cactus League hijinks.
But what a eulogy for the Vet!
The images filled the screen: Booing Michael Irvin's career-ending injury ... Booing Mike Schmidt to the point where he wore a reggae wig in mock disguise ... The collapse of the seats at the Army-Navy game ... Brawls so prevalent at the Niner-Eagle '97 game, a makeshift court and judicial system hastily arranged in the bowels of the Vet ...
When a player was being wheeled off on a stretcher to cacophonous boos in one highlight, an NFL player was heard to say: "They're booing him ... you wouldn't expecting nothing less here, would you?"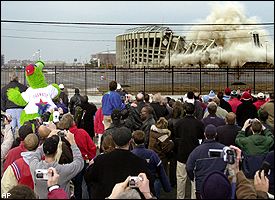 The Phillie Phanatic and other fans watch as Veterans Stadium is turned to rubble.
Man. The laundry list of negative highlights was staggering. No one or nothing has gotten such a bad rep when it was going down since the Nuremburg Trials.
But the Vet had the last laugh. It was barely discernible to the naked eye, but the smoke from the implosion gathered, and in the Philly spring morning sky, that Vet smoke gently formed the shape of a mullet.
Plus, the boys at the Vet would have loved Charlie the Cub Fan.
Here's to an Eagles or Phillies fan making the "999" a reality in one of the new facilities.
I wouldn't expect anything less.
Brian Murphy of the San Francisco Chronicle writes every Monday for Page 2.