By Brian Murphy
Special to Page 2
Another week, another Water Cooler.
I know. I know. I retired the thing last November in an attempt to find "new creative depths," but let's face it. As it's become evident my creative depths are as deep as a wading pool, I'm looking like David Caruso leaving "NYPD Blue" or Shelley Long leaving "Cheers." E-mails trickled in from readers that said, essentially: My man -- you bring precious little to the table as it is, so don't go thinking you're Red Smith. Stick to the half-baked cheap shots.
Like the Pitt basketball team, I'm all I got.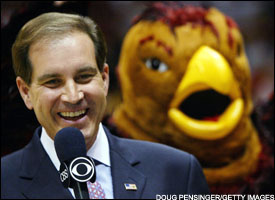 Maybe the Hawk should have flapped its wings a little closer to Jim Nantz and Billy Packer.
So I'm dragging The Cooler out for another Monday morning, Page 2-style.
Besides, this weekend called for it. Tons of tense action, with athletes pushing themselves beyond the pale, stretching the limits of belief. And that's just talking about the guy in the St. Joe's Hawk mascot outfit.
Was he the happiest man in America on Saturday night? While Atlantic 10 fans and Philadelphians everywhere despaired at the demise of America's Most Lovable College Team, the guy in the Hawk outfit was inside the feathers thinking, as the final buzzer sounded in East Rutherford:
WHOOO! YEAAAH! I'VE HAD A TORN LABRUM SINCE DECEMBER! FINALLY, SWEET JESUS, THE AGONY IS OVER!
When you take the St. Joe's Flappin' Hawk job, you figure: I can do this. It's only until, what, early March? No sweat. I'll travel with the team, pick up some babes along the way, and have the most ripped deltoids on the Atlantic Seaboard.
Problem was, Phil Martelli's boys made the Flappin' Hawk work to March 27. This is workplace abuse not seen since the early days of the Industrial Revolution.
So when Jameer Nelson's fallaway jumper fell short, the only man happier than Billy Packer was the Flappin' Hawk. Packer was rooting against St. Joe's as if his entire bankroll had been wagered on Oklahoma State -- with Paulie Walnuts as the bookie.
Packer, who'd made the '04 tourney memorable with his savage rip job of St. Joe's as a No. 1 seed, was dying in that final minute as St. Joe's made their epic bid for the Final Four. Dying!
"Why isn't Graham in the game?" he pleaded.
"They're taking too much time, Jimmy!" he implored.
"And why isn't Graham in the game?" he nearly shouted.
Then, when Oklahoma State won, Packer had to play it cool. Guy was burying the biggest feline-devours-canary grin you would have ever seen.
And somewhere, the Flappin' Hawk headed for a deep-tissue massage.
On, then, to the Weekend List of Five: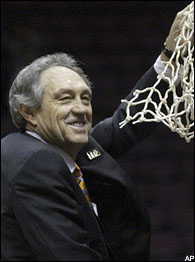 At his age, we're just wondering how Eddie made it up the ladder.
1. Eddie Sutton: As hip as Hank Williams ... Senior
Does anybody else find it utterly amazing that Eddie Sutton is taking yet another team to the Final Four? The guy is 68. Sixty-eight! How in the name of Hank Iba does a 68-year-old man communicate with, motivate or even comprehend the kids of 2004?
Take music. The Cowboys, no doubt, enjoy their IPods, or MP3s, before every game. But when Sutton, born in 1936, tries to make small talk, what does he say?
Sutton: "Whatcha listenin' to? The latest from Tommy Dorsey?"
Player: "Usher."
Sutton: "Usher? I used to be an usher. At the local movie theatre. In high school. Had a big crush on Doris Day. You like Doris Day?"
Player: "I like G-Unit."
Sutton: "G-Unit? Is that what you kids call Gary Cooper? Yeah, 'High Noon/' One of my favorites."
God bless the old codger. Every reader is hereby commanded to root for Sutton's team this weekend.
2. Duke
Death, the tax man -- and Duke in the Final Four.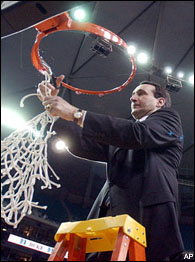 Does Krzyzewski ever say to himself, "I'm Einstein coaching against a bunch of Forrest Gumps?"
Will we ever fully comprehend how good Mike Krzyzewski?
Will we ever fully comprehend how to spell Krzyzewski without looking it up?
I hate to say this, as a UCLA man, and as a man who believes America's greatest All-time Americans are Frank Sinatra, Abraham Lincoln and John Wooden, but what Coach K hath wrought -- 10 Final Fours, 10-1 in regional finals -- is almost, just almost, right on par with Wooden's 10 national titles in 12 years.
In an era of 64-team tourneys, and in an era where it's not as easy to flip a pair of car keys to Lew Alcindor to get him to sign on the dotted recruiting line, Coach K is The Man. He's Wooden without the homilies; the Wizard minus the gentle homespun touch. You'd rather have Wooden teach you a life lesson; but you'd rather have Coach K go after a McDonald's All-American in a recruiting war. Jesus, it hurts to admit that.
3. Ball in Tokyo
Hark! Who goes there?
Do I hear ... big-league ball? Starting? For real?
Somebody get me a cold compress.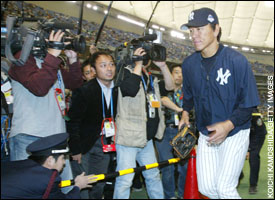 Ahh, nothing like opening up in a great ballpark like the Tokyo Dome.
For every steroid story I read, for every NFL-based rant on how the salary cap is the only answer, I present to you -- Big League Ball. Granted, Big League Ball need not necessarily begin in Tokyo. I don't buy the whole American Sports in Tokyo thing. Can you imagine if the Japanese League decided to hold their opener in L.A.?
Coming soon: The Yakult Swallows vs. the Orix Blue Wave!
You might get 1,500 fans to Dodger Stadium. Why fly the Bronx Bombers and the Tampa Bay Devil Rays to Japan? Especially because nearly every Japanese fan, upon learning of the matchup, said one of three things:
1) What is a Devil Ray, and can I eat it for sushi?
2) Don't they play in a dome so depressing, it could be one of our domes?
3) Why did Sweet Lou take that gig?
Still, we'll take the folly in Tokyo as harbinger that next week & the real thing begins, Stateside.
Gentlemen, start your hot dogs.
4. Lakes on golf courses
At the Players Championship, Ian Poulter's trainer waded into a man-made lake searching for a ball.
At the LPGA Kraft Nabisco Championship, Grace Park and her caddie cannon-balled into a man-made lake to celebrate her first major victory.
What do these two stories have in common? Tetanus shots.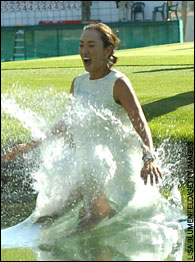 Hey, at least it's better than seeing Eddie Sutton jump into a lake.
Have you ever peered into a man-made lake at a golf course? Ewww. Gross.
I was standing by "Champions Lake" at Mission Hills Country Club when Park bombed her way in, and could only think, as she was in mid-air: STOP!
Staring at the water, I saw the following: Algae as thick as pudding, water the color of Lime Jell-O, and a carp -- "with two heads", as one of our crew pointed out.
Next year, given the choice between jumping in the lake and taking second-place money, my bet is that Grace Park conveniently leaves a tap-in putt for victory short.
Oh, too bad. I'll take the 150 Large, and let Annika do battle with those floating viruses and unidentified objects.
Man-made Lakes: When in doubt, opt for Nature.
5. Jim Nantz: Clearing the pipes
Is there a voice that embodies late March/early April more than Jim Nantz's?
The man's pipes are as smooth as his wrinkle-free sports coats.
In just over a week, his familiar "Hello, friends" -- uttered in a soothing whisper that you might hear from an omnipotent, benevolent, unseen leader of a futuristic empire -- will grace our ears from Augusta, Ga., site of the Masters. But before then, he's got a Final Four to call.
And I've noticed, Nantz is prone to the Jack Edwards "Theme Call," a phenomenon made public in the '02 World Cup, when ESPN's Edwards dropped the "MINE EYES HAVE SEEN THE GLORY" call when the U.S. soccer team advanced in the World Cup.
Nantz isn't in the same league, but he's a first cousin of the Edwards "Theme Call." Why, speaking of John Wooden, I remember in '95 when UCLA won the NCAA basketball title, and Nantz said at the final buzzer: "There was a Wizard in the stands ... and some magic on the court!"
Now, I know Nantz has gone on record saying he doesn't rehearse these lines, but let's produce our own Final Four of Possible Nantz calls:
1) Duke wins: "When you spell Krzyzewski ... there's a 'W' in there ... somewhere!"
2) Georgia Tech wins: "When the Nectar of Victory is Near ... Yellow Jackets come a-swarmin'!"
3) Connecticut wins: "UConn? You can!"
4) Oklahoma State wins: "There will be some bubbles in Stillwater tonight!"
God, I love springtime.
Brian Murphy of the San Francisco Chronicle writes every Monday for Page 2.