By Brian Murphy
Special to Page 2
AUGUSTA, Ga. -- That Phil Mickelson. What a one-hit wonder.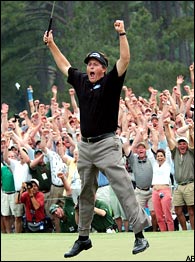 Phil Mickelson made many fans jump for joy with his dramatic win at the Masters.
Wait. Forgive me.
I've lost my sense of humanity.
Here at the All-Masters, All-the-Time Cooler, a sense of incredulity has confused me, made me lose my sensibilities.
Lefty winning the Masters is, yes, one of the greatest sports moments in our recent sports calendar -- right up there with the Patriots' thrilling Super Bowl victories, the Marlins upending the mighty Yankees in the World Series, and that unforgettable six-way parlay that Pete Rose hit from the Reds' dugout at Riverfront Stadium.
Still, I'm having serious, serious problems digesting this reality.
Phil not winning the Masters was a tradition unlike any other. It was something you could count on. Like death, taxes or Donald Trump's hair.
Now, Mickelson is wearing green like he's Kermit the Frog, and it's startling.
It's time to come clean at The Cooler. I've been guilty of ripping Lefty in the past. In fact, if you dare delve into the Cooler Archives, you might find a treasure-trove of anti-Lefty screeds. He was a.) condescending; b.) a know-it-all; and c.) a guy who never got it done when it counted.
Tough Love for Lefty
Brian Murphy admits it -- he's been pretty rough on Phil Mickelson in the past:
In America, we toast the guy who gets it done. Like Tiger.
And we shred the guy who doesn't. Like Phil.
Why, there might even have been talk of the likelihood that Phil would fit his pudgy frame into a green Manssiere before a green jacket.
But now I must give the Lefty all praise. He jammed a big one to the sportswriters of America -- right up there where the sun don't shine. So in the interest of fair play, the guy should get a full-access Gloating Pass for the next two years, at least.
Still, it's bizarre.
It was minutes after the scene at 18. I had rushed back to the press room for interviews ,and I heard Jim Nantz say something about "Phil Mickelson, Masters Champion."
It jarred my ears. Like hearing, "Clay Aiken, Kick-Ass Rocker."
When he walked in to the press room sporting the green, my eyes were in full and total denial. Phil, in a green jacket? Surely, this was an elaborate hoax. Was it Halloween, and he was coming dressed as Tiger? Or had Pixar come aboard as a Masters sponsor to provide high-end computer animation?
Let's see if we can create the image of Phil Mickelson in the green jacket. It'll wig out the sportswriters.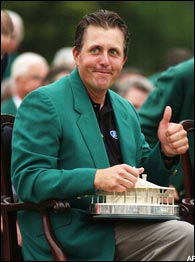 Could that really be Phil Mickelson, clad in a green jacket?
Count me wigged out.
Surely, the next development in our sports landscape will be the Chicago Cubs as World Series champion.
I see Phil singing "Take Me Out to the Ballgame" at Game 7 of the Series at Wrigley. I see him throwing out the first pitch in the green jacket. I see him hitting 65 on the radar gun and getting a letter from the Toledo Mud Hens saying they're still not interested in a 33-year-old guy who can't break a pane of glass with his fastball.
Lefty and the Cubs. In the same calendar year.
Run for your lives, sports fans!
On, then, to the Masters List of Five:
1. "This Was a Moment Ago ..."
Are there any other words that fire you up at the same time they bum you out? You hear them every year at the Masters.
On the one hand, you know you're getting a key development handed to you on video: This was a moment ago ... on the 15th green, Ernie Els, for eagle ... yes!
On the other hand, you feel like a schmoe. You've missed out on the big Moment. It was "ago." It isn't now!
All week, we ink-stained wretches pondered ways to use those five words in real life.
You come out of a meeting in which you've been reamed out by your boss. You tell a co-worker: "This was a moment ago ... I got hammered by the chief on my expense report."
Or, you report back to your pals at a tavern after you've failed to get a babe on the dance floor: "This was a moment ago ... total rejection from the smoking hot brunette at the end of the bar."
Say the words with a whisper. They take on a reverence, and strike at mankind's eternal yearning to be included.
2. Bad Day for Tiger
Did you take time to ponder how Tiger Woods handled the news of Lefty's breakthrough?
Since Tiger turned pro in 1996, he's treated Phil the way Moe treated Larry and Curly. Even when Tiger stumbled and didn't win a major, he could always count on his greatest American rival not only not winning majors, but taking spectacular Charlie Brown-esque pratfalls in the process.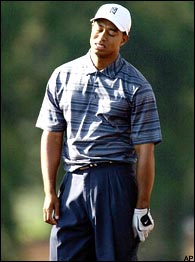 Tiger Woods was very disappointed with his performance at Augusta.
I can imagine Tiger flying home from various majors on his private plane, looking for entertainment. "Stevie," he'd bark at his caddie. "I need a pick-me-up. Put in the DVD of 'Phil's Greatest Phlops, Volume One'."
Now, Mickelson not only will be crashing the Champions' Dinner next year, he'll be in the Champions' Locker Room for life! That's the coolest room in sports. Champs only. Even guys like Ernie Els and Davis Love can't get in.
Phil is in now. Tiger must have reacted to this news like a homeowner who sees the new family across the street drive down real estate values.
Look for Tiger to start using a locker in the main locker room downstairs. "To get in touch with the common man," he'll tell the press.
Meanwhile, after he demolishes a plate of Eggs Benedict, Lefty will be playing pinochle with Arnold Palmer and Gary Player, and saying: "Hey, let's put a rubber snake in Jack's locker!"
3. Six Hill
Have any of you ever been to the Masters?
For the lucky few, you know what I'm talking about when I'm talking about Six Hill.
The downslope of the No. 6 par-3 features a grassy knoll that would make Zapruder drool with envy.
You chill on the grass, and you can watch the par-3 No. 6, the par-3 No. 16 and even the green of the par-5 No. 15.
It's possibly the greatest seat in sports.
What a scene, too. One of the more underplayed sociological demographics in this country is the Wealthy, Genteel Southerner. Too often, we deride the South for its gun racks, or its lack of dental hygiene.
But the Rich Boys of the South? That's a thing. They crawl all over Six Hill. It's the hottest spot in the South during the Masters. Genetically-superior babes in tight tops and short skirts roam the grass, usually on the arm of a trust-funder in his early 20s. You know these guys: Ralph Lauren polos; University of Georgia baseball caps, well-worn; and a bloodline that includes a great-grandfather who invented the paper clip, which provides for the summer mansion on Sea Island.
What a scene! Coming from San Francisco, the only times I've seen so many people on grass were the old Grateful Dead New Year's Eve shows at the Oakland Coliseum.
Best part about Six Hill: If you get seduced by the sun and lay down, a Pinkerton comes by and, in essence, applies a stun gun to the ribs. You gotta love Augusta National. Fearing Six Hill will look like a Greyhound station at midnight, they hire Pinkertons to roust hobos like me if we dare try to grab some shut-eye.
4. Verne at Sixteen
Forget James at Sixteen. (Then again, given the demographic for which we aim at ESPN.com, none of you knew the TV show "James at Sixteen," anyway. So, never mind.)
Anyway, does it get any better than Verne Lundquist in the tower at No. 16?
This guy represents Augusta even more than the green jackets do.
Do yourself a favor. If you Tivo'ed the Masters, check out my man Verne. This guy can go from describing a Tara Lipinski triple-lutz at the Winter Olympics to a Padraig Harrington hole-in-one at the Masters as seamlessly as some of the babes on Six Hill hide their panty-lines.
When Harrington aced 16, Lundquist dropped this one on us: "They're dancing in the pubs of Dublin!"
An instant classic.
(However, having once worked in a pub in Dublin, I can assure you that if a Dublin pub denizen heard that, he'd drop a sentence laced with f-bombs wondering why the Yank thought he knew anything about dancing in the pubs of Dublin, all the while taking a drag off a smoke even though there are anti-smoking laws now, then a deep pull off his pint of Guinness. And did I mention the f-bombs? Gotta love the Irish.)
5. Arnie
Where does Arnold Palmer rank in American sports lore?
On the Performance Scale, sure, other golfers won more majors: Nicklaus, Jones, Hagen, Hogan, Player.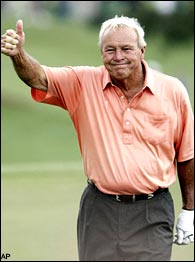 Arnold Palmer also gave the fans much to cheer about in his final Masters.
But on the Charisma/Total Package/American Legend scale?
I'm putting the Kid Out of Latrobe in the top three of All-Time.
I'm saying Babe Ruth, Willie Mays ... and Arnie. They make up the short list of Epic American Athletes Whose Charisma/Effect Changed His Sport.
That's why it was so fulfilling to give the man a proper, tear-filled, send-off on Friday. Fifty Masters! Fifty! Man, that's a lot of pimento cheese.
Let me put it another way. In the 20th century, we've had three guys named The King.
And the other two were Richard Petty and Elvis.
Ladies and gentlemen, Arnie has left the building.
But he will see Phil at next year's Champion's Dinner.
And, like the rest of us, he will say: Holy cow! What took you so long?
Brian Murphy of the San Francisco Chronicle writes every Monday for Page 2.