By Brian Murphy
Special to Page 2
Has anybody else noticed the rash of injuries plaguing our sports landscape lately?
I knew it was bad when a nasty rumor swept World HQ in Bristol, Ct. -- Chris Berman, questionable for Sunday Night "SportsCenter" with back spasms. Like the trouper he is, Boomer sucked it up and played hurt.
Injuries are everywhere -- the back spasms afflicting Barry Bonds, Sammy Sosa and Jason Giambi; the pain endured by Timberwolves guard Sam Cassell; and the bruises inflicted on the rims of NBA arenas when Shaquille O'Neal shoots free throws.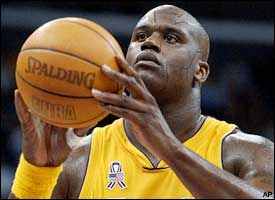 Fortunately for the backboards, Shaq shoots airballs too.
And to think -- neither Cassell nor the NBA rims have been implicated in the BALCO scandal. Man, they must really be hurting.
But aren't injuries a part of this trail of tears we call life?
It was a legendary baseball man -- a legend so large, I've forgotten just who -- that once said of a player listed as "day-to-day": "Aren't we all?"
The great writer Dan Jenkins once titled a book, "You Gotta Play Hurt", and if you've ever been to a bachelor party in Vegas, you know what he means.
Mickey Mantle made a career of playing hurt -- and we're not just talking about the knee injuries. A night on the town in Manhattan for the Mick meant the next day's matinee at the Stadium would be a battle with pain. And this, in the days before Advil.
Pain is our co-pilot in this world of sports. And I'm not just talking about the athletes. Press boxes are filled with scribes waging hand-to-hand combat with hangovers. Once, when I lived in L.A., a bash was set to be held for a writer who was leaving town. Through the inter-office email system, we queried an editor if he would make it. He fired back an email that read only: INJURY REPORT --- Christenson, probable (liver).
One of my favorite emails of alltime, by the way.
Jim Brown limped back to huddles, Steve Young tried to play with broken ribs and Ronnie Lott once cut off the tip of a finger to play ball.
Ben Hogan came back from a near-fatal auto accident, George Brett did battle with hemorrhoids and Babe Ruth's diet of hot dogs, beer and hookers produced gas so bad, a mortal would never have hit one home run, much less 714.
So let's take today's injury rash in stride. It's part of a sporting tradition. Besides, I'm writing this Cooler with a HUGE hangnail on my right index finger -- and I'm still ready to rock. Let it be an inspiration.
On then, to the Weekend List of Five:
1. The Legend
We live in a sports era of legends in our midst: Shaquille O'Neal, Barry Bonds and Roger Clemens come to mind.
And of course, Brent Musburger.
That's right. Brent is The Man, and you don't need me to tell you that.
Caught his act on ESPN radio doing the Lakers-Wolves Game 2 Sunday night, and heard his immediate, post-game interview with Kevin Garnett after Minnesota's important win. Garnett had had enough of the pleasantries, had explained enough how Minnesota got aggressive on defense, and raised the intensity level. He had more important things to say.
There, amid the din of a cheering crowd, in the high of a post-game win, Garnett dropped this pearl on the national radio audience: "Just wanted you to know, Brent, that I've been a longtime fan of yours."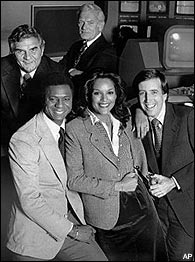 Clockwise from top left: Jimmy "The Greek" Snyder, Jack Whitaker, Brent Musburger, Jayne Kennedy and Irv Cross.
Yes! You are looking live at a living legend!
Beauty of it is, Garnett was born in 1976. That means he had no clue of Musburger's genius as the 'Burger ran the NFL Today pre-game show in the late '70s with the same precision of Magic running the Showtime Lakers. Garnett had no clue as to how seamlessly Musburger could weave together a set that included personalities as disparate as beauty queen Phyllis George, ex-jock Irv Cross and inveterate gambler and Liberace-lookalike Jimmy the Greek. Musburger did it all, and he did it the Old School way: No need for phrase-of-the-day lingo, no need to flash ex-jock credentials, no need to do 20 minutes of comedy. Just straight ahead, pure Musburger, tossing it out to Pat Summerall and Tom Brookshier in Irving, Texas, Philadelphia, Pa. or San Francisco, California.
Beauty is, Musburger tried to drop a little pop culture into his Game 2 riff. When Karl Malone got ejected, and there was talk of the series veering out of control, Musburger offered the opinion: "I think we might need Tony Soprano to officiate Game 3."
Brent, staying hip! Best part is, you know that he riffed on similar topics in the '70s and said: "I think we might need Colombo to get on the case"; or riffed on similar topics in the '80s and said: "I think this is a job for Frank Furillo of "Hill Street Blues"; or riffed on similar topics in the '90s and said: "I think Detective Sipowicz might have something to say about this!"
Garnett giving Musburger his salute proves several things, among them: One, K.G. was raised right by his Mother; and two, just because they try to shove you down to Williamsport, Pa. for the Little League World Series, doesn't mean you don't have a comeback in your old bones!
2. Puerto Rico, You Lovely Island ...
The home nine, the S.F. Giants, got jammed with some Puerto Rico duty over the weekend. As part of Bud Selig's Master Plan, the Expos are playing some games down in P.R. Don't ask me why. All I know is, I tuned in to Saturday's clash, only to see two things: One, a pouring rain that threatened to call the game. And two, rabid ball fans who eschewed panchos to sing, dance and chant for a little beisbol.
Capper came when Bonds came up with the sacks full in the 11th inning of a tie game. Puerto Rican fans, in short, went nuts. Through the drizzle, they fired up drums, whistles and sang throughout the at-bat: "Ole! Ole, Ole, Ole! Ole, Ole!"
God, it was beautiful.
I could only think: There they are, in the rain, singing for the game.
And what do I get at home? At what they call SBC Park now? I get some jerk behind me who shouts "SITDOWN" during Benito Santiago's epic at-bat against Rick White in Game 4 of the '02 N.L.C.S.
In my next life, I'm coming back as a Puerto Rican ball fan.
3. Reggie Miller: On the Atkins Diet?
Saw Reggie Miller do his thing again, knifing home a trey at just the most critical time in Game 1 of the Eastern Conference finals. This means you can add "Detroit" next to "New York" and "Chicago" to the list of cities for whom Reggie's playoff 3s have been a collective knee to a city's collective groin.
Watching the drama, though, only one question came to me: When is Reggie Miller going to get fat?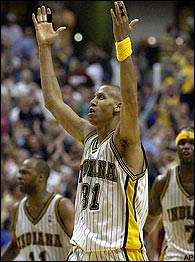 A little more sideways and Reggie would disappear.
I mean, seriously. You can still slide that guy in and out of mail slots. The Pacers can save money on air travel and fax Reggie from Indianapolis to Detroit for Game 3. Isn't it an American's duty to get fat? The guy will be 39 this summer, and he's listed at -- get this -- 195 pounds!
One hundred and ninety-five pounds! And he's six-foot-seven!
I don't know about the rest of you guys mired in your 30s, but I've had several discussions with pals about the depressing march upwards on our respective waist-sizes. You know the process: Sticking with the 34-waist, or the 36-waist, well beyond the appropriate time. Squeezing in 'em because you're too proud to go buy the next size up, then fighting through the gastro-intestinal pain that comes with the tight waist, and making the big production about sitting down in a chair without exhaling.
Reggie Miller doesn't have that issue. He still wears his 28-waist jeans from the trip to the Riverside, Calif. mall in his senior year of high school.
My buddy Malcolm suggested that Reggie's chosen profession -- the aerobically-demanding sport of basketball -- may be a factor.
"Didn't stop Shawn Kemp," I volleyed back.
We all have pals who beat the Body Fat reaper. My buddy Scott is ridiculously fit, and several times over the past years I've offered to transfer him 15 pounds of my body fat in exchange for seven years of indentured servitude. He's yet to take me up on the bargain.
Yo, Reggie -- hit an In-N-Out next time you're back in SoCal. And make it a Double-Double, with fries!
4. A Yank in the Net
Imagine the dichotomy experienced by the average British fan of the legendary soccer side, Manchester United.
On the one hand, the Red Devils saved their season by winning the F.A. Cup, the better to assuage the humiliation of losing the Premier League title and putting forth a desultory effort in the Champions League.
On the other hand, they did so with an American -- Tim Howard -- in goal all season.
An American? Minding the net for the most legendary team in Britain's most revered sport? This would be like George W. Bush finding out that Ahmad Chalabi's nephew was signed to a minor-league contract by the Texas Rangers.
The Brits like nothing more than to love their version of football, and lord its subtleties and artistic merits over anything the States have to offer -- especially after they catch a glimpse of Bud Selig on satellite TV. They love the fact that America isn't a factor in the World Cup, and live in dark fear that one day the impudent colonies will rise up and win soccer's most treasured prize, at which point most British soccer fans would order a pint of cyanide to go with their shepherd's pie.
Not only that, but the guy is from Jersey! No, not England's Jersey. Our Jersey. New Jersey! I can see Howard making a big save and shouting at a striker from Arsenal, "Yo! And so's your mother!" accompanied by a Jersey-like crotch grab.
Next thing you know, Tony Soprano and Paulie Walnuts will have season seats at Old Trafford.
5. The Sopranos
Page 2 colleagues -- can we take a 20-second timeout on this "Sopranos" doggie pile, please? This trendy wave of ripping the show with the best acting, best cinematography, best writing on TV -- can we take a few deep breaths?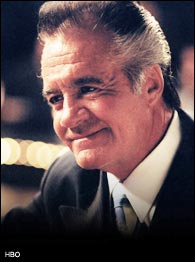 Where have you gone Paulie Walnuts?
Yeah, so the dream sequence last week sucked. Sucked. Nobody's arguing that. Nobody. But last I checked, no creative effort ever batted 1.000. Even "Animal House" had its parade scene. Even "Glengarry Glen Ross" had the Alan Arkin-Ed Harris conspiracy scenes. Even "The Godfather" had ... well, even "The Godfather" had "The Godfather, Part 3."
So all of you Chicken Littles coming down on "The Sopranos," tune in to last night's show, and you are bereft of critical ammunition. Like life itself, the show's characters move in fits and starts, with long stretches of everyday life then punctuated by defining moments. Tell me the hair on the back of your neck wasn't standing when Silvio and Adrianna took their drive upstate, and I'll tell you that you don't know the beauty of what "The Sopranos" has brought to us -- rich character study that makes us cringe for both characters, complex personalities who do flawed things and, above all, film-making so lush each frame of dark, shadowy colors could be a work of art.
Besides -- Tony Soprano? He'd play hurt.
And Brent Musburger would be the first to tell you that.
Brian Murphy of the San Francisco Chronicle writes every Monday for Page 2.