By Brian Murphy
Special to Page 2
Philly, I pheel your pain.
I was at the Belmont on Saturday and, although I chose not to wear my Tug McGraw gamer over my Donovan McNabb T-shirt -- complemented underneath by my Moses Malone-autographed Jockey shorts -- I was bleeding with you.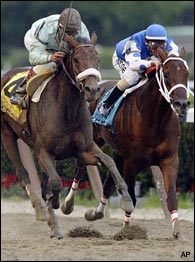 In true Philly fashion, Smarty Jones couldn't deliver the sure thing.
I've gone on record many times over the years with my affinity for your town. You guys are my adopted East Coast town, and not just because Great-Grandpa Murphy came straight from County Cork in the late 1800s and said, upon seeing this great and wondrous country called America: "I want to live in a place where Cheese Whiz is a staple."
Why Philly? New York is too obvious, Boston too self-absorbed. Philly is what it is -- a Smarty Jones kind of town, crashing the big, blue-blooded horse racing party like Rodney Dangerfield's Al Czervik barreled through the Bushwood clubhouse.
Philly fan at Belmont, to rich woman in traditional, elaborate, race-day headwear: Nice hat. Get a free bowl of soup with that?
So there I was, knowing little to nothing about the intricacies of what it would take for Smarty -- Philly's Smarty, Our Smarty -- to win the Triple Crown. Didn't stop me from bleeding Smarty blue-and-white. After an afternoon wandering the crowd and seeing Eagles hats, Phillies jackets and a guy get ejected from the rail because of a brawl moments before Smarty took the track -- he was wearing a Penn State rain pancho -- I was ready for your crowning moment.
Nothing could stop this. Smarty was the equivalent of a "Fo, Fo, Fo" guarantee, the equivalent of a Michael Jack Schmidt at-bat, the equivalent of a Bobby Clarke body check to the horse racing community, where the Kentucky Bluebloods would have to accept the fact that the first-ever colt with a mullet would join Secretariat, Seattle Slew the other legends.
I think now, a day later, what I most remember is being down near the rail, completely losing my professionalism, screaming "GO, SMARTY, GO!" as that gutty little guy charged down the stretch. I don't want to remember those last 70 yards, those last few stunning seconds, when Birdstone played 1964 St. Louis Cardinals to our 1964 Phillies.
I believe it was Bill Conlin who joked in print that Smarty truly wouldn't be Philly's Horse until he blew a 6-length lead and lost by 12-lengths.
Conlin knows Philly.
Holy spit the bit, does Conlin know Philly.
Immediate post-race joke. What's the difference between Smarty Jones and the 1964 Phils? Answer: The Phils had a better clubhouse spread.
I swear, the race wasn't over for 45 seconds when I was running back to the press elevator and I passed a Philly guy howling -- howling, I say -- to his friends: "It's us! We're cursed! We're doomed!"
Another reporter, rushing to the elevator, saw a guy in a homemade Stewart Elliott jockey shirt, capped by an Eagles hat, and asked him what he was feeling. "It's too tough to talk right now," the guy said, barely above a whisper.
Smarty, thanks for the run. Thanks for the Kentucky Derby. For the Preakness. For being one of the best sports stories of our lifetimes, your gutty comeback from near-death, your blue-collar roots energizing a country, your beautiful runs etched in our memory.
Poor Philly. Smarty did it right. Smarty made you proud.
Now, a city's hopes rest with another gutty underdog, another national icon.
What, you don't think Terrell Owens is a lot like Smarty Jones?
On, then, to the All-Belmont Weekend List of Five:
1. Class Warfare
After a day at a Triple Crown race, let me positively state the case that if anybody thinks 21st-century America has advanced society anywhere past the days of feudalism -- think again.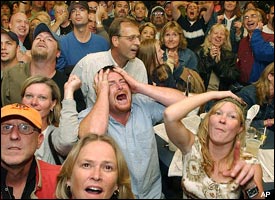 The crowd in Philly can't believe it -- once again their hearts are broken.
Nowhere is the ocean-like gap between America's landed gentry and America's beer-can-swilling serfs more evident than at a Triple Crown horse race.
On the one hand, you've got the mezzanine seats, packed with gray-haired billionaires in their race-day finest: Men in impeccably tailored suits, women in impeccably tailored suits, topped off by hats that would make Audrey Hepburn's lids in "Sabrina" look like the well-worn, tattered and bent-up ball caps favored by fraternity guys from the SEC.
On the other hand, you've got the masses, teeming below on the ground level. Doughy guys in Yankee and Met jerseys, destroying cans of Bud Light, roaming the floor-level like it's the disease-infested bottom deck of a sold-out immigrant ship across the Atlantic in the 18th century.
Looks to an outside observer like the Rich Guys have those primo seats above the Poor Guys for one reason -- easy to spit on 'em.
It called to mind my visit to the Roman Colosseum, where a guide explained that the Roman senators had the special seats on the Roman equivalent of the club level, while the Roman plebeians were ground-level, endangering themselves to a random swipe from a lion mauling a Christian. If you think we've advanced one iota since those days, think again. Or go to a Triple Crown race.
Common Man Race Fans of the World, unite! You have nothing to lose but your standing-room-only spot by the rail!
2. Landed Gentry, Part Deux
Some Cooler readers may remember a riff from the Masters in which I described "Six Hill", the hill below the 6th tee where, apparently, every privileged Georgia kid in his early 20s congregated with his genetically-perfect Southern belle girlfriend in Augusta National's version of a Whit Stillman film. You know, the senior at Vanderbilt whose grandfather invented the paper clip, gathering at Six Hill to discuss when the weekend party at the family mansion in Sea Island would go down.
I'm here to tell you: I've now spent a Saturday afternoon in the Paddock Area of Belmont Park on Belmont Stakes day, and the money, blue blood and privilege oozing out of the Paddock Area makes Six Hill look like Chicago's Cabrini-Green projects.
The Zegna suits, the Parisian dresses, the undeniable fact that obscenely rich guys get all the obscenely hot women -- it was all on display. You know that sort of wealth that causes a guy to completely lose touch with his look? I'm talking Tom Wolfe-types here. There was a cat in a sear-sucker suit, with a shock of puffy gray hair that made him look like the old Hubie Brown -- if Hubie Brown owned half of Manhattan. He didn't care. It was his look. Horrendous look. Eccentric look. But his look. Besides, he could buy and sell ESPN.com before breakfast.
Take Birdstone's owner, Marylou Whitney. I wanted to stop her post-race press conference and call for a medic, on account of what appeared to be a life-threatening case of lockjaw. The blue bloods actually do talk like Lovie Howell. It's why we all rooted for Smarty, and Philly. And in the end, the Lockjaws won again. Sigh.
At Six Hill, the kids were the grandchildren of the guy who invented the paper clip.
At the Paddock Area, the kids were the grandchildren of the guy who invented paper -- and then bought out and destroyed the empire of the lowlife who invented the paper clip.
I find this fascinating -- especially because we were just a few short miles from Queens, where guys in wife-beater tees were shouting to their 10-year-old kids: "Yo! Mikey! Run to the store and get me a six-pack before the race starts!" Capitalism, man. What a thing.
3. Jockeys
I know, I know. I'm not breaking news here. The eerie fascination of the jockey -- the 4-foot-11 guy who weighs 95 pounds becoming a heroic sportsman -- is not a new phenomenon. But it is worth a re-visit.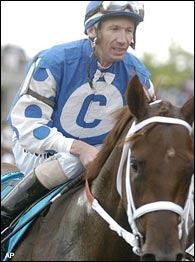 Who didn't want to see Smarty stick it to the blue bloods?
Here we are at one of the most important American sports days of the year, and the stars of the show are walking around in colored silks, threatening to break out into the song, "We Represent the Lollipop Guild" at any moment.
How do you get to be a jockey? I mean, how many 4-foot-11, 95-pound guys do you know? My thinking is: One hundred percent of the world's 4-foot-11, 95-pound guys become jockeys. I mean, you don't work with any 4-foot-11, 95-pound guys, do you? If you did, you know you'd immediately nickname him "The Jockey" to your co-workers, and make all sorts of inter-office jokes on Monday mornings like: "Hey, Stan. Pick up any mounts this weekend?" Or, "Hey, Ricky. Can I borrow your silks? I need to make sails for my kids' bathtub sailboat."
I'm not saying these guys aren't phenomenal athletes. They are.
I'm just saying ... well, you know what I'm saying.
4. The New York Sports Fan: As Usual, Spot On
Perfect antidote to the Ridiculous Horse-Racing Snob: The New York Sports Fan.
Fortunately, I spent the race down with the masses and enjoyed the spirit of the moment with America's best fans. I stumbled into a conversation with one guy who was mainlining canned beer. We became close after his saliva spray-painted my face when he bellowed anti-Boston epithets at an innocent bystander wearing a Red Sox cap. Turns out the guy is a huge N.Y. Giants fan, too. When he found out I was from California, he immediately began a litany of rage about the Giants' failure to properly cover Terrell Owens -- in a wild-card playoff game two years ago!
New York fans, man. I can't remember what I had for breakfast yesterday -- and this guy remembers that Jason Sehorn covering T.O. in the slot was a catastrophic strategic error.
"But I don't blame Sehorn," he said, by way of explanation, in between long pulls off the lager. "That's on the defensive coordinator."
Just as we had that cleared up, a bunch of guys from Visa walked past us to their VIP Box right by the finish line. The New Yorkers didn't miss a beat.
"HERE WE GO, AM-EX, HERE WE GO," they shouted.
Beautiful.
5. Ronan Tynan, Again
Wouldn't have been a trip to the Big Apple without the dulcet tones of the Big Irish Tenor himself, Ronan Tynan. A couple of years ago on a Manhattan street, he walked right past me and I blurted out: "Best "God Bless America" I've ever heard, my man." Nota bene: This was before the Yankees had made him their regular post-season guy. I was cutting edge with R.T. Just for the record.
So Tynan comes out and creates the perfect mood with a spirited "New York, New York" at the Belmont. Crowd went nuts.
I could only think later: Well, Smarty didn't give us a Triple Crown.
But Ronan Tynan? Give me "God Bless America", "New York, New York" and "Danny Boy" - and there's your Triple Crown.
Brian Murphy of the San Francisco Chronicle writes every week for Page 2.