By Brian Murphy
Special to Page 2
Welcome back, NBA.
We missed you.
Not since the days of MJ vs. Magic in '91 has there been such a buzz about the Finals. We have the following to thank: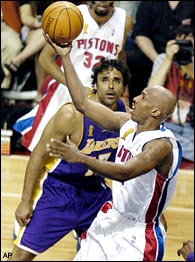 Chauncey Billups' clutch play has been key for the Pistons.
Kobe, and all that he represents.
Shaq, and all that he represents.
The rest of a star-studded, daily-drama Laker squad, happily playing the role of America's Villain.
A Detroit team intent on giving America an NBA answer to the Florida Marlins and New England Patriots.
The Motor City itself.

That's right. The city of Detroit (or DEE-troit, as those born before 1950 say) is as much a protagonist in this drama as anything else. Not only does the Larry Brown-coached team provide the endless hustle of Rip Hamilton, the underrated clutch play of Chauncey Billups and the inside force of Ben Wallace -- it also plays its heart out in front of one of our country's more underrated sports towns.

Detroit the town may not win any Conde Nast polls as far as Spa Destinations are concerned, but it does offer an awesome array of ups and downs, of sports highs and lows. To wit:
The Tigers haven't won a World Series since 1984, and haven't posted a winning season since 1993.
Meanwhile, the Red Wings have won Stanley Cups as recently as 1997, 1998 and 2002.
The Lions have never won a Super Bowl, last made an NFC Championship Game in 1991 (they lost by 31 points to the Redskins) and haven't won an NFL title since 1957.
Meanwhile, the Pistons won NBA titles with Isiah Thomas and the Bad Boys, and are now one home win away from one of the great Finals upsets of this generation.

So, you can go many ways with Detroit. You can play Tortured Fan: My Dad raised me on the Tigers and Lions -- we've suffered for decades! Or, you can play Appreciative Fan: I live for the Red Wings and Pistons -- Geez, what heart!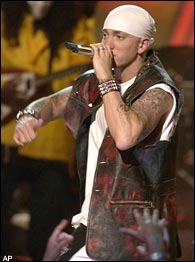 Eminem -- of Detroit's most well-known musical products.
Sort of like how Detroit has presented many musical faces to the world, too.
On the one hand, you have the Detroit of Motown: Diana Ross and the Supremes, Smokey Robinson and the Miracles, the Temptations, the Four Tops. Smooth, pure sounds.
On the other hand, you have the Detroit of the 21st century: Kid Rock and Eminem. Loud, aggro sounds.
On yet another hand (we have three hands), you have the Detroit of the middle years: Bob Seger and Ted Nugent. Crossbow hunting, anyone?
Perhaps the best move is to turn our attention back to New York's KISS, who simply called the damn place: "Detroit Rock City!"
Tough to deny that right now. Detroit is rocking and rolling. For that, the NBA thanks you, Motown.
On, then, to the Weekend List of Five:
1. That's What I Say!
Here's a question. Don't mean to be flip, or disrespectful. Which was the bigger loss suffered by the United States of America: the passing of Ronald Reagan -- or the passing of Ray Charles?
I'm not making a political statement here. I'm just saying -- really, how much direct effect can a President have on your life? Compare and contrast the following emotions:
a) Being in a bustling tavern with good pals, drinking a cold beer and hearing "Hit the Road, Jack" on the jukebox.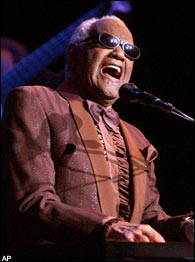 Ray Charles will live on in jukeboxes across America.
b) Reading in a newspaper about a Reagan budget proposal.
Bottom line: Ray Charles made me feel better more often than any President ever did.
All I'm saying is, we paid our respects, shed our tears and gave homage to a charismatic and powerful leader from our past. Now, can Ray Charles get some due, please?
What a legend. Guy was blind, yet sired 11 kids. Apparently, he had more than just Georgia on his mind.
Two more questions:
a) Why isn't there serious discussion of putting Ray Charles on the $20 bill? The idea of ATMs all over our country dispensing the smiling, sunglassed visage of The Genius on currency warms the heart.
b) Why doesn't Congress make Ray Charles' version of "America the Beautiful" our national anthem? Like, today.
I'm not kidding.
2. The 500 Club
So, Ken Griffey Jr. is only one home run away from 500, and will soon become the 20th player in history to join the Club.
With Fred McGriff only eight bombs away, and with Rafael Palmeiro -- who joined last year -- passing Mickey Mantle this weekend with 537 homers, isn't it time to thank Junior for restoring a little luster to a club that was beginning to lose a little sheen?
If Junior had stayed healthy the last few years, he'd be gaining on 600, to be honest. Lest we forget -- he was once the greatest in the game, a legit All-Century player, the Guy Who Would Pass Aaron.
But Palmeiro? McGriff? Not to denigrate the fine work of these admittedly decent men, but their 500 Club membership pin has a strangely incongruous air, not unlike the vibe that defined Flounder's bid to rush the Deltas in "Animal House."
Yeah, he gets in -- but only because he's a legacy.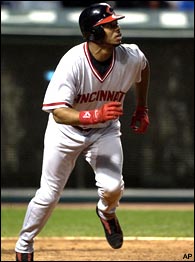 Junior is back, hitting the ball out of the park on a regular basis.
Welcome back, Junior.
And in the meantime, let's just be thankful that Jose Canseco (462 taters) hit the wall. If 500 dingers is an automatic pass to Cooperstown, they'd have to build a special wing for that guy, just to house arrest warrants and steroid needles under glass cases. Not to mention the interactive Madonna exhibit.
3. East Coast TV
I'm in New York for the U.S. Open, and am immediately reminded why the warm California sun is the balm of choice.
Made it to my hotel room in Manhattan on Sunday evening at 7 p.m. ET, called home to wish my brother a happy birthday, and he asked: "Watching the golf?" Cognizant that the Buick Classic from Westchester (N.Y.) Country Club should have been finished, I said: "Wait. What golf? Isn't it over?" He said: "No. Sergio, Harrington and Rory Sabbatini are in a three-way playoff. It's on TV." I flipped on the hotel TV. No golf. Instead, "America's Funniest Home Videos."
"There's no golf," I said. "I'm gazing at what some feel are among our nation's more hilarious family films."
"You're on the East Coast," he said. "Prime time programming. We've got it on here ... oooh! Nice shot, Sergio."
Now he was rubbing it in.
This is not to pin the blame on the network in question. In fact, the network in question pays the bills around here, and no doubt made a wise and reasoned choice to please the majority of audience. (End of kiss-up segment).
This is, however, to say I do much prefer watching sports on the West Coast. Take Game 4 of the NBA Finals. A 9 p.m. tip-off. 9 p.m.! At home, that's 6 p.m. That means happy hour beers, a little open flame on the grill, and some Kobe with my BBQ. In the Eastern time zone, it means waiting ... and waiting ... and waiting ... for the 9 p.m. tip. No happy hour beers. No happy hour, in fact. No open flame on the grill. No Kobe with my BBQ. Instead, Kobe with my after-dinner mint.
Just a personal preference, is all.
4. The Suit
Understand, Tom Tolbert co-hosts an afternoon sports radio show in the Bay Area, and has built up an enormous amount of goodwill with his easy manner, sense of humor and legit sports analysis.
That said, Tommy tested the Bay Area's allegiance with the unveiling of The Suit on Sunday night.
The easy take: Rip The Suit, offer how it looked like a pilfered set of drapes, and wonder how it escaped the notice of the wardrobe man who dressed Snoop Dogg as Huggy Bear in the recent remake of "Starsky and Hutch."
But let's be honest. It took tremendous stones for Tolbert to wear The Suit. The easy route is to go Al Michaels, and wear the grey suit; or go Doc Rivers, and wear the dark suit. But Tolbert rolled the fashion bones. He looked at a humdrum landscape and said: You know what? Tonight, I'm shaking it up and dressing like an extra from "Quadrophenia."
Surely, there's nothing wrong with channeling the lost ska fashions of 1960s Great Britain. Put a porkpie hat on Tolbert, throw him on a Vespa, give him two tickets to a Desmond Dekker show and he'd be fighting off the babes.
Nice touch, Tommy.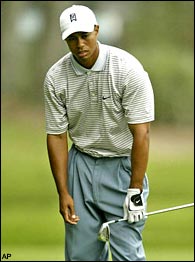 Tiger's been dejected of late about his play on the links.
5. Tiger -- Remember Him?
This week is the U.S. Open golf championship, marking an important two-year anniversary on the American sports landscape -- the last time Tiger Woods won a major championship.
Yes, it was the 2002 U.S. Open at Bethpage Black on Long Island when Tiger last made us bow down, lick his golf spikes, and essentially declare all golf competition dead and ready for embalming.
Two years later, Mr. Sunday Red has nothing.
Two whole years!
You might want to be kind and remember the anniversary -- perhaps send a fruit basket or a bouquet of flowers to Woods' locker at Shinnecock Hills.
But remember -- this is a Ryder Cup year, and surely Tiger has big things in store for Team USA in September, right?
After all, the Cup will be played at Oakland Hills -- just outside of Detroit.
Expect Ben Wallace to be on Tiger's bag that weekend. Just in case.
Brian Murphy of the San Francisco Chronicle writes every Monday for Page 2.